BCS Championship 2013: Live Score, Analysis, Results for Notre Dame vs. Alabama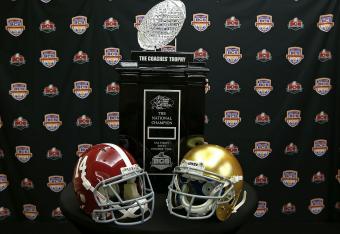 Alabama and Notre Dame will clash in tonight's BCS National Championship Game.
Mike Ehrmann/Getty Images
Notre Dame 14, Alabama 42 Final
No. 2 Alabama scored touchdowns on its first three possessions of the game and thoroughly dominated top-ranked and previously unbeaten Notre Dame en route to a 42-14 victory.
Eddie Lacy claimed offensive MVP honors after rushing for 140 yards and getting a score in the air and on the ground.
The Irish fell down 28-0 at halftime and were never able to recover from the the Tide's first-half onslaught.
The win gives Nick Saban and the Crimson Tide their third BCS title in the last four years, and Alabama becomes the first team to repeat as national champions since Nebraska in 1994-95.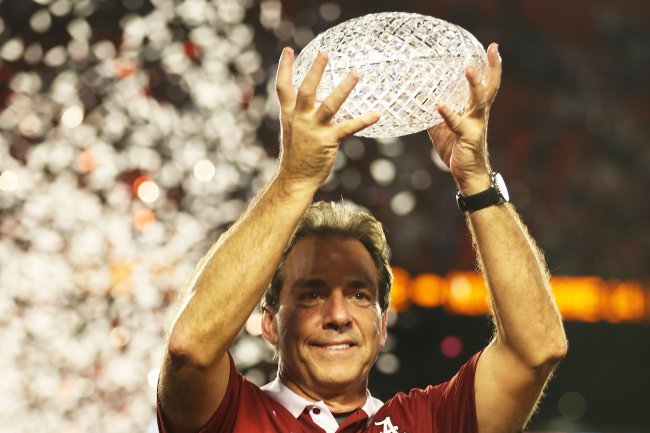 Streeter Lecka/Getty Images
It's been an amazing season, and I want to thank everyone for following along with tonight's blog.
Congrats to Notre Dame for a fine season, but the night belongs to the Alabama Crimson Tide.
Stay tuned to B/R for more postgame coverage of the Tide's big win.
Cheers, y'all!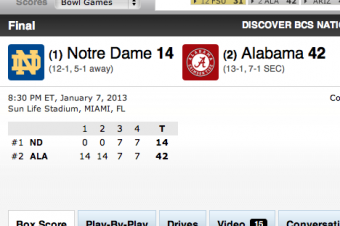 Here's a final look at the box score, per ESPN.
Nick Saban is smiling y'all. Time for the Internet to break. Alabama wins 42-14 and captures their third BCS title in the last four seasons.
With seconds left until its official, let the dynasty talk begin.
Herbstreit has already offered his perspective, per College Gameday's Twitter account.
"I really believe, in my lifetime, that this is the best dynasty that I've ever seen in college football." - @kirkherbstreit

— College GameDay (@CollegeGameDay) January 8, 2013
I agree with him, and a look at their roster suggests that the Tide may just be getting started.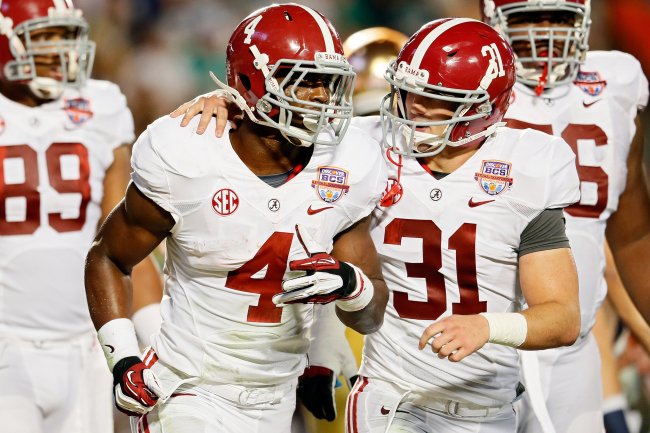 Kevin C. Cox/Getty Images
T.J. Yeldon goes over the 100-yard mark joining Lacy, and that makes the second-straight time that duo has accomplished that feat.
The ESPN crew announces that Lacy has claimed offensive MVP honors tonight, as he did in the SEC title game.
Cooper had six receptions for 105 yards and two scores while McCarron went 20-of-28 for 268 yards and four touchdown passes.
This offense has played at an elite level all season long, and they finished off a championship season by torching the Irish from the opening possession.
Hahaha. McCarron and Jones make up on the sidelines.
And then they both come out for what will likely be their final series together with less than five minutes remaining.
You have to love Saban's fiery attitude on the sideline as if his team is down by four scores.
Ugh, wow. Barrett Jones and AJ McCarron just got into a mini-scuffle over a mix up on protection calls. Their angst resulted in a delay of game penalty.
Folks, if you didn't understand how serious football is in Alabama, maybe now, you get the picture.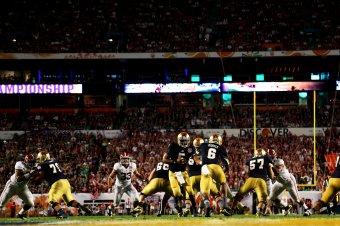 Mike Ehrmann/Getty Images
Golson finds Riddick on a beautiful pass over the middle for a six-yard touchdown and the Irish tack on another score to make it 42-14 Alabama midway through the final period.
Theo Riddick is a guy that should have touched the ball a lot more tonight for the Irish.
Their pass-first game plan essentially made him a non-factor from the outset.
I do like what I've seen from Golson in the second half, because he has not quit and he's made some tough throws under pressure.
Keep in mind, he's a redshirt freshman and Notre Dame has a ton of talent coming back next season.
Herbstriet is pointing out Alabama's aggressiveness despite playing with a big lead.
That relentlessness is what makes them the program they are, and that attitude is due in large part to the way Nick Saban coaches his team.
Complacency has done in previous dynasties in college football, but thus far, the Tide are making a mockery of that notion and tonight's effort reinforces it.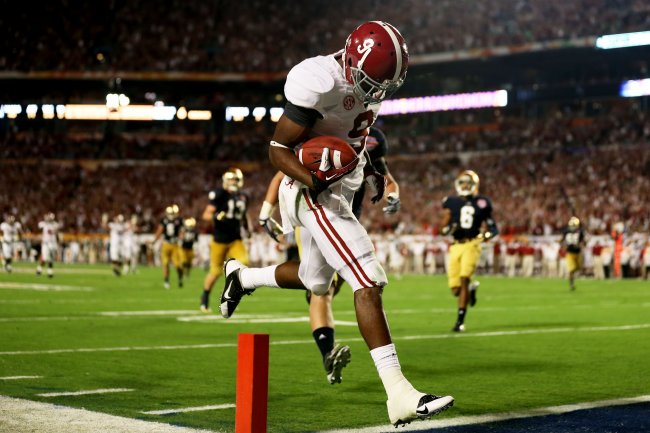 Streeter Lecka/Getty Images
If the rest of the country is not familiar with Amari Cooper, you may want to remember that name.
He's only a freshman.
Well well well. Speaking of Mr. Cooper, Notre Dame's corners can't hang with him. Cooper snares his second touchdown catch of the night and the Tide extend their lead to 42-7.
Alabama is 15 minutes away from its 15th national title in school history.
They have the ball at midfield threatening to extend their lead.
Given the buildup to this game, Alabama's domination to this point has served as an anti-climactic finale to this college football season.
Count Sports Illustrated swimsuit model Kate Upton amongst the disappointed, as she offered somewhat consoling thoughts to Irish fans via her Twitter account.
It's okay Notre Dame this happened to the Jets every week

— Kate Upton (@KateUpton) January 8, 2013
If I'm wearing green and gold, I wouldn't know whether to laugh or cry at that sentiment.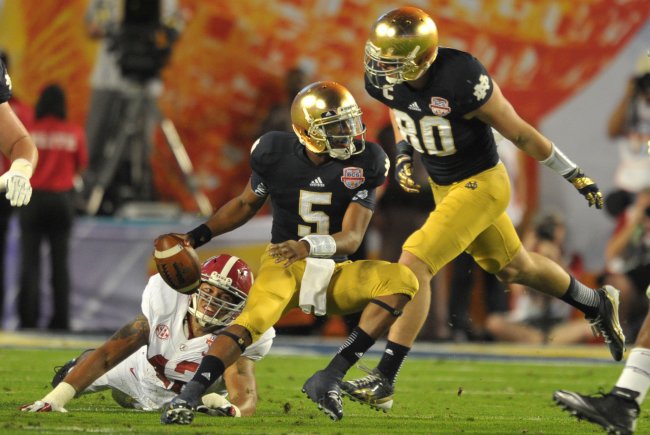 Matt Cashore-USA TODAY Sports
Alabama's streak of six consecutive quarters of playing shutout defense in BCS title games is on the line.
Golson finally gets the Irish on the board as he cuts it up on an option play, and he dives in from three yards out. Alabama is still firmly in control 35-7.
Golson has finally settled down and made a couple of nice throws on this drive, including a laser to TJ Jones on 3rd-and-16.
Even though it looked like Jones may have been out of bounds, the Irish may have gotten a reprieve for some calls in the first half.
Notre Dame is finally in Alabama's red zone.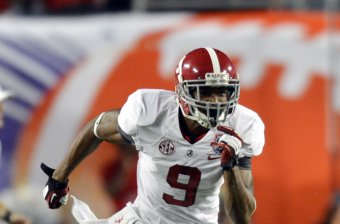 Steve Mitchell-USA TODAY Sports
Whoa. What a thing of beauty. McCarron threw another corner route to Cooper, who streaks in from 34 yards out and its now 35-0 Alabama.
That, folks, was a 10-play, 97-yard drive.
And I think it's safe to bust out the champagne in Tuscaloosa.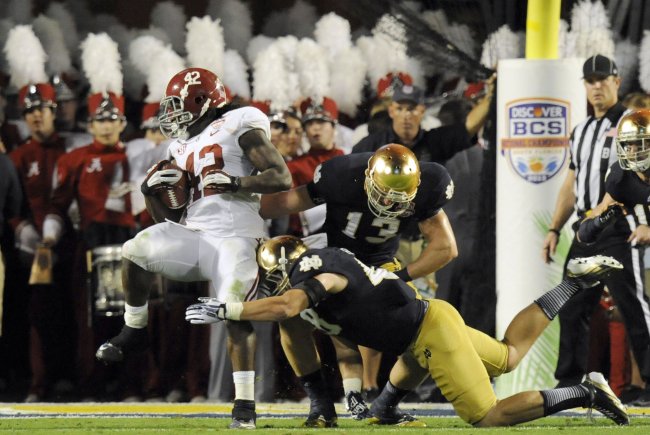 Eileen Blass-USA TODAY Sports
Eddie Lacy has been a different running back since the calendar flipped to November.
His rushing totals ascended every game that month and culminated his MVP performance in the SEC title game.
Tonight, he is running through an Irish linebacker unit that is one of the nation's best.
If there's a hotter back in the country, I'd like to meet him.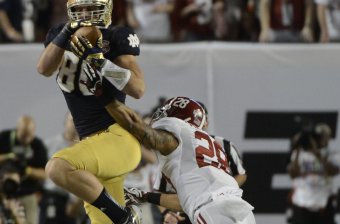 Eileen Blass-USA TODAY Sports
Wow. Notre Dame's best drive of the night gets snuffed out after Ha Ha Clinton-Dix makes an amazing pick off of a pass deflected by Dee Milliner inside Alabama's 5-yard line.
I agree with Brent Musberger and Kirk Herbstreit about the Irish insisting on going after Milliner.
Why on earth would you pick on what could be the nation's best corner?
Let's see how Notre Dame's offense comes out in this second half.
This is a team with a lot of upperclassmen, and I'm sure they have a lot of pride as well.
Wow. Sorry about the technical difficulties folks.
How else can I describe what happened in between that time other than to say this is an absolute woodshed beating being administered by Nick Saban and his club.
Brian Kelly said before the game that the team that makes the most mistakes may win. I guess his team took that message literally.
Alabama has dominated in the trenches on both offense and defense.
Plus Notre Dame has not shown an interest in even attempting to run the football.
Curiously, the Irish have tried to throw deep in short-yardage situations and Alabama's defensive backs have been on Irish receivers like glue.
On the flipside, A.J. McCarron has looked like Tom Brady spraying the ball all over the field.
Notre Dame has to have a serious gut check at halftime if they want to salvage some pride in the second half.
What are your thoughts on what happened in the first half?
McCarron hits Norwood on another deep throw, and then Cooper left an Irish defensive back in the dust on a sick cut before squirting free for big yardage.
Thus far, Alabama's offensive is putting on a clinic and doing whatever they want.
The Irish need a stop or a turnover here in the worst way.
Instead, McCarron finds Cooper on another deep corner route and Alabama is knocking on the door once again.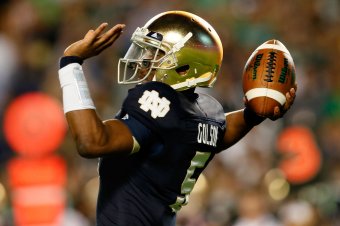 Kevin C. Cox/Getty Images
Golson's accuracy looks to be off on a pair of throws where he rolled out of the pocket, and the Irish are forced to punt.
You have to wonder why Kelly has put the game in Golson's hands early. So far, the stage seems a little big for him and the team.
The officials overturn the call and rule Eifert down by contact.
Notre Dame is able to get a first down, which should settle things down a bit.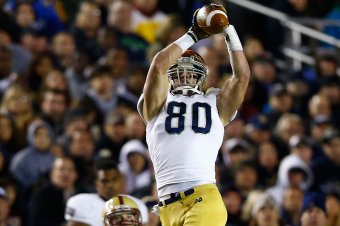 Jared Wickerham/Getty Images
The nightmare continues.
Eifert was trying to carry defenders forward for a first down and got stripped. Alabama recovered it and this will be a torpedo to the Irish's dreams if its not overturned by review.
It looked to me like he was down before it came out.
What do you guys think?
Notre Dame has to be shell-shocked at the moment.
But the offense has to come out and establish some sort of momentum with this drive to settle their team down.
Meanwhile, Bob Diaco's unit has to regroup in a hurry because they are getting gashed with little resistance thus far.
Danger time for the Irish.
This article is
What is the duplicate article?
Why is this article offensive?
Where is this article plagiarized from?
Why is this article poorly edited?

Alabama Crimson Tide Football: Like this team?