With the Wild Card games finally in the rear-view mirror, we can now look forward to the Divisional Round of the Playoffs and begin separating the pretenders from the contenders.
With four games this weekend, I am most intrigued by the Ravens-Broncos matchup. This game is filled with questions just waiting to be answered.
Will this be the last game for Ray Lewis? Can Joe Flacco silence the critics and put together another stellar performance like he did last week against the Colts? Will the Ravens be able to overcome the beat down that they were handed courtesy of the Broncos about a month ago? Will Peyton Manning be able to keep the Broncos' winning streak going and get the Broncos to the AFC Championship Game?
Denver is the favorite in this matchup, but Baltimore is on an emotional high with Ray Lewis' announcement that he will retire at the end of this season.
The Ravens played well on both sides of the ball in their Wild Card victory over the Colts and Joe Flacco surprised everyone with his aerial display. Flacco only completed 12 of 23 attempts, but he threw for 282 yards and two touchdowns in the game. He was able to throw the deep ball with pinpoint accuracy as he avoided pressure and moved around the pocket with ease.
This has been a recurring problem for Flacco over the years, as he has not been consistent enough or put up the numbers that he is capable of compiling. Flacco took care of that last week, as he was only sacked once. The Ravens' protection was relatively good and, when it broke down, Flacco was able to avoid the sack and hit his receivers down field.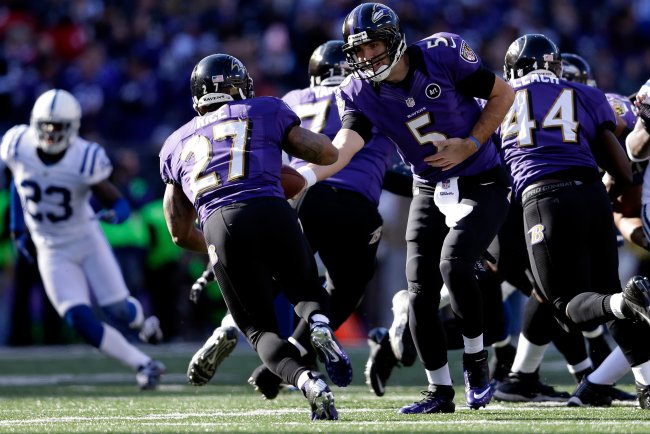 Rob Carr/Getty Images
Flacco hooked up with Anquan Boldin numerous times for big gains and the two-headed rushing attack of Ray Rice and Bernard Pierce ran for a combined 173 yards.
The Ravens defense even began to play like the unit of old, as Baltimore finally had most of their starters on the field simultaneously. Baltimore pressured rookie QB Andrew Luck throughout the game, forcing him into costly mistakes. The Ravens accounted for three sacks, a forced fumble recovery and an interception that ultimately sealed the victory for Baltimore.
The difference in the game was the Colts settling for field goals whereas the Ravens capped off more drives with touchdowns. The Colts had no trouble moving the ball, but they couldn't convert key third downs in Raven territory.
The Ravens looked strong last week against the Colts at home, but this week will be a different story against a whole other monster in Peyton Manning and the Denver Broncos.
Who will win this Divisional Round matchup?
Denver ended the season on an 11-game winning streak and clinched home field advantage throughout the playoffs.
At the beginning of the season, many people didn't know how Manning would fare after not playing football for over a year and having multiple surgeries on his neck. Manning proved this year that it doesn't matter what team he plays for, who his receivers are or whether he misses a full season due to injury.
Peyton Manning will always be one of if not the greatest QB of all-time.
Manning put up Hall-of-Fame numbers once again this season throwing for 4,659 yards with 37 touchdowns to just 11 interceptions. Manning had a completion percentage of 68.6 and was only sacked 21 times throughout the year.
Dustin Bradford/Getty Images
The protection for Manning has been tremendous and I think Denver's offensive line was a huge reason why Peyton decided to play for Denver instead of other teams like Arizona or Miami.
Manning will once again be on the big stage on Saturday as he tries to keep his goal of winning another Super Bowl alive. First things first, the Broncos must focus on their task at hand and take care of business at home against the Baltimore Ravens.
This game is a rematch of Week 15 where Denver faced the Ravens in Baltimore and put on a dominating performance in a 34-17 triumph. The Ravens defense had trouble stopping Manning the entire game and Denver was also able to run the ball effectively.
For Baltimore to be successful against Manning and the Broncos offense, they must bring pressure and take risks in order to force Manning into making mistakes and throwing the ball before he is ready.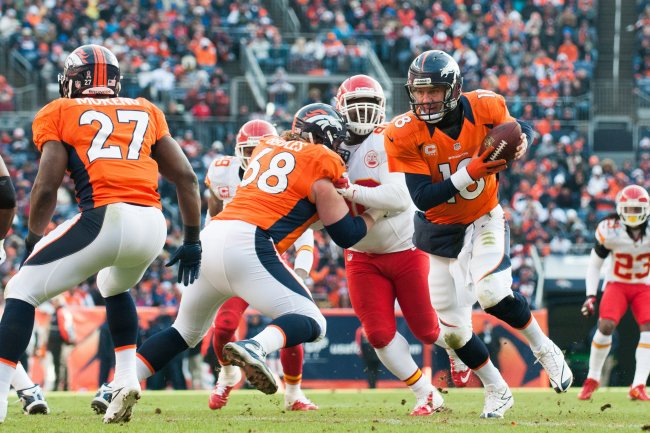 Dustin Bradford/Getty Images
Peyton is the definition of a pocket passer, so the Ravens need to hurry Manning and get to him before he has time to survey the field and find his receivers. If Baltimore can't get to Manning and the Denver offensive line does what they have done all season long, it will be a long night for the Ravens as Manning will pick their defense apart like he did about a month ago in Baltimore.
Flacco must also step up to the challenge once again and be able to perform at a high level or else the Broncos defense will dominate like they did previously against the Ravens.
In their regular season matchup, Denver's defense was able to get pressure on Flacco and forced him into making mistakes. The Broncos were able to get to Flacco on many occasions and that is when Flacco is at his worst. Baltimore's offensive line had better step up and give Flacco some protection or else it will be an up hill battle for Joe and the offense.
Manning and the Broncos offense should be able to do what Andrew Luck and the Colts were generally unable to do; put points on the board in the form of touchdown. The Colts were able to put up good offensive numbers but only had nine points to show for it. Denver, also unlike Indy last week, should be able score when they need to the most.
We must also take into account the altitude factor as Baltimore is not accustomed to playing in such conditions. The temperature will be a key factor as well with the projections calling for temps in the 20's with a 10 degree wind chill.
When it is all said and done with, Ray Lewis will have a good game, but it will be his final game in what was a Hall-of-Fame professional career. The Ravens will keep it close throughout but, in the end, Peyton and Broncos offense will prove to be too much for the Ravens defense to handle. Denver will move on in their quest to be Super Bowl Champs once again.