On Monday Vicente Del Bosque, the manager of the Spanish national team, won FIFA's manager of the year award. Del Bosque has coached the Spaniards since the aftermath of their Euro 2008 victory, and has now led them to their first World Cup title and a defense of their European Championship this year.
It's that last title that Del Bosque is being rewarded for here, and he's a worthy candidate. He finished ahead of two other managers with Spanish ties—former Barcelona manager Pep Guardiola and Real Madrid boss Jose Mourinho.
Spain is the big thing right now in world soccer. Its national team is on top of the world rankings and La Liga—despite their recent top-heaviness—is on top of UEFA's coefficient rankings.
Now let me tell you that neither of these three men deserved the award more than a man from another country: Italy. The man? Antonio Conte.
The former Juventus captain took over the helm at his embattled former club after leading Siena to promotion from Serie B. He was taking over a team that had finally truly felt the impact of their demotion following the calciopoli scandal and finished seventh in the Serie A in each of their last two seasons.
What he did over the course of the 2011-12 season was phenomenal. He took a team that most thought would struggle to even qualify for European competition and led them to an unbeaten season and the championship.
Conte's handling of the team over the last year is beyond any superlative. It started in the transfer market, when he swooped under Bayern Munich's nose to by Arturo Vidal and solidified the right side of Juve's defense by buying Stephan Lichtsteiner from Lazio. Then he took on his first real tactical problem: the arrival of Andrea Pirlo.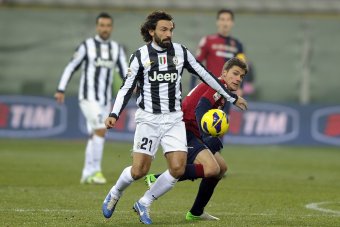 Claudio Villa/Getty Images
Considering the fact that Pirlo has been one of the five best players in the world since his arrival at Juve it's hard to consider his arrival a problem, but Conte had originally advocated against it. Conte came to Juve still a devotee of the 4-2-4, and a pure regista like Pirlo simply didn't fit into the coach's usual tactics.
When Giuseppe Marotta signed Pirlo to a three-year Bosman deal, Conte showed his worth as a manager. Rather than force Pirlo into his preferred tactics, he changed his strategy to suit the strengths of his new midfield general.
The 4-3-3 he unleashed on Italy in the early part of last season had the added effect of maximizing the abilities of new arrivals Vidal and Lichtsteiner and had the added bonus of unleashing the full potential of Claudio Marchisio on Juve's opponents as well.
As the season wore on, Conte's second major tactical problem presented itself: his lack of a proven left-back. Swiss international Reto Ziegler had been bought before Conte was installed, and he was immediately loaned out. Paolo De Ceglie just couldn't prove himself worthy of a starting job. After toying with moving Giorgio Chiellini back to his original left-back position, he decided to utilize the fact that he had three top-level center-backs on his roster and switch to a 3-5-2 formation.
The initial experiment was met with mixed success. It clogged the midfield for Marchisio, Vidal and Pirlo (now collectively being called MVP by Juve fans) and lessened the effectiveness of Lichtsteiner. After reverting briefly to the 4-3-3, Conte worked out the kinks and unleashed the 3-5-2 again, this time to devastating effect. Juve won 10 of its final 11 Serie A matches as it completed its invincible season and beat out AC Milan for their 28th official title.
That he was able to tackle these tactical issues and go through the Serie A season unbeaten—the first time a team has achieved the feat in a 20-team format—is even more impressive considering the fact that he did it without any player scoring more than 10 goals in the 2011-12 season.
The system he ran allowed the goals to come from anywhere on the field, and forced opponents to defend the entire team, not just focus the back line on the main striker while collapsing the midfield around Pirlo.
His prowess as a touchline manager was evident—several times during the season he made mid-game adjustments that bailed his team out of jail and snatched victory from the jaws of defeat.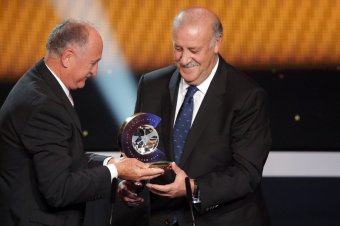 Christof Koepsel/Getty Images
I can see the reasons people will come up with to argue against Conte's candidacy. He coached in an inferior league. His team didn't play in Europe and so only had to worry about the league and the Coppa Italia. His suspension for alleged failure to report a match-fixing scheme while at Siena removed him from the team for the majority of the first half of the current season.
The suspension argument is, I believe, moot. Conte was allowed to train the team and devise individual game strategy during his four-month ban, so his stamp was very much on the team. Arguments about the Serie A's strength may have merit, but an argument can be made that top-to-bottom Serie A is more competitive within itself than La Liga is.
The lack of European play in 2011-12 is more than made up for by Juve winning their group in this year's Champions League—Juve's first trip to Europe's premier competition since 2009-10.
To add to that, while Del Bosque is to be commended for his triumph on the international stage—a truly difficult feat—the fact remains that he coached only 16 matches in 2012. Conte was involved—when you combine the games he was on the touchline and the games he planned for during his suspension—in 51. Even when you remove the games he was unable to be on the touchline for, he coached nearly twice as many matches as the man who won the award.
Conte's body of work over the last year speaks for itself. Del Bosque achieved something brilliant with Spain this year, but Conte's climb to the top of Serie A was a Herculean feat of managing. The difficulties he overcame and sheer tactical brilliance he displayed throughout Juve's unbeaten run were deserving of the award.