Grading the New Uniforms of the Bowl Season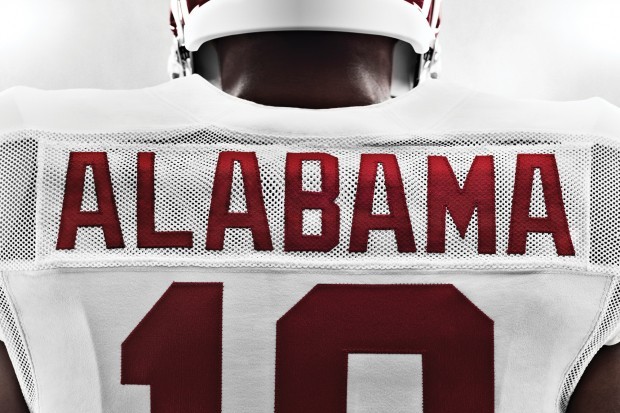 Al Messerschmidt/Getty Images

For the past few seasons, college football uniforms have become a weekly topic in water-cooler discussions.
Each week, teams are unveiling new helmets, jerseys and even decals to try to get your attention.
Inevitably, bowl season offered up a chance and an excuse for teams to get funky with their get-ups once again.
Here's an individual grade for each new uniform of the bowl season.
Begin Slideshow

»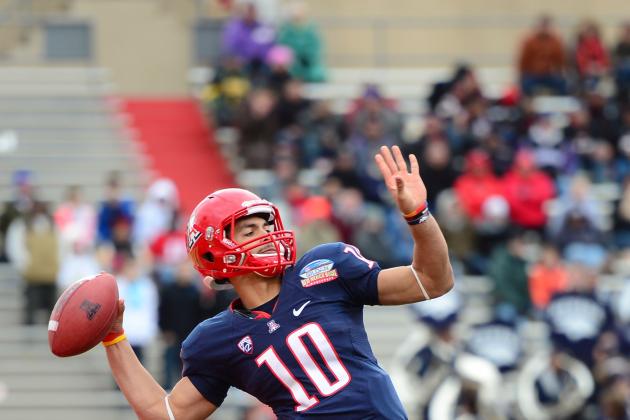 Mark J. Rebilas-USA TODAY Sports

These were an interesting change from Arizona. The Wildcats paired their red helmets with blue jerseys and red pants, which made for a uniform that really popped off the screen.
The red facemask might have been a little too much. That helmet looks cheap by itself, but looked worse against a much better designed jersey.
Overall, though, these uniforms served up a very unique look. I just think navy blue facemasks would have pulled the entire thing together.
Grade: B-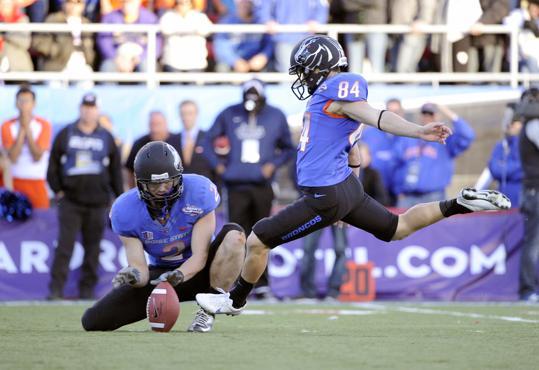 Via Boston.com
Boise State actually wore these uniforms earlier in the season against Colorado, but they finally got to be seen on national television in the Broncos' bowl game.
The funny thing is, Boise State was forced to find creative ways to change its uniform. That's right. Since joining the Mountain West, Boise State has not been allowed to wear all-blue in conference games. That enticed the Broncos to order new equipment in new colors.
This season, they added black to the mix.
This certain combination looks cool. I guess I'm more used to it because the Mets and Knicks have made the colors work in the past.
These seemed to be hit or miss with people, but I personally thought these were some of the cooler modern uniforms we've seen in a while.
Grade: B+
Mark A. Cunningham/Getty Images

These are actually kind of nice.
I'm not sure whether the sleeve/shoulder design is supposed to represent something about the nickname Chippewa, or a cheese pizza, but nevertheless it didn't look too bad.
Also, the new number font matched up with the style of the helmet logo. Neither the number font nor the helmet logo is very good, but they made for a more cohesive look from a design standpoint.
Central Michigan could benefit from more simple uniforms, but these weren't as bad as what its opponent wore.
Grade: B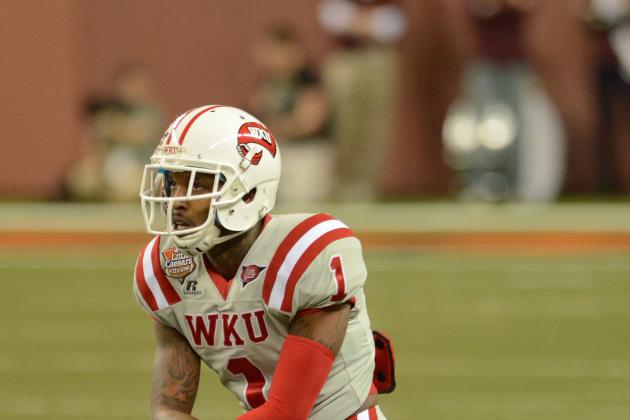 Mark A. Cunningham/Getty Images

No. No. No.
White lids with gray bottoms is the most high-schoolish thing you can do to a uniform.
The color difference was so close that the jerseys and pants looked more like they were dunked in grease. There's no point in having this uniform combination unless your goal is to get made fun of.
Grade: F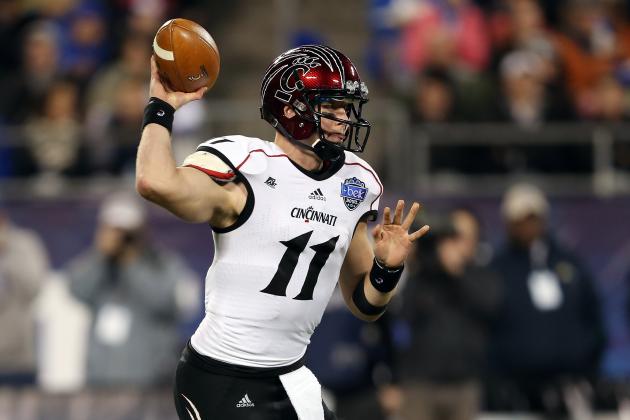 Streeter Lecka/Getty Images

These uniforms were a primary example of what "overdesigned" stands for.
The helmet was a desperate attempt for attention. Had it been toned down, it could have looked really nice.
The red/black carbon fiber helmets would have looked really cool if there wasn't so much crap slapped on them.
Cincinnati tried to run claw-mark decals over the top of the lid, while leaving the "C" logo on the sides. Had the "C" been removed, it would have made for a nice San Diego Chargers-esque look.
Grade: C-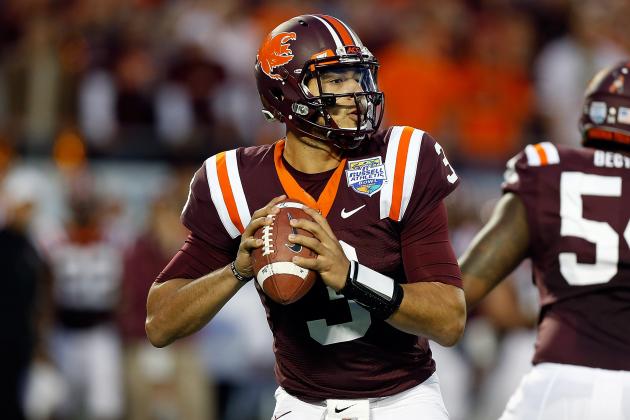 J. Meric/Getty Images

Virginia Tech has definitely backed up its nickname, "Hokies," with its uniforms over the past few seasons.
Despite switching to a classic design in 2010, Virginia Tech has not been able to avoid really weird uniform combinations and aimless, not to mention countless, helmet changes.
The latest helmet change included a modern striping pattern that doesn't match the jerseys and what appeared to be the South Carolina Gamecocks' chicken silhouette (not really, but close).
The Hokies are so close to having a nice uniform set; they just need to limit their options.
Grade: C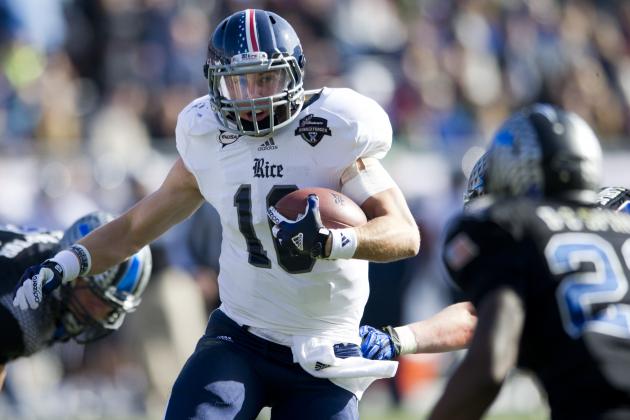 Cooper Neill/Getty Images

We get it, you want to honor the armed forces.
All season long, and for the past few years, teams have started wearing American-flag style helmet decals, helmet stripes, and sometimes full uniforms.
You can do a lot to honor your country without ruining a good look. It's funny, because as little as Rice gets on television, you think the Owls would have wanted to sport their fantastically simple uniforms to the nation.
Instead, they funked up the helmet.
Grade: C-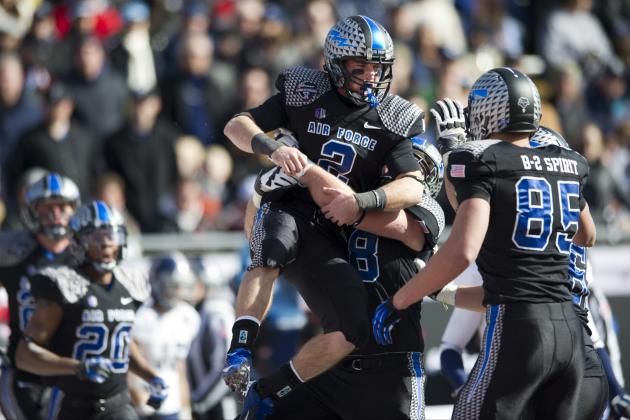 Cooper Neill/Getty Images

Nike took a page out of Russell Athletics' playbook, which is something I never thought I'd say.
Russell took ownership of the pajama look with a template it unveiled two years ago. Nike sent Air Force uniforms this year that copied that.
These uniforms were actually worn earlier in the season, but deserve mention. The helmets, shoulders and pants feature a B-2 bomber pattern. It's a neat idea.
Again, though, for a pair of pajamas.
Air Force has worn some really nice alternate uniforms in the past. This set of uniforms wasn't one of them.
Grade: D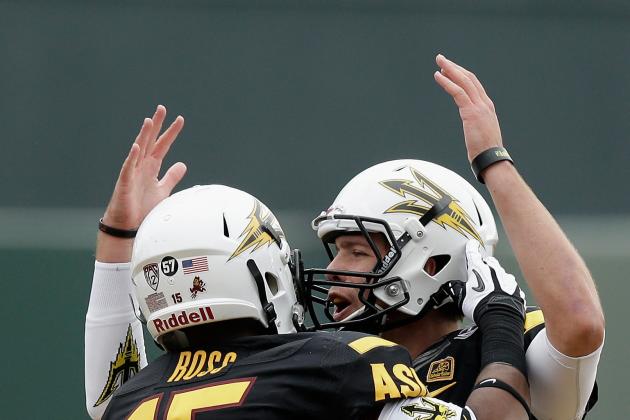 Ezra Shaw/Getty Images

What ever happened to school colors? Arizona State has been in a mismatch funk since unveiling new uniforms last year, and this combination the Sun Devils wore in their bowl game might be the worst.
The helmet decal was black and gold. On a white shell. Where's the maroon?
And the gradient numbers need to go.
Also, has anyone noticed Arizona State's new logo looks a lot like Maserati's?
Just saying.
Grade: F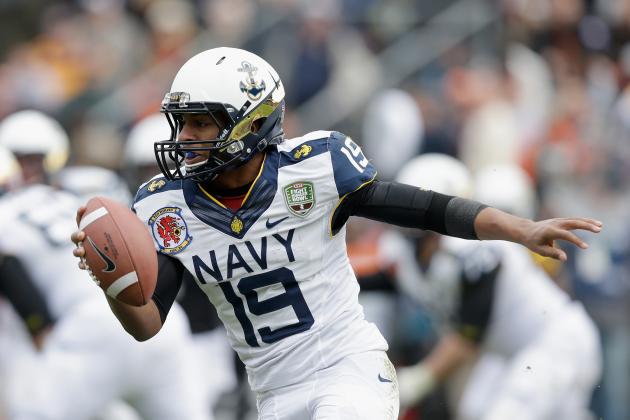 Ezra Shaw/Getty Images

These new uniforms, which were first worn against Army earlier in the season, are arguably the best modern uniforms ever.
The helmets, which feature a matte blue/chrome gold/pearl white finish are genius and tie in with the jerseys to really reflect a real Navy uniform.
Nike sometimes gets it really wrong (see last slide), but these are money. Possibly my favorite.
Grade: A+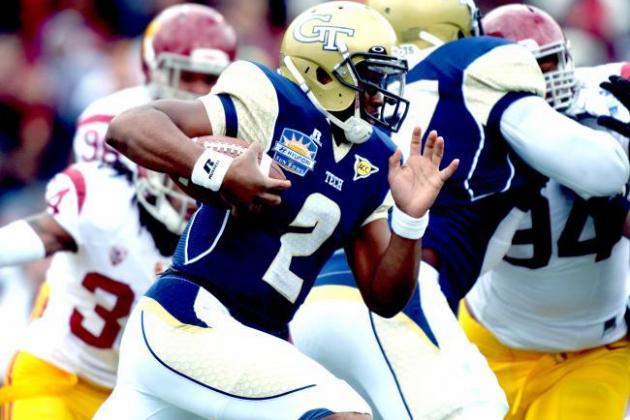 Via LA Times
Georgia Tech is one of the teams that has gone with Russell's pajama uniforms, with terrible results.
These things are just so poorly designed. What's going on with the number font? The weird piping under the arm? The weird piping and colored cabooses?
And the 3D honeycomb pattern contributed to the nation dubbing these uniforms the "Bubble Wrap" unis.
Here's to hoping that Georgia Tech does what it has done seemingly every year under Russell: Get new uniforms.
Grade: D-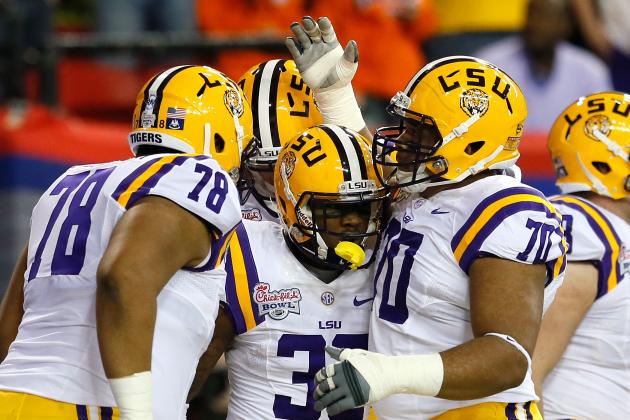 Kevin C. Cox/Getty Images

Most fans, including LSU fans, probably didn't even realize the Tigers had new uniforms in the Chick-fil-A bowl.
LSU switched to Nike's latest jersey technology, which included a switch to a really nice modern number font.
Also, the sleeve stripes tapered down a little bit more. I couldn't tell if this change was weird or not, and I'm still undecided. You wish the stripes would loop around the arm hole like they did back in the day.
If LSU could just use the modern Geaux font for the lettering on the helmets, they could finally have merged classic with modern.
Grade: A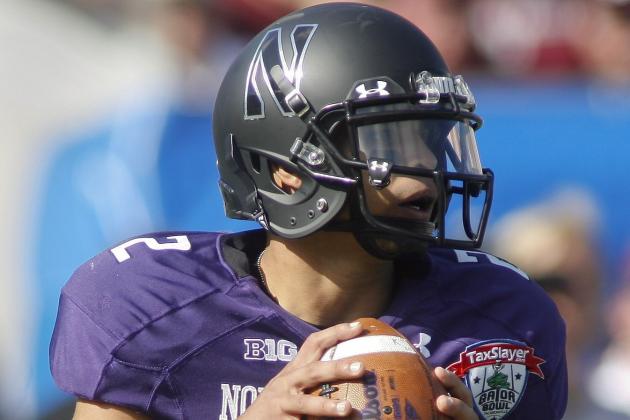 Phil Sears-USA TODAY Sports

Black helmet decals on matte black helmets. That's a good idea. Despite that statement being sarcasm, teams have done it this season, and Northwestern was the latest victim to the concept.
The overall combination of black-purple-black was neat, and I've really enjoyed the daring move by Northwestern to run the "Northwestern stripe" across the chest of the uniform.
Overall it's not a bad look, but the helmet decal should have been purple.
Grade: B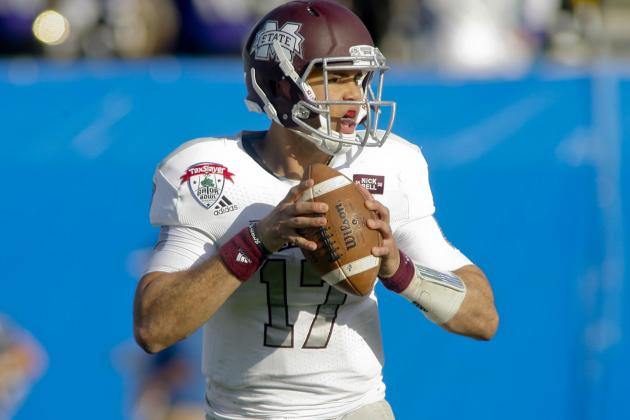 Phil Sears-USA TODAY Sports

Mississippi State changed things up with its Gator Bowl uniforms, featuring the white-out jerseys with silver numbers, gray pants, and gray facemasks on the matte helmet.
Surprisingly, all of those ingredients came together for a decent-looking set.
The numbers seemed a little difficult to see from a distance because they are reflective, but that hasn't stopped teams in the past (except for Georgia Tech, which got rid of its gold numbers last year after one game because spotters were complaining they couldn't see the players).
But, wait until you see Michigan's...
Grade: B+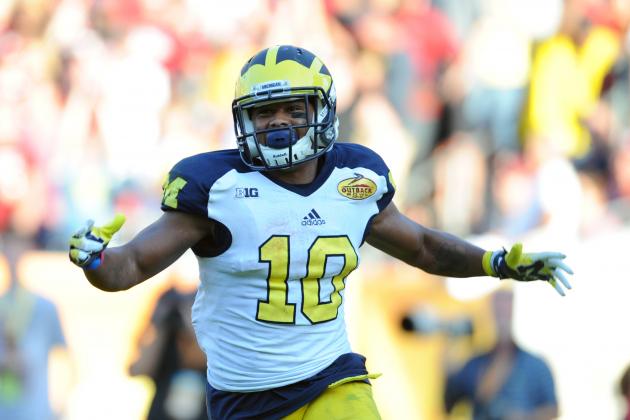 Al Messerschmidt/Getty Images

Michigan has gotten in a habit of unveiling special-game uniforms, and these were undoubtedly the worst of the bunch.
First off, the yellow numbers were nearly impossible to see on television, and apparently for spotters too.
The helmets, which were changed from a gloss paint to matte paint, looked like they had a strong tint of gray in them.
Michigan has a nice look. Sure, it could find a few ways to change the uniforms here and there, but so far it's been failing to do so.
Grade: C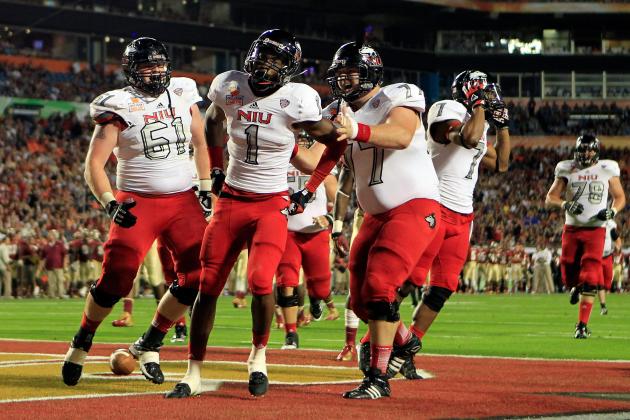 Chris Trotman/Getty Images

When I first saw these at the NIU unveiling, I was so-so on them.
But, after seeing them in action I learned to love them.
The black lid, white jersey and red pants combo was something new, and I loved the custom number font and over-sized word mark on the chest.
These silver numbers, which featured black bevels, popped out a lot more than Michigan's.
Grade: A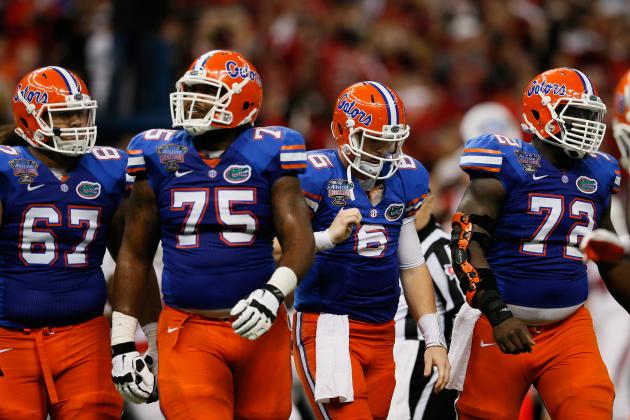 Kevin C. Cox/Getty Images

This isn't exactly a new combination, but Florida has not worn this combination much in the modern era.
And, considering the Gators keep losing whenever they wear it, you probably won't see much of it in the future.
Too bad. I much prefer the completion of color balance that the orange pants bring to the uniform over the white pants.
Grade: A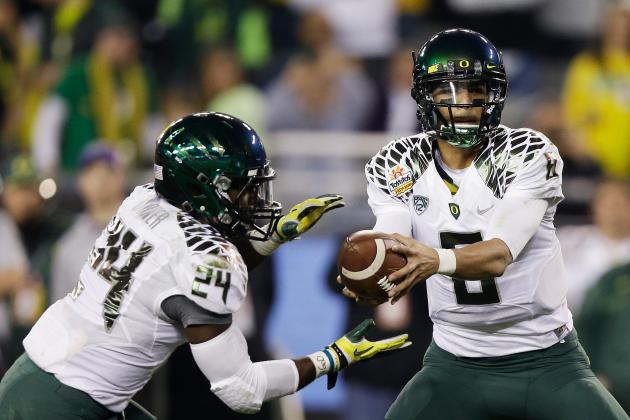 Ezra Shaw/Getty Images

I might be in the minority, but for as cool as the Ducks' individual elements look, their uniforms can sometimes be awful.
The Fiesta Bowl combination was no exception.
Oregon just has too many gimmicks from Nike's design that clash, depending on the combination.
The yellow/chrome helmets, kelly green jerseys and yellow pants made for my favorite college football uniform.
But these looked really dull. The helmet fades from green to black, seemingly, with chrome green wings. Those are nice, but not paired with the iridescent wings and numbers of the jersey that actually change colors.
The numbers are way too reflective and color-confused. They are not an aesthetic pleasure by any means. And the green pants, which are matte, are way too dull to be paired with such a shiny dome.
Overall, though, Oregon will always be interesting enough to look at.
Grade: B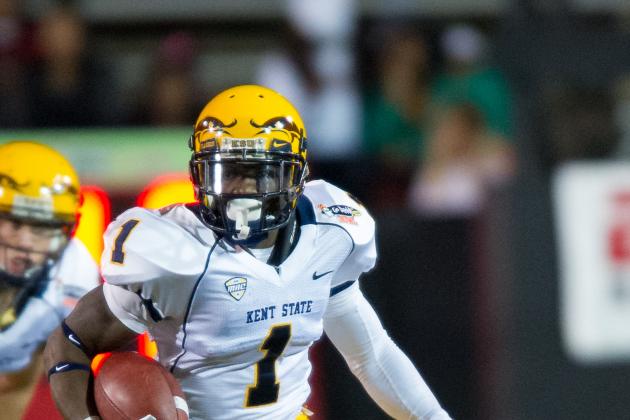 Michael Chang/Getty Images

I couldn't believe this was real. Seriously.
Kent State added eagle-eye decals to the helmets, with the "K" decal being slapped on the back of the helmets.
These were hilarious, if anything. In fact, these helmets might epitomize the era we are in: Anything you can think up is bound to get thrown on a uniform, and somewhere a 17-year-old kid is going to think it looks "kewl."
Grade: D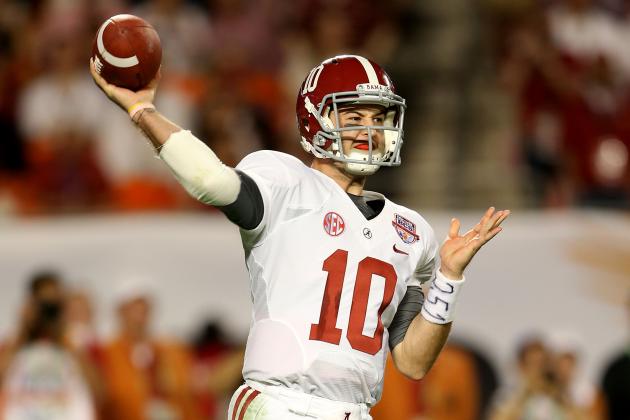 Streeter Lecka/Getty Images

Perfect.
Alabama unveiled new Nike uniforms and did it right.
It's funny that the Crimson Tide can wear Nike's latest technology, which includes the giant, lay-flat collar, without looking ridiculous (see nearly half of the new NFL uniforms).
Nothing to see here but tradition.
Grade: A+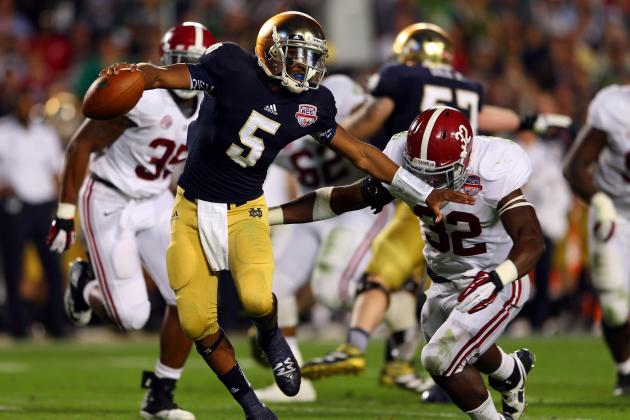 Mike Ehrmann/Getty Images

Hear me out.
No, Notre Dame doesn't have any trick up its sleeve from the equipment team (I think).
But, the Irish do re-paint their helmets before every game, which allows them to be part of this discussion.
The newest true-gold finish has also looked amazing, especially on everyone's HD televisions.
The only issue I have with Notre Dame's uniforms is the matte pants the Irish started wearing this year. They contrast way too much with the helmets. If Notre Dame could just return to shiny pants, it would look perfect.
Grade: A