20 Hilarious Athlete Impersonations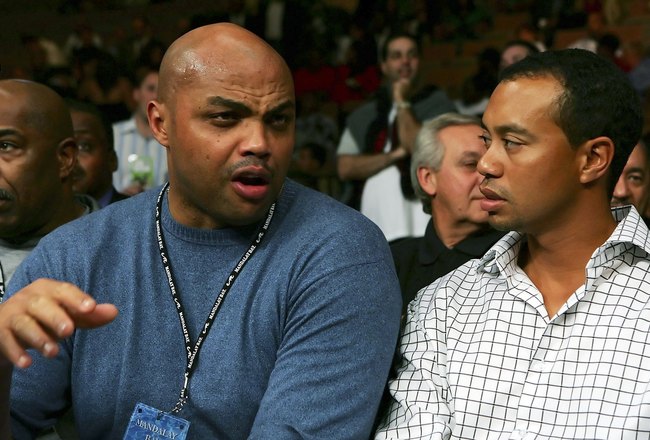 Ethan Miller/Getty Images
The culture of sports evolves through imagination, and there is nothing better to sports fans than when they can relate to their favorite superstars.
Each athlete has his/her own unique style and behavior, and there is nothing better than seeing a professional athlete make fun of his/her teammates, coaches or fellow competitors.
Here are 20 hilarious athlete impersonations. Enjoy.
Dwight Howard on Coach Van Gundy (No. 1)
The drama between former Orlando Magic head coach Stan Van Gundy and superstar center Dwight Howard seemed like it would never end.
First Howard was going to be traded, then the Magic CEO drunk-dialed Howard and "pleaded" with him to stay in Orlando, and then Van Gundy reported that Howard asked the coach to be fired.
According to this impersonation video, it seemed like Howard and Van Gundy shared a personal relationship and got along really well.
The insurmountable drama between the two led to both leaving the organization, but that didn't rule out the two publicly exchanging a positive relationship with each other.
Andy Roddick on Novak Djokovic
Tennis stars Andy Roddick and Novak Djokovic have a long history of mocking one another.
At a US Open press conference in 2008, Roddick ripped Djokovic for his numerous "injuries," apparently including everything form body aches to the bird flu.
Shortly after, Djokovic and Roddick were mic'd up for their next round of blows for the entire crowd to hear.
Dwight Howard on Coach Van Gundy (No. 2)
Dwight Howard earned the nickname "Superman" for his freakish size and strength at the young age of 19.
Not only is Superman one of the best professional basketball players being drafted out of high school, but Howard also has one of the NBA's most likable personalities.
Here's Howard impersonating Stan Van Gundy again, only this time he is praising the coach's love for the Magic team.
Players mocking their coaches truly never gets old.
Kevin Garnett on Sam Cassell
Former NBA point guard Sam Cassell won two NBA Championships with the Houston Rockets in his first two years in the league, but it would require him to change teams seven times over the next 13 years before he won his third and final NBA title with the Boston Celtics in 2008.
Having played for eight different NBA franchises, the average fan might ponder, "Wow, I wonder what this guy brings to the clubhouse having been shopped around so much".
Well, according to Kevin Garnett, perhaps Cassell was forced to change teams so much due to the fact that no one could understand a single word he was saying.
Dizzy Grant on His Favorite NBA Personalities
The Harlem Globetrotters are the most pure form of entertainment the sports world has to offer.
Not only is star guard Dizzy Grant quick with his hands, but he also performs master impressions of nearly every NBA player.
Grant boasts talent that could take a lifetime to learn.
Long live the Globetrotters.
Ryan Dempster on Harry Carry
There is no more popular figure at the Friendly Confines of Wrigley Field than the late Harry Caray, and former Cubs ace Ryan Dempster can accurately remind baseball fans of what it is like to hear the legendary voice.
From the numerous portraits draped all over Wrigleyville to the beer vendors donning oversized eyeglasses at every game, Harry Caray's legacy will never fade away in Chicago.
The Houston Rockets on Their Favorite Teammate: Dikembe Mutombo
Dikembe Mutombo was selected fourth overall in the 1991 NBA draft straight out of Georgetown University and the Democratic Republic of the Congo.
Mutombo played 18 seasons in the NBA for six different clubs, including eight All-Star Game appearances and four Defensive Player of the Year awards.
What many NBA fans didn't know, however, is that Mutombo is the center of numerous YouTube videos involving former teammates—including this one with the entire Houston Rockets team.
Recently, Mutombo made headlines for his humility rather than his hilarity after he donated $15 million toward building a hospital in the city of Kinshasa, Congo.
Seems like all of that time spent hazing rookies in the NBA paid off for Mr. Mutombo.
Dwight Howard on Charles Barkley
It is no secret that Charles and Dwight have a very open and public relationship with each other.
Back in 2010, one of the most popular commercials was the "My Touch 3G" advertisement that featured Chuck sleeping in a La-Z-Boy chair before the two barked at each other about donuts and yoga poses.
During this NBA on TNT interview, Sir Charles rips into Dwight for "not demanding the ball enough," before Ernie Johnson Jr. livens up the conversation.
Blake Griffin as Spike Lee, Jordan Cameron as MJ
NBA superstar Blake Griffin tried to boost the draft stock of former USC tight end Jordan Cameron by recreating the iconic Nike commercial featuring Spike Lee and Michael Jordan.
Along with Dwight Howard, Blake Griffin has one of the best personalities in the NBA.
From the hilarious Kia commercials to his YouTube clips on late night talk shows, Griffin is always keeping NBA fans entertained.
All you have to do is ask Kendrick Perkins if Griffin is entertaining on the court as well.
Caroline Wozniacki on Serena Williams
All of the videos in this slideshow were clearly filmed on the basis of humor and having fun.
This video, however, stirred up nothing but controversy, which the Huffington Post dubbed as "a firestorm of criticism."
Serena said the impression was "hilarious," while others didn't hesitate to sound off on Wozniacki.
She also has imitated Rafael Nadal after the Spaniard ended an interview early due to a painful cramp, and here's her and fellow tennis star Kim Clijsters having some fun.
Wozniacki has a great personality that women's tennis could definitely use to boost fan interest in the sport—proving that she is comfortable in the professional role.
Dwight Howard on Kobe
Here is Dwight's best impression of Kobe Bryant, "you know"—showing that the two superstars got off to the right start after the team signed Howard in June.
I imagine it is pretty frustrating to play for a team that starts 15-20 after many picked them to win the Western Conference.
The numerous Lakers losses have created nothing but negativity toward the franchise, and allegedly led to a recent "heated exchange" between Howard and Kobe following the Lakers' loss to the Philadelphia 76ers on New Years Day.
Stefan Bondy of the New York Daily News said, "Bryant called Howard soft and the Lakers center had to be restrained from going after his teammate".
The very next day, Kobe tweeted this photo to reassure Lakers fans that everything is fine between the two.
Cuba Gooding Jr. on SportsCenter
Unlike the rest of the videos in this slideshow, Cuba Gooding Jr. is put on the spot and told to imitate people in a matter of seconds.
Cuba's impression of Herm Edwards was very well done, but Herm Edwards himself is arguably ESPN's best personality.
Edwards is most famous for his postgame comments during his time with the New York Jets, but my personal favorite line came during his speech to NFL rookies.
The NFL began rookie symposiums in an attempt to better educate players on what it means to be a "professional."
Edwards called on the rookies with newfound wealth to buy just one of everything, including one piece of jewelry—not the "Mr. T starter set."
Novak Djokovic on John McEnroe...at the US Open
At arguably the biggest stage in tennis, Novak Djokovic openly mocks tennis legend John McEnroe to get a few laughs from the crowd.
McEnroe's explosion at Wimbledon in 1981 is one of the most well-known events in tennis, and perhaps sports history.
Little did Djokovic know, McEnroe was on site for the theatrical remake and challenged Djokovic to one point on the spot.
Andy Roddick on Rafael Nadal
According to the video, someone in the Madison Square Garden crowd yelled "GO RAFA!" before Andy Roddick was about to serve against Roger Federer.
Being the character that he is, Andy Roddick rolled up his sleeves and fully imitated Rafael Nadal, won the point and eventually won the match.
Dwight Howard on Shaq
Here's Dwight poking fun at Shaquille O'Neal, who has an ego bigger than the Superdome.
My personal favorite lines were, "Ask anyone," "I bet Kobe can't dance like me" and "I can't shoot free throws."
Spot on, Dwight.
Andy Roddick and Maria Sharapova Exchange Imitations
In an exhibition match, Maria Sharapova imitated Andy Roddick with a little help from the crowd, to which Roddick responded with his own imitation of Sharapova.
Roddick's imitation of the Sharapova hand gesture is a spitting image and gave the fans at the 2008 Rock n' Rackets exhibition match a great laugh.
Roddick has some pretty hilarious postgame interviews on YouTube as well.
Tiger Woods on Charles Barkley's Golf Swing
If you ever find yourself watching Charles Barkley play golf, immediately look away.
Barkley is arguably the greatest power forward in NBA history, but those unique skills took a complete 180 once Sir Charles started playing golf.
Tiger and Chuck were good friends, but in an October interview with Crave Online, Barkley publicly stated, "I have not talked to Tiger since the accident."
Regardless, Tiger's impersonation of Chuck is a pretty good idea of what playing golf with "The Round Mound of Rebound" is like.
Kyle Lohse Plays Tony LaRussa
On May 12, 2011, Cardinals starting pitcher Kyle Lohse played his manager Tony LaRussa so intensely that he exchanged lineup cards with the umpires before the game.
Lohse filled in as LaRussa while the manager was forced to miss a few games due to shingles in an effort to boost morale around the clubhouse.
Jonathan Papelbon on Terry Francona
Like the Cuba Gooding Jr. video, Jonathan Papelbon was called upon to impersonate someone immediately on the spot.
As ESPN's Tim Kurkjian said, Terry Francona had Blue Jays catcher J.P. Arencibia imitate the always entertaining Tim Kurkjian, which made ESPN's top baseball analyst "the laughingstock of baseball."
Papelbon, now with the Philadelphia Phillies, was Terry Francona's closer back in their days with the Boston Red Sox.
Papelbon's impersonation of Francona gives fans an inside look of what it was like to play for the World Series-winning manager.
Alabama's Rob Ezell on Coach Saban
After the University of Alabama recently won its third national championship in four years, head coach Nick Saban has vaulted himself as one of the most important people in the state of Alabama.
Usually when a person of power is as serious as someone like Saban, you rarely get a look at impressions or impersonations like the one 'Bama wide receiver Rob Ezell provided for us.
Roll Tide.
@kevry88 on Twitter
Keep Reading