Montreal Canadiens: A Look at Their Depth Chart for 2013 NHL Season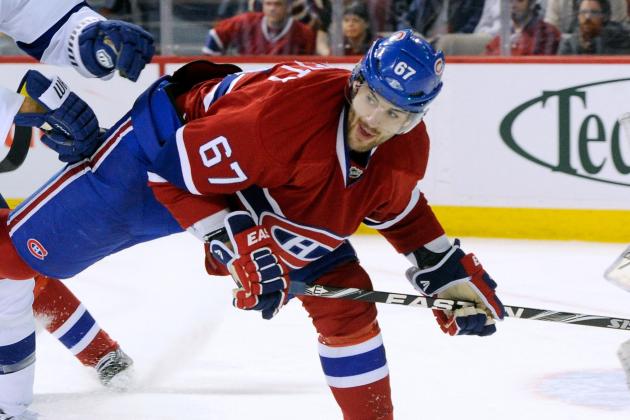 Richard Wolowicz/Getty Images
Max Pacioretty has developed into a star with the Canadiens.
The disaster that was the 2011-12 season is now in the past.
Now that the lockout is over, the Montreal Canadiens can attempt to start climbing back from their basement apartment in the Eastern Conference.
The Canadiens have a new general manager in Marc Bergevin and a new head coach in Michel Therrien. This should help the team get rid of the dark cloud that hung over the franchise last season.
As bad as the Canadiens were last year—with their 31-35-16 record—it may be difficult for many fans to remember that they were a playoff team in 2010-11. That season, they extended the eventual Stanley Cup champion Boston Bruins to overtime of the seventh game before falling short.
The talent level on this year's roster is probably closer to that of a playoff team than a last-place team. However, while they have added grit to their roster, it will still be a struggle to get back to the playoffs.
Here is a look at the depth chart for the 2012-13 version of the Montreal Canadiens.
Begin Slideshow

»
Left Wing: Max Pacioretty
Center: David Desharnais
Right Wing: Erik Cole
This line is capable of lighting up the scoreboard for the Canadiens. Pacioretty, Cole and Desharnais were the team's leading scorers last year, and they should emerge as a powerful offensive trio once again.
Pacioretty is on his way to becoming a superstar after scoring 33 goals last year. Cole tallied 35 goals, himself, and drives to the net with power and explosiveness. Desharnais is a solid all-around passer and performer.
Left Wing: Rene Bourque
Center: Tomas Plekanec
Right Wing: Brian Gionta
While the Canadiens got plenty of scoring from their first line a year ago, the same cannot be said of their other scoring combinations.
Plekanec has a chance to be a dominant player because he has an excellent skill set. He is a dynamic skater and plays solid defense. He also has a hard shot, great passing ability and an array of moves.
Bourque was quite disappointing last year (24 points) while Gionta's season (31 games) was torn apart by injuries.
Left Wing: Travis Moen
Center: Lars Eller
Right Wing: Brandon Prust
Moen should get the opportunity to prove that he can play on this line, but if he does not get off to a sharp start after scoring 16 points last year, he will almost certainly ride the bench.
Eller is an instinctive player who is improving, and he scored 16 goals last year for the Canadiens. Prust comes over from the Rangers and brings the Canadiens much-needed grit.
Therrien is hoping that Prust's work ethic and willingness to take an elbow in order to make a play will rub off the rest of the team.
Left Wing: Colby Armstrong
Center: Louis Leblanc
Right Wing: Ryan White
The Canadiens will not be looking at their fourth line for anything but hustle and hard work.
Armstrong played just 29 games last season as a result of ankle and foot injuries. Armstrong has scored 20 goals once in his career. Leblanc is a swift skater who can also play left wing, but he has not been very productive to this point in his career. White is an unproven player.
The Canadiens hope that first-round draft pick (third overall) Alex Galchenyuk can step up and win a roster spot this year and give the team more explosiveness from his center position.
LD: Andrei Markov
RD: P.K. Subban
Andrei Markov is coming off knee surgery, but the Canadiens expect him to be healthy this season.
P.K. Subban is an explosive offensive player who can fire the puck from the point and also carry the puck with speed. He often lacks consistency and has a tendency to dive.
LD: Tomas Kaberle
RD: Josh Gorges
Kaberle does not appear to be an asset to any team that wants to assert itself. While he can skate, carry the puck and pass, he is timid and will not hit anyone.
Gorges is a solid defenseman who plays hard every game. He scored 16 points last year and was plus-14 for a last-place team.
LD: Alexei Emelin
RD: Francis Bouillon
Emelin has size and strength at 6'2" and 223 pounds, but he lacks consistency and can be beaten too often.
Bouillon is an excellent acquisition for the Canadiens. He returns to the Canadiens after spending the last three seasons in Nashville. He plays a physical game and he is a smart and competitive player.
Starter: Carey Price
Backup: Peter Budaj
Carey Price may be the Canadiens' best asset for the current season as well as the future. The Canadiens are committed to Price for the next six seasons at $6.5 million per season. He has all the tools needed to be a dominant goaltender, and he had a 2.43 goals against average with four shutouts last year.
Budaj is a solid backup who doesn't play often, but he had a 2.55 GAA and a .913 save percentage last year.