2013 NHL Season: Projecting Carolina Hurricanes' Opening Day Depth Chart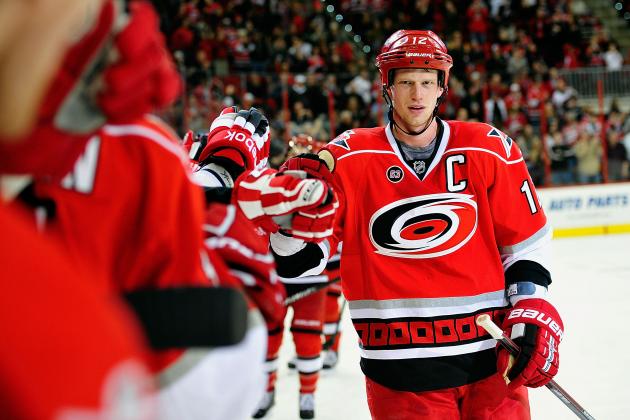 Grant Halverson/Getty Images

Hockey.
At last.
News broke early Sunday morning that the NHL and NHLPA had agreed on a tentative 10-year CBA, which would reportedly allow for a 48-game hockey season beginning Jan. 19.
The Charlotte Checkers, minor league affiliate of the Carolina Hurricanes, kicked off hockey's return to Raleigh with a 3-1 victory over Norfolk at PNC Arena Sunday afternoon. The record-breaking crowd of 10,256 watched, essentially, an audition session for many of the 'Canes youngest rising stars.
Now, however, Raleigh's focus shifts to a training camp expected to open within the week. High-profile newcomers Alexander Semin and Jordan Staal will arrive to face lofty expectations and an unexpected hole in the top six—Tuomo Ruutu's recently-announced hip surgery will keep him out for most, if not all, of the upcoming season.
A number of prospects showcased in Sunday's AHL contest will also feel the spotlight in a rushed training camp; forwards Zac Dalpe, Zach Boychuk, Drayson Bowman and Jerome Samson along with defensemen Bobby Sanguinetti, Marc-Andre Gragnani and Ryan Murphy should all contend for a scarce few NHL jobs.
Full projections for the 'Canes opening day training camp, along with player-by-player statistical projections for the shortened season, lay on the coming slides.
Begin Slideshow

»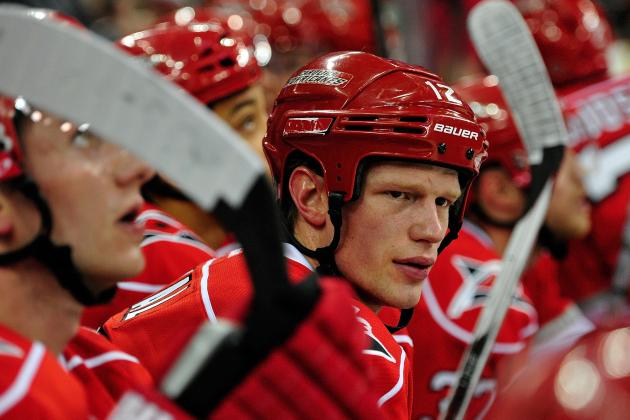 Grant Halverson/Getty Images

With reports that Tuomo Ruutu's injury may force brothers Eric and Jordan Staal to play separately, expect 2011-12 breakout star Jiri Tlusty to return to the first line alongside Eric and high-profile newcomer Alexander Semin.
Tlusty, 24, quadrupled his previous career highs with 17 goals and 36 points last season, earning him a permanent top-six spot for much of the latter half of the season. The former first-round pick turned Maple Leaf leftover ranked fourth on the team in scoring and plus-minus (+1) and led the squad in shooting percentage (12.5 percent). Projection: 44GP, 9G, 11A

Meanwhile, Semin will join Carolina needing to fulfill high expectations and satisfy a skeptical fanbase. The 28-year-old is a former 40-goal scorer and year-in, year-out 50-point producer, but he'll need to live up to his $7 million cap hit to win over teammates and Caniacs alike. Projection: 41GP, 20G, 17A

Eric Staal will look to build off of his strong second-half finish to last season and improve his plus-minus rating, which plunged to a career-low minus-20 in 11-12. The 'Canes captain has stayed incredibly healthy throughout his career to date, but his endurance and good injury luck will be tested in a crammed 48-game campaign. Projection: 46GP, 17G, 26A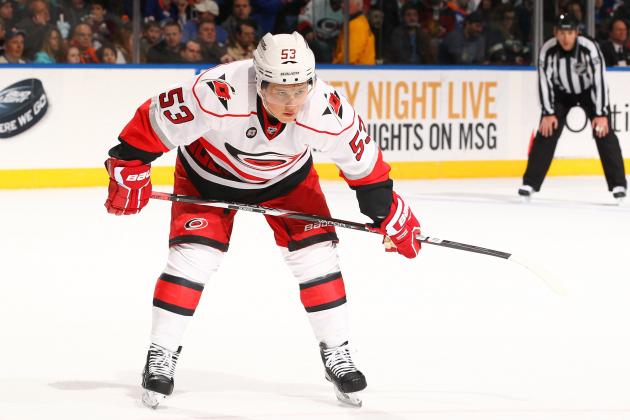 Al Bello/Getty Images

The Hurricanes' beloved "Skins & Finns" line is slated to be split apart by one 24-year-old newcomer from Thunder Bay, Ontario—Jordan Staal.
The former Penguin will get his first chance to become a first-tier, top-six impact player with the Canes, who hope his 25-goal, 50-point campaign last year on Pittsburgh's third line is a sign of his potential moving forward. It's impossible to question Jordan's defensive abilities, but will his goal-scoring make up for the loss of Brandon Sutter, Brian Domoulin and a first round pick? Projection: 48GP, 14G, 17A
Meanwhile, Jeff Skinner is back for his third professional year and looking to rebound after a somewhat disappointing 2011-12 campaign, in which he missed 18 games with a concussion and saw his point total drop from 63 to 44. Projection: 41GP, 14G, 13A
Jussi Jokinen, one of the 'Canes few practice mainstays during the lockout, will be expected to improve upon his mere 12 goals last season and revitalize Carolina's success in the shootout (the club posted a league-worst 1-6 SO record last year). The 29-year-old could take on a bigger penalty-killing role as well, after scoring two shorthanded goals a year ago. Projection: 45GP, 6G, 18A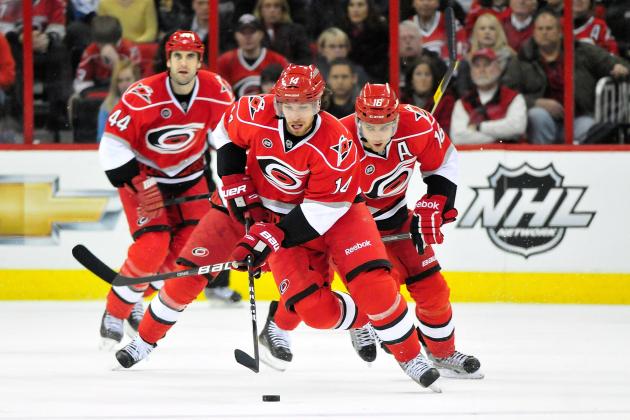 Grant Halverson/Getty Images

The aforementioned departure of Brandon Sutter deals a major blow to the Hurricanes' checking line, which will likely turn to a prospect to fill its now-gaping hole at third line center.
Patrick Dwyer is set to return for his fourth full-time season with Carolina; he's developed into an unheralded defensive and penalty-killing forward. The 29-year-old scored 12 points, including two shorthanded goals, last season. Projection: 48GP, 2G, 3A
On the opposite wing, Andreas Nodl proved himself a worthy NHL player last season after being claimed off of waivers in November 2011.The 6'1" speedster scored seven points in 48 games with the 'Canes in 2011-12 and proved a trustworthy asset in his own end. Projection: 42GP, 3G, 6A
Jeremy Welsh was the preseason favorite to win the center job, but his one-game NHL tryout last April was underwhelming (two minor penalties, zero points) and his AHL stats with Charlotte this season (12 points in 36 appearances) aren't overly impressive, either. Projection: 8GP, 2A
Dalpe, conversely, has recorded 23 points and a plus-11 rating in 35 games with the Checkers and earned the second star in Sunday's PNC Arena game, scoring on a shorthanded second-period breakaway and adding the clinching assist in the closing minutes. The Opening Day spot may well be his to lose in training camp. Projection: 31GP, 3G, 3A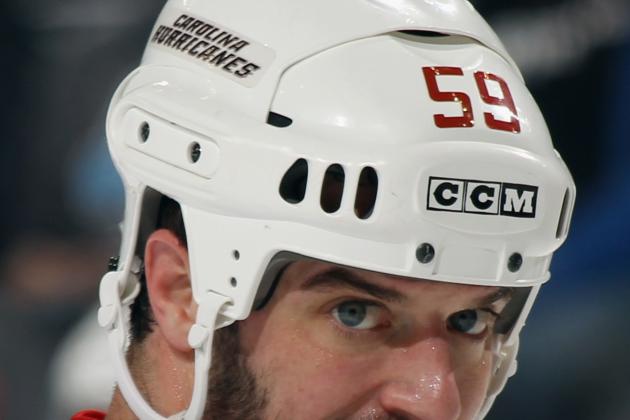 Bruce Bennett/Getty Images

The additions of Jordan Staal and Alexander Semin likely booted Chad LaRose out of the top six. The 30-year-old, generously listed at 5'10", is far too defensively inept (minus-36 rating over the last two seasons) to suffice on the third line, either.
So the 'Canes could be left with a 19-goal, 32-point producer on the fourth line. LaRose is, without a doubt, a colossal enigma—the longtime Hurricane's fiery spirit and driving energy have made him a fan and coach favorite over the years, but his shortcomings are, at times, cringe-worthy. For now, his role is entirely up in the air. Projection: 37GP, 8G, 5A
Meanwhile, English celebrity Anthony Stewart will continue his struggle to stay off the healthy scratch list; we expect his supposed "offseason makeover" could help the 6'3", 230-pound bruiser finally win that battle. He scored nine goals and 20 points in 77 games last season. Projection: 34GP, 3G, 5A
Tim Brent evolved into a reliable fourth-line center and locker room leader for the Hurricanes last season, scoring 12 goals and 12 assists with a whopping 16.9 shooting percentage. He's a lock for the fourth-line center role entering this season. Projection: 46GP, 4G, 5A
Underrated prospect Drayson Bowman should also get his fair share of NHL playing time this season as an injury fill-in. Bowman, 23, has 21 points in 36 games for Charlotte so far this year. Projection: 13GP, 2G, 1A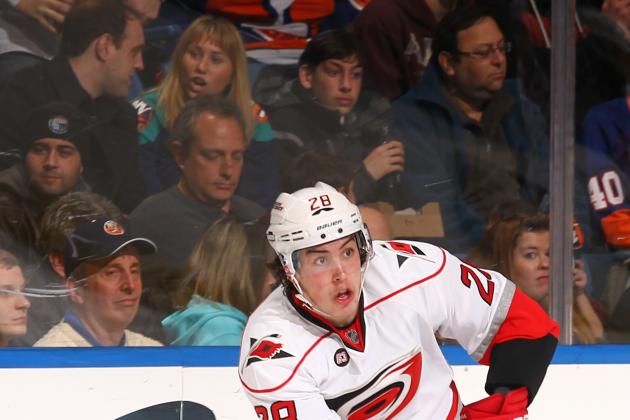 Al Bello/Getty Images

Justin Faulk may well be the most prepared Hurricane entering training camp, having played 31 games for the Charlotte Checkers this season while receiving top-pairing minutes night in and night out. The 2011 Calder Trophy candidate racked up a team-leading 19 assists and 24 points during his time in the AHL.
Now he returns to Raleigh, where he recorded five power-play goals and 22 points in 2011-12 while leading the team in ice time. Faulk still has room to improve, especially in his own end, but he's certainly on pace for another big year. Projection: 47GP, 3G, 10A
Puck-moving offensive defenseman Joni Pitkanen, 29, will return from Finland this week. The Hurricanes' top-paid blueliner always puts up big numbers, but his minus-28 rating since fall 2009 is a concern. Projection: 40GP, 3G, 15A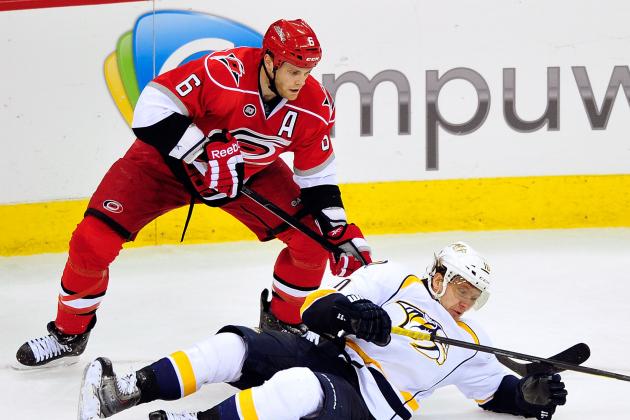 Grant Halverson/Getty Images

Veteran D-man Joe Corvo continued his Brett Favre-esque relationship with the Hurricanes last summer by returning to Raleigh for his third separate stint with the team. Corvo struggled in a tough situation last season with Boston, but, historically, he has played his best hockey in Carolina. Projection: 42GP, 4G, 6A
Rare mid-season re-signing Tim Gleason will enter training camp making more money than ever, but the offensively-loaded Carolina defensive unit needs him desperately. Expect Gleason to play career-high minutes and get more of the spotlight than ever before this spring. Projection: 47GP, 1G, 4A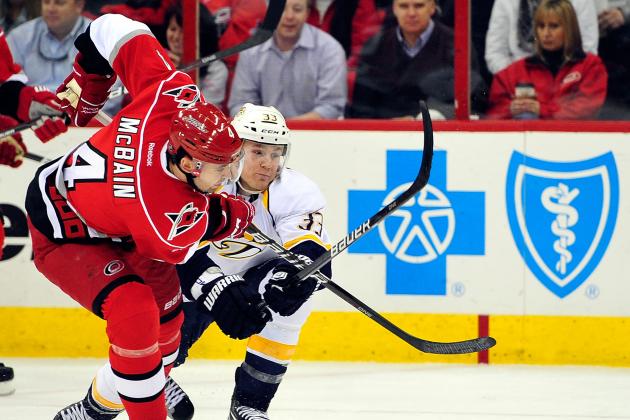 Grant Halverson/Getty Images

The longtime chemistry between Tim Gleason and Joe Corvo may temporarily knock young Jamie McBain down to the third pairing, but the Hurricanes' top-scoring defenseman last year should get plenty of opportunities to work his way up again. 24-year-old McBain took just two penalties in 76 games last year and has scored 15 goals and 57 points over the last two seasons combined. Projection: 43GP, 4G, 7A
Jay Harrison's improvement in 2011-12, which carried him to career highs in goals (nine), points (23) and appearances (72), may have earned him a starting job heading into training camp. He'll have to hold off 2011 first round pick Ryan Murphy, AHL standout Bobby Sanguinetti and free-agent signing Marc-Andre Gragnani in training camp as the 'Canes most intriguing roster spot duel condenses into less than a week. Harrison Projection: 28GP, 4G, 3A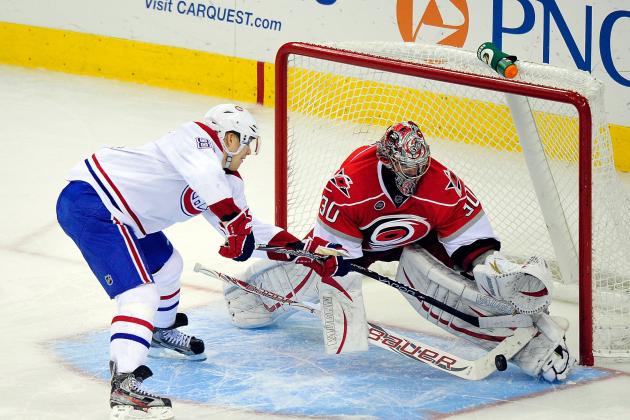 Grant Halverson/Getty Images

Franchise cornerstone Cam Ward struggled early last season, as did the rest of the team, but rallied back in 2011-12's second half to post a respectable .915 save percentage and 2.74 GAA for the year.
He's indisputably the 'Canes starter for the coming season, but the Hurricanes will need 20 to 22 wins from him in order to qualify for the postseason. 2012-13 could well be a season-defining campaign for Ward. Projections: 23-15-4, .918 save percentage, 2.58 GAA
Veterans Brian Boucher and Dan Ellis along with longtime experimental backup Justin Peters will all get a chance to win the second-string job; Peters, given that his contract becomes one-way in the summer, is probably the smartest choice. Peters Projection: 2-2-1, .908 save percentage, 2.84 GAA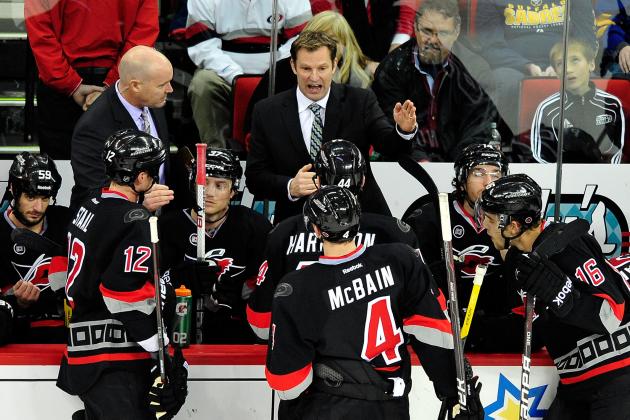 Grant Halverson/Getty Images

A compilation of all of our statistical projections, including prospects not mentioned and a general category for players acquired via trade:
| | | | | | |
| --- | --- | --- | --- | --- | --- |
| Rank | Player | GP | Goals | Assists | Points |
| 1 | Eric Staal | 46 | 17 | 26 | 43 |
| 2 | Alexander Semin | 41 | 20 | 17 | 37 |
| 3 | Jordan Staal | 48 | 14 | 17 | 31 |
| 4 | Jeff Skinner | 41 | 14 | 13 | 27 |
| 5 | Jussi Jokinen | 45 | 6 | 18 | 24 |
| 6 | Jiri Tlusty | 44 | 9 | 11 | 20 |
| 7 | Joni Pitkanen | 40 | 3 | 15 | 18 |
| 8 | Chad LaRose | 37 | 8 | 5 | 13 |
| 9 | Justin Faulk | 47 | 3 | 10 | 13 |
| 10 | Jamie McBain | 43 | 4 | 7 | 11 |
| 11 | Joe Corvo | 42 | 4 | 6 | 10 |
| 12 | Tim Brent | 46 | 4 | 5 | 9 |
| 13 | Andreas Nodl | 42 | 3 | 6 | 9 |
| 14 | Anthony Stewart | 34 | 3 | 5 | 8 |
| 15 | Jay Harrison | 28 | 4 | 3 | 7 |
| 16 | Zac Dalpe | 31 | 3 | 3 | 6 |
| 17 | Patrick Dwyer | 48 | 2 | 3 | 5 |
| 18 | Tim Gleason | 47 | 1 | 4 | 5 |
| 19 | Drayson Bowman | 13 | 2 | 1 | 3 |
| 20 | Tim Wallace | 19 | 1 | 2 | 3 |
| 21 | Jeremy Welsh | 8 | 0 | 2 | 2 |
| 22 | Zach Boychuk | 7 | 2 | 0 | 2 |
| 23 | Jerome Samson | 5 | 1 | 1 | 2 |
| 24 | Bobby Sanguinetti | 14 | 0 | 2 | 2 |
| 25 | Marc-Andre Gragnani | 3 | 0 | 1 | 1 |
| 26 | Riley Nash | 3 | 1 | 0 | 1 |
| 27 | Brett Sutter | 2 | 0 | 0 | 0 |
| | GOALTENDERS | 48 | 0 | 4 | 4 |
| | ACQUIRED PLAYERS | 40 | 6 | 15 | 21 |
| | Team Totals | 864 | 135 | 202 | 337 |
Total Offensive Production: 2.81 Goals Per Game