Breaking Down RG3's Injury-Riddled Performance on Sunday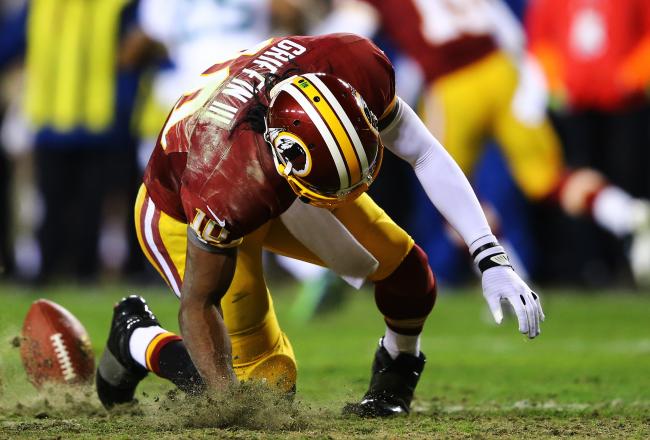 Al Bello/Getty Images
Robert Griffin III hobbled throughout The Washington Redskins' nights Wild Card game against the Seattle Seahawks with a knee injury. He played through obvious pain and struggled to deliver throws with consistent power due to his limitations with his legs. The legs of a quarterback are the most important because they have the most control over the landing spot of the ball, and RG3's were not stable enough to allow him to control the accuracy of where he was throwing the ball.
Wrapped up in a lengthy knee brace, RG3's right knee initially appeared to be OK. His mobility was limited but it looked like he was going to be able to throw the ball effectively enough to win the game.
However, a first quarter drive saw Griffin throw an incomplete pass in the red-zone on a play action boot and fall to the ground hard, with his knee seemingly giving out. He limped heavily back to the huddle, simultaneously strapping his helmet back on, and from there the injury only got worse.
It significantly affected the way he was able to drive on his throws the rest of the game and the once dangerous zone read-option—a play designed to take advantage of his mobility—didn't intimidate the Seahawks. RG3's entire right leg seemed to stiffen up---as if it had tremendous swelling---as the game went on.
The young signal-caller was still able to throw vertically at times early on because of his arm strength, but his right leg was clearly holding him back as he threw more passes. On throws to his left, he couldn't generate lower body power to throw accurately down the field. To his other side, his throws to the right saw him unable to consistently bring his leg over and follow through on his throws.
An instance of the former came early in the game---five plays in to be exact---when he shot a 30-yard pass to wide receiver Pierre Garcon.
Garcon was lined up to the far left on the play and was going to be running a deep comeback pattern against cornerback Brandon Browner. At the same time, RG3 was in the pistol, five yards off the line of scrimmage and would be taking a three-step drop after executing a fake to running back Alfred Morris.
After the fake to Morris, Griffin had some issues following his plant step. His right leg was the last of his three steps and all of his weight was on it.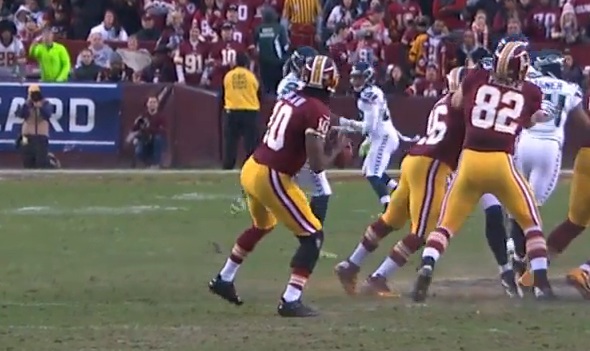 This was troublesome for the young passer because he wasn't going to be able to rotate his hips and transfer the power over to his front leg due to his limited mobility. Consequently, he was forced to simply open his hips to his left, plant his left leg into the ground and throw the ball with only his upper body.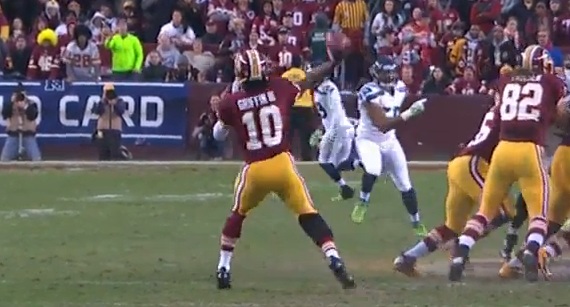 Fortunately, he has a very strong arm that enables him to make throws down-field even when he's limited with his lower body and that's what he did here. He delivered a strike to Garcon, completing the pass for 30 yards. But it was still unusually inaccurate, as Garcon had to stretch out to haul it in.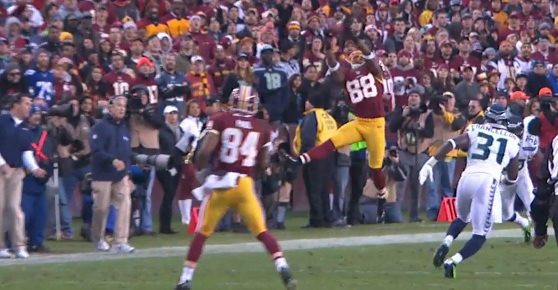 As noted, this was early in the game and RG3 was able to throw the ball down the field despite his limitations. But later in the game---precisely three plays into the fourth quarter---he wasn't able to do the same. A pass in the direction of wide receiver Josh Morgan sailed out of bounds and his footwork was obviously severely limiting him.
The play was the same as earlier; RG3 would be taking a three-step drop after a fake and throwing it outside the numbers to a deep comeback route. The only real difference, other than the receiver being Morgan opposed to Garcon, was that it was to his right.
Following his three-step drop, RG3 climbed the pocket and focused his eyes to the deep right. While doing so, he didn't appear to be comfortable in the pocket. He was hesitant in stepping through his throw, taking additional steps and never really driving through the pass.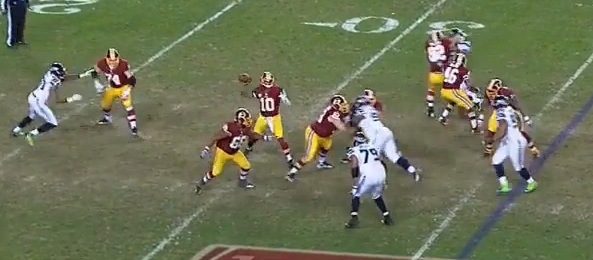 He made a slight turn of the hips and struggled to rotate his hips through the throw. The pass went over the head of Morgan and out of bounds.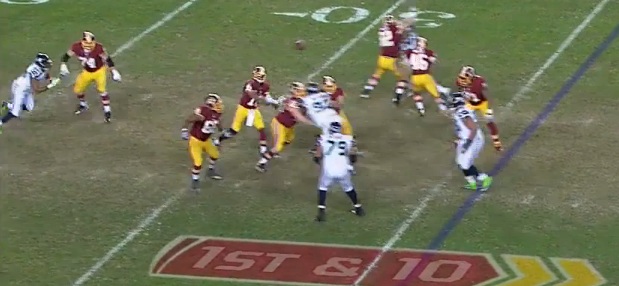 The play depicted just how difficult it was for RG3 to play through the injury and how important a quarterbacks footwork really is. If the passer is unable to rotate his hips and drive through the throw, his arm strength and accuracy are greatly affected.
Four plays after, he left the game and was replaced by rookie backup Kirk Cousins. He finished 10-of-19, one interception and a painful 4.4 yards per pass attempt. A far cry from his usual efficiency.
After the game, there was much debate over the handling of the injury by head coach Mike Shanahan. Shanahan cited an in-game discussion with the quarterback, saying that he was told by Griffin that he not injured (via NFL.com).
Robert said to me, 'Coach, there's a difference between injured and being hurt. I can guarantee I'm hurting right now, give me a chance to win this football game because I guarantee I'm not injured,' " Shanahan said. "That was enough for me."
It's only fair to criticize Shanahan for not pulling RG3 earlier from the game because it was obvious that his quarterback was ailing. Shanahan admitted to the same, stating "I think everybody could see after the first quarter that he wasn't always exactly the same," but he made the mistake of listening to his player.
Should Mike Shanahan have pulled RG3 earlier?
Shanahan should trust RG3, but there comes a point when he should take action when the situation is clearly harming the health of his player. That's what happened here, as the young signal-caller was forced to leave the game after his knee bended awkwardly in the fourth quarter.
Now the Redskins could potentially face an extended amount of time without their quarterback, as he has a reported partial tear of his ACL and LCL (via Mark Maske and Mike Jones of The Washington Post).
One person with knowledge of the situation said Griffin might have to undergo exploratory surgery to determine the extent of the damage and whether the injuries are new. Another said Griffin hopes to avoid full-blown reconstructive surgery if the tears are partial, even if they are new injuries.

A third person familiar with the case, asked whether the ligament damage is new or a matter of previous injuries showing up on Griffin's MRI, said: "That's what we're trying to find out."
Hopefully, the injury is not as serious as believed and RG3 won't miss extensive time.
This article is
What is the duplicate article?
Why is this article offensive?
Where is this article plagiarized from?
Why is this article poorly edited?

Washington Redskins: Like this team?