Boston Red Sox: Projecting Boston's 5 Man Rotation for 2013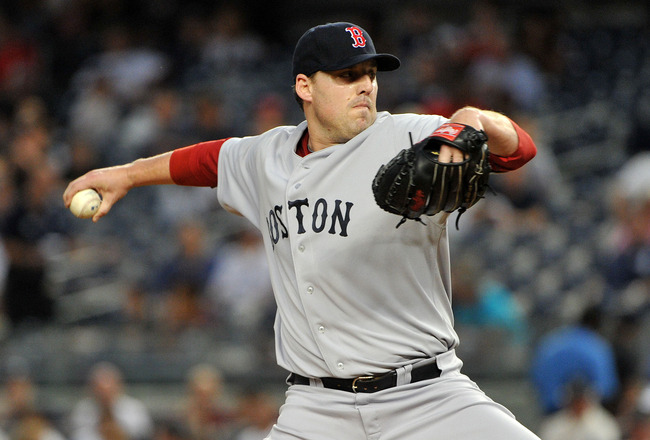 Christopher Pasatieri/Getty Images
With the signing of Ryan Dempster this offseason and the return of John Lackey after a year off from Tommy John surgery, the Boston Red Sox now have a full five-man rotation that is ready to go for the 2013 season.
There may be some competition for the fifth spot in spring training, but the team's five best starters are the ones that follow. The rotation's ultimate order will likely be different, but this order would help the Sox in the long run.
All statistics from baseball-reference.com.
1. Clay Buchholz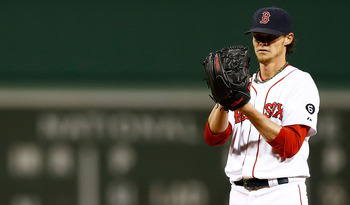 Jared Wickerham/Getty Images
Clay Buchholz should be the opening day starter going into 2013 because he has the stuff and was the team's best pitcher in 2012.
He totaled 189.1 innings and the lowest ERA for a Red Sox starter with 4.54.
While other starters struggled in the second half of the season, Buchholz posted a solid second half ERA and win percentage thanks to his great pitching.
John Farrell needs to make sure that Buchholz starts the season off against the New York Yankees in 2013 and Jon Lester follows in order for the rotation to be at its best in the three through five spots.
2. Jon Lester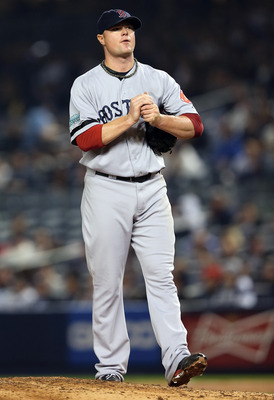 Elsa/Getty Images
Jon Lester really struggled in 2012, perhaps most notably in a four-inning, 11-run effort against the Toronto Blue Jays in July.
After making the All Star team in two straight seasons, Lester had trouble with walks and allowed a career-high 25 home runs in 205.1 innings.
He finished 9-14 with a 4.82 ERA, but working with John Farrell again will hopefully help the young lefty figure out exactly what is going wrong with his delivery.
The 29-year-old could also be the No. 1 starter, but I think it is time for Buchholz to get the chance.
3. Ryan Dempster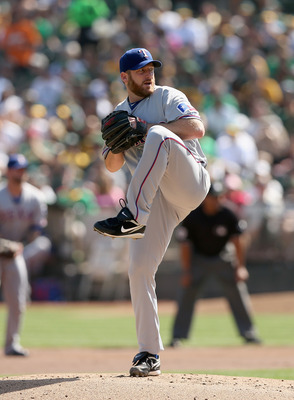 Ezra Shaw/Getty Images
Ryan Dempster may be 35 years old, but he still has the potential to be a solid third starter in the AL East.
After joining the Texas Rangers midway through last season, Dempster went 7-3 with a 5.09 ERA in 12 starts. Most of that ERA, however, came from his first three starts when he was adjusting to the AL.
His total ERA between the Chicago Cubs and Rangers in 2012 was 3.38, which was one of the top ERA's in baseball.
This type of veteran pitcher will be the solid third starter that the Red Sox need going forward.
4. Felix Doubront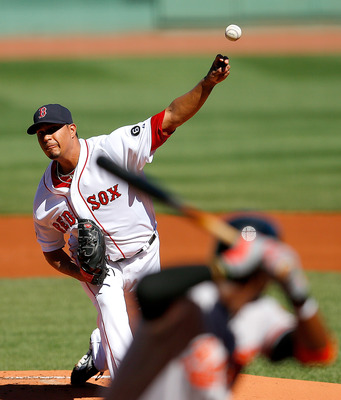 Jim Rogash/Getty Images
Felix Doubront was another bright spot in the Red Sox rotation in 2012.
He finished tied with the most wins with an 11-10 record and totaled 29 starts and 161 innings.
In late August, he hit a wall, and the Red Sox gave him some time off to rest him for the final stretch of the season.
In 2013, the 25-year-old should be able to pitch to an even higher level with about 200 innings pitched and an ERA either around 4.00 or under that. His ERA in 2012 was 4.86.
Doubront is the fourth starter so the rotation will go right, left, right, left and right. Also, no one knows how John Lackey will perform after Tommy John surgery.
John Lackey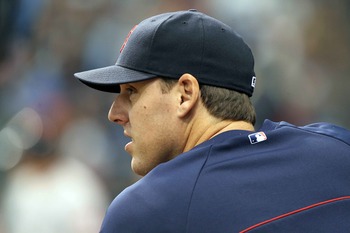 Kim Klement-USA TODAY Sports
John Lackey has not pitched in a MLB game since September 25, 2012 against the New York Yankees when he lasted six innings and allowed four runs (three earned) in a 7-4 victory.
He finished the 2011 season with a 12-12 record and a career-high 6.41 ERA.
After the season, Lackey went in for Tommy John surgery which put him out for the entire year in 2012.
He will be healthy to start spring training this season, but no one knows how missing a full season or the surgery will affect his ability to pitch the ball.
That is why the 34-year-old will be the fifth starter going into the season. He might be able to get 10 wins at the most, and that is a solid amount of wins coming out of the bottom of the rotation.
Follow @BrianRoachJr
Keep Reading

Boston Red Sox: Like this team?