2013 NFL Playoffs: 5 Most Disappointing Players from Wild Card Weekend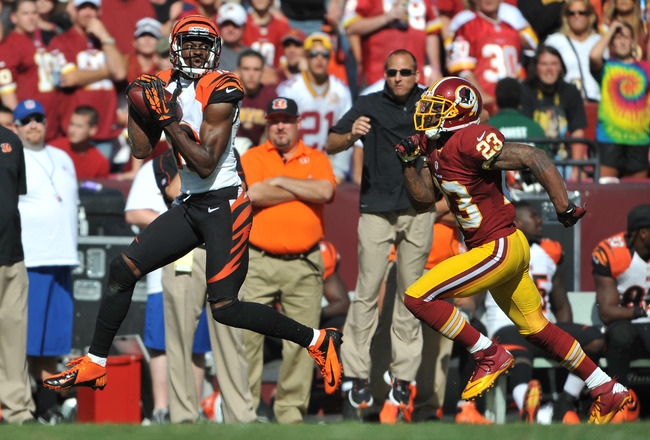 Larry French/Getty Images
Three teams found themselves particularly undermined by disappointing players on Wild Card Weekend. The quintet of flops is headlined by a talented, young quarterback-receiver combo that failed to shine.
There is also room for a loud-mouthed cover ace who lost his discipline in his team's biggest game. While one former first-round draft choice failed to live up to his billing and protect a franchise quarterback.
Here are the five most disappointing players from Wild Card Weekend.
5. Pierre Garcon, WR, Washington Redskins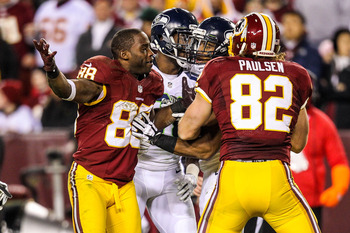 USA TODAY Sports
Pierre Garcon simply allowed himself to be unnerved by the Seattle Seahawks. The Washington Redskins No. 1 receiver didn't act like it in the face of physical pressing from Seattle's aggressive corners.
Instead, Garcon consistently became embroiled in shoving matches with the towering Brandon Browner. Rather than focusing on outwitting Browner's man coverage with double moves, Garcon sunk into sniping and hand fighting.
The Redskins needed their main deep threat to offer an outlet for injured and struggling quarterback Robert Griffin III. Considering the investment they made in Garcon during the offseason, the Redskins have a right to expect a more professional approach from a player with postseason experience.
4. Anthony Castonzo, LT, Indianapolis Colts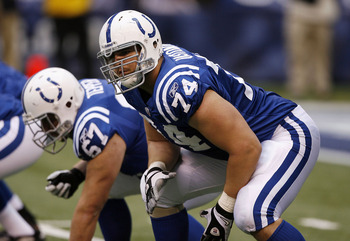 Brian Spurlock-USA TODAY Sports
When the Colts drafted Anthony Castonzo with the 22nd overall pick of the 2011 draft, they were expecting a bookend left tackle. Things haven't worked out that way, and Castonzo was brutally exposed by the Baltimore Ravens' blitz schemes.
He struggled to identify rushers and was stiff in his movement. Castonzo was also guilty of several penalties.
As the blindside protector for franchise passer Andrew Luck, Castonzo needs to improve and fast.
3. Andy Dalton, QB, Cincinnati Bengals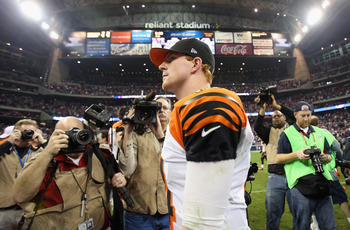 Ronald Martinez/Getty Images
Andy Dalton endured a miserable Wild Card Weekend. The second-year starter didn't look like a franchise quarterback as he muddled his way through a lamentable performance.
Dalton posted a rating of 44.7 against the Houston Texans. He completed only 14 of 30 passes and failed to handle the blitz.
Most worrying was Dalton's increasing hesitancy in the pocket. He was more concerned with being sure than with making a decisive play.
That meant Dalton missed several open receivers and even when he did see them, there was no touch to his passes. It's too early to write Dalton off, but the Bengals have to be concerned about what they saw on Wild Card Weekend.
2. DeAngelo Hall, CB, Washington Redskins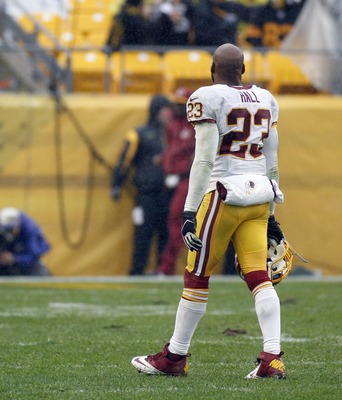 Justin K. Aller/Getty Images
DeAngelo Hall is the Redskins' best cornerback. Sadly, he rarely acts like it. He is too often more concerned with exercising his lips, rather than his coverage skills.
Against the Seahawks, Hall's constant jawing and unruly antics were nothing more than a distraction. He played without discipline and Washington's secondary suffered as a result.
Seeing a senior player like Hall arguing with his own teammates, who were only trying to calm him, was particularly galling. The Redskins needed veterans like Hall to rally the team, rather than spiral out of control.
This latest immature showing may have finally worn out Hall's welcome in D.C.
1. A.J. Green, WR, Cincinnati Bengals
Ronald Martinez/Getty Images
A.J. Green is the most talented young receiver in football. Well, after Wild Card Weekend, that label must only be applied in terms of his talent and certainly not his effort.
That's after Green lazily loped his way through the Bengals' loss to the Texans. Faced with a cornerback as accomplished as Jonathan Joseph, Green seemed content to simply surrender.
Yes, Joseph is stellar, but Green made little attempt to get the better of him. True battles between elite receivers and quality corners should be marked by successes for both combatants.
Green is the Bengals offense and cannot justify giving up as easily as he did in Houston.
Keep Reading