Real Madrid: 5 Improvements Team Needs to Compete with Barcelona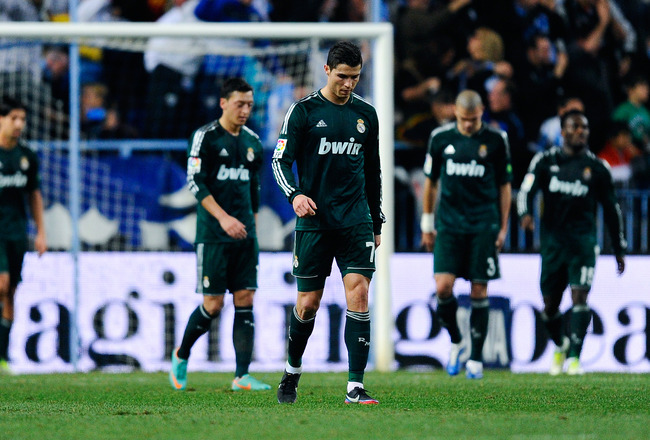 David Ramos/Getty Images
Trailing third in La Liga 16 points behind their arch-rivals Barcelona, Madrid seem to have little or no chance of retaining the title they wrestled from the Blaugrana last season.
While Barcelona seem to grind out the results and have an almost-perfect record approaching the midway point in the season, Madrid have dropped points in fixtures they were easily winning last season.
The question is what do they have to do to compete again with Barcelona?
Here are five areas of improvement to do just that.
More Squad Depth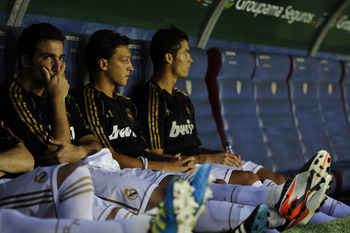 David Ramos/Getty Images
Real Madrid needs to add to their squad depth, particularly at the back.
In their last match against Real Sociedad the defense was made up of Michael Essien, Raphaël Varane, Ricardo Carvalho and Alvaro Arbeloa. None of those would arguably make the starting XI if the whole squad were fit, and the only one in that line that seems to have the potential to be a defender of the stature of Real Madrid is Varane. And he's not quite there yet.
Carvalho—although still pretty solid—is getting toward the end of his career, and you can tell by his pace and work rate, despite his decision-making still remaining relatively good. Essien is not in his natural position and Arbeloa simply seems a bit out his depth at Real Madrid and doesn't bring the confidence at solidity they will need for big games.
Unity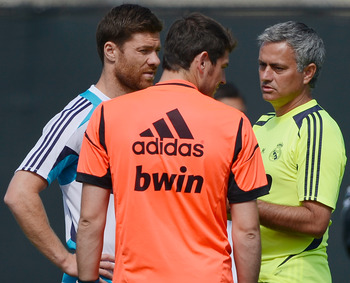 Kevork Djansezian/Getty Images
This may sound like an obvious one after the events of the last few weeks, but if we are looking at ways to compete with Barcelona then unity in the squad must be one of the top priorities. At the moment the dressing room seems fractured, and in any work environment added tension can't be good for the team.
This is something that happens at pretty much any football club in a run of bad results, the pressure mounts and people start blaming other teammates or the coach.
However, the pressure seems to have reached boiling point at Real Madrid with José Mourinho coming out in several press conferences criticizing his players and an ongoing feud between himself and certain sections of the dressing room is taking its toll.
If Real Madrid want to compete with Barcelona, they will need to all fight for the same objective, irrespective of personal conflicts and ambitions, this can only happen through a joint of effort from both players and coach.
The Left-Back Position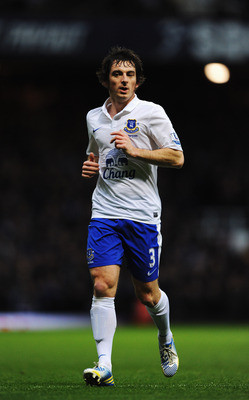 Steve Bardens/Getty Images
A previous slide mentioned the lack of depth in Madrid's defense that could be a problem in cases of suspension or injury. However, the left back position, even with all the squad fit, does seem like the weak link in the Merengue defense.
Marcelo, Fabio Coentrao and Arbeloa do seem to be just under the level expected at a team competing to win its 10th European Cup.
Marcelo, until now the No. 1 choice for left back, has proven to be an effective attacker and has provided Madrid with some crucial goals but his defensive work-rate at moments is just not good enough.
There are several options on the market that could fit in. The most obvious one seems to be to get Ashley Cole from Chelsea.
Other options could include trying out Gareth Bale in the position were he first exploded on the world stage when he took apart Inter's defense at the San Siro. An outside bet could be getting Leighton Baines from Everton. He would cost considerably less than the first two and has been one of the best left-backs in the EPL this season.
Defending Set Pieces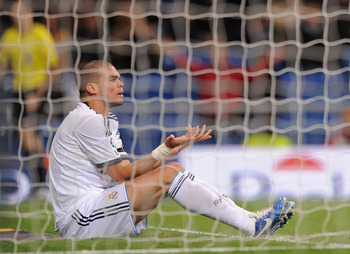 Denis Doyle/Getty Images
Set pieces have been Madrid's Achilles' heel this season. This is particularly problematic considering that Mourinho's teams have always characterized themselves by being solid defensively. Madrid have received a total of seven goals from set pieces this season in La Liga, more than a third of all the goals they have conceded.
More importantly these goals have cost them valuable points as they came in games against Valencia (draw), Getafe (defeat) and Sevilla (defeat), Barcelona (draw) and Espanyol (draw).
Only in the game against Valladolid, where Madrid conceded from two corners, was the team able to react and rescue all three points. Without those goals conceded at set pieces Madrid would now be second, three points ahead of Atletico Madrid and eight points behind Barcelona.
This is perhaps the most important point to address for the second half of the season, particularly in the UCL, where the likes of Manchester United will prove tough physical opponents.
Confidence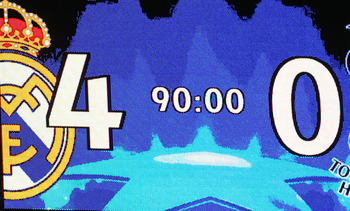 Clive Rose/Getty Images
Finally, this may sound a bit redundant, but for Madrid to compete again against Barcelona they need to win games. The recent run of form and internal conflicts have destroyed Los Blancos' confidence. The fans are getting weary and so are the players.
Madrid do not only need to win a few matches in a row they need to do so convincingly, starting by the midweek game against Celta in the cup. If they can keep clean sheets and score a few goals, it should do their confidence wonders.
Their fixture list is not as straightforward as they may have wished, though. A trip to Pamplona to face Osasuna is never an easy task, despite them being at the bottom of the table.
It will be the first of three away games in which they will then visit Valencia and then Granada. After that it's a home game to Sevilla before receiving Manchester United at the Bernabeu.
To arrive to the match against the Red Devils in prime form, Madrid have to address the points above and regain their confidence by accumulating a few good wins in the previous matches.
Keep Reading

Real Madrid: Like this team?