Chelsea midfielder Frank Lampard will not be returning to Stamford Bridge next season, his agent Steve Kutner said, according to Adam Mazrani of Goal.com.
Reports surfaced that indicated Chelsea would not re-sign the 34-year-old legend. He signed an 11 million deal in 2011 to stay with the club.
So what is next for the English international?
Kevin Baxter of the Los Angeles Times said on Dec. 30 that Lampard has long desired a cross-continent shift to Major League Soccer's two-time champion Los Angeles Galaxy.
Wayne Veysey of Goal.com reported on Jan. 6 that Lampard rejected a three-year offer from Everton. Further, Veysey echoed the notion that he prefers a move to MLS and that the LA Galaxy are his most likely destination.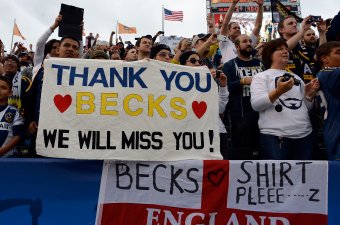 Kevork Djansezian/Getty Images
While Chelsea fans will be sad to see their hero go, it's time for the club to part ways with the aging midfielder. He has truly given all he can to the betterment of his English side.
But this isn't the end for him, either. His name is big enough and he's still talented enough to make some waves in American soccer circles.
The sport has caught on in recent years and is steadily growing thanks to the transfer of some notable world football players to MLS. David Beckham is the most prominent of the bunch.
MLS and NBC Sports signed a big TV deal in 2011 that is helping put the sport back on the map in America.
Will Lampard make the switch to MLS this summer?
Plus, the timing is perfect. Beckham is out in Los Angeles and the club needs a worthy replacement to step in and solidify its midfield.
Not only will Lampard fill the void notoriety wise, he'll also be an invaluable asset on the pitch for the Americans. His experience and guidance will undoubtedly help prepare and develop the young talent on his potential new team.
Lampard to the Galaxy isn't a done deal by any means, but it makes the most sense. He'll go down as one of the greats regardless of where he winds up for the twilight of his career.