Barcelona Derby: More Thoughts on Messi and Co.'s Lopsided Victory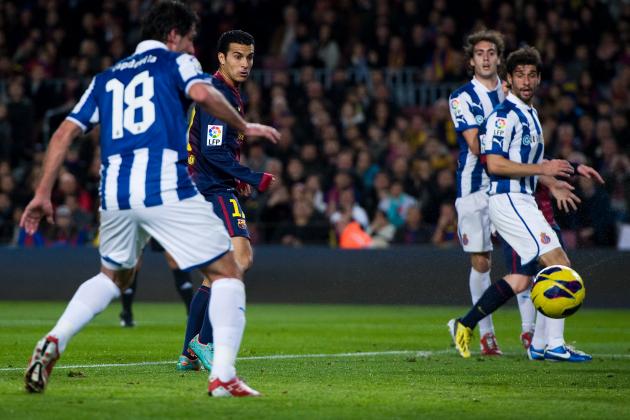 David Ramos/Getty Images

If 2013 lives up to the promise of its first match, it's going to be a very successful year for Barcelona.
Scoring three goals inside the half hour mark, the Blaugrana were toying with their city rivals before the halftime whistle. And with two goals wrongly called back for offside in the second half—after Barcelona took their collective foot off the gas—the damage could have been much worse.
Hindsight is always 20/20, of course, but the result never really looked in any doubt from Barcelona's first few minutes of sparkling play. And the game was a promising one not just because of the scoreline or the ease of the eventual victory.
Much has already been written about the performance—especially Pedro's role—but there are some other telling aspects of the match crying out for out attention. Let's have a look, then!
Begin Slideshow

»
Messi's goalscoring continued unabated toward the end of 2012, but as I argued here, it seemed to come at a price. Messi didn't seem to glide as fluently in and out of midfield toward the end of 2012 as he used to.
I'll certainly have to take back most of what I said if things continue the way they did against Espanyol. Messi looked at his absolute best, and in this case, not as a goalscorer, but as a complete player.
Of course, what makes him that much more valuable—for me, at least—is when he steps back and plays as a provider, which he did to devastating effect on Sunday night. He played the key passes to Iniesta and Fabregas down the left on each of the first two goals and provided a brilliant through ball in what should have been Pedro's third (shown here).
Espanyol couldn't deal with his movement all night, despite the fact they contained his shooting chances to set pieces. Overall, Messi was brilliant, without ever needing to force the issue.
Busquets' pass to Pedro for his second goal was stunning. And coming from the big holding midfielder, it makes you wonder what else he's been hiding from us through the years.
And he wasn't done there. He nearly slipped in Pedro with another brilliant pass later in the half, but his second try was cut out at the last moment.
While it's true that Busquets was under little pressure, the vision to see Pedro's lightning-bolt run combined with the timing and weight of the pass were positively first class. Xavi must have been looking on with pride—and who knows, maybe a bit of envy as well?
It was a truly remarkable goal, coming from two rather unlikely sources. Let's hope they can keep it up.
The officiating Sunday night was a real blight on the proceedings.
The penalty call against Casilla for the foul on Fabregas was truly baffling. Maybe the referee couldn't see the goalkeeper getting an obvious touch on the ball, but surely his assistant had a clear view of the incident.
Both assistant referees were implicated in poor offside decisions, and, predictably, all the wrong calls were made in favor of the defending teams.
Pedro was three times denied a scoring chance by botched calls. You may have read already about the two where he actually finished off the chances before play was called back, but on the first occasion, the whistle went just as he was lining up his effort. In similar style to his second goal, he accelerated quickly and smartly beyond the last line of defense and received a lovely—and perfectly timed—pass through from Xavi, only to hear the whistle deny his chance.
The other two goals involved similarly delightful buildup play, with the offside calls canceling out Messi's diagonal pass to Fabregas and Dani Alves' first time cross for Pedro.
At the other end, Espanyol missed out on one of their best chances of the match in the 78th minute when the assistant's flag was wrongly raised.
Luckily, the calls would have little bearing on the eventual result, but they still robbed us of at least two—and potentially three or four—perfectly good goals.
In a game where goals are a premium, that's just a shame.