NBA MVP Odds: King James Getting Stiff Competition from Kevin Durant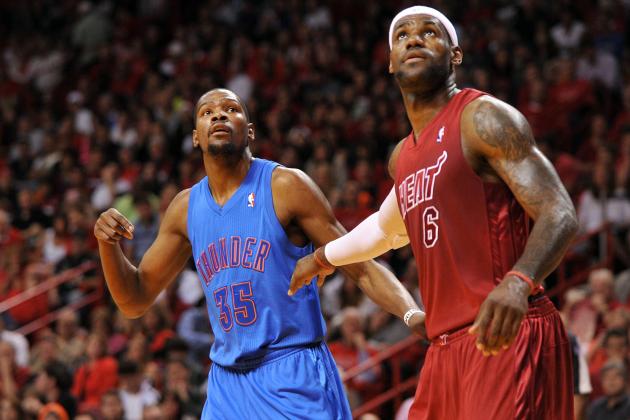 USA TODAY Sports

LeBron James, the reigning NBA Most Valuable Player, just completed a historic December.
He ranked second in the Eastern Conference in scoring (27.5 points per game) and steals (two per game), fourth in field goal percentage (.555), fifth in assists (7.5 per game) and 12th in rebounding (8.1 per game), earning his second straight Eastern Conference Player of the Month award.
James also smashed Karl Malone's old record for the highest number of games to start a season with at least 20 points. Through 33 games this season, he has yet to score fewer than 20 points once.
Despite James' excellence, the MVP race hasn't yet turned into a landslide largely due to Kevin Durant.
After losing a major member of his rotation (James Harden) to a trade just days before the start of the 2012-13 season, KD took it upon himself to expand his overall game and become more of a well-rounded threat like James.
Because of the back-and-forth battle between James, Durant and a few other superstars, this MVP race appears like it will go down to the final weeks of the season before it's ultimately decided.
But for now, here is a list of the top 10 current MVP contenders in the NBA.
Note: Statistics and records are current through games played on Jan. 7
Begin Slideshow

»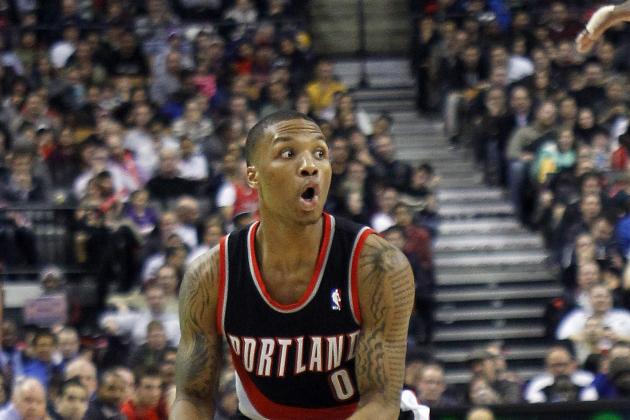 USA Today Sports

In alphabetical order:
Tyson Chandler, New York Knicks
If you haven't read Nate Taylor's excellent New York Times article about Chandler's "new rebounding strategy," you're probably skeptical of seeing him on an MVP contenders list.
Those tap-back rebounds, however, are one of the reasons the Knicks' four-out, one-in system works so effectively. Throw in the fact Chandler ranks fifth in the league in win shares (5.8), according to Basketball Reference, and you've got a legitimate fringe MVP contender in the making.
Stephen Curry, Golden State Warriors
The Warriors' four-game win streak was snapped in the 115-89 thrashing at the hands of the Los Angeles Clippers on Jan. 5, but aside from that game, Curry has been on fire lately.
He dropped 31 points, eight assists and six rebounds against the Clips three nights earlier, and he had 22 points, nine assists, four rebounds, three steals and two blocks on Dec. 29 against Boston. He's averaging 20.1 points, 6.5 dimes and 4.3 boards per game on the season.
Damian Lillard, Portland Trail Blazers
In case you haven't noticed, the Portland Trail Blazers are currently sitting in the eighth spot in the Western Conference, largely due to their rookie point guard Lillard, who's averaging 18.2 points, 6.5 assists and 3.4 rebounds per game.
He's playing a huge number of minutes per game (38.1) and Portland is entering a rough four-game stretch, which could knock him back out of the MVP race soon enough. For now, though, he deserves a hint of recognition for how well he's playing as a rookie and how well the Trail Blazers are playing as a result.
Zach Randolph, Memphis Grizzlies
Randolph didn't have a great start to January, only putting up six points and eight boards in a Jan. 2 win over the Boston Celtics and then missing a Jan. 4 game against the Portland Trail Blazers due to illness.
He bounced back in the Grizzlies' next two games, though, putting up a combined 38 points and 15 rebounds. Z-Bo currently ranks third in the league with 12 rebounds per game.
Rajon Rondo, Boston Celtics
The Celtics appear poised to go on another one of their patented mid-season hot streaks after a slow start to the season, which could only help Rondo rise into the top 10 of these rankings.
He busted out a triple-double of 14 points, 11 rebounds and 10 assists against the Atlanta Hawks on Jan. 5, but he also earned a one-game suspension for coming in contact with a referee and failing to cooperate with the league's investigation.
Dropped from rankings: Jrue Holiday, Philadelphia 76ers
Just missed the cut: Blake Griffin, Los Angeles Clippers; Josh Smith, Atlanta Hawks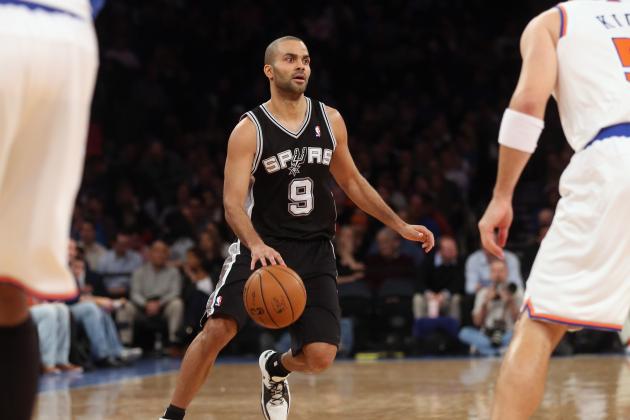 Bruce Bennett/Getty Images

Last week's ranking: 10
Tony Parker retains the hold on the No. 10 spot in this week's MVP rankings largely due to his season-long excellence, not necessarily his team's recent play.
The San Antonio Spurs took a whooping from the New York Knicks in a 100-83 loss on Jan. 3, a game where Parker only played 24 minutes and put up 11 points, six assists, three rebounds and a turnover.
Four days later, the Spurs suffered a loss to the New Orleans Hornets that is much more difficult to explain. Parker finished with shooting 7-of-11 from the field for 16 points, but had five turnovers compared to only three assists.
On the season, Parker's been averaging a solid 19.1 points, 7.2 assists and 3.1 rebounds per game on 51.4 percent shooting. He's tied for seventh in the league in win shares (5.0) with Marc Gasol of the Memphis Grizzlies, and ranks 10th in PER (22.6), according to Basketball Reference.
Like his fellow veteran teammates, the minutes restriction placed upon him by coach Gregg Popovich will be his largest obstacle in terms of remaining competitive in the MVP race.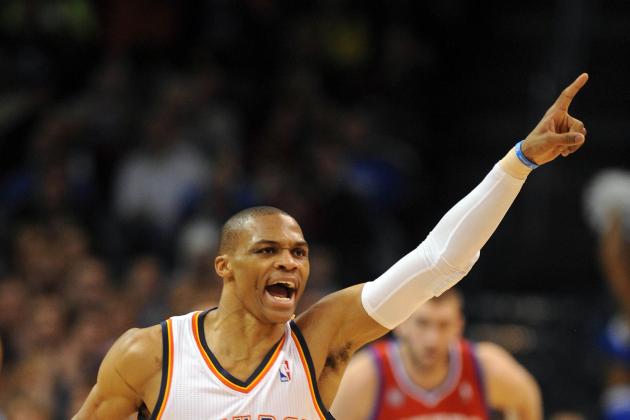 USA TODAY Sports

Last week's ranking: 8
Russell Westbrook's MVP candidacy largely boils down to this: He's setting all sorts of career highs on one of the Western Conference's best teams, but he's got almost no shot of actually winning.
First, let's take a look at the positives. Westbrook is averaging a career high in assists (8.5), rebounds (5.1) and steals (2.1) per game, and he's shooting a career-high 35.8 percent from three-point range, despite averaging a career-high four attempts per game from deep.
He's one of only two players (alongside LeBron James) to be averaging at least 20 points, five rebounds and five assists per game this season, according to Basketball Reference. He currently ranks 12th in the league in win shares (4.5) and is tied with Tony Parker for 10th in PER (22.6) for players who have appeared in at least 10 games.
What's going to undo his MVP case? The fact that he's on a team with Kevin Durant, one of the leading MVP candidates this season, hinders his chances, and his not-so-great shooting percentage of .412 doesn't help, either.
Westbrook hit an especially rough patch against the Washington Wizards on Jan. 7, shooting only 4-of-17 from the field in what turned out to be a two-point loss for Oklahoma City. That's not exactly MVP material.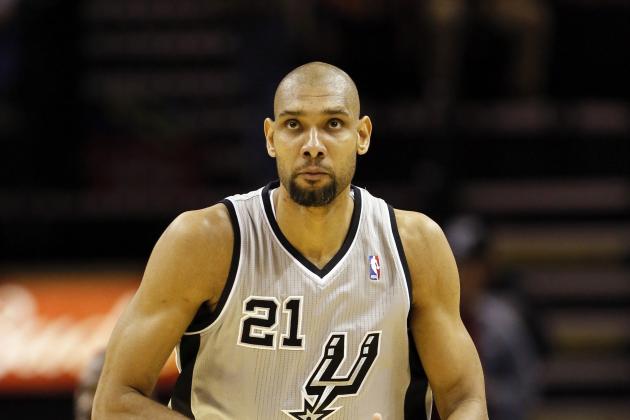 USA TODAY Sports

Last week's ranking: 6
Tim Duncan takes a slight tumble down these rankings due to the loss against the New Orleans Hornets on Jan. 7, but he continues to play at a sensational level for any player, much less a 36-year-old.
In the five-game span from Dec. 31 through Jan. 7, Duncan averaged 16.6 points, 7.8 rebounds, 2.8 blocks and 2.6 assists per game, shooting 53.1 percent from the field and a ridiculous 88.2 percent from the charity stripe. He did all of that in 27 minutes per game.
On the season, he's averaging 17.6 points, 9.6 boards and 2.6 blocks per game in 29.9 minutes. He ranks fifth in the league in blocks, seventh in PER (25.1) and ninth in win shares (4.9), according to Basketball Reference, despite playing under 30 minutes per game.
He's also never been more efficient on the defensive glass, posting a career-high defensive rebound rate of 28.5 percent, according to Basketball Reference.
However, as long as Duncan keeps playing anywhere between 30-32 minutes per game, he'll remain a fringe candidate, at best, for MVP. The current MVP favorites (save for one) average at least 36 minutes per game, giving them around 20 percent more time to stuff their stat lines.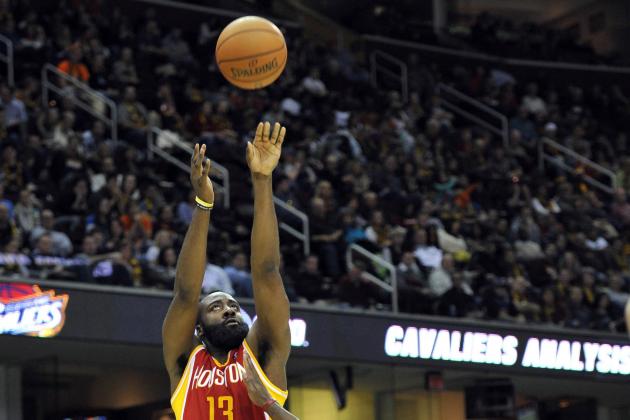 USA TODAY Sports

Last week's ranking: 9
No offense to Jeremy Lin, but if he takes an All-Star spot away from his Houston Rockets teammate James Harden, the fans' right to vote should officially be revoked.
Harden's been nothing short of sensational for the surging Rockets. On the season, he's averaging 26.4 points, 5.3 assists, 4.2 rebounds and two steals per game, making Houston general manager Daryl Morey look like an absolute genius for handing him a maximum contract.
Despite never acting as a No. 1 option before 2012-13, Harden is tied with Tyson Chandler for fifth in the league in win shares (5.6). He also ranks eighth in PER (23.8) out of players who have appeared in at least 10 games this season, according to Basketball Reference.
What's especially scary is that Harden only seems to be scratching the surface of his potential. He recorded a career-high seven steals against the Cleveland Cavaliers on Jan. 5, and after a rough shooting start to the season, he's already hovering back around his career shooting averages.
Even the most optimistic Rockets fan couldn't have expected a 20-14 record through 34 games. Not only does Harden deserve an All-Star appearance for making Houston one of the surprise teams in the NBA, but he also deserves some legitimate MVP consideration as long as the Rockets stay hot.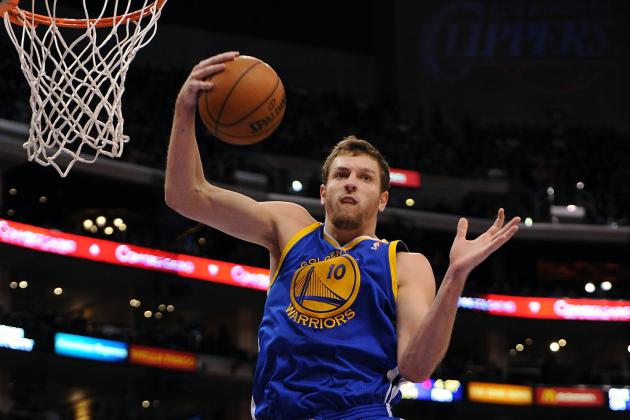 Jayne Kamin-Oncea-USA TODAY Sports

Last week's ranking: 7
You may be surprised to see David Lee this high on an MVP favorites list, but he's earning it with his play on both ends of the court in 2012-13.
With Andrew Bogut still out indefinitely due to lingering effects from ankle surgery, Lee has stepped up as the Golden State Warriors' frontcourt leader. He's averaging 19.9 points, 10.9 rebounds and 3.7 assists per game, making him a hair shy of being the only player in the NBA this season to average 20 points and 10 rebounds per contest.
Lee ranks 10th in the league in points per game, trailing teammate Stephen Curry by a smidge, and is tied with Marc Gasol for 10th in win shares (4.7).
He's also made the Warriors 9.1 points better per 100 possessions when on the court, according to 82games.com.
Without Lee, there's no way the Warriors jump out to a 22-11 record, which is good for the fifth seed in the Western Conference as of Jan. 9. Given his personal success and the team's collective excellence, Lee is emerging more and more each week as a legitimate fringe MVP candidate outside the usual suspects.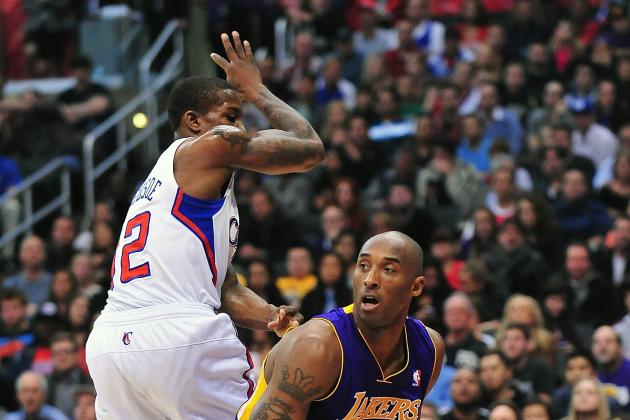 Gary A. Vasquez-USA TODAY Sports

Last week's ranking: 4
It's virtual heresy to have a player from a 15-18 team still in the top five of the MVP vote, but imagine how far the Los Angeles Lakers would have fallen without Kobe Bryant's superlative play this season.
Bryant leads the league in scoring with 30.5 points per game, and hasn't scored fewer than 27 points in a single game since Nov. 30. He's chipping in 5.2 rebounds, 4.8 assists and 1.5 steals per game, too.
He ranks sixth in the league in PER (25.6) and fourth in win shares (6.0). Considering the Lakers have a grand total of 15 wins on the season, Bryant's win shares total is rather remarkable.
On Jan. 4, the Lakers sat at 15-16 and faced a make-or-break stretch, with five straight games against likely playoff teams. Losses against the Los Angeles Clippers on Jan. 4 and Denver Nuggets on Jan. 6 weren't exactly what the doctor ordered for the struggling Lakers, however.
No matter how brilliantly Bryant has been playing this season—and he hasn't shied away from saying that it's "probably the best [he's] played in a while"—it will all be for naught if the Lakers can't figure out their overarching issues.
Unfortunately for Bryant, many of those issues (read: transition defense) primarily depend on the health of Dwight Howard, who's currently out with a torn labrum. If the Lakers can't string together a few wins soon, Bryant's going to start free-falling down this MVP list, no matter how well he plays.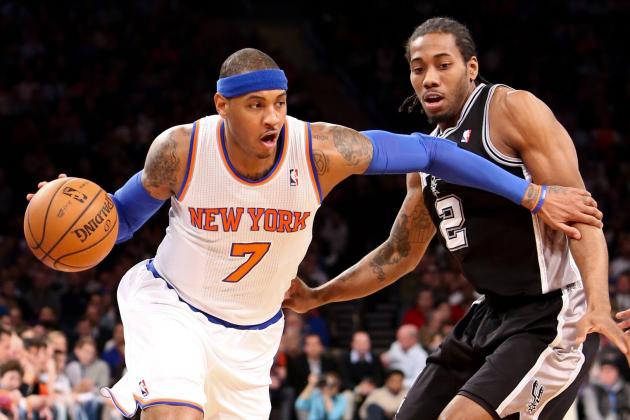 USA TODAY Sports

Last week's ranking: 5
Carmelo Anthony dropped like a brick in these rankings last week due to concerns about his hyperextended knee and Amar'e Stoudemire's return to the lineup.
Well, the knee fears appear to be a non-issue, while the Stoudemire-Anthony combo remains a work in progress.
After missing two games due to the knee injury, Anthony returned on New Year's Day to drop 45 points against the Portland Trail Blazers. Four days later, he exploded for 40 points, six rebounds and six assists against the Orlando Magic.
On the season, he trails only Kobe Bryant in terms of scoring with a career-high 29 points per game. He's shooting a career-high 42.8 percent from three-point range, despite attempting a career-high 6.4 threes per game.
A poor shooting night against the Boston Celtics on Jan. 7 isn't enough to derail Anthony's MVP case, even if he did let his emotions get the best of him and reverted to hero ball. He could be facing punishment from the league after a reported postgame confrontation with Kevin Garnett, however. (Three words: Honey Nut Cheerios.)
If Anthony can take his white-hot rage out on the basket instead of Garnett, he'll remain among the top MVP candidates, so long as the New York Knicks continue to challenge the Miami Heat for the best record in the Eastern Conference.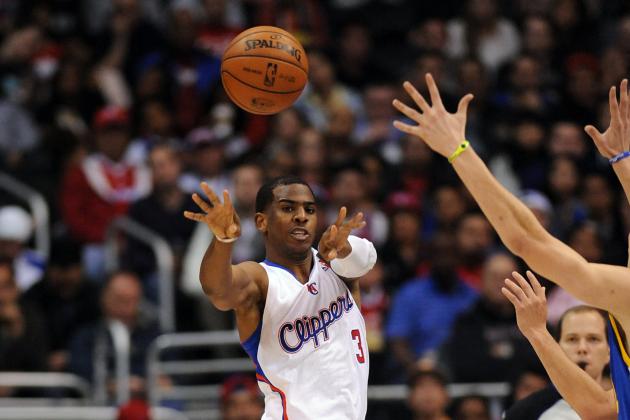 Jayne Kamin-Oncea-USA TODAY Sports

Last week's ranking: 2
The Los Angeles Clippers' 17-game win streak came to an end on New Year's Day, but Chris Paul helped prove on the first weekend of January that the Clips remain the best California basketball team out there.
Against the Los Angeles Lakers on Jan. 4, Paul scored a season-high 30 points, along with 13 assists, six rebounds and two steals. The next night against Golden State, Paul chipped in a startlingly efficient 27 points on 10-of-12 shooting, with nine assists, five rebounds, five three-pointers and a steal.
He's still averaging a career-low in minutes per game (33.2), but he's third in the league in win shares (7.2) and third in the league in PER (26.5), behind only LeBron James and Kevin Durant.
Paul leads the league with 2.6 steals per game, and trails only teammate Eric Bledsoe in terms of steal percentage (4.1) for players who have appeared in at least 10 games this season.
The Clippers' mini-skid knocked Paul down a peg this week in the MVP rankings, but the team doesn't appear in danger of unraveling like the cross-city Los Angeles Lakers.
As a result, Paul should continue to hover right behind James and Durant as a top-three MVP favorite.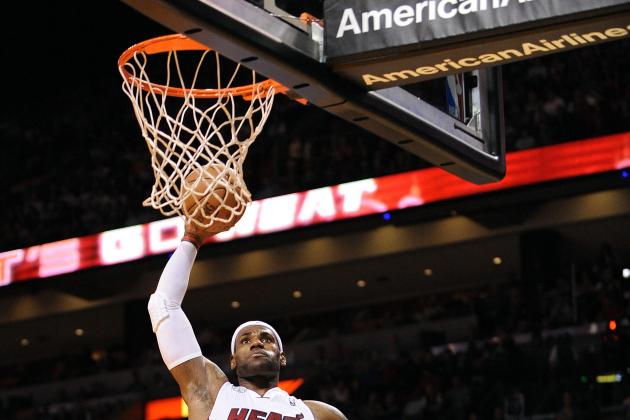 USA TODAY Sports

Last week's ranking: 3
As noted in the introduction, LeBron James currently finds himself in the midst of a historic streak.
He opened the 2012-13 season by scoring at least 20 points in each of the Miami Heat's first 30 games, something that hasn't been done since Kareem Abdul-Jabbar in 1970-71, according to ESPN.com's Tom Haberstroh (subscription required).
Through 32 games, James is setting career highs in shooting percentage (.545), three-point field-goal percentage (.411) and rebounds per game (8.3), while averaging career lows in personal fouls (1.3) and turnovers (2.8) per game. He leads the league in PER (30.2) by nearly two full points, and trails only Kevin Durant in terms of win shares (7.3).
In short, the best player in the league is only getting better.
The only thing keeping him from the top spot this week? The Heat haven't looked much like defending champions since their Christmas Day victory over Kevin Durant's Oklahoma City Thunder, raising questions about their motivation for the rest of the regular season.
Unless Miami can start getting worked up for the day-to-day rigors of the regular season, James' friendly rival in Oklahoma City will remain a legitimate challenger to his MVP throne.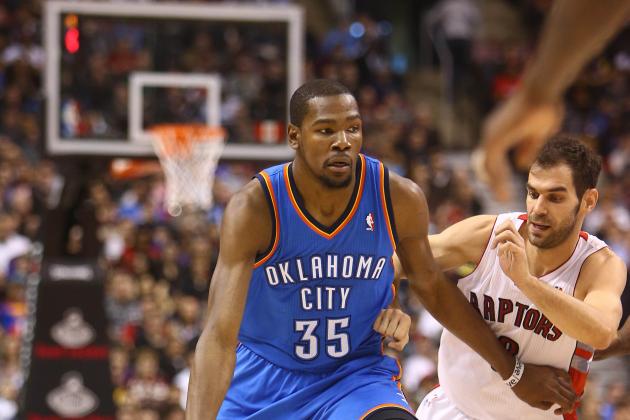 Tom Szczerbowski-USA TODAY Sports

Last week's ranking: 1
How can Kevin Durant remain as the MVP favorite coming off a loss to the league-worst Washington Wizards? Look closely at what happened in that game.
Durant hit a game-tying three-pointer with 36 seconds left before Bradley Beal bailed the Wizards out with a herky-jerky last-second floater. Durant had 29 points, eight assists, seven rebounds and three steals on the night, while teammates Russell Westbrook and Kevin Martin finished a combined 7-of-29 from the floor.
K.D. joined the prestigious 50-40-90 shooting club on Dec. 17 and still hasn't relinquished his hold nearly a month later. He's shooting 51.7 percent from the field, 41.4 percent from three-point range and 90.3 percent from the free-throw line, all of which are career highs.
Durant leads the league with 8.0 win shares and trails only LeBron James in terms of PER (28.2), according to Basketball Reference. He also currently holds the edge over James in both offensive rating and defensive rating, according to Basketball Reference.
James deserves credit for continuing to evolve as a post player and becoming more efficient than ever before, but Durant deserves the exact same credit.
The Oklahoma City Thunder lost James Harden to a trade just days before the start of the season, and KD took it upon himself to become a more complete, well-rounded basketball player as a result. (Want proof? Look no further than his career-high 4.3 assists and 1.6 steals per game.)
James remains the more defensively versatile player, able to cover anyone from point guards to centers, but the gap between the King and KD on that end is only shrinking.
Either player is a more-than-worthy MVP choice, but for the time being, Durant remains slightly ahead of LeBron. With that said, I can't stress enough how close this race is.