Raiders 2013 Mock Draft: The Smartest Pick Oakland Can Make at Every Spot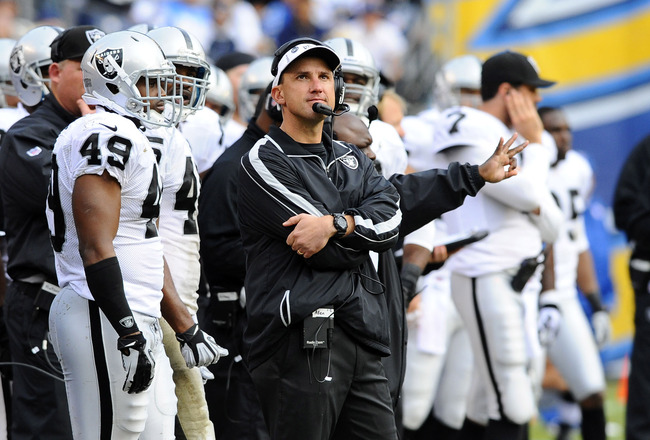 Christopher Hanewinckel-USA TODAY Sports
The Oakland Raiders have plenty of needs to fulfill in the upcoming offseason, and most specifically, the 2013 NFL Draft.
At this point, the Raiders have just six selections to work with, but trading down or moving current players could change that significantly.
While there is certainly something to be said for teams selecting the best player available, this mock draft is based solely on how the Raiders can best address some of their many needs with their current selections.
Here are the best possible picks for the Oakland Raiders in their 2013 mock draft.
1st Round: LB Jarvis Jones (Georgia)

Jarvis Jones NFL Player Comparison

Jarvis Jones is arguably the best pure pass-rusher in this draft, and should be available when the Raiders select third overall.
This pick is ideal for the Raiders, as finding a pass-rusher is widely considered their No. 1 priority heading into the offseason. Not only would adding a player like Jones have a direct effect on the performance of the front seven, but of course help the secondary as well.
Jones is a player that can play to the Raiders' desired scheme flexibility on defense moving forward. If they were to move to a 3-4, he would take a spot at outside linebacker, rushing the passer just as he did at Georgia.
Should the Raiders instead stick with the 4-3 base, Jones could essentially take a Von Miller role, where he would play LB on early downs and rush the passer as a down lineman in nickel situations.
With this pick, the Raiders would fill a significant need on their team with one of the best overall players in the draft.
3rd Round: NT Brandon Williams (Missouri Southern)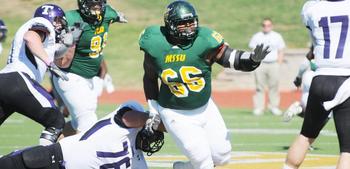 Missouri Southern DT Brandon Williams. Photo Courtesy of mssulions.com
Heading into an offseason where the Raiders could move in a new direction from both Richard Seymour and Tommy Kelly, the interior defensive line also becomes an area to address.
Again, with the desired multiplicity up front and a possible switch to a 3-4, the Raiders will draft accordingly. Missouri Southern's Brandon Williams fits the bill.
Yes, he comes from a Division II school, but Williams can certainly play. He has the size and strength to man the ever-important 3-4 NT position in the NFL, and the production to back it up. Playing all over the defensive line in his senior year, Williams tallied 68 tackles (16.5 for a loss) and 8.5 sacks.
With a big week at the Senior Bowl, Brandon Williams could rise up draft boards even more. However, if he is still there by the time the Raiders pick in the third round, he would be a great fit in their defense up front.
4th Round: OL Khaled Holmes (USC)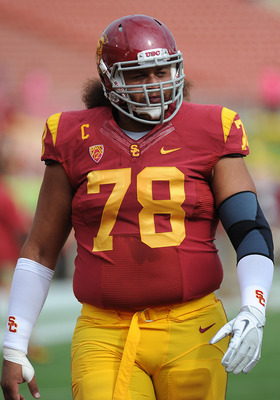 USC OL Khaled Holmes.
Jayne Kamin-Oncea-USA TODAY Sports
The Raiders could use help on the offensive line and we can certainly expect them to address that in the draft. Here in the fourth round, Khaled Holmes is the pick.
As of right now, likely depending on offensive scheme, Cooper Carlisle and/or Mike Brisiel are not locks to be back with the team in 2013. In light of which, a player like Holmes would be a good fit in the draft.
Holmes played center at USC, but could likely play any of the three interior line positions. That versatility, as well as his experience and production in college, would be valuable to a Raiders offensive line that needs improving.
6th Round: DT Anthony McCloud (FSU)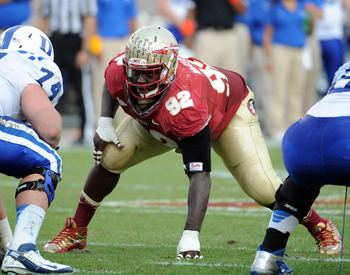 FSU DT Anthony McCloud.
Melina Vastola-USA TODAY Sports
Due to the Aaron Curry trade, the Raiders don't pick again until the sixth round. Here, the pick is Florida State DT Anthony McCloud.
Again, with the Raiders likely losing quite a few key players on the defensive line, they will need to address that issue in the draft. Not to mention that depth was one of the biggest issues that we saw throughout the roster this year.
An every-down lineman at Florida State, McCloud was productive in disrupting both the run and pass games. This, along with his ability to play in either the 3-4 or 4-3, would be added value for the Raiders as well.
7th Round: CB Ryan Lacy (Utah)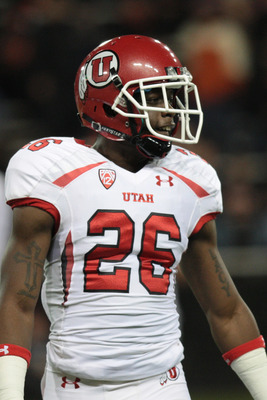 Utah CB Ryan Lacy.
Scott Olmos-USA TODAY Sports
Like many other positions on defense, the Raiders struggled at cornerback in 2012. Much of that was due to injury, but it is definitely another area to address moving forward.
As a result, the pick here is CB Ryan Lacy out of Utah. At 5'9", Lacy is a little on the smaller side for the NFL, but what he lacks in size he makes up for in speed and coverage ability.
When he shows that speed at the combine, his stock could rise significantly. However, if Lacy continues to be overlooked, the Raiders would be getting a solid and high-potential cover corner in the late rounds.
7th Round (via Carolina): DE/LB Travis Johnson (San Jose State)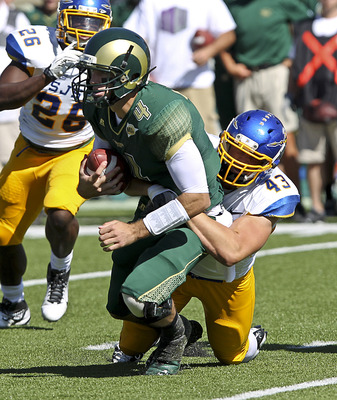 San Jose State DE Travis Johnson.
Troy Babbitt-USA TODAY Sports
Here, the Raiders again address their pass rushing needs with San Jose State's career sacks leader, Travis Johnson.
Johnson would fit in either scheme that the Raiders decide to go with moving forward, and could be an especially interesting option as a pass-rushing linebacker in the 3-4.
His pass-rushing ability is certainly there, and if it translates to the NFL game, he would be a steal this late in the draft.
Keep Reading

Oakland Raiders: Like this team?