Saints 2013 Mock Draft: The Smartest Pick New Orleans Can Make at Every Spot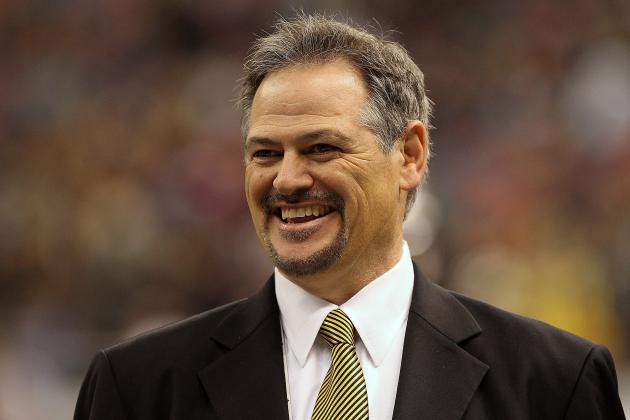 Matthew Sharpe/Getty Images

The New Orleans Saints have commenced preparations for the 2013 NFL offseason. After a disappointing finish to the 2012 campaign, the Saints are looking to make the smartest pick at every spot in the 2013 NFL draft.
It is undeniable that Mickey Loomis and his staff are better at building through free agency (including after the draft with college free agents) than they are by use of draft picks.
Ideally, Loomis and the Saints' fortunes would change in 2013 when the team doesn't figure to possess a ton of cap space to add impact talent in the free agent market.
The smartest draft pick in each round is therefore a necessity.
In this, the latest mock draft, are the smartest picks the New Orleans Saints could make in each round.
Begin Slideshow

»
Several factors that are currently conceivable play into this decision.
First, Jermon Bushrod is certain to command a significant salary this offseason. Most likely the figure will not be one Mickey Loomis and his staff can agree is worth the production. And Jake Long, even if he was allowed to walk by the Miami Dolphins, isn't walking through the door any cheaper.
Second, Fisher could be the second best offensive tackle in the draft, if Jake Matthews decides to stay at Texas A&M (his teammate Luke Joeckel being the first, of course). And if Matthews stays, he will almost certainly be the second lineman off the board, going in the first 10 picks.
At 15, the Saints would then be fortunate to land Fisher. The 6'7", 305 lb. senior was a dominant player in his time at Central Michigan.
He exudes unusual athleticism for his size and the position. His ability to keep his feet moving through a block in space is nearly unparalleled. Because of his remarkable skill set, he is the perfect fit for the tackle spot which is a spot the Saints love to use in space on toss sweeps and swing screens.
His overall pass-protection skills are outstanding as well. He understands angles and leverage, and uses his hands well. He also possesses long arms which help him anchor a defender.
Why Fisher Over Damontre Moore?
Based on common projections by multiple draft services, Damontre Moore and Eric Fisher were the two players available at 15 who made the most sense for the Saints.
Moore was tempting, but two factors played against him. First, though an outstanding run defender and college sack-artist, he seems to lack the elite burst that is ideal for the NFL level. He seems a better fit for a 3-4 defense which asks its ends to double as playmakers.
Second, he found himself injured in the Cotton Bowl on Friday night. Players who are injured in the college bowl season, or pre-draft process, often slip and generally do not contribute a ton in their rookie seasons.
The Saints need to find a productive starter with their first pick in the 2013 draft. And ultimately, protecting Drew Brees is the smartest pick the Saints could make in the 2013 draft.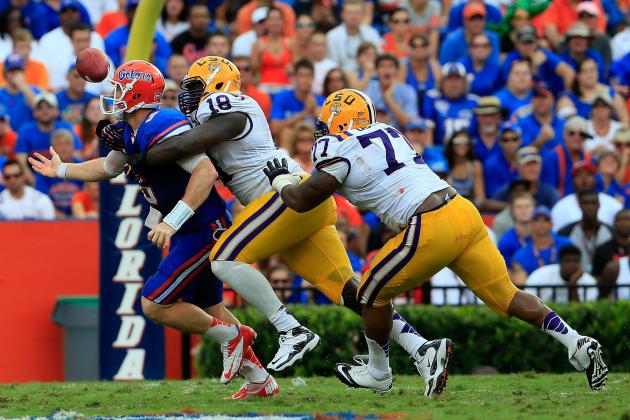 Sam Greenwood/Getty Images

In 2012, Bennie Logan was awarded the coveted No. 18 uniform on a defense that included Sam Montgomery, Barkevious Mingo, Kevin Minter and Eric Reid, to name but a few. In other words, the guy is the type of person the Saints want and need in their locker room.
He's also a player who is incredibly underrated due to playing on the same line as Montgomery, Mingo and Lavar Edwards. But there were stretches throughout LSU's somewhat disappointing 2012 season in which Logan was the best player along the line.
Logan is no slouch to be certain. He stands 6'3", 295 lbs and uses his size and girth to create a wall in the middle of any inside running play.
But he also has a motor that allows him to get after the passer in nickel situations. He's capable of playing three downs, which is always encouraging.
Logan may be a reach in the upper half of the third round, but the Saints "reached" multiple times in last year's draft and appear to have found two gems in Akiem Hicks and Corey White.
For that reason, Logan appears to be the best fit and smartest pick with the 76th pick overall.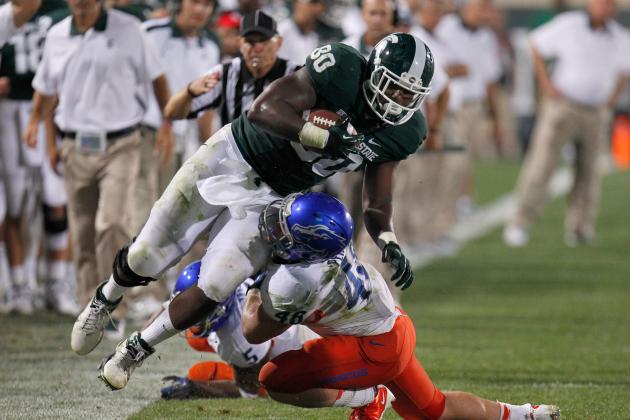 Gregory Shamus/Getty Images

It's best to start this slide with an idea of players considered. Aside from Sims, Travis Long, OLB, Washington State; William Gholston, DE, Michigan State; and Lavar Edwards, DE, LSU were considered.
Sims was selected for primarily two reasons. First and foremost, he is the best prospect of the four players considered in this slot. The junior, who officially declared for the NFL draft on Thursday, is an absolute beast.
He stands 6'5", 285 lbs. If the tight end thing doesn't work out, he might be able to move to defensive end, or put on a little weight and become an extra offensive lineman.
But Sims has exceptional athleticism for a man his size. He is an excellent blocker, which the Saints need at tight end in light of Jimmy Graham's ole act and the regression of veteran David Thomas.
The second reason is the very idea that the Saints are desperate to develop a third tight end who can eventually take Thomas' spot as the "blocking tight end." Sims could easily be that guy, while providing a little more explosive capability than Thomas.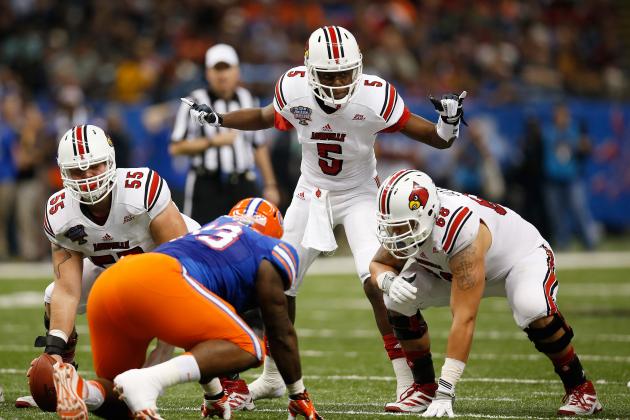 Chris Graythen/Getty Images

Mario Benavides just completed his senior year at Louisville in the Mercedes-Benz Superdome by helping the Cardinals pull off the upset over No. 3 Florida in the Sugar Bowl.
The Saints have traditionally selected at least one player from the previous season's Sugar Bowl. Perhaps it's the close proximity which allows the Saints brass to catch an attentive glimpse. Or maybe it's merely coincidence.
Either way, Benavides is a player who has been highlighted in this spot multiple times before. Let's just say his performance on Wednesday night did nothing to dissuade anyone from thinking Benavides would be an incredible fit in black and gold.
Even more so, though, Benavides is a player who could start immediately, or benefit from sitting a year and learning under Brian de la Puente, as the veteran is likely to receive a one-year tender to remain in New Orleans.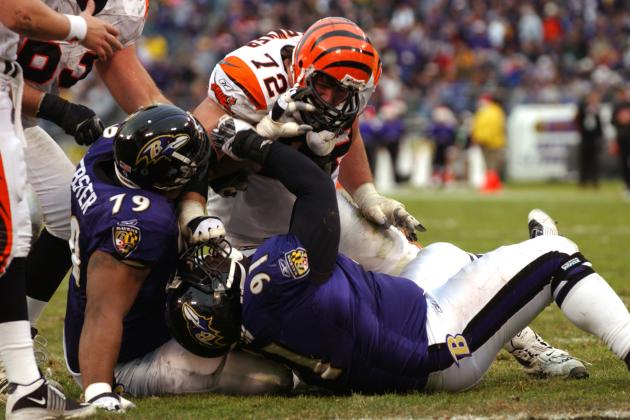 Doug Pensinger/Getty Images
Larry Webster is the son of Larry Webster, who played 11 years in the NFL. The father's most notable moment was winning the Super Bowl in 2001 with the Ravens.
If the New Orleans Saints have proved anything in the past six or seven years in the Sean Payton-era, it's that they pay little attention to the prestige of the school of a draft prospect.
Akiem Hicks was taken in the third round out of Regina College in British Columbia, Canada. Corey White was taken out of Samford in the fifth round. Additionally, Marques Colston came from Hofstra and Jahri Evans from, you guessed it, Bloomsburg.
The list goes on with Jermon Bushrod from Towson and Usama Young from Kent State. All of it says that the Saints will not be bothered by taking a player from Bloomsburg University of Pennsylvania with a sixth-round pick.
He also shares something in common with Jimmy Graham in that he used his final year of college eligibility on football after a sparkling basketball career. One other hearty piece of information to warm your soul: his father played defensive end in the NFL for 11 years.
He has the bloodlines, the athleticism and potentially the right team in sight to select him. Webster could be a project end the team can shelf in year one, in hopes that it receives production from the 2012 regulars plus Greg Romeus and Braylon Broughton.
With the Webster selection, the Saints take care of most of their largest needs in this draft—offensive tackle, defensive tackle, tight end, center and defensive end.
If by some out there chance the team is able to recover its second-round pick (lost in the "Bounty" events) or retain its seventh-round selection (believed to be the compensation for the ill-fated preseason trade that briefly brought Barrett Ruud to the Saints, a corner and/or outside linebacker could be added as well.
Ultimately DE was selected over corner because it is becoming clearer and clearer that the key to a good NFL defense is the front seven. A team can get by with average players in the secondary, so long as it has exceptional players in the front seven.
That's the goal for the Saints with this pick—to find a gem.
When all is said and done, these are the smartest picks in this 2013 NFL mock draft, as of January 7, 2013.