GoDaddy.com Bowl 2013: Live Scores, Analysis for Kent State vs. Arkansas State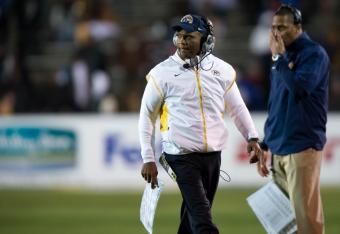 Michael Chang/Getty Images
Arkansas State 17, Kent State 13 -- Final

Arkansas State came out with a victory here in a very hard fought game. The Red Wolves had a little too much defense for Kent State.
It was the first ever victory over a ranked team for Arkansas State since joining the FBS level in 1992.
Senior quarterback Ryan Aplin had an outstanding game for Arkansas State, throwing for 213 yards and a touchdown on 21 of 30.
A knee injury to Kent State running back Dri Archer in the middle of the third quarter certainly limited what Kent State could do on offense.
Here are game grades for both teams.
Who is ready for the BCS National Championship after that?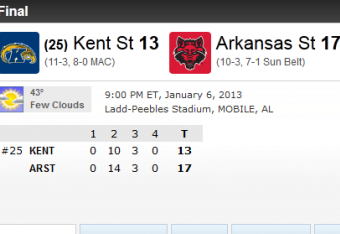 Here is a box score of the game, courtesy of ESPN.com.
Arkansas State 17, Kent State 13 -- Final
I would like to thank everybody for following along tonight. Hope this got everybody pumped up a little bit for the big game tomorrow night.
Stay tuned for a post game recap with game grades soon to come.

This Twitter post says it all as Kent State fails to convert on fourth down.
At least now we know how Kent State lost to Kentucky.

— Burton DeWitt (@bsd987) January 7, 2013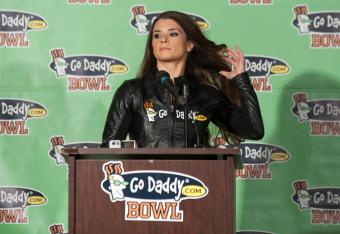 It seems like the first commercial of each break is for GoDaddy.com, but no Danica Patrick. Wish she was still on those commercials.
Kent State calls a timeout with one minute remaining. It will be fourth and eight from inside the 30-yard line.
This will be the game.
Keith is now out of the game with less than two minutes remaining.
Keith hits Hurdle for a 15-yard gain on fourth and nine. That was a huge first down completion for Keith who is now down on the field.
He got hit hard on the throw, but hung in there for the completion.
Chris Humphrey just dropped a touchdown for Kent State with three minutes to go. Defensive back Artez Brown might have had something to do with it.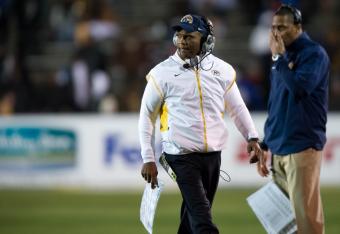 Here we go...Kent State gets the ball back at its own 23 with 4:50 to go, trailing 17-13.
Arkansas State is moving the ball once again. This is the time when Kent State could use a turnover to get the ball back.
The tweets are now getting a little racy when it comes to the helmets.
Pure gold. "@angegold: The front of Kent State's helmets looks like a tramp stamp. #GoDaddyBowl"

— Scott (@brutalmaster74) January 7, 2013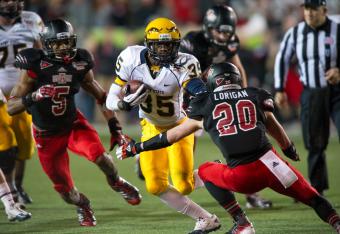 Kent State is slowly marching down the field. With just over eight minutes remaining, the Golden Flashes are inside the Red Wolves' 40-yard line.
Believe it or not ESPN, some people are tired of hearing about the BCS National Championship game.
Okay this is the Kent State and Arkansas State game. Let's stop with the Notre Dame Alabama stuff. That's tomorrow #GoDaddyBowl

— Courtney Citro (@courtt_citro) January 7, 2013
Darius Polk with a huge sack on a corner blitz allows Kent State to get the ball back with under 12 minutes to go, still trailing 17-13.
Dri Archer is playing, but he is very gimpy. That could be a huge factor down the stretch.
The helmets have been a major topic of conversation on Twitter tonight.
Matte finish helmets need to become a thing for every team. They look so badass. #ArkansasState

— Ari Alexander (@AriA1exander) January 7, 2013
Arkansas State 17, Kent State 13 -- End of 3rd Quarter
Kent State has the ball back with a chance to get the lead back on this drive.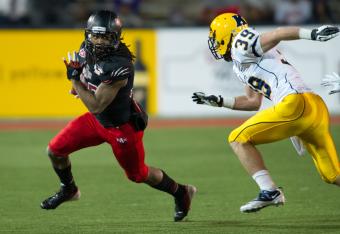 Kent State is a team that feasts off turnovers. They have forced 38 on the season, but none so far tonight.
That is why Arkansas State is leading in this one.
That was a long time consuming drive for Kent State. They were able to run the football at will. If the Golden Flashes can get a stop, the momentum is clearly going to be on their side.
Huge drive coming up for Aplin and the Red Wolves.
Arkansas State 17, Kent State 13 -- 1:44 left in 3rd quarter

Freddy Cortez knocks another one through. The 26-yarder gets Kent State back to within four.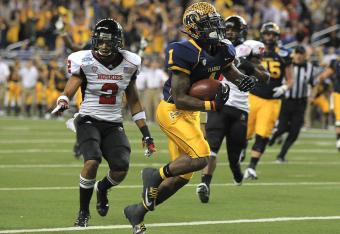 Dri Archer limped off the field with what looked to be a knee injury. That could be very costly for the Golden Flashes if he does not come back.
There has not been as much criticism as usual of the announcers on Twitter...until now.
Did the play by play guy really just ask if Kent State's offense was better off playing with the lead? Aren't all teams?

— Doug Gulasy (@dgulasy) January 7, 2013
Kent State has amazing field position to begin every drive due to the fact that Arkansas State is afraid to kick the ball to Dri Archer.
Began this drive at the 40 and now inside the Arkansas State 45.
Arkansas State 17, Kent State 10 -- 8:35 left in 3rd quarter
Arkansas State kicker Brian Davis hits a 25-yard field goal to put Arkansas State back up by seven.

Kent State needs to find a way to get the ball to Dri Archer a little more.
Had you told me Dri Archer was going to average 11 yards per carry and Kent State would trail, I'd have assumed he had 1 carry for 11 yards

— Kyle Kensing (@kensing45) January 7, 2013
This article is
What is the duplicate article?
Why is this article offensive?
Where is this article plagiarized from?
Why is this article poorly edited?