2013 NHL Season: 5 Things the New Jersey Devils Need to Address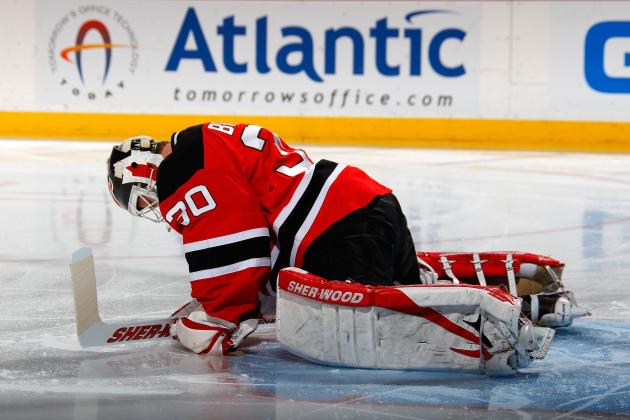 Bruce Bennett/Getty Images

After months of agony and stress and even lost hope, the NHL is less than two weeks away from dropping the puck on opening night.
The season will consist of either 50 or 48 games depending on when the league announces training camp dates, making this the first shortened season since 1995.
Ironically enough, that was the season the New Jersey Devils won their first Stanley Cup.
With a number of changes to the offense and coaching staff and not much time to prepare, the pressure will be on for the Devils to defend their Eastern Conference Championship.
With that in mind, here are the five things New Jersey still needs to address in 2013.
Begin Slideshow

»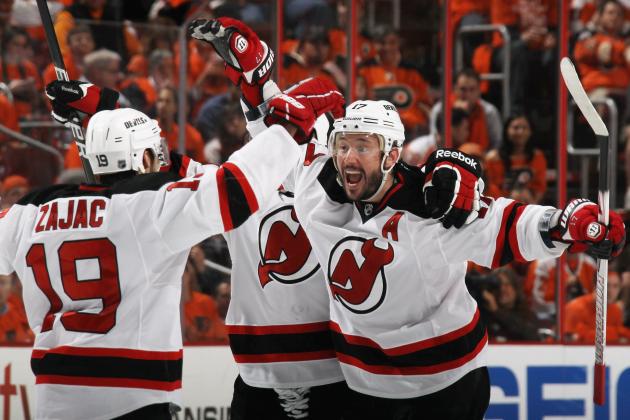 Bruce Bennett/Getty Images

One of the Achilles heels for the Devils over the past few years has been their power play, as the unit has failed to break the top 10 in power play percentage since 2007.
Last year's 17.2 percent ranked them 14th in the league and was an improvement over the 14.4 percent they had in 2010-2011. However, 15 of the 48 power play goals scored last season (31 percent) left for free agency and did not re-sign with New Jersey (Parise 7, Ponikarovsky 4, Sykora 4).
The Devils will also have a new assistant coach leading the power play, as Adam Oates took the head coaching job with the Washington Capitals. Former Sharks assistant Matt Shaw will take over after spending three seasons in San Jose where he led a top five power play unit during his tenure with the team.
Shaw is clearly a capable coach to run the unit, but many fans were disappointed with Oates despite him coming in with high hopes to fix the power play. New Jersey will have to find someone to compliment Ilya Kovalchuk on the man advantage, but if someone steps up, the unit should be fine in 2013.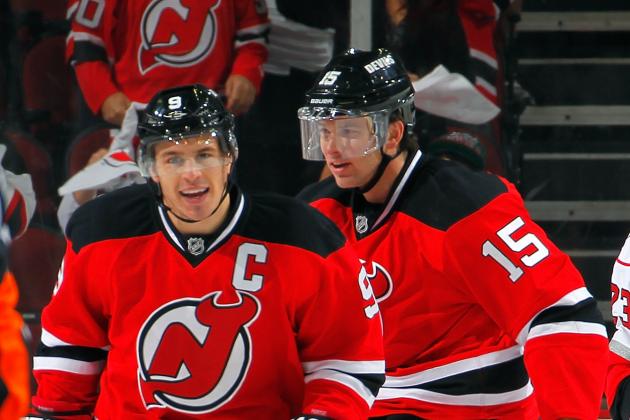 Paul Bereswill/Getty Images

Free agency was not kind to the Devils after they made the Stanley Cup Final, as they lost three key forwards to other teams and were only able to bring in two.
Parise, Ponikarovsky, and Sykora are gone and were replaced by Bobby Butler and Krys Barch. However, Butler has not played a full season in the NHL during his three-year career and Barch was brought in to be an enforcer rather than a scorer.
New Jersey will need to find a way to replace a total of 59 goals from last season without trading prospects away. It was rumored early in the offseason that New Jersey would be interested in Anaheim Ducks forward Bobby Ryan, but those talks were pushed aside once the lockout started.
Right now it is expected that Butler will start in Ponikarovsky's place and Dainius Zubrus will take over on the first line to replace Parise. New Jersey can still shift players like Jacob Josefson or Ryan Carter to wing, but there will be holes in the offense regardless.
There are players in the minors like Mattias Tedenby, Matt Anderson and Tim Sestito who have been playing well, and Butler has been the Albany Devils' best player during the lockout, but New Jersey will be putting a ton of pressure on them in 2013 if no moves are made.
Ultimately, it seems that fans will see a lot of Cam Janssen and Krys Barch, unless someone else steps up at left and right wing.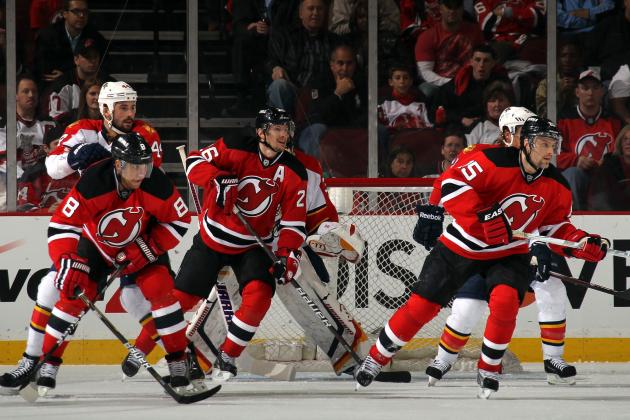 Bruce Bennett/Getty Images

Many of the headlines surrounding the New Jersey Devils last season dealt with the team's chemistry, which was part of the reason why the team made a run for the Cup.
Whether it was the Elias-Sykora-Zubrus line or the now famous fourth line of Gionta-Carter-Bernier, the Devils undoubtedly had one of the best connected teams in the NHL. However, with free agency ripping through the team and changes being made on offense, some of that chemistry may be gone.
Here are the projected lines for next season:
Kovalchuk-Zajac-Zubrus
Elias-Henrique-Clarkson
Butler-Josefson-Bernier
Gionta-Carter-Barch/Janssen
As you can see, the Elias line from last year gets a makeover now that Petr Sykora is gone, and Steve Bernier will jump to the third line to fill the void left at right wing.
Perhaps the biggest concern is the new fourth line with enforcers Cam Janssen or Krys Barch. Pairing them with high-paced players like Stephen Gionta and Ryan Carter may change things a bit, but hopefully it won't affect the relentless forecheck that helped propel the Devils through the playoffs.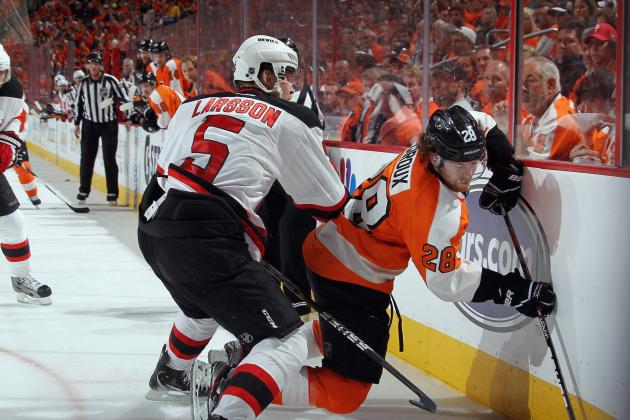 Bruce Bennett/Getty Images

It was a roller coaster ride for last year's fourth overall pick, Adam Larsson, during the 2011-2012 season. Larsson was named a starter during camp, suffered a brutal injury in February and was a healthy scratch through most of the 2012 NHL playoffs.
Many fans were concerned that Larsson was taking a seat in favor of Peter Harrold during the playoffs, especially because Larsson performed well when he played in the postseason.
Larsson is part of the bright future the Devils have in their organization, but that future will only be bright if New Jersey gives him a chance to prove himself. However, with some of the best depth at defense in the NHL, Peter DeBoer may have trouble giving the 20-year-old ice time.
New Jersey currently has eight defensemen on the roster that could start for an NHL team, and each player appeared in at least 20 games last season. It would be easy to bench Peter Harrold as the odd man out, but that still leaves one other spot for Larsson to jump over to get into the lineup.
Anton Volchenkov dealt with an ankle injury during the lockout and didn't perform well in his time in the KHL, so there is a chance that Larsson will see time once the season starts.
However, it will be interesting to see how the Devils handle this situation in 2013.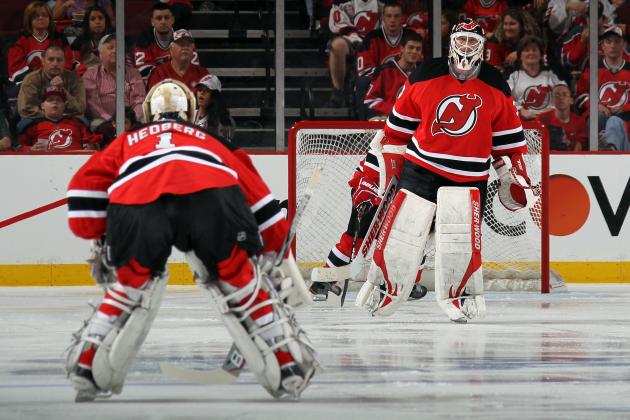 Bruce Bennett/Getty Images

Another year older, another year wiser.
Over the past few seasons that has been the motto for New Jersey's goaltending core, and now Johan Hedberg and Martin Brodeur are pushing past the age of 40.
Last year Peter DeBoer did a great job splitting time between the two veterans to prevent them from wearing down toward the end of the season. However, Brodeur started every game during the 2012 playoffs through Game 6 of the Stanley Cup Final.
The lockout certainly gave both goaltenders some well deserved rest, but that extended time off may not be good for the work flow of two aging goalies. With training camp scheduled to last only one week before the season begins, it will be interesting to see how Martin Brodeur handles the short preparation.
This is how Brodeur has fared in seasons after a work stoppage or lockout:
1994-1995: 19-11-6 2.45 GAA
2005-2006: 43-23-7 2.57 GAA
His GAA is a bit high, but remember 2005-2006 was the first year with new goaltender restrictions, and Brodeur still led the league in wins.
You can take the good with bad when it comes to the lockout, but the only thing fans can do is wait and see how Brodeur performs in 2013.