Denver Nuggets vs. Los Angeles Lakers: Live Score, Results and Game Highlights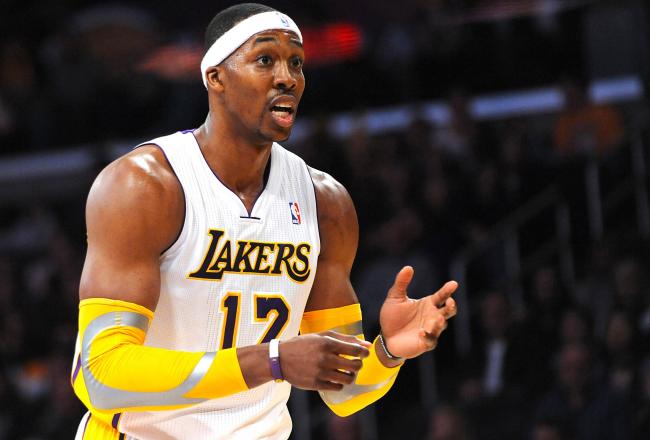 The Nuggets came into Staples Center 2.5 games ahead of the L.A. Lakers in the Western Conference standings and came away with a big 112-105 victory.
Let's have a look at tonight's action!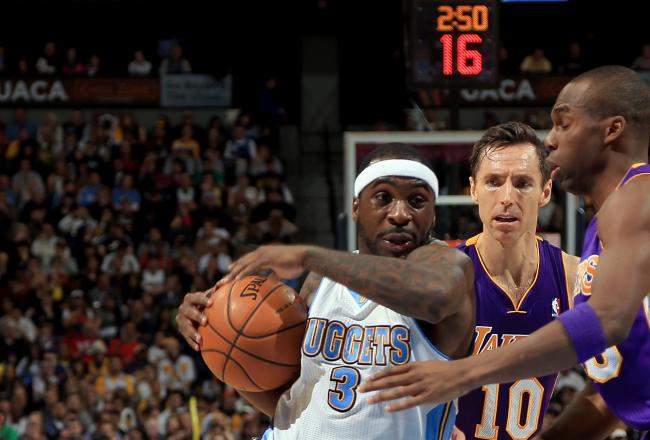 The Nuggets came in 2.5 games ahead of the Lakers and stole this game in the Staples Center. The Lakers did not run the court in transition, and their lack of defense spelled their demise.
Dwight Howard was as active as he has been all year, and tied his career high with 26 rebounds.
But there was just too much Ty Lawson and Andre Miller. The talented tandem of point guards combined for 33 points and 20 assists.
They got to the hoop as much as they wanted, and the Lakers poor rotations on defense made it all too easy for them to score around the hoop, or find easy shots for the likes of JaVale McGee and Kosta Koufos, who combined for an additional 24 points.
Pau Gasol looked better in tonight's game, but it remains to be seen if the Lakers will hold onto him as the Feb. 21 trade deadline approaches.
It seems the biggest change the Lakers should make is yet another coaching change. Mike D'Antoni can't get his guys to play defense, and that's something he's never emphasized enough throughout his entire coaching career.
The Lakers can't win games by just scoring points, and the Nuggets had their way tonight with the basketball.
FINAL SCORE: NUGGETS 112, LAKERS 105
Andre Miller calmly sank both free throws. Miller is an 80.9 career free throw shooter and did what any great veteran would do. That seals it up, pretty much.
NUGGETS 110, LAKERS 105 — 2.6 seconds in game, Nuggets shooting 2.
Kobe Bryant answered Gallo's desperation three with another of his own, drained over JaVale McGee's extended arm.
It's likely too little too late for the Lakers though, and they have no one to blame but themselves for their shoddy transition defense all throughout this game.
Kobe can bail out the Lakers a lot, but when they watch tape of this game they'll be wondering why they decided not to run the court on so many possessions all night.
NUGGETS 108, LAKERS 105 — 8.5 seconds in game, Andre Miller shooting two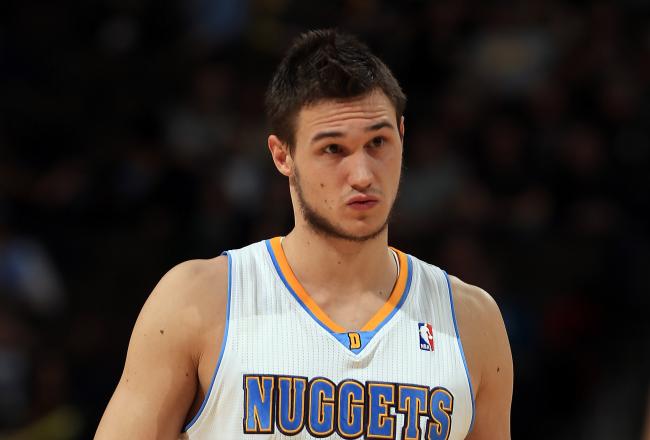 Dwight Howard tied his career high in rebounds with a 26th board. The Lakers came back and Kobe continued his hot shooting with a three point shot.
Dwight Howard swatted away an Andre Miller shot...but...
The Nuggets respond with a Danilo Gallinari three in desperation, as he nailed it from the corner. Gallinari is just 3-of-10 from behind the arc tonight, but he hit the one that counted most.
That's what shooters do.

NUGGETS 108, LAKERS 102 — 13.8 in 4th, Lakers ball
Pau Gasol caught a nasty blow and is bleeding voraciously. He's not going to be able to shoot the free throws and George Karl selected Earl Clark off the Lakers bench to shoot the free throws.
Clark is a career 65.8 percent free throw shooter and had not played all game.
But he hit both free throws, much to Karl's dismay.
Gasol is done for the night, it seems, as he headed back to the locker room seeing stars.
NUGGETS 105, LAKERS 99 — 1:05 in 4th
Dwight Howard came up with a great defensive play. He forced Ty Lawson into a tough shot, and then he grabbed the rebound.
And then?
He threw it away and the Nuggets capitalized on the turnover with an Andre Miller jumpshot.
They came back the next possession in transition to score, as Ty Lawson drove it right to the basket for another layup.
Good defense, no reward. Bad defense, and more Nuggets layups.
So has gone the game for the Lakers.
NUGGETS 105, LAKERS 97 — 1:05 in 4th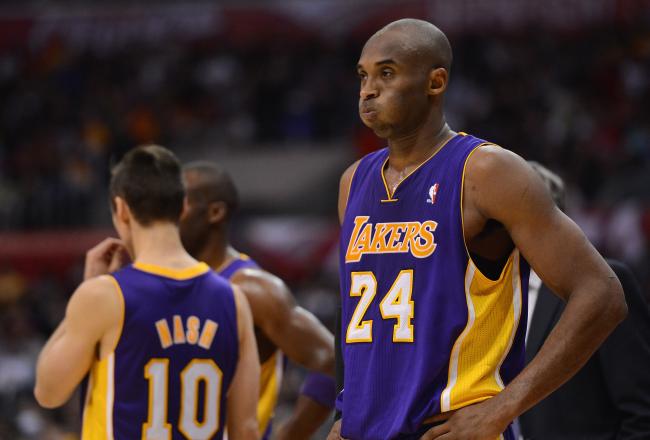 Kobe Bryant has hit five of his last six shots, and he's doing his best to take this game into his hands. The Nuggets appear to be tiring out after pushing the ball hard in transition all game (while the Lakers lagged back).
Dwight Howard appears fresh, and grabbed an offensive rebound to give the Lakers a second possession, which resulted in a baseline jumper by Kobe.
The momentum is shifting towards the Lakers coming down the stretch, and it forced George Karl to call timeout.
NUGGETS 101, LAKERS 97 — 2:23 in 4th, Nuggets timeout
The Nuggets are just getting to the basket at will. There's very little communication on defense, and they're not getting back in transition.
Ty Lawson just pushed it and drove straight to the basket, around Steve Nash, and no help came.
NUGGETS 101, LAKERS 93 — 4:32 in 4th
Kobe's come to life and hit his last three shots, but the Lakers still aren't playing defense.
Isn't this the hallmark of No-D'Antoni teams?
It's hard to imagine a Mike D'Antoni team ever winning a championship. His formula is built for regular season success—if even that—as the 15-17 Lakers have shown.
NUGGETS 99, LAKERS 91 — 5:32 in 4th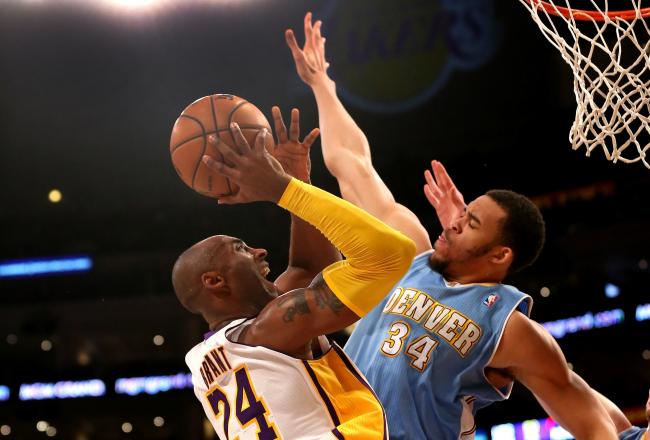 Kobe Bryant is just 4-of-16 from the floor. He's missing the ones he usually hits and has been getting good looks. Even the Mamba has off-nights.
Will he turn it on late in the fourth though? We've seen him do that throughout his career.
NUGGETS 96, LAKERS 87 — 7:14 in 4th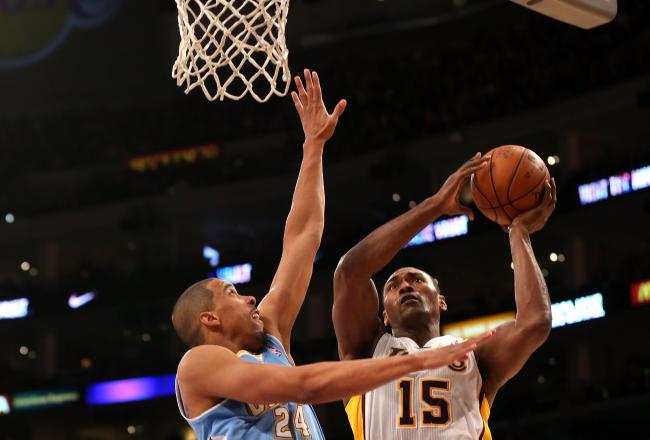 Metta World Peace just made a Nuggets' possession into a total disaster, deflecting the ball into the backcourt and pestering Danilo Gallinari as the shot clock ran down in the backcourt, following the deflection.
The result? A halfcourt chuck by Corey Brewer, which hit the shot clock.
MWP received a standing ovation for the hustle and defense.
NUGGETS 93, LAKERS 85 — 8:55 in 4th, TV Timeout
Kenneth Faried and the Nuggets are out-hustling the Lakers to loose balls. Faried sacrificed his body and dove to the floor, then called timeout.
Faried is battling the flu and still playing harder than the Lakers combating him.
NUGGETS 92, LAKERS 83 — 11:00 in 4th
The Nuggets have outscored the Lakers bench 29-20. JaVale McGee is making a push to be the starting center, but his asthma condition limits the amount of minutes he can play.
McGee has 13 points and six rebounds, and though he's getting better every game, the Nuggets are fortunate to have Kosta Koufos to play the other half of the game since McGee is unable to go big minutes.
NUGGETS 88, LAKERS 83 — End of 3rd

I guess Pau Gasol didn't read the scouting report that Danilo Gallinari is a dead eye shooter. Gallo made him pay before the last TV timeout, but missed an easy open one from the same spot (the top of the key).
The Nuggets may be one of the league's poorest shooting three point teams, but they can hit them if left open. And Gallo is a 36.5 percent career three point shooter.
Unfortunately for he and the Nuggets, he just picked up his fourth foul.
NUGGETS 83, LAKERS 82 — 2:00 in 3rd
Mike D'Antoni is fuming after a Denver Nugget 2-on-0 fast break in which no Lakers even tried to run the court. The previous play, Danilo Gallinari hit an uncontested three from the top of the key.
That Laker defense that had been showing improvement throughout this game is disappearing once again, and D'Antoni suddenly seems as though he cares about defense.
NUGGETS 83, LAKERS 80 — 3:09 in 3rd
Steve Nash is just nine assists shy of 10,000. He'll become only the fifth player in NBA history to reach that mark.
Dwight Howard just grabbed his second offensive rebound of the game and he now has 15 rebounds on the night. Remember when Dwight got 20-20 games just about every other night? He's that Dwight again—at least tonight.
LAKERS 78, NUGGETS 76 — 5:10 in 3rd, TV Timeout
Dwight Howard went back to his lefty hook again, and it rolled in. Howard is 6-of-7 from the floor and has been as involved as we've seen him this season.
The Lakers expected this when they signed Howard, and it became clear he needed the ball fed to him to be effective, though he has been good in his career about creating offense without having his number called.
LAKERS 74, NUGGETS 74 — 6:28 in 3rd
They woke up The Manimal. He slid baseline for a nice dunk...but then picked up a technical, as he felt he was fouled on the dunk.
Getting a technical is never wise when Steve Nash will shoot the free throw. Nash has yet to miss a free throw on the season.
LAKERS 70, NUGGETS 66 — 8:56 in 3rd
Steve Nash picked up a rare technical jawing at the ref. Nash rarely loses his composure, but is getting frustrated with the officiating in the third quarter.
NUGGETS 64, LAKERS 61 — 10:00 in 3rd
Kenneth Faried scores his first bucket on a run out, as Danilo Gallinari threw it ahead to him for a monster dunk. Could this dunk unleash The Manimal?!
NUGGETS 64, LAKERS 61 — 10:36 in 3rd
The Lakers closed the half with what else, a Dwight Howard three?
Howard teed one up from the wing, but it banged hard off the back of the rim.
The Lakers found their rhythm late in the second quarter and their defense looked dramatically better than it did throughout the bulk of the first half.
Three Nuggets are in double figures (Andre Iguodala, Corey Brewer and JaVale McGee) and they've been getting everyone involved.
The Lakers' bigs are very energetic tonight, and Dwight Howard has been running the court hard. Pau Gasol's injury concerns may be abating, as he is looking more like his old self.
It was a high scoring first half and a very exciting one at that.
See-ya in a short while for the second half!
LAKERS 60, NUGGETS 60 — Halftime
The Lakers are on a 9-0 run because they've finally started to play some defense. Steve Nash and Kobe Bryant are working a two man game, and the Lakers are finding their momentum with the half coming to a close.
Denver has hit just one of their last seven from the floor, but have been getting good shots. Their play is aggressive and quick, but the Lakers are contesting their shots and closing out preventing the offensive rebounds that plagued them in the first quarter.
LAKERS 58, NUGGETS 58 — Under 1 minute in Half
Jordan Hill has the right idea with The Manimal. He's been boxing out Kenneth Faried and keeping him off the offensive glass, where Faried makes a living.
Faried averages four offensive rebounds a game.
Tonight? He has a goose egg in the column so far.
NUGGETS 57, LAKERS 54 — Under 2 minutes in Half
I wrote on December 17th that Pau Gasol's return wouldn't do much to change the Lakers' fate. Up until tonight, it appeared that assessment was right.
But Gasol has been far more active and his movements have been fluid tonight. He's appearing to be fully healthy, and his play could make the Lakers into the team that they hadn't been so far this season.
Gasol has 11 points and three rebounds (all offensive) and has been facilitating the offense the way he is capable of.
It appears he can adapt to Mike D'Antoni's offense, despite speculation by many that he was a square peg in a round hole in the run and gun schemes D'Antoni has become famous for.
NUGGETS 57, LAKERS 52 — 2:32 in 2nd, Nuggets Timeout
This article is
What is the duplicate article?
Why is this article offensive?
Where is this article plagiarized from?
Why is this article poorly edited?