Pittsburgh Steelers: 6 Things They Must Do to Get Back to the Playoffs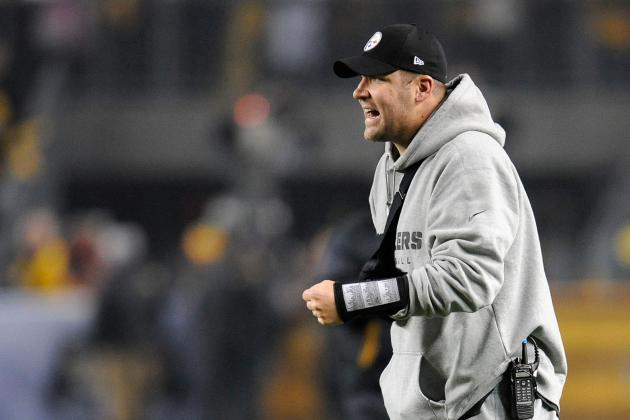 Joe Sargent/Getty Images
Injuries to Ben Roethlisberger and others were a major downfall for the 2012 Steelers.
A few breaks here and there, and the Pittsburgh Steelers would have been playing on Wild Card Weekend rather than sitting at home.
But that was not the case, as the Steelers missed the playoffs following their 8-8 finish to the regular season. As a result, Pittsburgh's front office and coaching staff need to look forward to make the necessary adjustments so that they don't miss the playoffs for two consecutive years.
Despite all of their problems, the Steelers really aren't that far away from a return to the postseason.
The Steelers had a number of injuries and lost five of eight games decided by three points or less. Let's just say there was a fine line between winning and losing this season.
Pittsburgh still has a talented team and will have the opportunity to not only return to the playoffs in 2013, but be true contenders for a title.
Here are six things that the Steelers must do to get back to the playoffs.
Begin Slideshow

»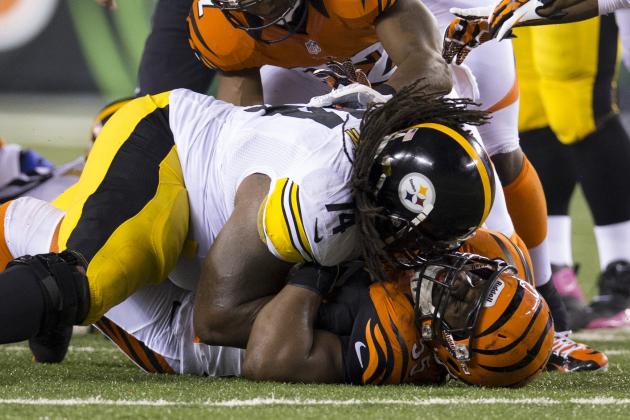 Greg Bartram-USA TODAY Sports
Willie Colon helped set the tone for the Steelers' offensive line.
You can chalk 2012 up as a transition year on offense, as Todd Haley took over for Bruce Arians as the Steelers' offensive coordinator.
While it had its growing pains, Pittsburgh's offense seemed to finally begin to click in the middle of the season before it regressed, beginning in the game against the Kansas City Chiefs. But one thing is certain, and that is that it must get better next season.
One way that the offense can improve is by getting physical.
Games are still won in the trenches, and the Steelers need a better performance from the offensive line. That should happen once this group is healthy.
There are already a number of physical players in this group, led by Willie Colon.
If Colon returns, he will set the tone for the line that has struggled for a number of seasons now. When he laid on top of Vontaze Burfict and gave him the business, it was one of the highlights of the season.
Further physical play will come at center from Maurkice Pouncey and tackle Mike Adams—whether he starts at left or right tackle. These players and the others will be key factors in reestablishing the physical nature at the line of scrimmage and improving the ground game.
Besides developing a physical running attack, the Steelers need a physical receiving option besides Heath Miller.
Pittsburgh's receivers were incredibly soft last season, with too many dropped passes and fumbles, and failed to block the way we have been accustomed to seeing with Hines Ward.
But the main reason the Steelers need to get a physical receiving option is so they can beat the press coverage and have more success in the red zone. Besides Mike Wallace, the receivers struggled to find the end zone, and this is an area in which the Steelers must improve.
They can either add a bigger, physical wide receiver in the draft—or even re-sign Plaxico Burress and give him a bigger role—or find a second tight-end option.
Physical play across the board will greatly help the offense in 2013.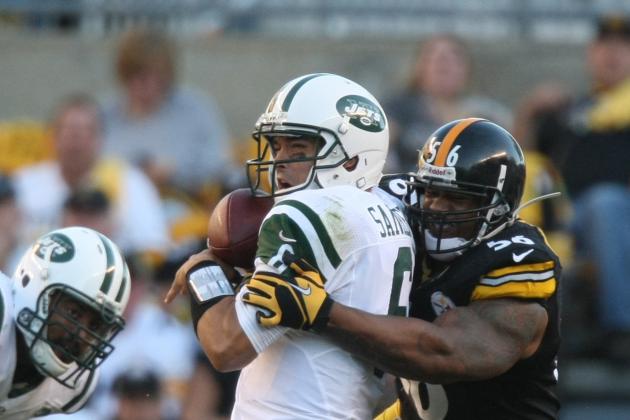 Jason Bridge-USA TODAY Sports
LaMarr Woodley needs to regain his status as an elite pass-rusher.
Dick LeBeau had his defense playing very well in 2012, as it was once again had the top total defense in yards per game and passing yards as well as the No. 2-ranked rushing defense.
But it was not perfect, as the defense once again struggled to get to the quarterback, picking up only 37 sacks this year. Without much pressure, they were only able to force 20 turnovers, and that is not good enough.
Both LaMarr Woodley and James Harrison struggled this year, but moving forward the Steelers need a lot more from Woodley.
For the second-straight season, Woodley was plagued with injuries, but this season was worse as he was nearly invisible. He only had four sacks for the season and rarely was able to pressure the quarterback.
LeBeau's defense is predicated on getting to the quarterback. That is when it is at its best and forcing turnovers.
Woodley is going to have to dedicate himself this offseason to returning to his old form, when he was considered to be one of the best pass-rushers in the league. The team must also decide if it will stick with Harrison for another year or hand the job to Jason Worilds.
Regardless of their decision, the Steelers would also be wise to add another pass-rusher in the draft. With all of the passing in today's game, teams can never have enough guys who can get to the quarterback, and this is an area in which the Steelers must improve for next season.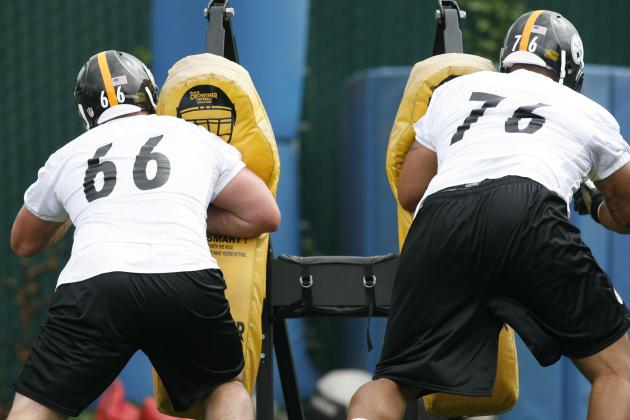 Charles LeClaire-USA TODAY Sports
David DeCastro and Mike Adams will both start in 2013.
Each year, we are seeing young players all over the NFL making an impact for their teams. It is time for the Steelers to get their younger players involved more quickly.
It's not to say that the Steelers don't play young players, because they do. Just look at the past couple of seasons, with Mike Wallace, Antonio Brown, Maurkice Pouncey, Cortez Allen and David DeCastro (prior to getting injured).
But that has not been enough. The coaching staff still favors the veterans and slowly develops the rookies. That needs to change.
Whether it is naming a rookie a starter or just letting rookies play in certain situations, the Steelers can do a better job of getting the young guys on the field. There are a number of guys who can step in and be big-time contributors.
On the defensive line, Steve McLendon and Cameron Heyward have shown enough in their limited playing time to have earned starting spots.
As long as he's healthy, Sean Spence should be given every opportunity to start next to Lawrence Timmons at inside linebacker.
Both DeCastro and Mike Adams should be fixtures on the offensive line, and Todd Haley can continue to figure ways to integrate Chris Rainey into his offense. Rainey has too much potential to not get at least a few touches each week.
The Steelers must hit on their draft picks this year as well and have at least their top two picks on the field. There is room for young players in this league, and the Steelers can't keep young talents on the bench for one or two years until they fully develop.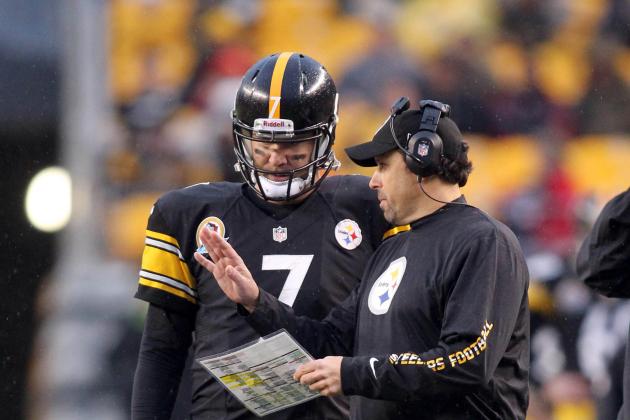 Charles LeClaire-USA TODAY Sports
Roethlisberger and Haley must trust each other for the offense to maximize its potential.
Early in the season, Dick LeBeau commented about the team's defensive struggles, and it hits home with how the offense finished the season (via KDKA).
"I've found that is a condition with this group. When teams are moving the ball on us, guys want to do a little bit more, which is a good problem to have, but it's a problem nonetheless," LeBeau said. "We've got to trust the defense, trust the teammate, focus, and play."
Down the stretch, Ben Roethlisberger wanted to do a little bit more. That is part of the reason he is such a great quarterback, but as LeBeau said, while it is a good problem, it is still a problem.
While trying to do more, Roethlisberger demonstrated that he did not trust the offense or his teammates. Who could blame him?
The wide receivers dropped a number of passes. Defenses adjusted to the short passing game. Things just weren't clicking like they were earlier in the season, but that does not mean you have to give up on what the offense was designed to do.
Roethlisberger and offensive coordinator Todd Haley are going to have to work with each other this offseason and get on the same page.
Haley needs to continue to have the offense establish the run and short-passing attack, but he also needs some input from Roethlisberger so that Roethlisberger can continue to do the things that he does best, such as move around the pocket to make plays downfield.
By implementing ideas from both sides, Haley and Roethlisberger can trust each other and have a common vision for the offense. Once this is achieved, it will trickle down to the rest of the players on offense, and the results will show.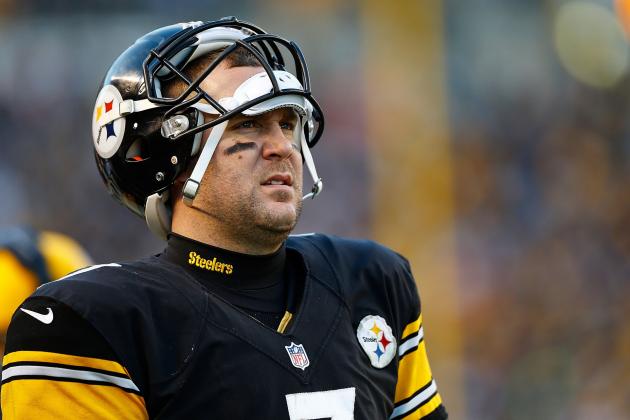 Jared Wickerham/Getty Images
Ben Roethlisberger threw costly late-game interceptions against the Bengals and Cowboys.
With five losses in their eight games decided by three or fewer points, the Steelers did not finish games this season.
Simply put, they need to finish in 2013.
How can they do that? I don't know, but what I do know is that a lot of it has to do with mental toughness.
Players either tried to make so much happen that they made mistakes or just flat-out made mistakes.
Whether it was penalties, defensive failures, dropped passes or turnovers, the Steelers failed too many times to make the necessary plays to win games in crunch time. That is what separates a playoff team from a non-playoff team.
Whether it is spending more time studying game film, better locker-room leadership, improved coaching or something else that the team is missing, the Steelers must make the necessary changes to finish games.
The lack of being able to close out games was the difference between an 8-8 team sitting at home and one that could have gone 13-3 and been the top seed in the AFC.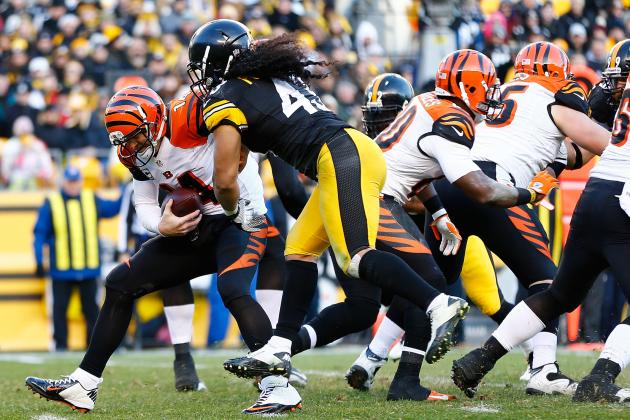 Jared Wickerham/Getty Images
When healthy, Troy Polamalu helps make the defense elite
A healthy Pittsburgh Steelers team would have been a playoff team in 2012.
Over the course of the season, injuries to Roethlisberger, Harrison, Woodley, Troy Polamalu, Ike Taylor—in fact, nearly the entire offensive line and a number of its backups and others—were just too much to overcome.
Some of the injuries could be attributed to possible conditioning issues, but most of them just happened, and there is no true fix for it.
Whether it is the failure to properly train in the offseason, using bad technique in a game or just plain bad luck, the Steelers have had too many injuries, but if they can stay healthy, they will have one of the stronger rosters in the conference.
Besides adjusting their conditioning routines, there's little that the Steelers can do to avoid the injury bug, but if they do, they'll be back in the playoffs next season.