NFL Playoffs Divisional Round: Who Moves to Championship Weekend and Why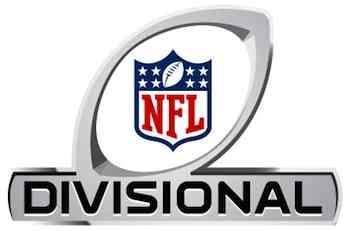 Who will earn a victory this week to move on to the conference championship games?
For the players on the field, the fans watching and everyone in between, Wild Card Weekend lived up to its name—and it only gets better now with the eight teams remaining and the stakes raised even higher as we get closer to the Super Bowl.
Each team has some pros and cons to consider when figuring out who will come out on top in the Divisional Round. Let's start in the AFC:
The Broncos come in having won 11 straight and have Peyton Manning playing some of his best football, while their defense is also playing. But with that week off, potential cold weather and Manning's less-than-stellar playoff record (9-10), could things go bad?
The Patriots beat the Texans to help set themselves up for the No. 2 seed and the playoff bye that comes with it. They look primed to make a potentially big playoff run and have the offense to do it. But will their defense end up being their downfall?
The Texans showed against the Bengals that they can still be the dominant team on defense that we saw for most of the season. Their offense showed progress towards a good working unit too, but will its inability to create TDs instead of FGs in the red-zone end its Super Bowl dreams early?
The Ravens ran heavy on emotion during Ray Lewis's last home game before retirement and played a great game to stop Andrew Luck's rookie season in its tracks. Will they be able to do it again on the road next week against a QB that has always exploited their defense?
And now the NFC:
The Falcons grabbed the No. 1 seed behind an opened-up offense and a defense that made big plays. But was this just a product of an easy schedule? And can they finally break through in the playoffs?
The 49ers have completely changed themselves on offense from being a team that pounds the ball down a team's throat to one that has the ability to be explosive. Can that push them farther than their offense did last year, or will their conflicting identity on that side of the ball cause problems?
The Packers found a way to shut down Adrian Peterson and the Vikings offense and attacked the Viking D with some new balance in their run game. Will the new-found balance be enough to overtake a team that thoroughly handled them earlier this year?
The Seahawks proved once again that they can win a rough game on the road behind their strong defense and unflappable rookie QB. Will they be able to keep that magic going, or does Wilson finally hit that rookie wall?
Let's move forward and figure out the answers!
Begin Slideshow

»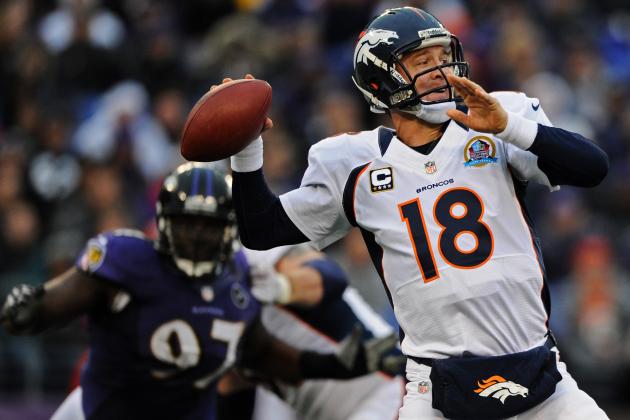 Patrick Smith/Getty Images
Will the Ravens be able to pressure Manning, or will he be given time to make plays?
This game is a rematch of the regular season meeting, which Denver won 34-17 (and it wasn't as close as the score indicates). That was even a home game for the Ravens and yet they still got beaten handily. So what makes this time any different? What has changed that will give them a shot at winning this time?
For starters, they decently held Manning in check overall in the last meeting (17 for 28 for 204 yards, 1 TD); the main reason the game got out of hand was that the Broncos were able to run (163 yards, 2 TDs) and got a huge defensive score off a Flacco INT. If the Ravens can put that same effort up against Manning and the Broncos' passing game again while limiting the run somewhat and not giving them a defensive score again, it's highly likely they will be position to win the game at the end.
Another thing worth remembering is that these teams played right after offensive coordinator Jim Caldwell took over play-calling duties. With more time to prepare, the Ravens offense has shown mixed results so far (scoring is down, but more use of their best player in Ray Rice and running game overall), but they look like they could be overall better off than they were before.
More running should help in the time-of-possession department (they got handled 38:34-21:26 in the previous meeting) and have the two-way factor of keeping the ball away from Manning (and therefore limit his chances to do any damage) while also not having Flacco pass too often (limiting turnovers and clock-stalling incompletions).
The other area that could sway in the Ravens favor is turnovers. In the regular season, the Ravens were +9 in turnover differential, while the Broncos were -1. In the game between these two, that trend switched (The Broncos had two takeaways, while the Ravens had none); the likelihood of that happening again seems low. If all these things mentioned happen to some degree, the Ravens definitely have a shot of taking this one.
But what about the Broncos? Well to look at it from their standpoint, there is plenty for them to feel confident about. For one, they did beat this team handily on the road already. They did so in a game where Manning did not put up the best stats; it's doubtful the Ravens will hold him down to that extent again. Even if Manning does get slowed down, these Broncos have a running game and a defense they can rely on. They also have a stadium a mile high. Teams are never fully prepared for the higher altitude that a game in Denver brings.
Manning's postseason stats give a mixed range of results to look at. As mentioned before, Peyton has a total record of 9-10 in the postseason, including a record of 6-4 at home. Also, over Manning's career he is 2-7 in outdoor games in January; that could be a potential problem, but it is worth noting that those games were all road games (since the Colts play indoors at home) and now he plays home games outdoors in Denver. Something the Broncos will like is that in his playoff home games, Manning has a 21-8 TD:INT ratio. All in all, it would be wise to expect Manning to do well, but there is the possibility that it could not be as smooth as everyone might think.
At the end of the day, I think Manning will have a good day throwing from the start and keep the Ravens playing catch-up, meaning their strong defense will be able to tee off on Flacco and the Ravens. I expect this to end up a bit closer than the last game, but the result will be the same: another Broncos win.
Denver Broncos 31
Baltimore Ravens 20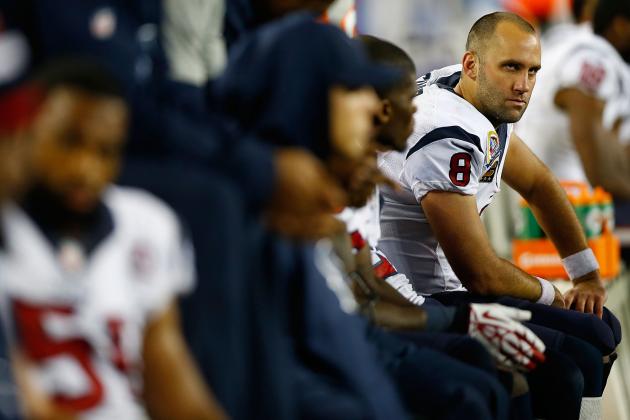 Jared Wickerham/Getty Images
Will Schaub (8) and the Texans turn those frowns upside down this weekend?
Going into Week 14, the Texans were sitting pretty at 11-1 and looking forward to the No. 1 seed in the AFC, while the Patriots were 9-3 and were going to need some help to get a first-round bye even with a win against Houston.
After the thrashing they put on Houston, the Patriots proceeded to lose the next week to the 49ers, but in their beat-down of Houston they had done enough to help start a downward spiral that ended up costing Houston not only it's home-field advantage, but it's first-round bye entirely. After taking out the Bengals last week, can the Texans do what they couldn't in the first meeting and take down the Patriots on the road?
The first time they met, the Texans were never able to follow their usual game plan because they fell behind early. Usually what they want to do is run the ball a ton and work off of play-action. In that game, the Texans were unable to keep running because they went down by so much so quickly. If they can keep the Patriots from going up 28-0 this time around and have some better luck with fumbles (2 were made by the Patriots that could've directly or almost directly stopped TD scores), this will be a much closer game; one where the Texans have a chance to stick with their game-plan at least for one half and run enough (and well enough) to allow play-action passes to be viable.
If last week was any indication, their defense will be much more up to the task of slowing down the Patriots' offense this time; their top corner (Johnathan Joseph) is healthy along with the majority of the defense and New England still doesn't have anyone who will be able to stop J.J. Watt.
The Patriots are much better on offense than the Bengals though; there is no way that the Texans can completely shut down Brady the way they did to Dalton and Co. last week. Brady can put up points in bunches against anyone, and this year he is even more dangerous because he has a run game to work with.
By having Stevan Ridley and a running game capable of gaining plenty of yards, plus an offense that is finally getting all of its pieces back healthy (such as Gronk), Brady is going to have a great opportunity to put up lots of points yet again. The question will be whether or not the Texans will be able to slow him down at all while actually putting up a fight with their offense this time.
I expect it to be a better game this time; no blowout for sure. But to be blunt, I just can't see this Texans team, the way it is built to play, finding a way to pull out a victory on the road against a team with the offensive ability of these Patriots.
New England Patriots 28
Houston Texans 23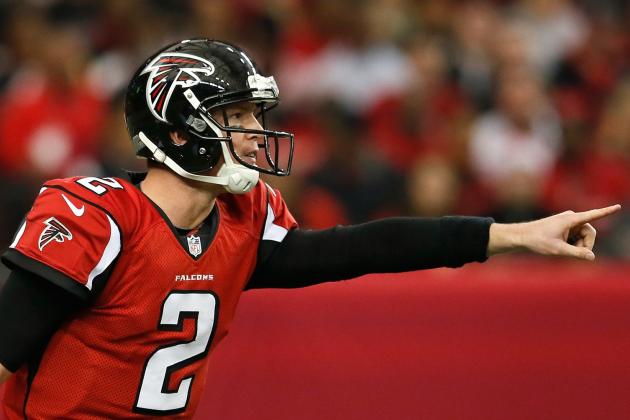 Kevin C. Cox/Getty Images
Can Matt Ryan finally dictate a postseason win for his Falcons? Or will they continue their playoffs woes?
Each playoff year during the Matt Ryan/Mike Smith era, the Falcons have played the arguably hottest team of that year and ended up losing to them on their way to the Super Bowl. In 2008, the Cardinals were not too hot, but the Falcons acted as their springboard to a surprise playoff run; 2010 saw the Falcons grab the No. 1 seed out of nowhere, but then in their first game they drew a hot Packers team that came in gun blazing and blew them out on their home turf.
Last year, they had the misfortune having to start out against the buzz-saw that was the Giants and ended up nearly getting shut out if not for a safety early on. This year they have drawn a team in the Seahawks that has been blowing through most of its competition for over a month and is thought of by many experts to be capable of making the Super Bowl; exactly the kind of team that has beaten Atlanta before. If the Falcons don't play their best, they'll end up losing yet again and this time jobs could be on the line.
Does this mean the Seahawks get an easy win? Not at all. There's plenty that works in Atlanta's favor. It is at home, where they are 33-7 since Ryan became the QB in '08. They are a much more explosive team on offense now than in previous years too, so putting up points should be no issue.
The question is on the defense, which has seemed to play better this year overall, but still doesn't feel like it can be trusted entirely. Something else worth wondering is if it means much that the Falcons beat up on the league's weakest schedule (meanwhile, Seattle had the highest strength-of-victory in the league); does it matter who the Falcons and Seahawks beat as much as it does that they got the wins?
I feel like overall when looking at these teams, the Falcons do have a more explosive offense for sure. Matt Ryan is, at least at this point, a better QB than Russell Wilson. He also has a much stronger group of receivers to work with by far in Roddy White, Julio Jones and Tony Gonzalez. The run game definitely is lacking, but this is a passing league so that doesn't weigh as heavily against them as a lacking receiving corps would.
Where the advantages would lean towards Seattle begins with their running game, but they also hold a decided advantage in terms of defense as well. Their defense was the toughest in the NFL to score on (15.3 PPG allowed) this year, with good players throughout their front seven and a very strong & feisty secondary backing them up. They have the type of defense that can match up as good as any of the receivers that Atlanta will throw at them, which bodes well for their chances.
The deciding factor could be how well the Atlanta defense can hold down the Seattle offense. The Seahawks will do plenty of running with Marshawn Lynch, but so will their QB with their multiple read-option looks in the run-game. If the Falcons can figure out a way to stop Russell Wilson from making big plays on the ground and through the air, they will set themselves up well for a win.
The Falcons have a good a shot as ever at winning this weekend, especially since the Seahawks are not only on the road, but have to travel completely across the country for the second straight week. They've also lost one of their best D-Linemen to a torn ACL (Chris Clemons), which will make things tougher on them in terms of creating pressure on Ryan. This pick comes down to trust, and when all the factors are added together I just do not believe enough in the Falcons ability to win this game. We'll find out whether that lack of faith was justified or not.
Seattle Seahawks 27
Atlanta Falcons 20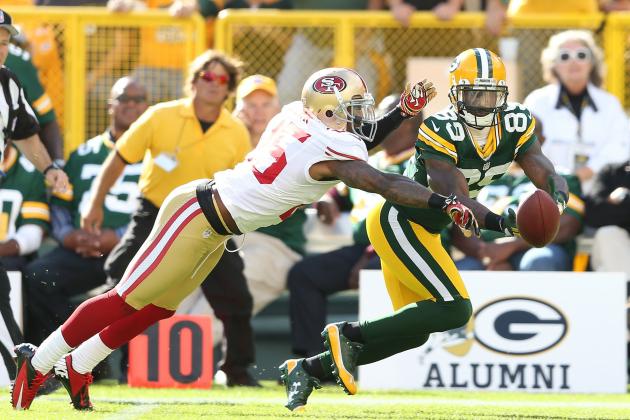 Andy Lyons/Getty Images
Can the Packers make the tough plays needed to beat the 49ers on the road this weekend?
We saw this exact same matchup in week one. Everyone was going into it expecting the Packers to show that same explosive offense they showed all last year, but the 49ers came in and handled them.
Throughout the year, the Packers never really reached the lofty heights last year's offense was able to reach—tons of injuries, a below-average offensive line and opponents game-planning to prevent the big plays Green Bay thrived on last year all attributed to that. Because they have the best QB in the game today in Aaron Rodgers, they were still able to end up top-10 in offense despite all those problems.
The defense, which was majorly lacking last year, got an influx of rookies and fresh faces; this helped bring tons more energy to a unit that got dragged by the offense all of last season. The defense ended up being a huge reason the Packers stayed in many games this year when their offense wasn't functioning at its best, and it gave them the necessary time to fix problems so that they could find ways to win.
With the defense playing better and the offense being more adaptable now, this Packers team has gotten significantly tougher over this season. The question is, will that newly-bred toughness be enough to overcome this 49ers team that has improved its own abilities since that game?
In that opener, the 49ers were just starting to show a more capable offense that had more to work with that just handing Frank Gore the ball. They gave their QB Alex Smith more options than ever to work with, adding in WRs Randy Moss and Mario Manningham to their stable of receivers that already had Michael Crabtree and Vernon Davis, and they proved that they could elevate their passing game without limiting their run game, thereby making themselves into an even tougher team to beat than ever.
Later in the season, Smith ended up getting a concussion and that caused Colin Kaepernick to be thrust into action. The amazing thing is that not only did Kaepernick play, but he played so well that their coach was put in a tough spot; he could either go back to Smith who had put up great stats (70.1 QBR; 7th in league), or stick with the raw young guy who had potential to do even better but no guarantee that he would continue do that so soon. He chose Kaepernick and they continued on towards the No. 2 seed with an offense that expanded even further than it ever could have under Smith because of Kapernick's better running ability and arm strength.
Looking at the teams now, there are some key matchups that will dictate the winner. How well the 49ers D can pressure Rodgers (and especially if they can do it with four rushers and seven in coverage) will indicate whether the Packers will be able to put up a lot of points. The Packers' ability on D to defend against read-option looks will also be major since Kaepernick can effectively use it; if they cannot slow it down better than they did the few read-option plays the Vikings used, it could be a very long game for the Packer's D. Also, they must work in a good mix of blitzes, because Kaepernick is a young QB and can be susceptible to it in the right doses.
In the end, I think this will be a rough game that gets decided by a few plays. The Packers have shown they can adapt their offense to beat defenses in whatever way they leave open; the last two weeks exemplify that perfectly, as the Packers hit their receivers all over the field in Week 17 when they needed to play catch up, but then switched to giving tons of touches to their RBs (27 combined rushes/receptions, 3 TDs for Dujuan Harris and John Kuhn) to put up some points and control the clock. While the 49ers are one of the two toughest teams they have had to face (Seattle is the other), it is the fact that they lost to teams like this that made them realize how much they needed to adapt, and they have done so. That adaptation will pay off with a victory in the rematch for Green Bay.
Green Bay Packers 20
San Francisco 49ers 13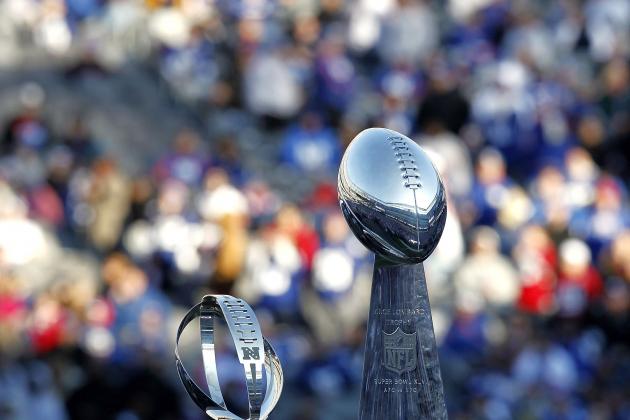 Jeff Zelevansky/Getty Images