Phoenix Suns: 7 Players That Could Fix Their Problem at Shooting Guard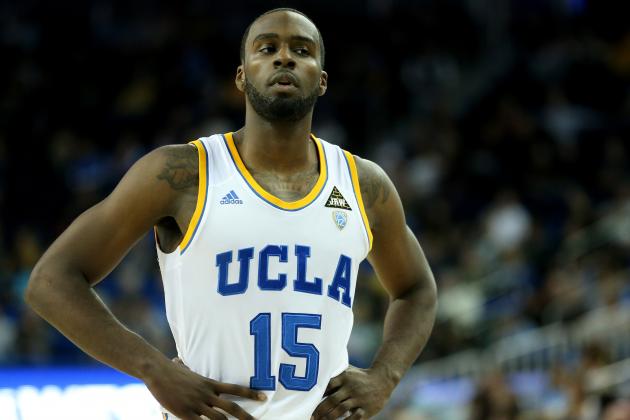 Stephen Dunn/Getty Images

If there is one void on the roster that the Phoenix Suns desperately need to fill, it's at shooting guard.
The Suns currently own a dismal 12-22 record, but so many of those games came down to the last few minutes. You have to think that with a go-to scorer who has the ability to close out games, maybe the Suns could have notched several extra wins this season.
The Suns do have a few decent players capable of playing shooting guard in Shannon Brown, P.J Tucker and Jared Dudley. But as much as Shannon Brown likes to shoot the ball, he will never amount to Kobe Bryant, or Dwyane Wade, or even James Harden.
And that's OK. Brown can serve as a perfectly adequate sixth man. But the Suns need to find that next franchise cornerstone to place at shooting guard soon, before this rebuilding process gets out of control and we're having this same conversation five years from now.
The great thing is that this new player can be acquired in a number of ways. The team could sign a free agent, make a trade at the deadline or they could draft a potential star in next year's draft. He can be brought to Phoenix in any form, as long as it's before the start of next season.
Also, realize that this list is filled with reasonable and realistic options for the Suns. It might be nice to have Wade or Harden on the team, but neither of those players are going to hit the trade block anytime soon. The players featured on this list are either college prospects, upcoming free agents, or players who have been involved in trade rumors.
With that settled, here are seven players the Suns should consider acquiring before the start of the 2013-2014 season in order to shore up their current shooting guard situation.
Begin Slideshow

»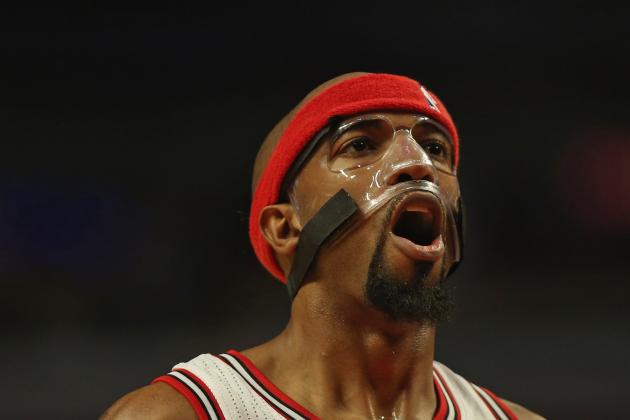 Jonathan Daniel/Getty Images

Richard Hamilton isn't what he used to be, and he certainly isn't a building block for the future, but the Suns have reportedly shown some interest in the 13-year veteran, and it might just be worth a shot.
The Bulls might actively shop Hamilton at the deadline, and the Suns could probably get a deal done without giving up any major rotation players.
However, Hamilton is no longer one of the league's top shooting guards. He is a three-time All-Star, but he hasn't played more than 55 games in a year since the 2008-2009 season, and he's also 34 years of age.
This season, Hamilton is averaging 12.6 points and 2.5 assists a game while shooting 45 percent from the field and 39 percent from behind the arc for the Bulls. That's decent, but he isn't star material anymore.
Because he's so old, it's also been mentioned that Hamilton may not be willing to stay in Phoenix while the team rebuilds. He wants to play for a contending team that can win right now, and Phoenix doesn't meet the criteria.
Really, the only reason the Suns may express interest in Hamilton is if they really believe that their medical staff can fix him. And with their recent success in this department, that is not such a crazy idea.
Michael Redd was an injury-plagued former star who signed in Phoenix last season, and he played 51 games for the team while averaging 19.5 points per 36 minutes. Jermaine O'Neal has also been great this season, and the Suns can also point to other players such as Grant Hill and Shaquille O'Neal, who both found success in Phoenix near the end of their respective careers as well.
If the Suns really think Hamilton can be relevant again, they might make a move at the trade deadline. But right now, he seems like a worst-case scenario backup plan for Phoenix.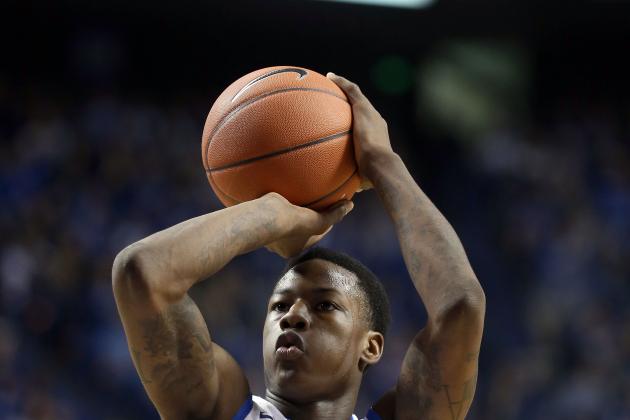 Andy Lyons/Getty Images

The Suns have three first round draft picks in the 2013 NBA Draft, and should they look there to find a promising future player, it would be a good idea to pursue Archie Goodwin, the 6'5" guard from Kentucky.
Right now, Goodwin is having a great freshman season, and he's projected to be a lottery pick in almost every mock draft. There's good reason for that too, as he possesses a lot of great skills.
For one, Goodwin is an elite and explosive athlete. He has long arms and a great leaping ability, and that combined with his lateral quickness makes him great at attacking the basket.
Goodwin also puts a lot of effort into defense, and he has the makings of a future lockdown defender. He's very good at forcing turnovers because of his quick hands, and he's an aggressive defender, which is fantastic, as long as he can stay out of foul trouble.
On the other hand, Goodwin still has to work on his outside shot. He's 10-for-25 from beyond the perimeter this season, which is pretty good, but his shot can be inconsistent at times. He also turns the ball over way too much, as he averaged 3.2 turnovers a game.
Overall, Goodwin looks like a very promising young talent. There are a couple of other guys the Suns would probably prefer, but Goodwin is a good backup option in the draft. Taking a prospect is always a risk, but he could just pan out and become the star the Suns need him to be.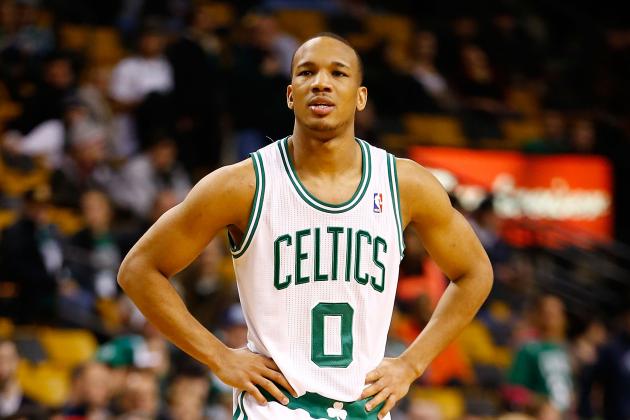 Jared Wickerham/Getty Images

Avery Bradley may not be on the trade block, but the Celtics have expressed interest in Marcin Gortat, and if the two teams were to make a deal, the Suns would likely ask for Avery Bradley as part of the return package.
Bradley is in his third NBA season, but he's still only 22, and last year was the first time that he received significant playing time. In 21.4 minutes a game, Bradley posted averages of 7.6 points, 1.8 rebounds and 1.4 assists.
Bradley is a talented young player, and although he might not develop into a superstar, he could definitely take over the starting spot for the long-term. He's extremely quick and puts so much effort into defense, which has already made him one of the best lockdown defenders in the league at such a young age.
However, Bradley is simply not a go-to scorer. He's shot 47 percent from the field and 34 percent from beyond the arc for his career, which is not bad, but he doesn't take very many shots and cannot be counted on in the clutch.
Of course, his offensive game should continue to develop as he gains more experience, but he will almost certainly never be able to average 20 points a game, which is the type of production that the Suns are looking for out of a future franchise cornerstone.
Bradley is an enticing player to chase after, but he wouldn't fulfill the role of a primary scoring option, which is what the Suns need most. Still, should the Suns decide to move Gortat, Boston looks like a great trade partner.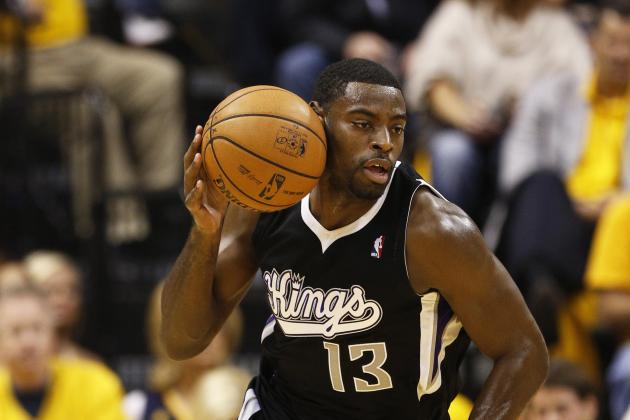 Joe Robbins/Getty Images

DeMarcus Cousins appears to be the big name on the trade block right now, but Tyreke Evans may also end up leaving Sacramento soon, whether that be through a trade or via free agency in the offseason.
After an amazing rookie season in 2009-10, during which he put up averages of 20.1 points and 5.8 assists a game, Evans has struggled in Sacramento and has taken a hit in nearly every statistical category across the board. Evans has also struggled to find his true position in the league, as he's spent time at point guard, shooting guard and small forward over the past three seasons.
This season has been no different. Evans is now averaging a career low 15.1 points a game to go along with 4.8 rebounds and 3.3 assists. He is also receiving just 31 minutes of playing time per game, another career low. But on the bright side, his PER and true shooting percentage are both better than last season, and he's shooting a career-high 30 percent from three-point land, which is encouraging.
Evans could still rise once again and live up to his superstar potential, or he could at least rediscover the same success that he had in his rookie season. He is a fairly efficient shooter, and he can be a playmaker if needed. He can also run the point, rebound and he also isn't a bad defender. Really, he is pretty much an all-around player.
His biggest weakness probably comes with his three-point shooting, as he's connected on just 26 percent of his three-point shots over his career, an unsightly number for a shooting guard. But acquiring Evans is a very realistic goal, and although there might be better options available, he might just end up panning out if given the chance in a new setting.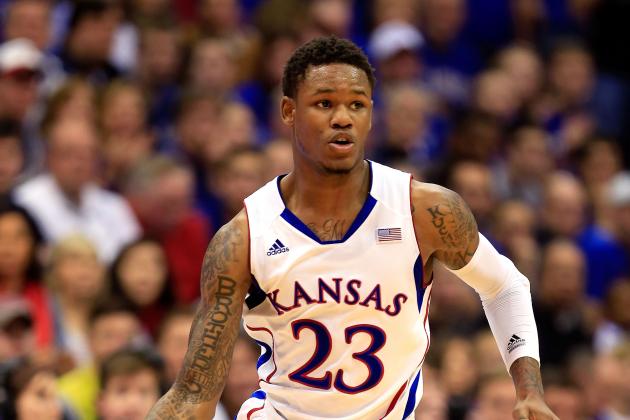 Jamie Squire/Getty Images

Ben McLemore's college career did not get off to a great start. He was ruled academically ineligible to play for his rookie season, and he was also arrested once for failing to make a court appearance for possession of alcohol as a minor.
However, now that McLemore is playing, he has instantly climbed his way up early mock draft boards and will very likely be a top 10 pick in the 2013 NBA Draft, possibly even top five.
McLemore excels in nearly every area of the game. He's quick and has a great leaping ability that should allow him to be an entertaining NBA player, but he boasts other skills as well.
McLemore has put a lot of effort into his shot. He's shooting 49 percent from the field and 41 percent from downtown, and he has added a lot of range. He still does best in transition, but McLemore could be a dangerous outside shooter in the future.
He also shows a lot of potential defensively. His quickness and 6'7" wingspan allow him to stay in front of athletic shooting guards, and he should be a good defensive player in the NBA, albeit not an amazing one.
As for his weaknesses, McLemore needs to work on his ball handling. He doesn't turn the ball over that much, but he has a lot of trouble getting by defenders and attacking the basket, and he often has to settle for short jumpers instead of getting all the way to the rim.
Overall, McLemore is going to be an interesting prospect to watch for the next few months. If the NBA draft were today, McLemore would probably be selected in the 5-10 range, which should be just about where the Suns' selection will likely fall. He has a lot of potential, and hopefully he won't disappoint.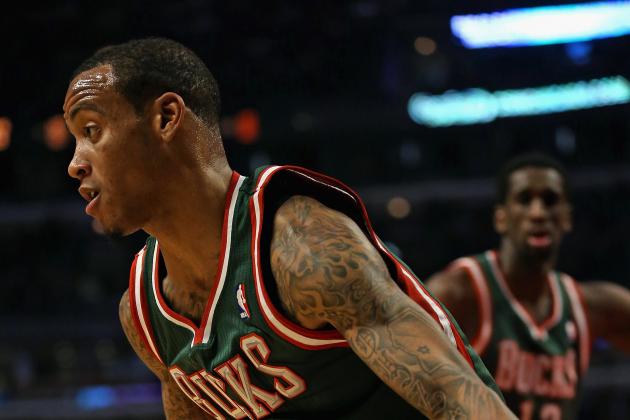 Jonathan Daniel/Getty Images

First, let me say that acquiring Ellis is improbable, as the only possible way that he could be a free agent this offseason would be if he uses his early termination option, which is unlikely to happen. But, if Ellis does leave Milwaukee, the Suns should immediately pursue him.
Look, Ellis has his own set of flaws. He isn't a very good defender, he takes ill-advised shots, and he likes to have the ball in his hands which occasionally disrupts the offense. But, with that being said, he can definitely score—and that's all the Suns really need.
Right now, Ellis is averaging 19.4 points, 5.6 assists and 1.7 steals a game. Unfortunately, he is shooting 40 percent from the field, a new career low, but that could have something to do with sharing the backcourt with Brandon Jennings, another guard who can be trigger-happy.
In the past, Ellis has been phenomenal at scoring the ball. He averaged almost 26 points a game just a few years ago in Golden State, and he can shoot the three, drive to the basket or get out in transition.
But the real question to ask is whether Ellis' great offensive play outweighs his subpar work on the defensive end. Ellis has had a higher defensive rating than offensive rating for almost his whole career, and he often allows his opponent to score just as many points as he does, if not more.
Ellis could be great, but he was never able to take the Warriors deep into the playoffs, even when they had a great core that included Stephen Curry and David Lee. Not all of that can be blamed on him, of course, but he might not be the sort of player that could make the Suns into contenders.
Ellis has reached his potential. He's a good player, and he would improve the Suns drastically, but it takes a top superstar to win anything these days. Ellis might bring playoff basketball back to Phoenix, but to think he could ever take Phoenix all the way as the go-to guy on the roster would be a bold prediction.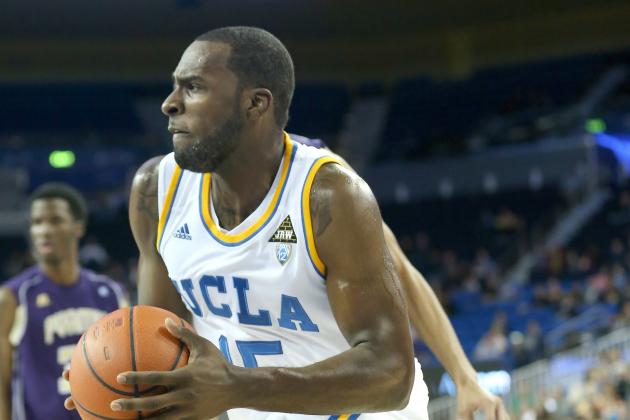 Stephen Dunn/Getty Images

Let's face it, superstars aren't signed; they're drafted.
With the exception of LeBron James, Charles Barkley and Shaquille O'Neal, every NBA MVP winner since 1980 has won the award while playing for his original team.
Now, does that mean that I'm comparing Shabazz Muhammad to guys like Bird, Magic or Jordan? Of course not. That would just be plain ridiculous. But, of everyone on this list, Muhammad is the most likely to be a superstar in the NBA.
He is almost definitely going to be a top three pick next June, so that means that the Suns would either need to tank it for the rest the season or they would need to get a little lucky in the lottery if they have any hopes of landing him. But should that happen, Suns fans would have a reason to be excited.
Muhammad excels in literally every aspect of the game. Right now, the UCLA freshman is averaging 19.6 points and 5.2 rebounds a game. He's shooting 49 percent from the floor, 49 percent from behind the arc, and he has a PER of 26.3.
At 6'6", Muhammad also has ideal size for a guard. He's big enough and strong enough to post up smaller defenders, but he's quick enough to score in the lane and even take the contact. He can create a shot for himself extremely well, and can shoot from almost anywhere on the court.
He isn't amazing defensively, but he isn't a liability either. He always gets back on defense and can occasionally shut down his opponent while going off for 20 or 25 points on the other end.
Muhammad also has a great basketball I.Q, and any team would be happy to have him. The 2013 draft class might not be quite as special as the 2014 class that features Andrew Wiggins, who is a gift straight from the basketball gods, but Muhammad has the potential to be an impact player in this league, and he could usher in a new era of greatness for the Suns.
If you're looking to see this kid in action, here's a great video to show you just how athletic he is.