Denver Nuggets vs. Los Angeles Lakers: Postgame Grades and Analysis for L.A.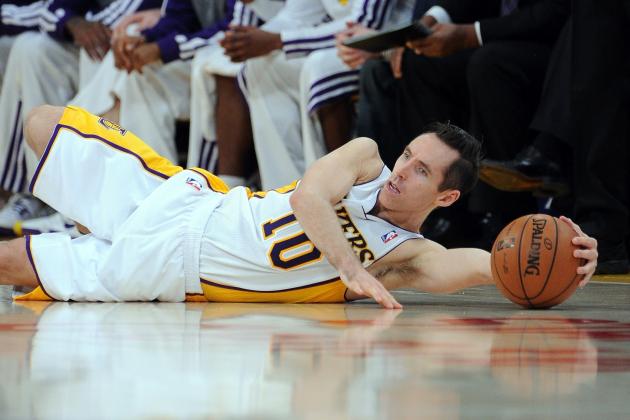 Jayne Kamin-Oncea-USA TODAY Sports

If this isn't the straw that breaks the camel's back, what will it take?
In yet another display of defensive ineptitude, the Los Angeles Lakers lost to the Denver Nuggets by a score of 112-105. This wasn't just a loss, but the Lakers' 18th defeat of the season.
They're now 15-18. An even less impressive number than the one ESPN Stats & Info provided us with prior to the game.
A bit of information that displayed the odds of L.A. achieving victory.
Nuggets are 4-26 in road games against the Lakers since Kobe Bryant's rookie season (1996-97)

— ESPN Stats & Info (@ESPNStatsInfo) January 7, 2013
Make that 5-26.
The statistics don't stop there, as the Lakers continue to baffle the world with their ineptitude. Whether it's the coaching, chemistry or personnel, there is something wrong with this team.
Something very, very wrong.
Lakers lose again. Have dropped 4 of 5 since their 5-game win streak. Had 18 turnovers, all but 1 of which was committed by their starting 5

— ESPN Stats & Info (@ESPNStatsInfo) January 7, 2013
If you're looking for the defining moment of the game, try the fact that Lakers fans have done the expected. They've called for Mike D'Antoni's job and asked for the one man who could fix this.
You know who it is.
"We Want Phil" chant just started at Staples Center. #Lakers

— Mike Bresnahan (@Mike_Bresnahan) January 7, 2013
Phil Jackson isn't here, so let's break the latest D'Antoni-led game down.
Begin Slideshow

»
Overall Grade: B+
Minutes Played: 35
Plus/Minus Rating: Plus-six
Stat Line: 10 PTS, 13 AST, 3 REB, 1 STL, 1 BLK, 5 TO
If you want to see an excellent point guard performance, you should have watched Steve Nash work his magic tonight.
You know, for three quarters.
Perhaps the greatest evidence of such brilliance was how quickly things unraveled when Nash came off of the floor.
The Lakers were down three with momentum when Nash came out. They were down eight and nearly out of the game when he re-entered.
We'd be remiss if we didn't acknowledge the fact that Nash couldn't put it back together. Even 10 points and 13 assists don't save his grade.
Nash committed five turnovers and shot just 3-of-8 from the floor. Even as Kobe Bryant deferred to him for open shots, Nash opted to make the extra pass.
Even when it wasn't necessary.
Nash is displaying the same level of insecurity as his teammates. No one wants to step on toes, and not a single player appears to know what to do on defense.
Nash and Bryant's indecision on who would commit to a driving Ty Lawson led to two key points. It also displayed how far this team has to come in order to reach the postseason.
Forty-nine games seems like a very short amount of time.
This grade is the first of many that display individual brilliance but a lack of team chemistry.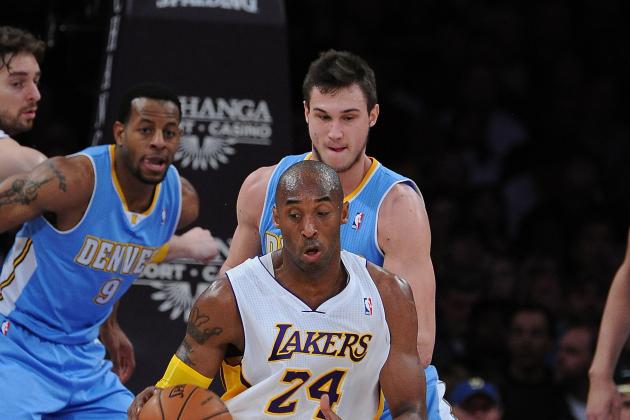 Jayne Kamin-Oncea-USA TODAY Sports

Overall Grade: B+
Minutes Played: 42
Plus/minus rating: Minus-12
Stat Line: 29 PTS, 7 AST, 5 REB, 11-26 FG
Entering the game, the Los Angeles Lakers were 12-4 when Kobe Bryant has tallied at least five assists. Kobe had four during the first quarter alone.
He'd finish with seven dimes. It wouldn't matter.
Although it ended up being meaningless, Kobe converted seven of his final 12 field-goal attempts to breathe life into a dormant offense.
Unfortunately, his teammates didn't get the memo that they had to help him come the fourth quarter.
Kobe scored 18 of the team's 22 points during the fourth. Evidence enough of his late-game heroics?
Anyone who watched this game without bias knows the following:
Kobe was not shooting early, but instead facilitating the offense. His field-goal attempts went up as soon as his teammates opted to stop displaying aggression with the ball in their hands.
As his teammates deferred, Kobe attempted shot after shot. He made just four of his first 14.
Kobe was phenomenal during the fourth quarter, poor on defense and too slow to start to make a true difference.
If nothing else, we learned early how bad the Lakers are when Kobe isn't shooting.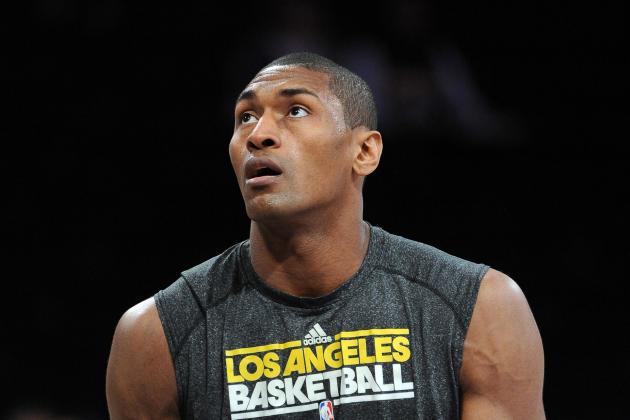 Jayne Kamin-Oncea-USA TODAY Sports

Overall Grade: B
Minutes Played: 39
Plus/minus rating: Plus-six
Stat Line: 16 PTS, 4 REB, 4 BLK, 1 STL, 4-9 3PT
After failing to show up on January 4, Metta World Peace decided to make his name known early on January 6.
MWP converted two open three-pointers in the first quarter and rotated well defensively to limit the perimeter scoring opportunities. The threes would continue to fall as the game went on.
World Peace would finish with 16 points on four three-point field goals made.
The play of the game for L.A. came at the 9:31 mark, as MWP forced Danilo Gallinari to lose his dribble beyond the three-point line. Gallo would chase the ball down and World Peace was right on him, smothering him and exposing a weakness.
Gallinari picks up his dribble when pressured.
MWP pressed until he, individually, ran the shot clock out. That alone earned him a standing ovation and a solid mark.
Unfortunately, going cold and missing an open three damages a grade.
Not too much, though, as MWP posted a Laker-high plus/minus rating of plus-6.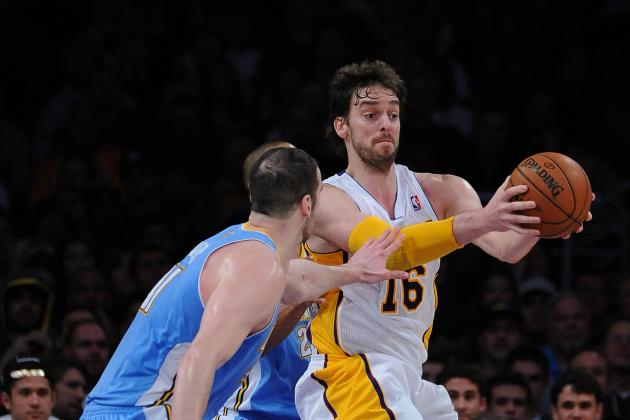 Jayne Kamin-Oncea-USA TODAY Sports

Overall Grade: D+
Minutes Played: 34
Plus/minus rating: Minus-one
Stat Line: 11 PTS, 5 REB, 3 AST, 2 BLK
Is this too harsh? Possibly.
Disappearing in the second half of every single game just happens to be getting old.
Pau Gasol's season was defined on one play that came at the 8:41 mark of the first quarter.
After Steve Nash missed an open three-pointer, Gasol came up with the offensive rebound. The Spaniard backed into the post and attempted to hit Dwight Howard with a bounce pass.
Howard wasn't expecting the feed. It resulted in a turnover.
From that point on, Gasol displayed limited aggression.
For the positive, he converted a post-up attempt on the following possession and threw down an alley-oop from Kobe Bryant roughly a minute later.
He also made an excellent second-quarter play to disrupt an alley-oop attempt from Andre Miller to Kenneth Faried.
Gasol would later pick up a technical for throwing Faried into the crowd. Even if Faried did milk the play, the veteran Spaniard has to know better.
The play would lead to a costly point when Andre Miller converted the technical free throw.
Later during the fourth quarter, Gasol stood idly as a loose ball bounced within feet of his reach. This allowed Denver to grab the offensive board and reset the shot clock.
To add insult to injury—literally—Gasol suffered what appeared to be a broken nose. He was bleeding profusely before being taken to the locker room.
The Lakers are in shambles. Gasol's second-half disappearing acts are a major reason why.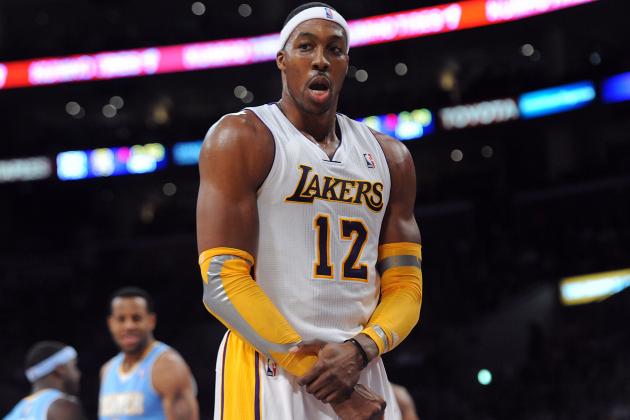 Jayne Kamin-Oncea-USA TODAY Sports

Overall Grade: B+
Minutes Played: 31
Plus/minus rating: Plus-five
Stat Line: 14 PTS, 26 REB, 4 BLK, 1 STL
Dwight Howard started off well, blocking an opening possession field-goal attempt by Kosta Koufos. Moments later, D-12 turned the ball over by stepping on the baseline.
It was an excellent statistical output from D-12, but those plays showcased an inconsistency in his game.
On a night in which Kobe Bryant took on a facilitating role, Howard finished with 14 points on just seven field-goal attempts. The Lakers need to get him the ball, and Howard needs to be more aggressive.
During the second quarter, Howard had a minute-long span in which he exerted that necessary level of effort.
He altered a shot, threw down an alley-oop, blocked another shot and scored out of the post. Those contributions came on consecutive possessions.
Unfortunately, Howard was unable to dominate offensively like he should. His back may be a major reason why.
The Lakers need Howard to be a dominant big man. A real center, though, and not the 15- and 10-type that young fans are used to seeing.
The 25-point-per-game center that L.A.'s franchise knows so well.
For whatever reason, Howard can't seem to get his scoring going. Even as he dominates with his finishes, D-12 fails to display the necessary level of aggression to take over.
The four turnovers are on him. The mere seven field-goal attempts are on him and the Lakers needing to get him the ball.
Now.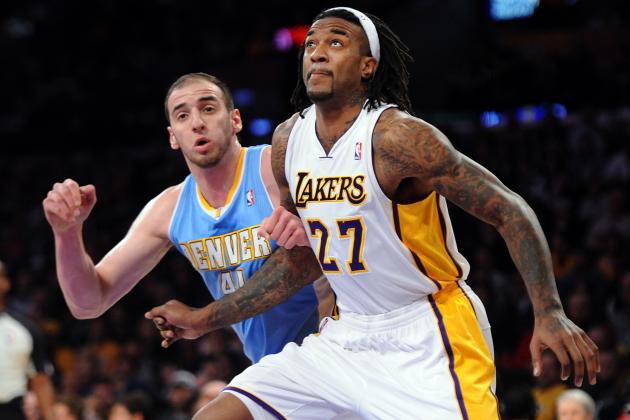 Jayne Kamin-Oncea-USA TODAY Sportsts

Overall Grade: C+
Minutes Played: 15
Plus/minus rating: Minus-eight
Stat Line: 13 PTS, 5 REB, 1 AST
What is he supposed to do in 15 minutes?
Jordan Hill finished the game with 13 points and five rebounds. He spaced the floor with his jump shooting, got to the foul line and defended well.
Unfortunately, minutes are tough to come by in L.A. for anyone that isn't a starter.
Hill provides a great energy along the interior. He's also a consistent-effort player who will never be found jogging in transition defense.
Until his minutes increase, however, Hill's grade will be as stated.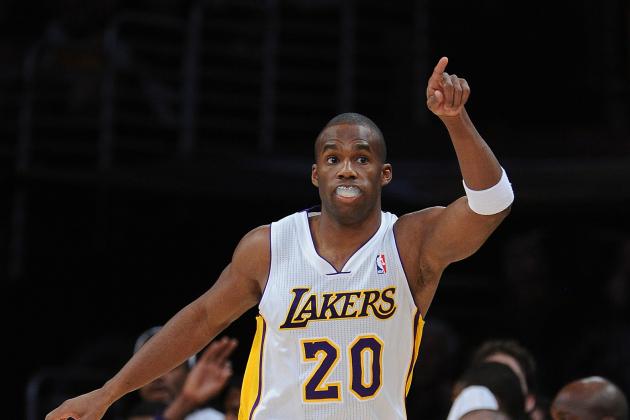 Jayne Kamin-Oncea-USA TODAY Sports

Overall Grade: C
Average plus/minus rating: Minus-7.4
Collective Stat Line: 25 PTS, 7 AST, 5 REB, 1 STL
Tonight was a good night for an under-utilized second unit. Sort of.
Antawn Jamison saw his first playing time since December 16, 2012. He'd proceed to score his first points since December 13.
Jamison also played just four minutes.
The star of the second unit, meanwhile, was Chris Duhon. Despite playing just 12 minutes, Duhon tallied five assists.
This continued what was nothing short of an extraordinary night of ball movement. Unfortunately, that's about all the Lakers did right.
You know, when they weren't turning the ball over.
Jodie Meeks added eight points on 3-of-7 shooting. He also converted two three-pointers, thus completing a relatively solid bounce-back from his dismal performance against the Los Angeles Clippers on January 4, 2013.
It was a nice evening from the second unit, even if coach Mike D'Antoni remains hesitant to utilize his reserves.