New York Jets: Final Individual Player Grades for 2012
Tom Szczerbowski/Getty Images

Although the New York Jets season was over long ago, the season officially wrapped with a 28-9 loss to the Buffalo Bills on December 30.
All season, Bleacher Report has been issuing unit and individual grades during and immediately following every single game for every team all season.
It's been a way to measure the progress of the players as individuals and the specific units on every team.
Now that the season is over, it's time to take a look at the big picture.
In one final assessment of the regular season, every key player on the roster will be evaluated and graded.
While it's easy to just give the Jets a big fat "F" for their entire season, there were a number of very good individual performances along the way.
LaRon Landry, Antonio Cromartie and Muhammad Wilkerson provided outstanding play on defense all season, and young players like Quinton Coples, Jeremy Kerley and Bilal Powell began to emerge as a new generation of Jets.
Here's one final evaluation of every player's performance during the 2012 season.
Tired of the way the New York Media covers the Jets? Follow the BR Jets Report on Twitter: @BR_Jets_Report
Begin Slideshow

»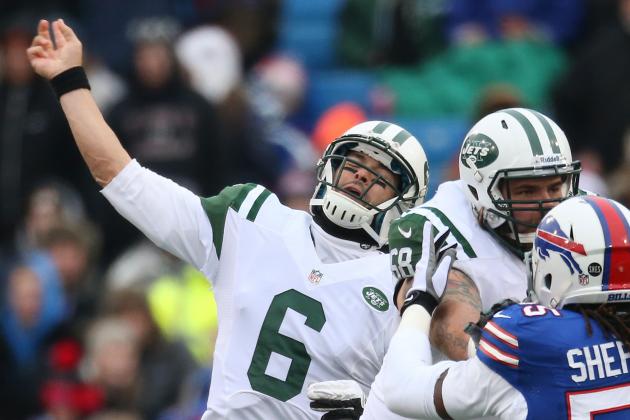 Tom Szczerbowski/Getty Images

Mark Sanchez: F
There's no other way to put it; 2012 was the worst year of Sanchez's career. Sanchez completed 54.3 percent of his passes with just 13 touchdowns and 18 interceptions. He finished with a passer rating of 66.9. All of those numbers represented his lowest totals since his rookie year.
Sanchez lost his job twice during the season, once during a game against the Arizona Cardinals and again going into the Week 16 matchup against the San Diego Chargers.
He was given second and third chances to reclaim his job, and both times he failed miserably.
It's true that he didn't have the support around him, but that's no excuse for Sanchez to be so unfocused, rattled and careless with the football.
Nobody knows what the future holds for Sanchez, but if his contract was so prohibitive, he would be selling used cars on the street by March.
Tim Tebow: D
Tebow was never used correctly all season, and when he was given his opportunities, he never did much with them. Tebow was never the reason this season went down the tubes, but the 2012 season will always be remembered for the failed experiment of Tim Tebow.
Greg McElroy: D
McElroy was finally given a chance to start a game in his NFL career and looked completely unprepared for the speed of the game. He had no pocket presence, and if his first read was covered, he had no idea what to do.
On the plus side, he did lead the team on three touchdown drives including the game-winner in a 7-6 snoozefest against the Cardinals.
In his short time, McElroy looks more like a No. 3 quarterback than a No. 2.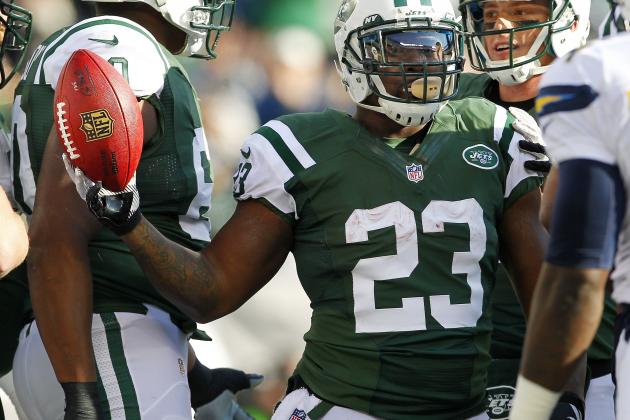 Rich Schultz/Getty Images

Shonn Greene: C+
Greene gave everybody just what they'd come to expect from the veteran running back. He ran hard, held on to the ball and had no explosive ability whatsoever.
Greene ran for 1,063 yards on a 3.9 average and eight touchdowns on the year. Those aren't bad numbers by any means, but Greene simply isn't an every-down back on a premiere team.
Greene is a free agent, and it remains to be seen if he will return to the Jets. If he doesn't, Greene could become a very valuable piece on a good team in need of a running back like the Packers.
Bilal Powell: B-
Powell took a nice step forward in his second year on the team. He was given an increased role at times and responded with 437 yards and four touchdowns while averaging four yards per carry.
Powell also contributed a little in the passing game, grabbing 17 balls for 140 yards while working as a competent blocker as well.
Powell will be back in 2012 and would be an excellent No. 2 back behind a true No. 1.
Joe McKnight: C
McKnight is the only player with explosive ability out of the backfield but cannot be trusted as a ball-carrier. McKnight had 30 carries for 179 yards, but also fumbled three times.
Lex Hilliard: D
Hilliard missed too many blocking assignments and dropped too many passes for an easily replaceable fringe player. He should benefit from an entire offseason and training camp with the club if he sticks around.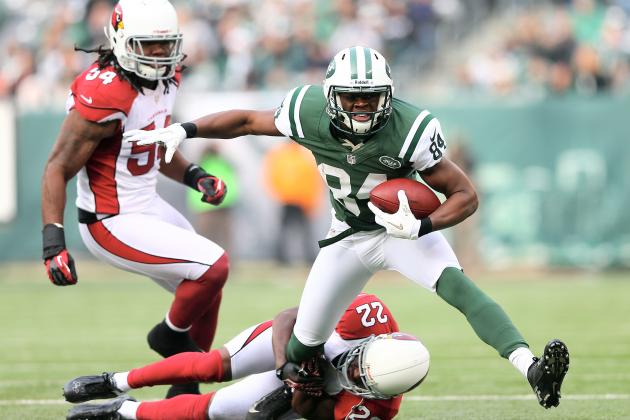 Elsa/Getty Images

Jeremy Kerley: B
Kerley was the Jets' most reliable receiver this season and has the looks of a very dangerous No. 3 or No. 4 receiver going forward. In 2012 though, Kerley led the Jets in most receiving categories.
Kerley was the only Jets receiver to play 16 games in 2012 and finished with a team-high 56 catchesand 827 yards. He also led all Jets receivers with 14.8 yards per reception.
Pro Football Focus rated Kerley as one of the better slot receivers in the NFL.
Stephen Hill: F
Hill was drafted as an experiment and still could develop into a good NFL receiver. However, there wasn't much in 2012 to get excited for about Hill.
Hill exploded on opening day for 89 yards on five catches and two touchdowns, but went downhill from there. His season was plagued by dropped passes and injuries and ultimately ended with a trip to the injured reserve.
His drop that could have sealed a win against the Patriots in Week 5 was one of the turning points of the season.
Hill finished with 21 catches for 252 yards.
Chaz Schilens: D
Schilens was brought in as a free agent to add depth to the receiving corps, but was pressed into significant action, thanks to injuries.
Schilens was one of the main culprits in a group of receivers that struggled to get themselves open all season.
He finished with 28 catches for 289 yards and two touchdowns.
Clyde Gates: F
Despite having fantastic speed, Gates couldn't get himself open for the life of him. He finished with 16 catches for 224 yards in 11 games.
Santonio Holmes: INC
Holmes looked like he was past the troubles that plagued him in 2011 and seemed to be destined for a decent year through three weeks of the season.
However, in a Week 4 loss against the 49ers, Holmes suffered a lisfranc injury in his foot and missed the remainder of the season.
The sad thing is that, despite playing just three-and-a-half games, Holmes statistically ranked as the No. 2 receiver on the Jets all the way into the final games of the season.
He finished with 20 catches for 272 yards.
Braylon Edwards: INC
Edwards played just three games as a Jet, but looked like he had never left. Despite playing in three of the most awful offensive games of the season, Edwards managed 10 catches for 125 yards. Hopefully, that's enough to bring him back next year.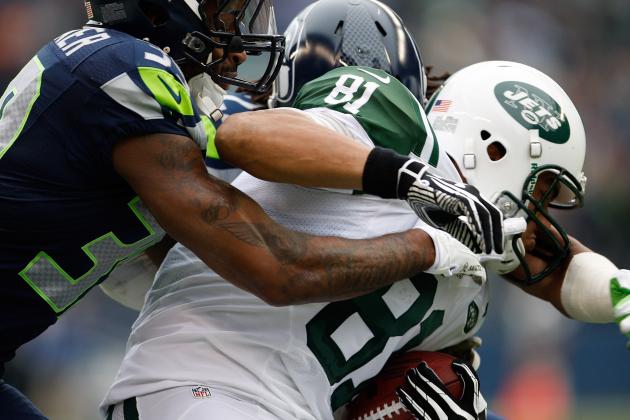 Kevin Casey/Getty Images

Dustin Keller: D
Even in this lost season for Keller, he still managed to place third on the team with 28 catches and 317 yards. Keller battled injuries all season and played just eight games in 2012.
Keller had showed no injury tendencies before this year, so this was a new problem that arose. He had played all 16 games in each of the previous four seasons.
Keller is a free agent, and his down season may push his asking price even lower. It will remain to be seen what the new general manager thinks of Keller and his 2012 season.
Jeff Cumberland: D
Cumberland's biggest struggles came in the blocking game and understanding audibles. His lack of a rapport with Mark Sanchez hurt even more with Keller missing half the year.
Cumberland is a big target who showed some receiving potential at times, but looks more like an adequate backup rather than a starter.
He finished with 29 catches for 359 yards (amazingly, the second-highest totals on the team) and a team-high three touchdown receptions.
Konrad Reuland: B-
Reuland was an effective role player who never really saw an increase in playing time at any point this season. His blocking was strong, and he caught the few passes thrown his way. He showed the ability to play tight end and some fullback as well.
Debby Wong-USA TODAY Sports

D'Brickashaw Ferguson: A
Fans may not have realized it, but Ferguson had an incredible season. Depending on where you get your stats from, Ferguson allowed just one sack while protecting Mark Sanchez's blind side in 2012. This is even more impressive when you consider that the Jets played five games against the top nine sack teams in the NFL.
The Jets ran best on the left side, which of course is where Ferguson resides.
In the past, Ferguson has made the Pro Bowl in lesser seasons based on reputation. However, this was one year he should have made it easily.
Matt Slauson: B-
Slauson split time with Vladimir Ducasse in 2012, playing about 65 percent of the time as the team's left guard. Slauson did an average job in the run game and with pass-blocking. He's a free agent, and splitting time with Ducasse hopefully drove his price down and could set up a return.
Vladimir Ducasse: C
Ducasse was thrust into a platoon with Slauson in order to get him some on the job training, and he didn't do terribly. Ducasse was a step down from Slauson, who was a step down from Brandon Moore.
Perhaps, the biggest play that Ducasse was involved with was the fateful tipped interception with the Jets at the goal line against the Texans. Ducasse was charged with blocking J.J. Watt on the play and didn't do anything to move him. Watt then tipped Sanchez's pass, which was intercepted, sending the Jets on their way to a crushing loss.
Nick Mangold: B+
It wasn't Mangold's best season, but he still remains one of the top centers in the NFL. Mangold allowed pressure right through the middle at times and was even blown for multiple penalties this year. One play that stands out was his low snap that resulted in a fumble and final nail in the coffin against the Titans.
Brandon Moore: B-
Moore didn't allow a sack in 2011, but took a step back in 2012. While the left side of the line performed extremely well in pass protection, the same couldn't be said about the right side. Moore looked slow at times and was only average in pass protection, an area in which he usually excels.
The 32-year-old Moore is a free agent and currently looks like one of the better guards on the market. With his decline in production and advanced age, it wouldn't be advisable to give him a multi-year deal.
Austin Howard: C-
Howard got off to a great start replacing Wayne Hunter at right tackle, but tailed off considerably as the season wore on. Howard allowed the most sacks and most quarterback pressures of anyone on the offensive line.
He wasn't a total bust by any means, and considering that he never started a game at right tackle in his short career, he preformed extremely well at times. However, the league caught up to Howard the more he played, and he wasn't able to adjust.
The Jets are going to cut Jason Smith and could move Howard into Smith's role if the Jets draft or sign a better tackle. A move like that would help both the Jets and Howard.
Jason Smith: C
The fact that the Jets got a useful player in return for Wayne Hunter should have almost been enough to save Mike Tannenbaum's job. Smith worked as an extra lineman and tackle-eligible in their jumbo package.
In his limited playing time though, Smith proved to be the least disciplined of all linemen, committing multiple penalties on plays specifically designed to take advantage of his abilities.
Smith played well at times, but because of his contract, he will become a salary cap casualty as soon as possible. The good news though is that Smith showed enough promise to be able to land on his feet somewhere in the league.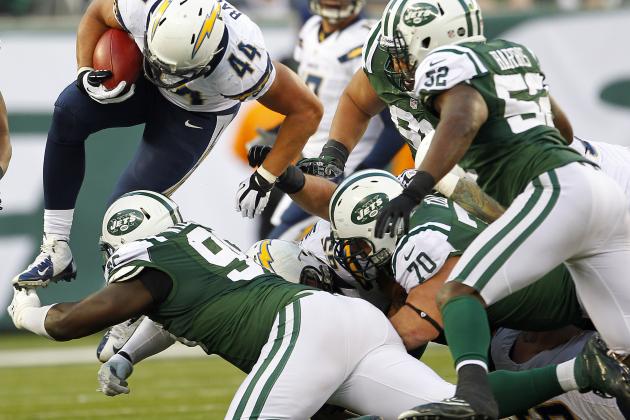 Rich Schultz/Getty Images

Muhammad Wilkerson: A+
Wilkerson busted out during his sophomore campaign and developed into one of the best young defensive linemen in the NFL. Wilkerson has an incredible presence along the defensive line and still hasn't reached his peak yet.
Wilkerson had incredible versatility, playing effectively both inside and out. His tremendous strength and technique has allowed him to become one of the best in the NFL at getting off his blocks.
Wilkerson finished the season with five sacks, 70 tackles and three forced fumbles, incredible numbers for someone in his role. He's a cornerstone player for this franchise.
Quinton Coples: B
The Jets experimented with Coples in a few different roles early in the season, but once Rex Ryan figured out he'd work best in a specialized role, Coples flourished.
Coples typically played about one-third of the defensive snaps in most games, and when he was on the field, he became very effective at and behind the line of scrimmage.
Despite playing a limited role, Coples led the team with 5.5 sacks and tackles behind the line of scrimmage.
He has a ways to go in order to be productive in the passing game, but under Ryan's tutelage, you can expect him to continue to grow.
Mike DeVito: C+
DeVito is a fan favorite and again had a decent year as an interior lineman. DeVito started a career-high 15 games this year and had 27 solo tackles.
DeVito had his best game with the season on the line against the Titans. In that game, he tied career highs with eight total tackles and five solo tackles.
Kenrick Ellis: C-
Ellis did take a slight step forward in his second year, despite missing four games with a knee injury. He finished the year with 19 total tackles while playing a small role in 12 games.
Sione Pouha: D
Pouha simply wasn't himself all season as he never recovered from a back injury he suffered in training camp. The 33-year-old Pouha had just 20 tackles on the season, the lowest total since becoming a full-time player in 2009.
Pouha could be a salary cap casualty in 2013, especially if he is unable to recover from his back injury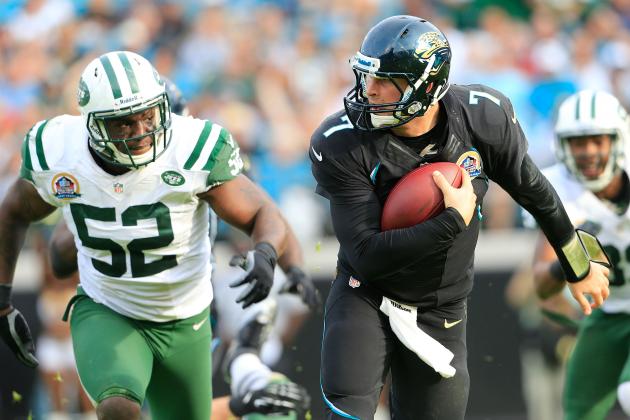 Sam Greenwood/Getty Images

David Harris: B-
Harris led the Jets in tackles for the fourth straight season, racking up 123 total tackles, 79 of which were solo. However, while the stats were fine, there was something about Harris' performance that was off. He looked a step slower this year and had six games of three tackles or less.
Harris also saw a dropoff in the number of big plays he produced, as he recorded just three sacks and one forced fumble.
Calvin Pace: D
Pace's Jets career will end with a whimper, as the veteran outside linebacker had just 34 solo tackles and three sacks. The numbers were Pace's lowest since becoming a starter in 2007. The 32-year-old Pace will be cut after the Super Bowl and may latch on somewhere else as a role player. However, his run as a full-time starter has likely come to an end.
Bryan Thomas: D
It's hard to give Thomas such a low grade after a fine career as a Jet, but his play on the field this season shouldn't warrant anything higher than a "D." The veteran played a bigger role than expected, starting 12 games before an upper-body injury ended his season.
In those 12 games, Thomas had just 18 solo tackles and 2.5 sacks. In five of his 12 games, Thomas failed to even register a solo tackle.
He should be remembered for a fine 11-year career in New York though, and not his 2012 season.
Bart Scott: C+
Scott may be the symbol of an aging unit that needs to be revamped, but the truth is that he didn't have that bad of a season in 2012. His numbers were down because he played a reduced number of snaps and was battling a toe injury all season, but he did still manage 50 tackles, 2.5 sacks, an interception and a fumble recovery.
Scott was the one full-time linebacker who wasn't visibly slower in 2012, and there is actually a slight chance he could be back as a role player under a reworked deal.
Garrett McIntyre: B-
As the season went on, McIntyre's playing time increased and so did his production. McIntyre played in all 16 games, starting four, and registered 3.5 sacks.
McIntyre had a huge game early in the season against the Steelers, when he sacked Ben Roethlisberger twice and had five solo tackles. He had eight tackles and 1.5 sacks over the last three games, likely playing his way into a role in the revamped Jets linebacking unit next year.
Demario Davis: C
Davis was brought along slow by Rex Ryan as he looked to make the jump from Arkansas State to the NFL.
Davis showed very good speed and good leadership ability in a season that mostly served the purpose of getting his feet wet in the league. He had 22 solo tackles while playing in all 16 games this year.
The 23-year-old rookie definitely showed promise and could slide into Bart Scott's role if he is let go this offseason.
David Welker/Getty Images

Antonio Cromartie: A+
Cromartie vowed to pick up the slack when Darrelle Revis blew out his knee against the Dolphins, and he more than delivered on his promise. Cromartie was one of the best cornerbacks in the NFL and was the anchor of a Jets pass defense that ranked second in the NFL.
According to Pro Football Focus, Cromartie allowed just 42 percent of the passes thrown in his direction to be completed and led the team with 13 passes defended.
In addition to his coverage skills, Cromartie has also become a willing tackler in the secondary.
Kyle Wilson: B-
Wilson is one of the favorite whipping boys for fans, but he actually did fine when he was forced into a starting role. Fans pick on Wilson because he has never lived up to the hype as a first-round pick and because of his penchant for giving up big plays, but he was a starting corner on the second-ranked pass defense in the NFL.
Wilson led all cornerbacks on the team in tackles, finishing fourth overall with 41 tackles.
Wilson can get beat badly at times and will get called for the stupid penalty every so often, but he also played entire games this year where his man was not heard from.
If Wilson can find the consistency he has lacked in his career, he can still become a very good cover man in this league.
Ellis Lankster: C
Lankster wasn't totally abused and performed adequately for someone who was a seventh-round draft pick just three years ago. He was the team's main slot cover man and registered two interceptions and six passes defended.
LaRon Landry: A+
While the media was spending time talking about Rex Ryan's tattoo or milking every last drop of a story out of the Tim Tebow debacle, they ignored the masterful job Ryan did in helping Landry rehabilitate his career and develop into a Pro Bowl player.
Upon signing Landry, Ryan developed a practice schedule in which Landry was given generous time off so as not to push his faulty heel yet still involved him enough to acclimate him to a new system.
The result was that Landry played like an unleashed beast, furious at having to miss 15 games the past two seasons.
Landry finished with 100 tackles and and four forced fumbles, both career highs.
The best part of Landry's season was that in the current NFL where every hard hit seems to be penalized, Landry found the happy medium where he could play aggressive and remain generally penalty-free.
This was the best safety play Jets fans have seen since Victor Green, and with any luck, he'll be back for more of the same next year. He was a joy to watch.
Yeremiah Bell: A-
Although he wasn't quite as active as Landry, Bell provided the Jets with a tremendous season. Bell was third on the team in tackles with 87 and recovered three fumbles as well.
The 34-year-old Bell did fine in pass coverage and was one of the quiet leaders on the defense and in the locker room.
Bell is one of those players whose importance goes beyond what fans see on the field. He was on a one-year deal and performed well. If both parties are willing, the Jets should absolutely bring Bell back on a similar deal.
Eric Smith: F
Smith is done as a Jet and will be a liability to any team that might consider putting him in their secondary.
In 12 games, he had just 11 solo tackles and looked like the slowest man on the defense.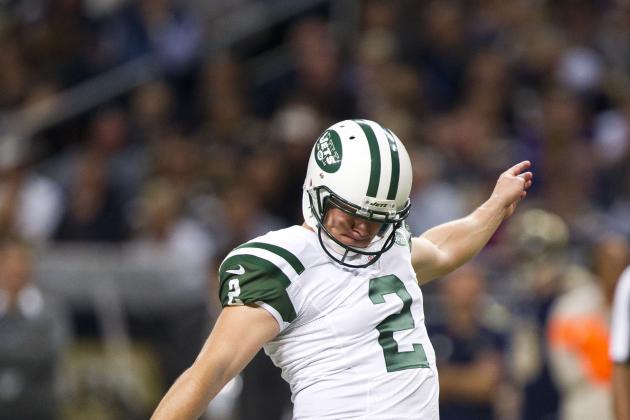 David Welker/Getty Images

Nick Folk: A-
Thanks to an inept offense, Folk didn't have many field-goal attempts, but he proved to be a reliable kicker in his third season as a Jet. Folk missed just six field goals all season, three of which were blocked.
He finished 21-of-27 on field goals and still hasn't missed an extra point in his career.
Robert Malone: A-
Malone was a huge improvement over T.J. Conley from a year ago. In his first full season, Malone showed the ability to punt for distance and accuracy.
His 27 punts inside the 20-yard line and 45.8 average both placed him in the middle of the NFL in those stats. Malone forced 24 fair catches on the year, a number topped by only five other punters.
Joe McKnight: A
McKnight had another fine season as the team's kick returner and continued to be one of the most dangerous return men in the NFL. McKnight averaged 27.5 yards on 39 returns, the third-highest average for any player with more than 20 kick returns.
The explosive McKnight was named a Pro Bowl alternate after his third fine season.
Jeremy Kerley: B
Kerley set an NFL record with 36 fair catches this season. The good news is that he was reliable in actually fielding the punts, but the bad news, obviously, was that the Jets could have used all the extra return yardage they could have gotten.
When he did return the ball, he averaged 10.9 yards per return, good for 12th in the NFL and took one punt back for a touchdown.
Tim Tebow: B
In his most productive role with the team, Tebow converted three of four fake punt attempts in 2012. However, a blown assignment as a punt protector resulted in a blocked punt midway through the season. His rib injury ended his season as the team's punt protector, though.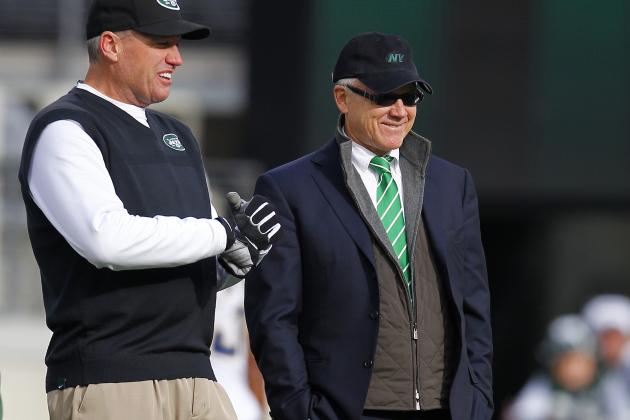 Rich Schultz/Getty Images

Rex Ryan: C
Ryan's grade is a complex one, filled with some good positives and ugly negatives. First of all, this team was not constructed to win. Ryan got the most out of the team through 13 weeks before a three-game losing streak forced the season to end in flames.
While Ryan does have input on the roster, how much input will never really be known. The New York media cannot be trusted in reporting just how much of a say Ryan had because of their obvious ax to grind against him.
Common sense would say that it wasn't Ryan's call to trade up to draft a project wide receiver in the second round, so Ryan's input can't be all that great.
On the plus side, Ryan again put a top-10 defense out on the field and did so with an aging linebacker unit and after losing Darrelle Revis. His handling of LaRon Landry, Muhammad Wilkerson and Quinton Coples were highlights, and he continued his trend of baffling rookie an inexperienced quarterbacks.
Ryan also set out to keep the locker room united and instill discipline on the team. He accomplished both of those feats with flying colors.
One stat the New York media didn't mention all season was that the Jets committed the third-fewest penalties in the NFL this year.
The Jets did not commit a dead-ball personal foul penalty this year, had just seven offensive holding calls (second fewest in the NFL) and had just three offside penalties all season.
That kind of discipline is the mark of a well-drilled team and reflects incredibly positive on the coaching staff.
On the negative side, the Jets were 6-10, and ultimately, that record is attached to the head coach.
Nobody will ever know his role in the Tim Tebow situation, but whatever it was, Ryan didn't do it well. For whatever reasons he had, Ryan simply refused to give Tebow a shot, and nobody will ever know if that's right or wrong.
People like to say that he couldn't do worse than Mark Sanchez, but the truth is that yes, he could have.
Media reporters latched on to the fact that Ryan didn't activate Greg McElroy for a number of games, and once McElroy was given the chance to start, everyone saw why. Of course, the media didn't admit to any kind of overreaction to keeping McElroy inactive.
Ryan played the cards that were dealt to him in 2012. The season was a failure for sure, but to not recognize Ryan's positives along with his negatives would show the type of tunnel vision that the New York media has shown since they were robbed of their season-ending press conference.
However, he should be penalized for the negatives as well.
When you lump all the positives and negatives together, Ryan comes out with a "C" for the season.
Tony Sparano: F
One of the most frustrating things about Sparano's season is that he does actually have the ability to be a creative play-caller. If you don't believe me, go watch the video of the Jets game this year against the Texans. Sparano threw everything he had at him and almost pulled off the upset.
However, games like that were too far and in between.
Sparano defied logic in his first season as a play-caller and even struggled to get the play call in at times. He took valuable plays like screens and naked bootlegs out of the playbook almost completely and didn't put Sanchez in a position to succeed.
Then there was the Tebow disaster.
Sparano was the coach saddled with coming up with creative ways to use Tebow, and he never did. He also continued to try to force Tebow into games and inopportune times.
Sparano was in over his head as a play-caller this year and will likely be gone once a new general manager is in place.
Mike Pettine: B+
Pettine is a valuable assistant, and even though Ryan is the true architect of the defense, Pettine holds the title of defensive coordinator.
Pettine's defense was the second best in the NFL against the pass in 2012, but struggled mightily against the run.
He gets positive marks in helping to develop Wilkerson and Coples and for juggling a secondary that was without Revis.
A report surfaced that Pettine turned down a contract extension during the season, which is common practice for someone looking to move up in the NFL.
Pettine has ultimate goals of becoming a head coach but can't do that while sitting in the shadows of Ryan. He could move on to become a coordinator for another team and put his own stamp on a defense somewhere.
Mike Westhoff: D
The Jets special teams stunk for the second straight year in 2012, and even if it wasn't all Westhoff's fault, the onus falls on him.
The team struggled with blocking schemes on punts and field goals, committed costly turnovers and set an NFL record for fair catches in a season.
On the plus side, Westhoff oversaw strong return teams and helped straighten out a questionable kicking game.