Leafs Training Camp 2013: Who Makes the Cut, Who Gets Sent Back to the AHL?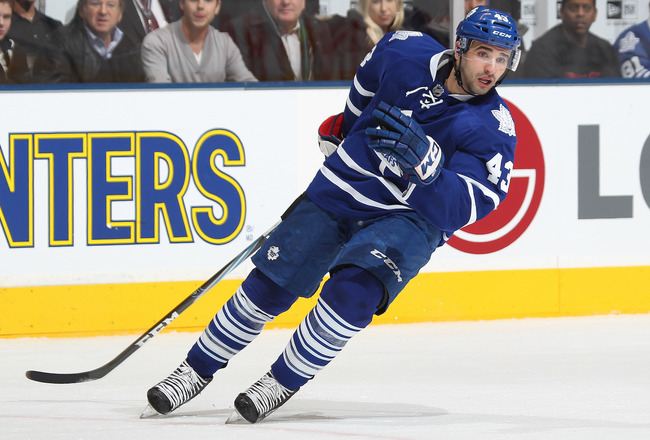 Claus Andersen/Getty Images
The lockout is over, the torture for fans of the NHL around the globe has ceased, and the players, owners and fans are all ready for the season to begin.
Though the final points of the new CBA need to be ironed out, the NHL season will begin in 10 to 14 days, depending on the schedule the NHL releases. The two start dates being discussed are January 15 or 19.
The Toronto Maple Leafs stand to gain the most from an abbreviated NHL season.
Not only do the Leafs hit their stride in the middle of winter, but they also have incredible organizational depth, which should bode well when some of the veterans begin to break down with the accelerated NHL schedule.
The Toronto Marlies are currently leading the AHL's Western Conference with 45 points and are nearly unbeatable at home. Much of their success has been due to their incredible depth, deep enough to lose guys like Nazem Kadri, Jake Gardiner and Joe Colborne to various minor injuries and loan Leo Komorav to the KHL until a new CBA was signed.
Their veterans have also helped immensely, as guys like Keith Aucoin, Ryan Hamilton, Paul Ranger, Mike Kostka and Mike Zigomanis have led by example and allowed the Marlies' youngsters to play to their capabilities.
So with limited roster space, which Marlies players or Leafs prospects stand a chance at making the opening-night lineup?
Defenseman Morgan Rielly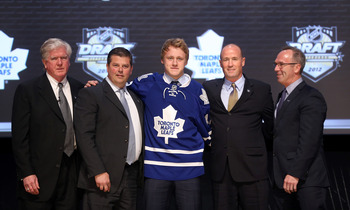 Bruce Bennett/Getty Images
Taken fifth overall in the 2012 NHL draft, Morgan Rielly is one of the Leafs' top prospects, if not the top one, and he hasn't been with the team longer than eight months.
Blessed with a high hockey IQ, great playmaking skills, a good shot and amazing wheels, Rielly is a defenseman who will remind many of Scott Niedermayer.
Is Rielly ready? That's another story. Due to the organizational depth and the possible re-signing of restricted free-agent defenseman Cody Franson, Rielly could be on the outside looking in.
In the end, you do not want an 18-year-old defenseman as the seventh defenseman on the club.
However, with Jake Gardiner currently nursing a concussion, Rielly may be able to crack into the rotation if Gardiner is unable to start the season with the Leafs.
Verdict: Sent back to the Moose Jaw Warriors.
Forward Matt Frattin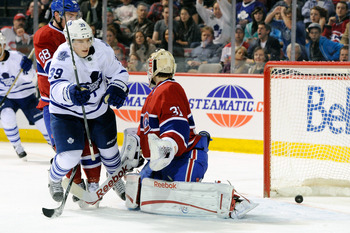 Richard Wolowicz/Getty Images
Frattin has one of the best shots in the AHL right now. He's an explosive sniper who can score at any time. However, his scoring touch has evaded him once he gets the call to the NHL.
Once again, unless a trade is made, due to the organizational depth and the short schedule Frattin will likely end up in the minors, at least for this season.
With the NHL set to decrease its salary cap to $64.3 million from a $70.2 million limit this year, the Leafs may be willing to bring in a few youngsters at manageable contracts for the 2013-14 season.
Verdict: Back to the Marlies. However, if the Leafs make a few deals, he could make the squad.
Forward Joe Colborne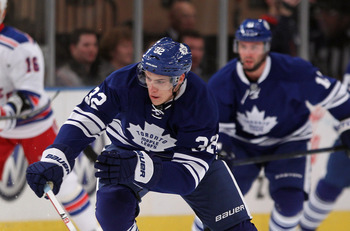 Bruce Bennett/Getty Images
Acquired when the Leafs traded Tomas Kaberle to the Boston Bruins, Colborne was expected to push for a roster spot this training camp.
The lockout pushed things back plenty, and now there will be an abbreviated training camp.
Colborne came out of the gate very slowly with the Marlies, and then got injured. However, since his return he has played strongly and has brought himself back into discussion about possibly making the team.
Again, due to the organizational depth, going forward Colborne is on the outside looking in. His size will definitely be a welcome addition to a small Leafs center corps, but for right now, Colborne works on his game in the minors.
Verdict: Back to the Marlies.
Defenseman Korbinian Holzer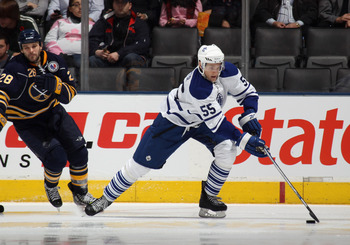 Bruce Bennett/Getty Images
Holzer is one of the better defensive defensemen in the Leafs system, and he's nearly ready to be an NHLer. He's also a good fit for the Leafs because they're comfortable with him playing the seventh defenseman role if need be.
Holzer will block shots, move the puck effectively and hit players hard. If not for Mike Komisarek, Holzer would likely be a top-six defenseman in the NHL.
Verdict: Makes the team as the seventh defenseman.

Defenseman Paul Ranger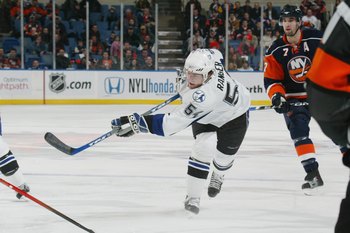 Bruce Bennett/Getty Images
After over three years away from the game, Paul Ranger has returned after signing a deal with the Maple Leafs. He's currently playing with the Toronto Marlies and is really cementing himself as a solid veteran on the team.
His ability to skate, move the puck effectively and provide a veteran presence will likely earn him a spot on the Leafs.
Verdict: He will make the team regardless of what happens with Cody Franson. If Franson signs, expect Ranger to be the seventh defenseman.
Forward Leo Komarov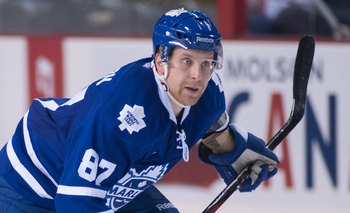 http://static.iltalehti.fi/jaakiekko/komarovetu111112HH_jk.jpg
Initially signed to a one-year deal with the Leafs, he started the season out with the Marlies in hopes that an NHL season would begin shortly thereafter.
The lockout threw a wrench into his plans, as he stayed for an additional couple of games and opted to take his talents to Russia and play in the KHL.
His ability to get under an opponent's skin, play sound defense and chip in with the odd goal or two will make him an ideal fit in the Leafs bottom six.
Verdict: Expect Komarov to be a fourth-line winger and penalty-killer for the Leafs.
Goaltender Jussi Rynnas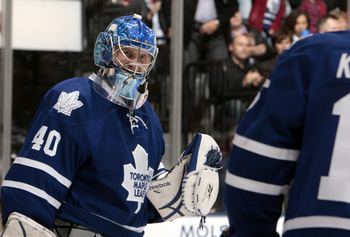 Abelimages/Getty Images
Despite having better numbers than counterpart Ben Scrivens this year, Rynnas will likely need another year of seasoning in the AHL before making the jump to the big club.
His size and ability to take away the bottom of the net will remind many of fellow Finnish netminder Pekka Rinne.
So far he is 5-1-1 with the Marlies with a .942 save percentage and a 1.81 GAA, numbers that should easily garner some attention from the Leafs brass.
Expecting him to be the backup goalie, though, is another story.
Verdict: Expect him to become the Marlies' No. 1 goaltender and hopefully lead the team to another Calder Cup Finals appearance and, if good enough, a Calder Cup title.
Forward Nazem Kadri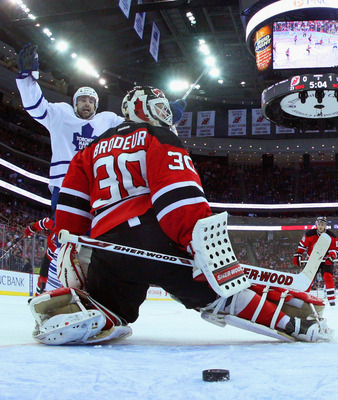 Bruce Bennett/Getty Images
Nazem Kadri has waited long enough to be a regular member of the Leafs, and this year appears to be the season that his dream of becoming a regular NHLer will come true.
I'm not expecting miracles, but his superb playmaking skills and great vision will complement the Leafs' leading scorer, Phil Kessel, and winger Joffrey Lupul. With the Leafs expected to field about 15 NHL regulars up front, I expect a deal for a goaltender to happen soon.
Will it be Roberto Luongo? More than likely, yes. Who will be dealt? That story remains a mystery as we rush to the start of the 2013 season.
Verdict: Expect him to make the Leafs. If things go well, he could end up being the team's first-line center.
Preliminary Roster Prediction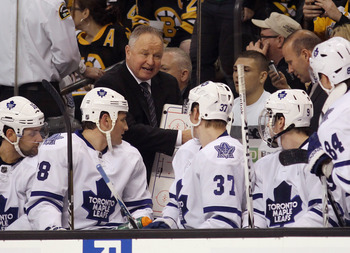 Bruce Bennett/Getty Images
I will outline a few factors before I give you my 2013 roster prediction.
This roster could change in a matter of 10-15 days due to these factors:
Restricted free agent Cody Franson's status with the team.
Possible Roberto Luongo trade that could be in the works. Reported for weeks prior to the lockout.
Other deals wherein Toronto, which is actually in a good position for 2013-14, trades some of its expiring contracts like Tim Connolly, Matthew Lombardi, Tyler Bozak, Clarke MacArthur or Joffrey Lupul for younger, longer-term pieces with lower, controllable contracts.
All of the players listed above have some trade value as expiring contracts, so expect them to go for something significant.
Opening Night Roster Prediction
Joffrey Lupul/Nazem Kadri/Phil Kessel
James van Riemsdyk/Mikhail Grabovski/Nikolai Kulemin
Clarke MacArthur/Jay McClement/Tim Connolly
Mike Brown/David Steckel/Leo Komarov
Extra: Matthew Lombardi
Dion Phaneuf/Carl Gunnarsson
John Michael Liles/Cody Franson
Jake Gardiner/Mike Komisarek
Paul Ranger (Korbinian Holzer sent to the minors)
Roberto Luongo
Ben Scrivens
Yes, I see Luongo in a Leafs jersey. What the Canucks will be looking for is a goaltender and some expiring contracts. I'm expecting a player like Matthew Lombardi or Tyler Bozak, both with expiring deals, to be included in the deal.
I also expect James Reimer to be shuttled off in the deal, as well as a prospect like Joe Colborne or Stuart Percy.
Bozak/Colborne, Percy/Reimer/Prospect or a 2014 draft pick for Roberto Luongo seem to be fair offers for both sides.
Keep Reading

Toronto Maple Leafs: Like this team?