The NBA's 10 Most Productive Five-Man Lineups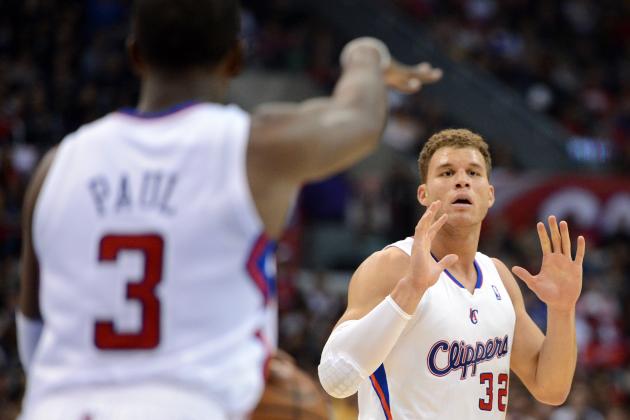 Harry How/Getty Images

Figuring out which NBA team is the best is easy; all you have to do is just look at the standings.
But which teams have the best lineups?
To figure out which ones have worked best so far this season, we have looked at the net ratings of every five-man unit that has played at least 100 minutes together this season. Net rating may sound fancy, but it is just geek-speak for the difference between how many points a team scores and how many points it allows per 100 possessions. So basically, it is a team's offensive rating minus its defensive rating.
In theory, it is the amount each lineup would win by if it played all 48 minutes during a game with 100 possessions.
So now that we have all of that cleared up, here are the 10 best five-man lineups in the NBA this season.
All lineup data courtesy of NBA.com.
Begin Slideshow

»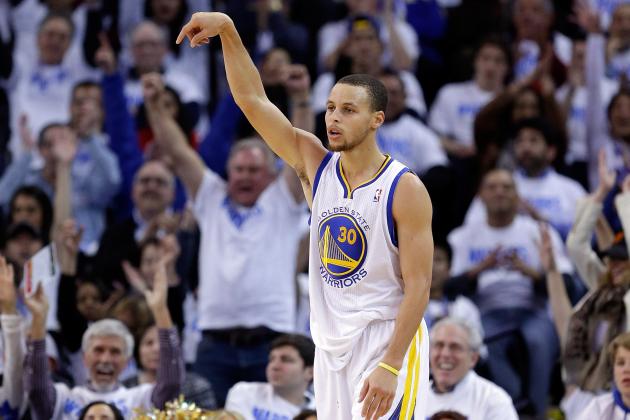 Ezra Shaw/Getty Images

Jarrett Jack
Stephen Curry
Klay Thompson
Carl Landry
David Lee
Minutes Played: 197
Offensive Rating: 117.1
Defensive Rating: 105.3
Net Rating: 11.8
The Golden States Warriors' appearance on this list is encouraging in terms of validating their early-season success. But perhaps it can also be used as evidence by those who think the Dubs are not for real.
Because this is the only lineup on this list that is not elite on both ends of the court.
Instead, this five-man unit is an uber-potent scoring force that can't really stop the opponent from scoring. It out-scores people rather than dominates them.
For those in the cult of "defense wins championship," this issue will be glaring.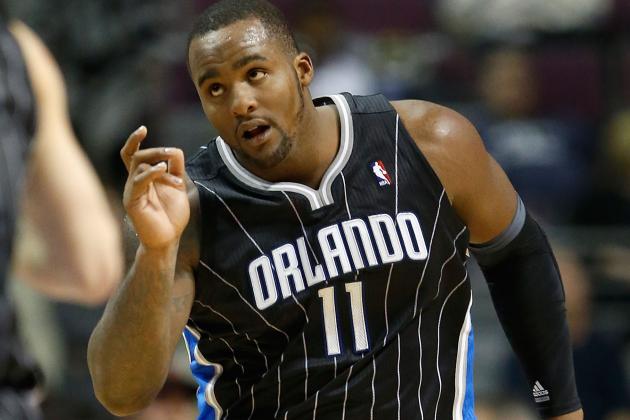 Gregory Shamus/Getty Images

Jameer Nelson
J.J. Redick
Arron Afflalo
Glen Davis
Nikola Vucevic
Minutes Played: 153
Offensive Rating: 111.5
Defensive Rating: 99.6
Net Rating: 11.9
The Orlando Magic? Yes, the Orlando Magic.
As much as Glen Davis' game can be tough to watch at times, there is a reason that the Magic have gone 0-8 since he got hurt: he has been a key member of the only effective primary lineup that the team has used this year.
When it comes to four-player combinations, he has also been featured in four of the team's six units that have a positive net rating (among those that have played at least 100 minutes together).
Jared Wickerham/Getty Images

Mike Conley
Tony Allen
Rudy Gay
Zach Randolph
Marc Gasol
Minutes Played: 452
Offensive Rating: 105.2
Defensive Rating: 93.2
Net Rating: 11.9
The Memphis Grizzlies employ the best high-volume lineup in the NBA. Only three five-man units have played together for longer than the 452 minutes of the Grizzlies starters, and no lineup that has played at least 250 minutes has performed better.
Chalk one of up for continuity.
In a league in which all fans want their team to make a major splash in free agency or the trade market, the Grizzlies have kept their core together. Injuries to Rudy Gay and Zach Randolph over the past two seasons have forced Memphis to start others as well, but this has now been their primary lineup for the better part of three seasons.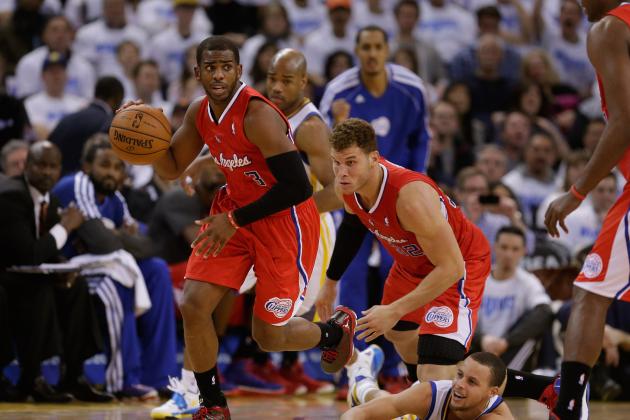 Ezra Shaw/Getty Images

Chris Paul
Jamal Crawford
Caron Butler
Blake Griffin
DeAndre Jordan
Minutes Played: 100
Offensive Rating: 108.3
Defensive Rating: 96.0
Net Rating: 12.3
The Los Angeles Clippers didn't lose a game in December, but then they lost their first two of 2013. But two straight victories, including a dress down of the upstart Golden State Warriors, have quelled fears that it was just a month-long fluke.
Even more encouraging for Clippers fans should be this lineup.
With Chris Paul running the show, Jamal Crawford firing away and Blake Griffin and DeAndre Jordan combining forces down low, it is no surprise that this unit can score. The fact that they don't let their opponent score either, however, should turn heads.
But the fact of the matter is that the Clippers—and their best lineup—have earned their success this season, on both ends of the court.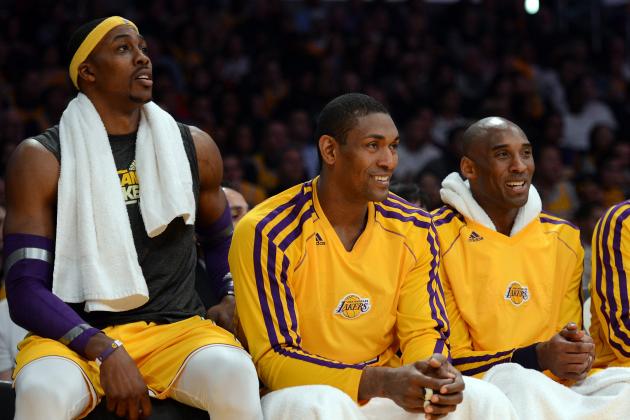 Harry How/Getty Images

Steve Blake
Kobe Bryant
Metta World Peace
Pau Gasol
Dwight Howard
Minutes Played: 104.0
Offensive Rating: 106.3
Defensive Rating: 91.6
Net Rating: 14.6
The Los Angeles Lakers have not played well this season, but their early-season starting lineup was actually pretty productive. With Steve Blake replacing Steve Nash, the Lakers scored well and played elite defense.
Of course, putting up good numbers hasn't been Los Angeles' problem this season—winning games has.
The team currently has the league's sixth best offense, and it has outscored its opponents by 2.3 points per game, which is good for ninth best in the NBA, according to ESPN.
Considering that the Lakers only have the 19th best record in the league and are still hoping to reach .500, this is certainly one case where numbers are just numbers.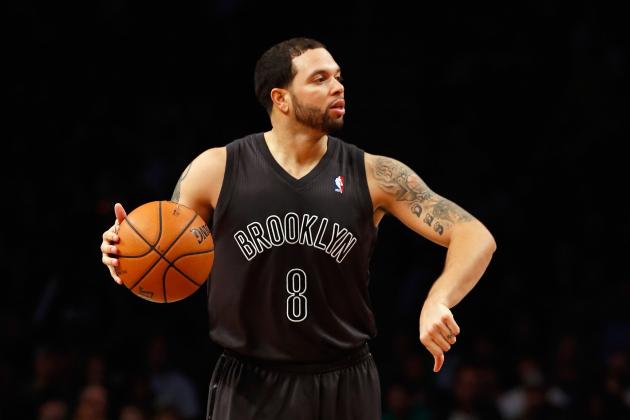 Mike Stobe/Getty Images

Deron Williams
Keith Bogans
Joe Johnson
Kris Humphries
Brook Lopez
Minutes Played: 103
Offensive Rating: 114.1
Defensive Rating: 98.5
Net Rating: 15.6
Between the Los Angeles Lakers and Brooklyn Nets, there are two teams on this list who no longer have the coach they started the season with, proving just how strange the league has been this season.
I have to say that I was shocked to see a Brooklyn lineup, especially one that includes Keith Bogans, play this this well. The defensive numbers—in contrast to the team's season-long trend—are elite, but it is the off-the-charts offensive production that really stands out.
The Oklahoma City Thunder lead the league in scoring at 110.5 points per 100 possessions, and this Nets' groups has out-paced that by almost 4 points per 100.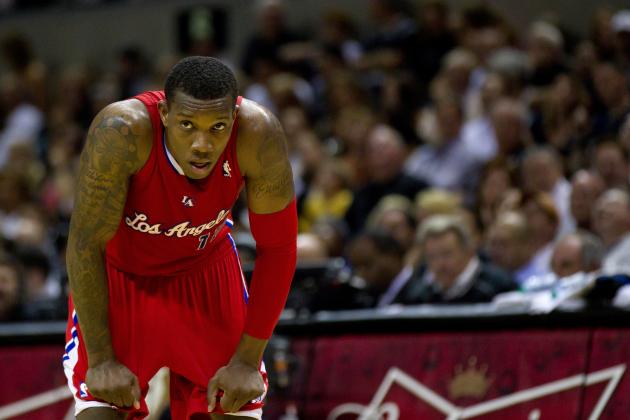 Justin Edmonds/Getty Images

Eric Bledsoe
Jamal Crawford
Matt Barnes
Lamar Odom
Ronny Turiaf
Minutes Played: 230
Offensive Rating: 102.9
Defensive Rating: 87.2
Net Rating: 15.6
I'm not sure what to think here. Is it simply astonishing that the Los Angeles Clippers have two top-10 lineups or is it more impressive that their starters have been so good but their core bench players have still played so many minutes?
There are only 20 five-man lineups in the whole NBA—a league with 30 teams—that have played more than 200 minutes together. The Clippers are not the only team with two lineups in that group. The Golden State Warriors, Houston Rockets and Oklahoma City Thunder each have two as well.
But the Clippers are the only team with two lineups that play so much together and do it so well. Houston and Chicago each has one high-minute lineup that is a bust, and Oklahoma City's second lineup is good but not great.
The stellar numbers of this Clippers' group may be misleading, however.
This Los Angeles lineup has played nearly half of its minutes during fourth quarters—which is when they have truly thrived, posting a very good offensive rating of 107.4 points per 100 possessions while allowing a staggeringly low 75.8 points per 100.
This leads me to believe that their status as a statistically great lineup is based mostly on the Clippers winning in so many blowouts. After Chris Paul and Blake Griffin often build a huge lead and then sit out most of the final period, this crew spends a lot of time beating up on opposing bench players who have already given up on the game.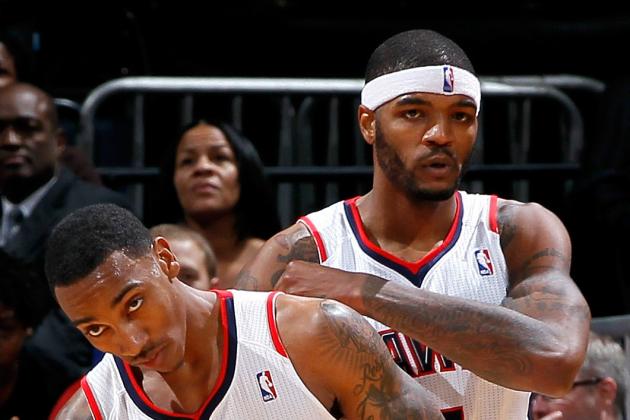 Kevin C. Cox/Getty Images

Jeff Teague
Kyle Korver
DeShawn Stevenson
Josh Smith
Al Horford
Minutes Played: 139
Offensive Rating: 109.6
Defensive Rating: 93.2
Net Rating: 16.3
How about the Atlanta Hawks? At 20-12, they have the league's eighth best team, and with a net rating of 16.3, they have its third best lineup.
Considering that this lineup includes DeShawn Stevenson, it may not seem to reveal any core truth about the team's ability to continue to produce at these rates.
But the other four have been excellent, no matter who the token fifth player on the court has been.
The four-man lineup of Jeff Teague, Kyle Korver, Josh Smith and Al Horford have played 511 minutes together this season, scoring 104.7 points per 100 possessions while allowing a stingy 94.0.
That may not sound sustainable, but there is no denying the statistical significance of more than 500 minutes of evidence.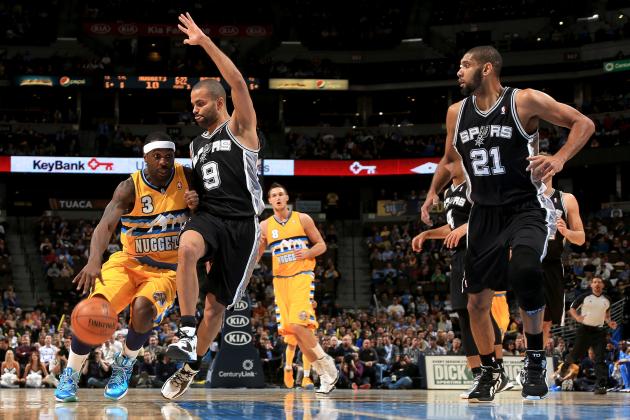 Doug Pensinger/Getty Images

Tony Parker
Danny Green
Kawhi Leonard
Boris Diaw
Tim Duncan
Minutes Played: 116
Offensive Rating: 109.7
Defensive Rating: 93.1
Net Rating: 16.5
It's odd to not see Manu Ginobili's name in the San Antonio Spurs' best lineup, but have no fear, several off the top lineups featuring Ginobili have silly positive net ratings. Some are above 20.
All in all, the Spurs have played great with Manu on the floor. In his 778 minutes, they have only allowed 95.5 points per 100 possessions, and his 12.9 individual net rating is third on the team—higher than both Tim Duncan and Tony Parker.
While these numbers are impressive, they should be viewed in context of just how good San Antonio has played this season.
A lot of teams preach the strength of their depth, but for the Spurs, it is an undeniable reality. They simply play a ton of lineups, and they have been good with anyone on the floor.
Only Cory Joseph, who has played just 65 minutes this season, has a negative individual net rating.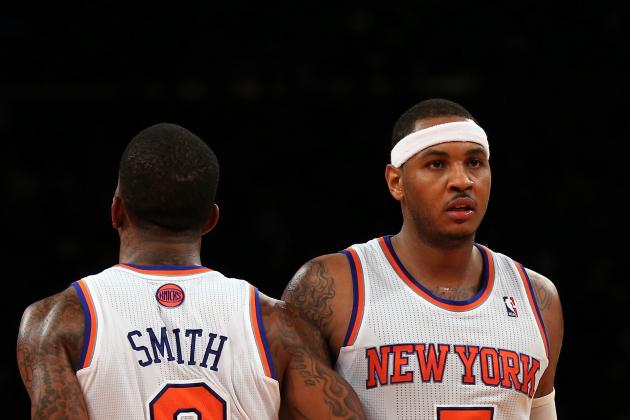 Elsa/Getty Images

Raymond Felton
Jason Kidd
J.R. Smith
Carmelo Anthony
Tyson Chandler
Minutes Played: 142
Offensive Rating: 120.3
Defensive Rating: 94.9
Net Rating: 25.4
Every list of positive attributes this season seems to end with the New York Knicks. So it's only fitting that they show up here as well.
In this case, it seems that what we have seen on-court translates to what we see on the spreadsheet: the Knicks' offense is first rate.
The 120.3 offensive rating of this unit is easily the highest of any on this list.
The Knicks pass the ball so well, no matter who is on the court, but the Jason Kidd/Raymond Felton backcourt has been transcendent in terms of finding open shots. With Carmelo Anthony, and even J.R. Smith, rarely forcing looks, and with Tyson Chandler mastering the tap-back offensive board, this team lineup is incredibly hard to stop.
The fact that they're playing top-notch defense is just the icing on the cake.
Unfortunately, for now, the only cake they care about is the one that says "Welcome back, Ray." We will see if this five-man crew can keep the magic up once Felton returns from injury later this month.