It's the best week of the NFL season: the divisional round of the playoffs.
Four games over two days between the eight best teams in the NFL, what more could fans ask for?
Peyton Manning will match up against Ray Lewis and the Baltimore defense, the Texans will get a second shot at the Patriots, Aaron Rodgers will face a dominant 49ers defense and Matt Ryan will attempt to end his playoff drought against the Seahawks.
It's an outstanding slate of games and basically two days of NFL paradise.
In each of these matchups a select few players will determine the results of the contest.
So, let's spotlight the players that must perform well for their team to reach its conference championship game.
Ravens vs. Broncos
Baltimore QB: Joe Flacco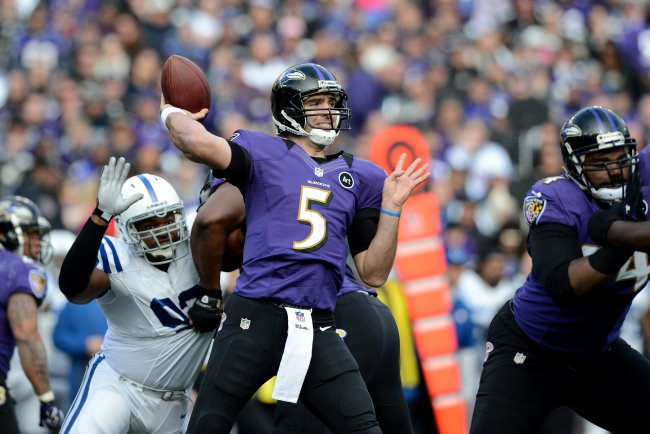 Patrick Smith/Getty Images
Two of the best players in NFL history will square off in this matchup.
Nevertheless, the key player to watch is not Lewis or Manning. Instead, it's Baltimore quarterback Joe Flacco.
The Ravens are tough to beat when Flacco plays well. Their excellent rushing attack is deadly when Flacco is accurate and pushing the ball down field.
But on the road against a vaunted Denver defense, Flacco has a near impossible task.
If Flacco plays well, the Ravens have a shot. But if he plays poorly, Lewis' career will end in the Mile High City.
Packers vs. 49ers
San Francisco RB: Frank Gore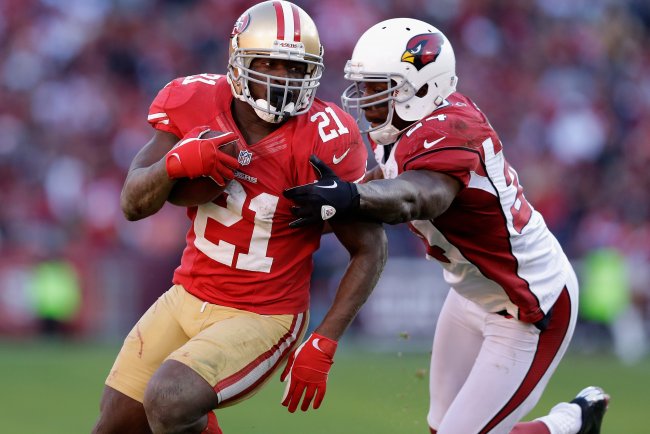 Ezra Shaw/Getty Images
The 49ers' defense is stout. But with Rodgers on the field, it will take a heroic effort to limit the Packers' offensive attack.
However, there is a foolproof way to do so—keep Rodgers off the field.
The 49ers are capable of that if they run the football effectively. Frank Gore rushed for 1,214 yards and eight touchdowns this season, leading the NFL's fourth-ranked rushing attack.
Gore is a physical runner who could punish a suspect Packers run defense—see Adrian Peterson's Week 17 performance for proof.
Running the ball is the best way to slow down the Packers. Gore must be at his best this weekend.
Texans vs. Patriots
Houston QB: Matt Schaub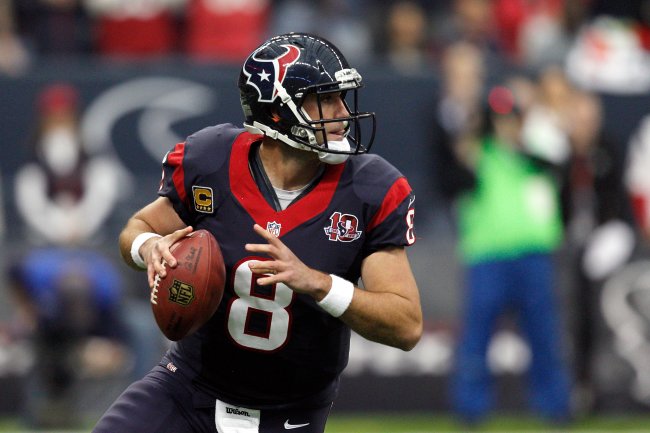 Bob Levey/Getty Images
It did not go well for Houston the first time it played the Patriots this season. New England thrashed the Texans at home, 42-14, in a statement victory.
Schaub had one of his worst games of the season that Sunday. He featured a QBR of 19.1, passing for only 232 yards with an interception.
He has to play better for the Texans to upset the Patriots.
Tom Brady will come to play, of that there is no doubt. Schaub does not have to match Brady's production, but he does need to be steady enough to keep his team in contention.
Seahawks vs. Falcons
Atlanta QB: Matt Ryan
Does Matt Ryan finally earn his first playoff win?
For Matt Ryan, his entire season, and really career, comes down to this game.
Ryan has been an above-average quarterback in the regular season, leading his team to plenty of success. However, the former first-round pick has stalled in the playoffs.
Actually, the Falcons are 0-3 in the postseason during the Ryan era.
Ryan has floundered in the playoff for some, almost unexplainable, reason.
But he has a chance to change all of that against the Seahawks. With a win, Ryan almost totally changes his perception. But with a loss, Ryan will continue to be a disappointment.
No pressure.