10 Things We Learned About the Minnesota Vikings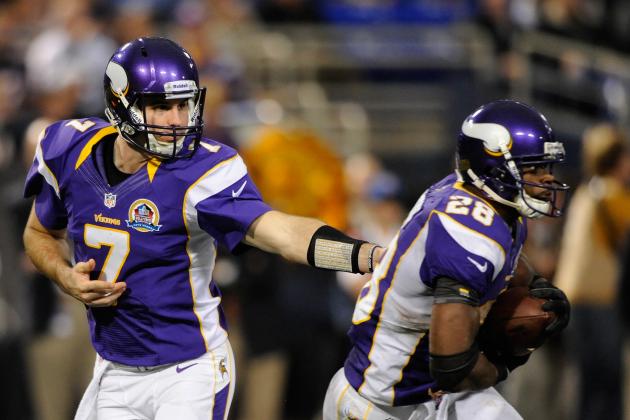 Hannah Foslien/Getty Images

Despite the Minnesota Vikings' dreadful playoff loss to Green Bay on Saturday, this was still a season in which the Vikings exceeded expectations. The seven-game improvement over 2011 was the greatest single-season turnaround in franchise history. The last time the Vikings improved this much was in 1998, when they finished 15-1, an improvement from 9-7 in 1997.
The season started well, with an incredible overtime win against the Jaguars—a game that the Vikings would have lost in 2011. It got better when the Vikings were able to win a division game after going 0-6 last year. They finished the season strong, winning their last four games and earning the sixth seed in the playoffs.
Four of the Vikings' six losses came to teams that made the playoffs this season.
Here are 10 things we learned about the Vikings this season.
Begin Slideshow

»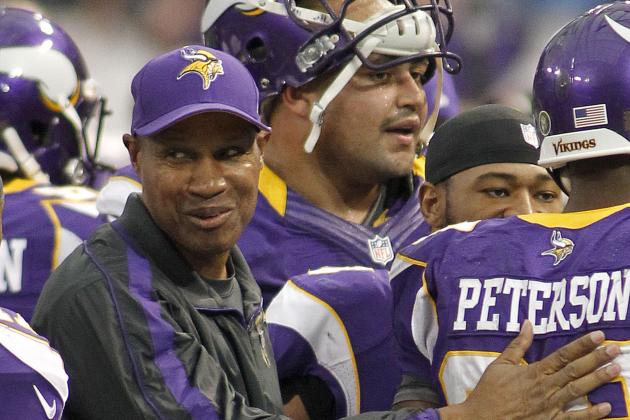 Andy King/Getty Images

It took a little more than a full season, but Minnesota Vikings head coach Leslie Frazier has put together a roster and a coaching staff that reflects his style.
Frazier is a quiet, soft-spoken person, but you can tell he is also disciplined. This is reflected in the team he has put together.
A great example of this is in the reduction in penalties taken by the team. Last season the Vikings were 10th in the league with 109 penalties. That number dropped in 2012 to 90—good for fifth-best in the NFL.
On offense, the number of false starts dropped from 20 to 16, and the holding calls decreased from 18 to eight. On the negative side, a more aggressive defense did see an increase in offside calls from four last season to 12 this year.
Under the leadership of his coaching staff, Frazier was able to engineer a seven-game improvement over last season, matching the largest single-season turnaround in franchise history.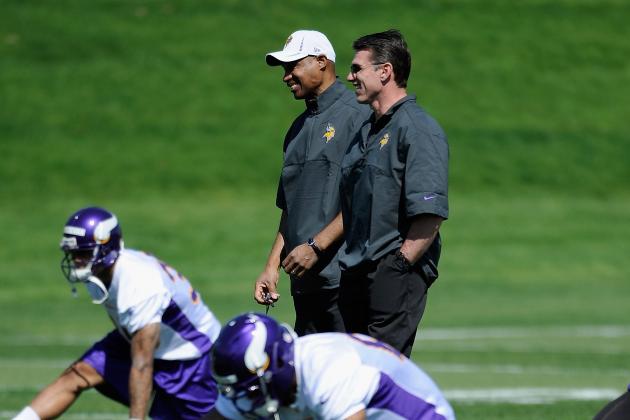 Hannah Foslien/Getty Images
Rick Spielman and head coach Leslie Frazier improved the Vikings by seven games.
Through his draft-day deals, Rick Spielman was able to have one of the most successful drafts in Minnesota Vikings' history. The 2012 draft netted 10 players, with eight of them on the Vikings' active roster.
Matt Kalil, Harrison Smith, both first-round selections, became immediate starters. Third-round pick Josh Robinson started six games at corner and had two interceptions, and fourth-round pick Jarius Wright made significant contributions after the team lost Percy Harvin in Week 9. Wright finished the season with 22 receptions for 310 yards and two touchdowns. His 65-yard catch against the Packers in Week 17 was the longest reception of the year for the Vikings.
One of Spielman's best, and most surprising picks was Blair Walsh in the sixth round. Walsh, who converted only 73.8 percent of his field goals at Georgia, broke the NFL record with 10 field goals from beyond 50 yards. His 141 points in the regular season are the second-most in franchise history.
If not for the injury suffered to both knees at the end of training camp, fourth-round pick Greg Childs would have been on the active roster as well.
From the last two drafts, the Vikings have 18 of 20 picks still with the team.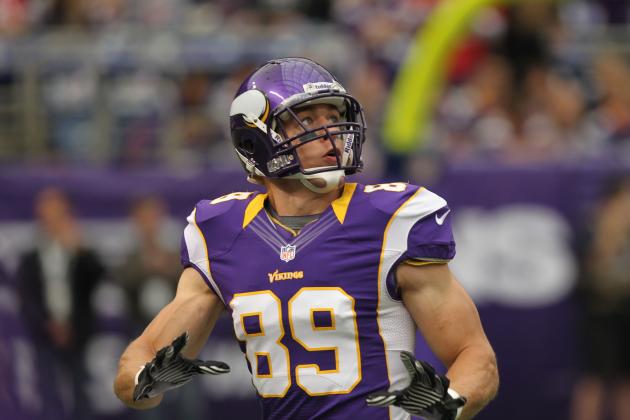 Brace Hemmelgarn-USA TODAY Sports
After missing last season with a shoulder injury, tight end John Carlson did not have much impact for the Vikings this season.
As good as Spielman has been in the draft, his free-agent signings could use a little work.
Of the four-biggest contracts signed for 2012, the least of these paid the greatest amount in dividends. Spielman signed fullback Jerome Felton to a one-year, $700,000 contract. Felton was instrumental in Adrian Peterson rushing for 2,097 yards this season, and he was recognized by being named to the Pro Bowl.
Spielman signed tight end John Carlson to a five-year, $25 million contract that counted $4.25 million against the salary cap this season. Carlson, coming off a season he missed due to an injury, caught eight passes for 43 yards.
Another free agent, wide receiver Jerome Simpson, cost the team $2 million. Simpson, coming off an impressive 50-catch season with the Bengals, caught 26 passes for 274 yards. Neither receiver scored a touchdown this season.
The Vikings still need to upgrade their receiving corps. They also need to add some depth at linebacker. Spielman will need to do a better job signing free agents for 2013 than he did for 2012.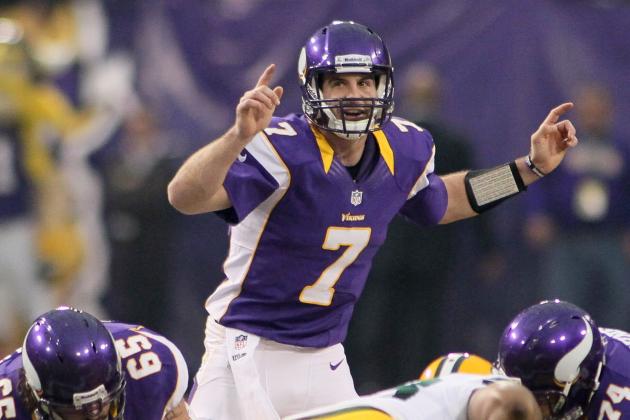 Andy King/Getty Images

Christian Ponder showed some signs of improvement this season. Especially down the stretch, when the Minnesota Vikings needed him to step up. Ponder led Minnesota to four-straight wins to make the playoffs.
During the season, he led the Vikings to impressive wins over the 49ers, Bears and Packers at home and the Rams and Texans on the road.
Hi passer rating in the 10 wins was 88.3, with 11 touchdown passes and five interceptions. In the Vikings' six losses, his rating dropped to 72.2, with seven touchdown passes and seven interceptions.
Next year will be crucial for Ponder. He will need to play with more consistency if the Vikings are to take the next step and win a playoff game.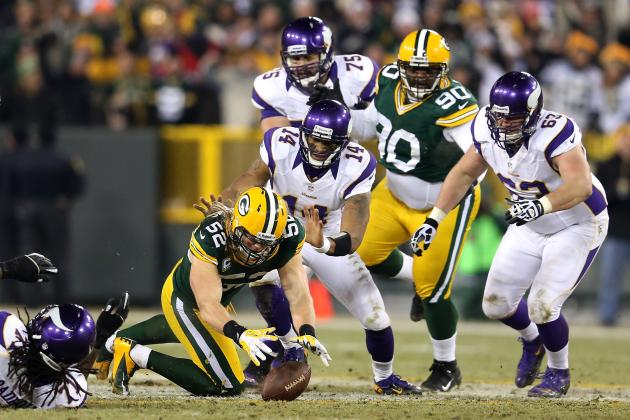 Andy Lyons/Getty Images

Minnesota Vikings fans have been led to believe that Joe Webb is an incredible athlete. A quarterback in college, the Vikings drafted him to be a receiver, then, seeing his ability in training camp, they made the decision to move him back to quarterback.
But there's a reason he remained on the bench all season.
As good as Ponder looked in wins over the 49ers, Texans and Packers, he looked horrible in the win over the Cardinals and in the losses to the Seahawks and Bears—games in which he failed to pass for at least 100 yards.
Fans were crying for Frazier to sit Ponder and play Webb.
With the Vikings' ugly 24-10 loss to the Packers, they should understand what Frazier knows—Webb is not an NFL quarterback. You have to cut him a little bit of slack, however. To throw him into a road-playoff game against Aaron Rodgers and the Packers is not an ideal situation to make your first start of the season.
Still, he looked lost on passing plays, having little-to-no pocket presence, and made some terrible decisions, especially on third down. Facing a huge deficit, the Vikings were forced to pass the ball. Webb responded by completing 11 of 30 passes for 180 yards—50 of those yards coming on the touchdown pass to Michael Jenkins late in the fourth quarter, when the game was already decided. Webb also finished with two turnovers, a fumble and an interception.
His passer rating for the game, and the season, was 54.9.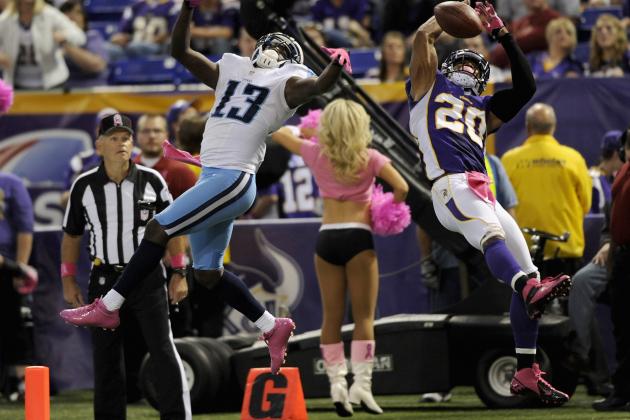 Hannah Foslien/Getty Images
Chris Cook has yet to play an entire season in his three-year career.
This was Chris Cook's third season in the NFL. The Vikings' second-round draft pick from 2010 has not been able to play an entire 16-game schedule.
In his rookie season, it was meniscus problems in his knees that limited him to only six games. Last year, it was a domestic-assault charge that ended his season after only six games again. This season he was able to make 10 starts, but a broken arm suffered against the Buccaneers in Week 8 landed him on injured reserve. He was able to return and started the last two games of the season.
Taken with the 34th pick in the 2010 draft, Cook was the highest draft pick used on a cornerback since the Vikings selected Cedric Griffin in the second round with the 48th pick of the 2006 draft. At 6'2", he is the tallest cornerback on the roster, but has not intercepted a pass in his career.
The Vikings will have to wait another season for Cook to fulfill the expectations they have for him. At least the number of games he's been able to play in a season is trending in the right direction.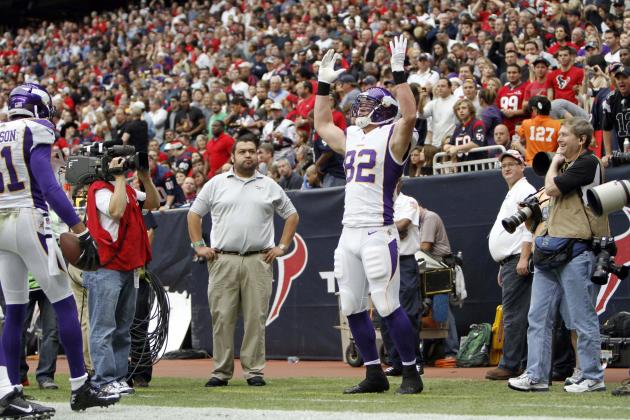 USA TODAY Sports

Kyle Rudolph is developing into an elite pass-catching tight end. This season he finished tied for second in the NFL among tight ends with nine touchdown catches. He was second on the Vikings with 53 catches for 493 yards. It was the most catches by a Vikings tight end since Visanthe Shiancoe had 56 catches for 566 yards and 11 touchdowns with Brett Favre at quarterback.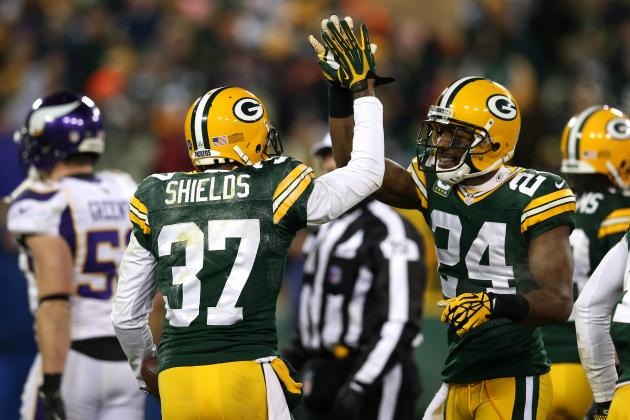 Jonathan Daniel/Getty Images

After renting the basement of the NFC North from the Lions the last two seasons, the Minnesota Vikings turned the keys back over to Detroit.
Last year was frustrating, with the Vikings opening the season by giving away three consecutive halftime leads as they stumbled to a 1-6 start and finished weak with a 3-13 record. The 13 losses matched the most in the season with the 1984 Vikings, who were coached by Les Steckel. The timing couldn't have been any worse for Steckel, who was following a legend in Bud Grant. The following season, Grant came out of retirement to once again coach the Vikings.
For Frazier's sake, he followed Brad Childress, whose conflicts with owner Zygi Wilf over the Randy Moss debacle helped lead to his dismissal.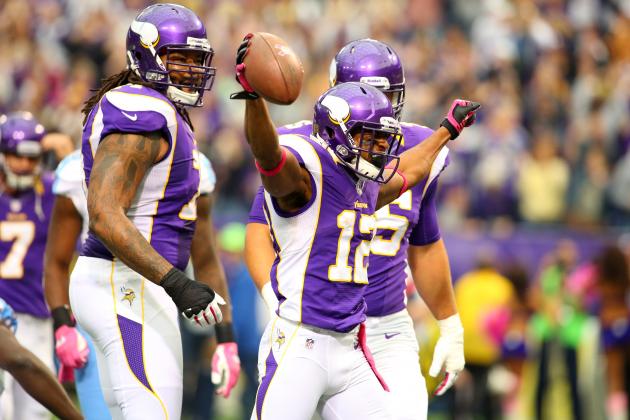 Adam Bettcher/Getty Images

The Minnesota Vikings were 5-4 when they lost Harvin for the season with an ankle injury. Without their most explosive weapon on offense, they could have simply packed it in and just played out the season.
Instead, they won just as many games without him, going 5-2 to close out the season.
Harvin was so good as the Vikings' top receiver that he was leading the NFL in catches and in all-purpose yards. Even after missing the last seven games of the season, he still led the Vikings with 62 receptions and 677 yards.
He was even on pace to become the Vikings' first 1,000 yard receiver since Sidney Rice had 1,312 yards in 2009.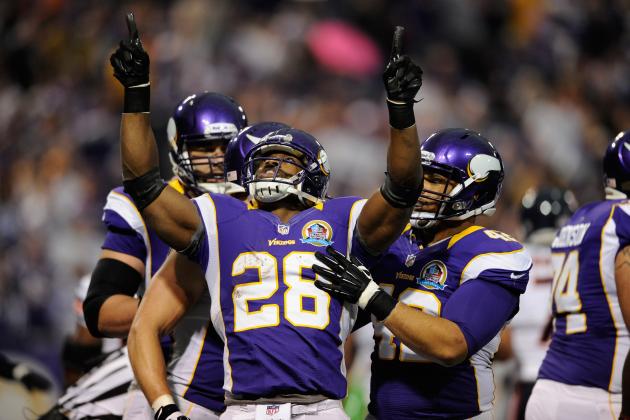 Hannah Foslien/Getty Images

After Peterson had surgery on Dec. 31, 2011, Tom Pelissero of ESPN1500 reported that the running back had very high expectations.
"I feel like I'm going to come back better than before. I know people might laugh at that or think otherwise, but you know what? It doesn't matter what they think or how they feel about it. The only thing that matters is how I feel about it and what I believe. I've been able to just go through the sacrifices and whatever it takes to get to that. I've already started that."
After having the best season of his career and leading the league in rushing with 2,097 yards, Peterson could have said "I told you so!"
Instead, he simply gives credit to God in a tweet, stating that bigger things are ahead.
After hearing he was a mere nine yards short of setting the single-season rushing record, Peterson was quoted:
"I know Eric Dickerson is feeling so good right now," Peterson joked afterward. "God-willing, I'll get it next year."
You know what? I believe him.