Game-by-Game Predictions for New York Giants' 2013 Schedule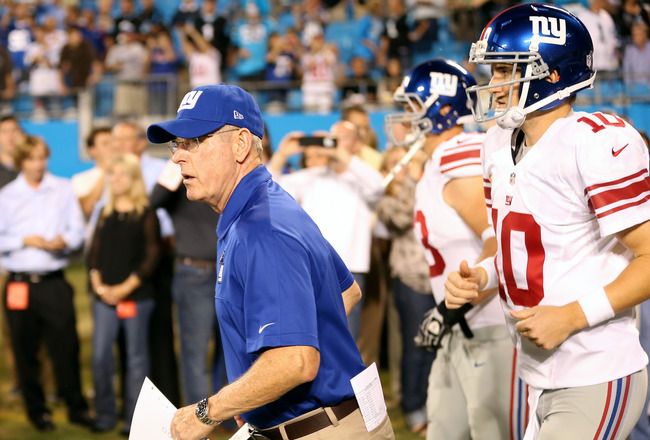 Streeter Lecka/Getty Images
You can definitely make the case that the New York Giants' 2012 schedule was a major reason why they didn't make the playoffs. They played seven games versus teams that qualified for the playoffs and 10 games against teams that were at or above .500. They also faced off against five division winners.
Their 2013 slate looks to be a little bit easier. They play six games against 2012 playoff participants, nine versus teams that were at least 8-8 and only three division winners.
Obviously a lot will happen between now and the start of the new season in eight months. With the Giants at a standstill, however, due to their exclusion from the postseason it is always fun to see what next season may have in store, record-wise.
One note to those that will inevitably say that an article of this nature is premature. In some ways it is but we are also talking about sports here. It is supposed to be fun and a way to escape from everyday life. If your team is not in the playoffs, then you need something to talk about. Also, good teams usually remain good and bad teams stay bad, so taking a stab at what the Giants will do against their 2013 schedule is not as ridiculous as it seems.
Now on to the predictions.
Home Games: vs. Cowboys
Al Bello/Getty Images
Without the prospect of significant changes (new coach, quarterback etc.), the Dallas Cowboys should be a fringe playoff contender once again in 2013.
The Giants have struggled against their hated NFC East rival at home in recent years, going 3-3 in New Jersey since the 2007 season.
I think the Giants will buck this recent trend and pick up a victory.
Prediction: Win
Home Games: vs. Eagles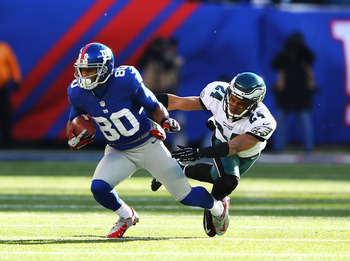 Al Bello/Getty Images
With a new head coach (yet to be determined) and Nick Foles likely behind center, the Philadelphia Eagles will be a team in transition in 2013.
While they should have a formidable running game with the backfield tandem of LeSean McCoy and Bryce Brown, Foles and the passing game will struggle. They also will probably look to rebuild a defense that gave up a woeful 444 points this season, though salary cap issues might make that difficult.
Prediction: Win
Home Games: vs. Redskins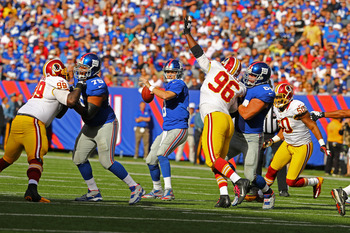 Al Bello/Getty Images
At this point, the Washington Redskins promise to be the Giants' main competition for the NFC East crown.
They have a dynamic offense led by Robert Griffin III that could be even better in 2013 if they are able to add more pass-catching playmakers. Their defense should also be improved with the return of defensive end Adam Carriker and linebacker Brian Orakpo, who were both lost to season-ending injuries in September. The biggest concern right now for Redskin fans is if the fragile RGIII can stay relatively healthy for 16 games.
Washington will best Big Blue in their MetLife meeting.
Prediction: Loss
Home Games: vs. Packers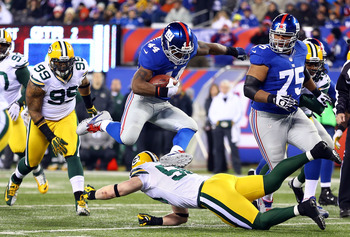 Al Bello/Getty Images
You can definitely make the case that the Giants have the Green Bay Packers' number as of late. In its last two meetings, New York has won both times, outscoring Green Bay 75-30. In both games, Aaron Rodgers was hounded by the Giants defensive front seven, and Eli Manning had little trouble picking apart the Packers secondary.
I think this game will be closer, but the Giants will still prevail.
Prediction: Win
Home Games: vs. Vikings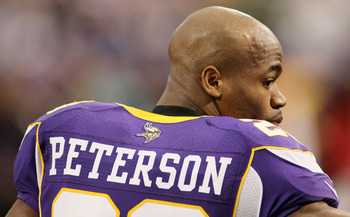 Andy King/Getty Images
New York has struggled mightily against Minnesota in recent years, losing four of its last five to the first NFC team ousted from the playoffs this past weekend. The Giants have also oddly not been able to beat the Minnesota Vikings at home in the regular season since 1996.
The Giants better improve a run defense in the offseason that allowed 129.1 yards per game in 2012. If they don't, Adrian Peterson will threaten to run New York right out of its own stadium.
I think the Giants are due to beat the Vikings at home and will contain Peterson just enough to eke out a win.
Prediction: Win
Home Games: vs. Broncos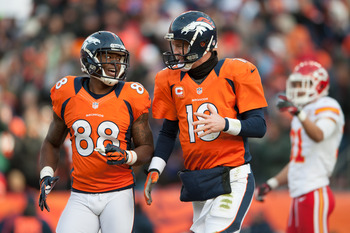 Dustin Bradford/Getty Images
It's Manning Bowl Part III with the elder Peyton Manning taking on Eli Manning in a Denver Broncos uniform for the first time. Eli has yet to beat his big brother, losing 38-14 to him in 2010 and 26-21 in the inaugural meeting in 2006.
New York is 4-1 at home against Denver in its head-to-head series that started back in 1972. I expect them to be 4-2 after this game; however, since the Broncos should once again be one of the two or three best teams in the NFL next season.
Prediction: Loss
Home Games: vs. Raiders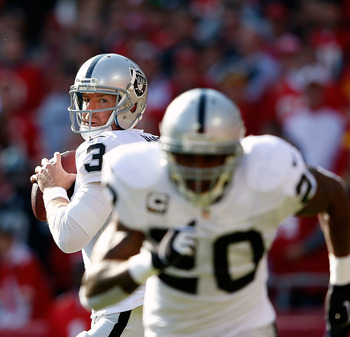 Jamie Squire/Getty Images
The Oakland Raiders have gone from one of the marquee franchises in the NFL to a laughingstock in the past decade.
They have not made the playoffs or mustered a winning record since the 2002 season, when they lost to the Tampa Bay Bucs in the Super Bowl.
The Giants beat the Raiders, 44-7, when they last met in 2009, and I wouldn't be surprised if they won by a similar score in 2013.
Prediction: Win
Home Games: vs. Seahawks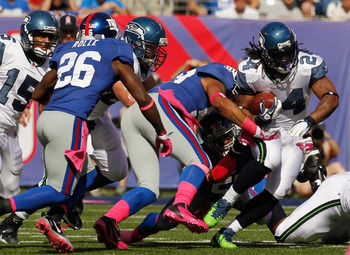 Mike Stobe/Getty Images
The Seattle Seahawks have a great shot to make the Super Bowl this year as they are still standing in the NFC playoffs. With a young nucleus built around a strong defense, quarterback Russell Wilson and running back Marshawn Lynch, they figure to be one of the favorites to reach the big game in 2013 as well.
Despite their lofty standing, I expect the Giants to win this game simply because the Seahawks are historically a poor road team. They haven't had a winning record on the road in the regular season since 2005 and won away from home in the playoffs for only the second time in 10 tries Sunday afternoon in Washington.
Prediction: Win
Away Games: at Cowboys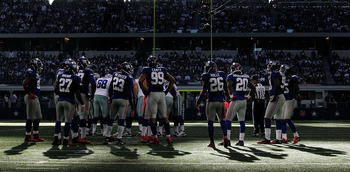 Tom Pennington/Getty Images
The home team in this series certainly hasn't handled their business in recent years. While the Giants have struggled at home against the Cowboys, Dallas has yet to beat New York in four tries at the new Cowboys Stadium.
They came very close this year when Dez Bryant almost handed his team a victory in the final seconds (pun intended). I think they close the deal in 2013 and finally get their first win against the Giants in their not-so-new-anymore digs.
Prediction: Loss
Away Games: at Eagles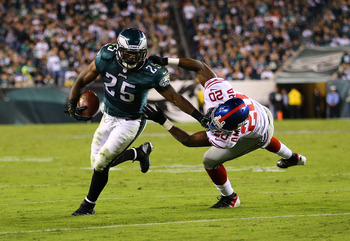 Al Bello/Getty Images
I think the Eagles will clearly be the worst team in the NFC East next season and struggle to avoid double-digit losses. Therefore, Big Blue should be able to gain its first regular-season sweep of Philadelphia since 2007.
Prediction: Win
Away Games: at Redskins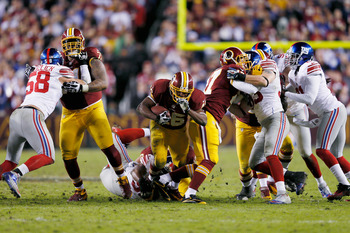 Rob Carr/Getty Images
FedEx Field is the site of the Giants' most important loss of 2012, though definitely not their most painful.
If the Giants had scored on one of the three field-goal scoring drives they had they would have likely won. They could have won if William Beatty hadn't held on a 3rd-and-10 conversion that moved the Giants into Redskins territory trailing by one with less than five minutes left in the game.
The Giants also committed an uncharacteristic nine penalties, and Lawrence Tynes missed a 43-yard field goal early in the second quarter.
The 17-16 loss cost the Giants a playoff spot and division title.
These two teams should be very even in 2013, which is why I can't give a sweep to the Redskins. I think the Giants exorcise the demons of this year's loss by winning in Washington next season.
Prediction: Win
Away Games: at Bears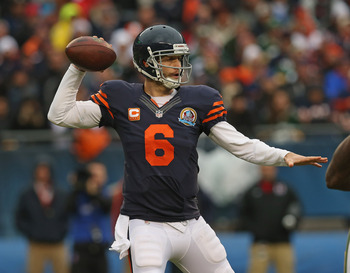 Jonathan Daniel/Getty Images
These two teams have certainly played some interesting games in recent years.
In 2004, the 5-2 Giants jumped out to a 14-0 first-quarter lead at home behind Kurt Warner only to see it evaporate by halftime with 20 unanswered points by the Chicago Bears. The Giants lost 28-21, starting a streak of eight consecutive losses. Oh, and a rookie by the name of Eli Manning took over for Warner at quarterback two weeks later.
In 2006, once again at home, the 6-2 Giants led the 7-1 Bears 13-3 with less than two minutes left in the first half. On a 3rd-and-22 from Chicago's 28-yard line, Bears running back Thomas Jones somehow ran up the middle for 26 yards and a first down. The Bears would go on to score a touchdown on that drive and outscore the Giants 28-7 in the second half to record a 38-20 victory.
This game was the unofficial start of the Tom Coughlin second-half swoon trend as the Giants won only two of their next seven games. They did squeak into the playoffs, however, despite an 8-8 record.
One year later, the scene shifted to Soldier Field. The Bears led 16-7 entering the fourth quarter, but Eli Manning engineered two fourth-quarter touchdown drives to secure an important victory for the playoff-seeking Giants. The comeback was especially gratifying for Manning since he was coming off arguably the worst game of his career the week before against the Vikings.
Finally, in 2010, the vaunted Giants pass rush thoroughly entertained their home crowd in prime time on a Sunday night when they sacked Jay Cutler a ridiculous nine times in the first half, which ultimately knocked him out of the game at halftime. New York record 10 sacks overall en route to a 17-3 victory.
Expect a close, interesting game next year with the Bears pulling out a win.
Prediction: Loss
Away Games: at Lions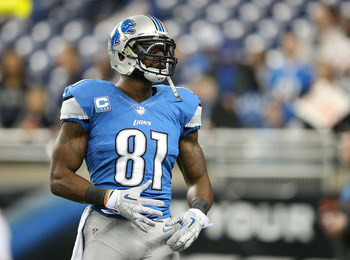 Leon Halip/Getty Images
The Detroit Lions have talent, but it didn't translate into wins in 2012.
With players like Calvin Johnson, Matt Stafford, Ndamukong Suh, Nick Fairley and Cliff Avril you wouldn't have expected the Lions to go 4-12, including eight straight losses to end the season. Simply put, they were unable to pull out the close ones, going 3-8 in games decided by seven points or less.
Despite likely losing Avril to free agency, I think the Lions will be in the playoff hunt next year simply because losing a lot of close games tends to be largely due to bad luck.
The Giants should still pull out a win in Detroit, but it won't be as easy as it appears based on the Lions 2012 record.
Prediction: Win
Away Games: at Chiefs
Jamie Squire/Getty Images
Andy Reid just won't go away!
The newest Kansas City Chiefs coach will face off against the Giants for a 15th consecutive season. He takes over arguably the worst team in the NFL in 2012, with the Jacksonville Jaguars the only other team that could reluctantly lay claim to that title.
Kansas City will be better prepared under Reid, but in order to be any good it needs to find a competent quarterback this offseason. If the Chiefs do, they could knock off the Giants because their running game is very good behind Jamaal Charles and they have a promising young defense, despite the fact they allowed 425 points this season.
Given Reid's familiarity with the Giants and the fact this game is in Kansas City, I think the Chiefs will pull off the upset.
Prediction: Loss
Away Games: at Chargers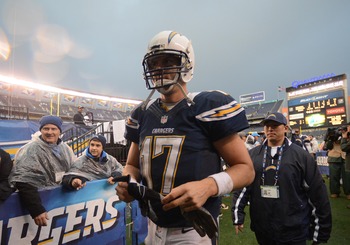 Donald Miralle/Getty Images
This is a hard game to predict since the San Diego Chargers do not currently have a head coach or general manager. One thing is for certain, though—Eli Manning will get booed in this game. Charger fans have not forgotten that he did not want to play for San Diego, which prompted the trade that landed the Giants with the No. 1 pick in the 2004 draft.
The Giants should win this game unless the Chargers find the next Jim Harbaugh to make Norv Turner look like Mike Singletary. The Chargers have average talent and have seen the play of quarterback Philip Rivers slip noticeably over the last two seasons.
Prediction: Win
Away Games: at Panthers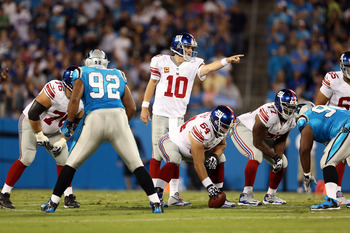 Streeter Lecka/Getty Images
The Carolina Panthers seem ready to become a serious playoff contender in the NFC after winning their last four games this season to finish 7-9. They will also be seeking revenge after the 36-7 thrashing the Giants handed them this season in Week 3.
Expect a Carolina win.
Prediction: Loss
Final Record: 10-6 (6-2 home, 4-4 away) which should be good enough for a playoff spot and potentially the NFC East title.
However, with a strong draft, free agency and improvements by young players like Jason Pierre-Paul, Prince Amukamara and Rueben Randle the Giants could win 12 games with this schedule.
Keep Reading

New York Giants: Like this team?