Wild Card Weekend is officially in the books, as four teams kept their Super Bowl hopes alive.
Now football fans will be treated to four more exciting matchups in the Divisional Round.
What game are you most excited for?
In the AFC, the Baltimore Ravens will travel to face the red-hot Denver Broncos, while the Houston Texans will take on the New England Patriots at
Foxboro
.
The NFC also features two great games. The Green Bay Packers will look to avenge their Week 1 loss to the San Francisco 49ers, and the Seattle Seahawks will face Matt Ryan and the Atlanta Falcons.
You won't want to miss a minute of the action, so be sure to tune in this weekend. Here is all the vital viewing info.
| | | | | |
| --- | --- | --- | --- | --- |
| HOME | AWAY | Date | Time (ET) | TV |
| Denver | Baltimore | Saturday, Jan. 12 | 4:30 p.m. | CBS |
| San Francisco | Green Bay | Saturday, Jan.12 | 8:00 p.m. | FOX |
| Atlanta | Seattle | Sunday, Jan. 13 | 1:00 p.m. | FOX |
| New England | Houston | Sunday, Jan. 13 | 4:30 p.m. | CBS |
Now that we've got the schedule out of the way, let's make a few predictions for the Divisional Round Weekend.
1. Ray Lewis' Last Ride Will End in Denver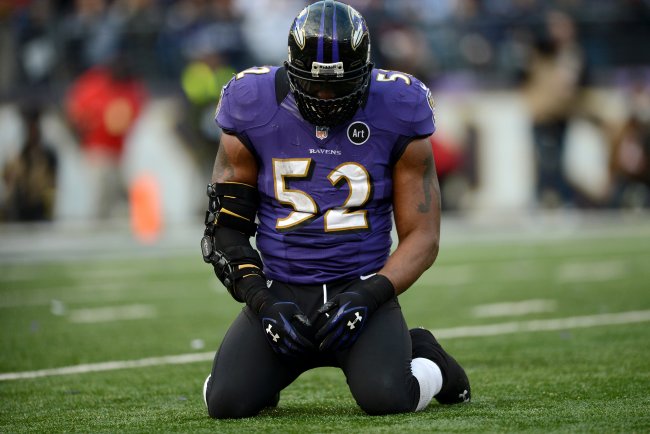 Patrick Smith/Getty Images
This prediction saddens me, because Ray Lewis is truly one of the all-time greats. He is one of the three or four best linebackers ever to play the game, and the
NFL
is simply a better place because of him. No one in the league brings more passion and competitiveness to the game, and Lewis will be sorely missed.
He played great in his final home game with the Ravens, notching 13 tackles in Baltimore's 24-9 win over Andrew Luck and the Indianapolis Colts. Unfortunately for Baltimore, it faces a much tougher opponent this weekend.
Peyton Manning and the Broncos have been on an absolute tear this season. They have won 11 consecutive games, including a 34-17 beatdown of the Ravens in Week 15. Baltimore trailed by as much as 24 in the fourth quarter of that game, and they had just 21 minutes of possession.
I'm expecting a much closer game this time around, but in the end, Manning and the Broncos will prevail. The legendary quarterback is playing at an MVP level, and Denver's defense has allowed just 11.25 points per game over the last four weeks.
2. New England Will Blow out Houston Again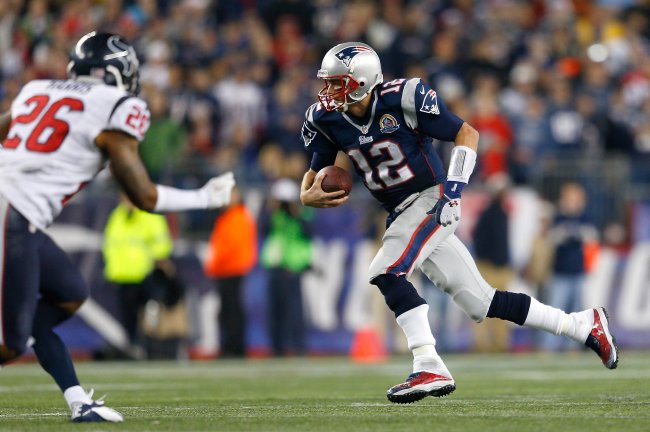 Jim Rogash/Getty Images
New England embarrassed the Texans in Week 14, beating them 42-14 on
Monday Night Football.
The Patriots dominated from start to finish, as they led 21-0 at halftime and were up by as much as 35 in the fourth quarter.
Tom Brady put on a clinic in that game, completing 21 of 35 passes for 296 yards and four touchdowns.
Look for a similar outcome this Sunday. The Texans lost three of their last four regular-season games, and although they beat Cincinnati in the first round, it wasn't an overly impressive performance. Matt Schaub was shaky at times, and it's only going to get tougher for him against New England.
The Patriots lead the AFC with 41 takeaways this season, and New England is 10-2 in home playoff games during the Tom Brady/Bill Belichick era.
I'm expecting a dominating performance from New England.
3. The Falcons Will Be Eliminated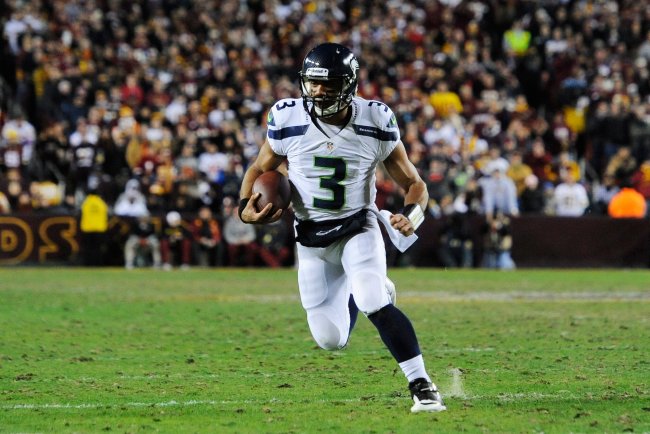 Patrick McDermott/Getty Images
The Falcons finished the season at 13-3, good for the No.1 seed in the NFC. But despite their regular-season success, I'm expecting them to lose to Seattle on Sunday.
Atlanta faced just two playoff teams this season (Denver, Washington) and neither team was playing its best football at the time. The Falcons also lost two of their last four regular-season games, and their recent playoff record isn't exactly encouraging.
The Falcons are 0-3 in the playoffs with Matt Ryan at quarterback. Last season Atlanta lost 24-2 to New York in the first round, and in 2010 the Falcons were crushed 48-21 at home by the Green Bay Packers. Like this season, the Falcons had a first-round bye before their loss to Green Bay.
Atlanta has had a good season, but it will come to a screeching halt against the Seahawks.