Texans vs Patriots: Who Has the Edge in Divisional Playoff Matchup?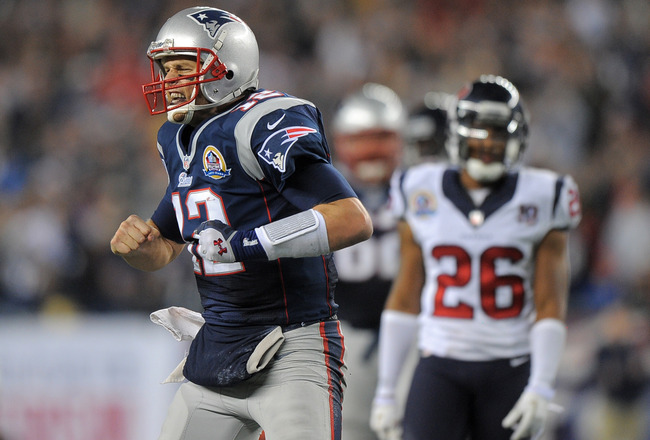 USA TODAY Sports
The Houston Texans will get their chance to enact revenge on a New England Patriots team that destroyed them 42-14 in the regular season when the two teams square off in the divisional round in Foxborough.
After a somewhat sloppy but defensively stout performance against the Cincinnati Bengals in the Wild Card Round, Matt Schaub and Co. are looking to advance to the first championship game in franchise history.
Meanwhile, the big, bad Patriots lay waiting as the overwhelming favorites.
When it comes to the matchups: Which team has the advantages?
Tom Brady vs. Texans Secondary
Jared Wickerham/Getty Images
Although the Houston Texans secondary played masterfully against Andy Dalton in the opening round, that doesn't mean it have its way with the iconic Tom Brady.
Quite the opposite, actually.
Brady completed 21-of-35 passes for 296 yards with four touchdowns and no interceptions in the Patriots' 42-14 route when these team's met earlier in the year.
While it's hard to believe he will be able to rekindle that type of magic, I've learned over the years—don't bet against Brady.
Advantage: Patriots
Matt Schaub vs. Patriots Secondary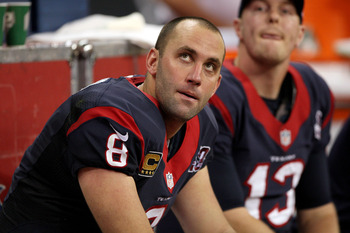 USA TODAY Sports
Matt Schaub went 29-of-38 for 262 yards with no touchdowns and one interception in the Wild Card Game against the Cincinnati Bengals.
He was worse against the Patriots in Foxborough, completing only 19-of-32 attempts for 232 yards with a pick in the crushing defeat.
When Schaub is confident and clicking in the play-action heavy system, he can be a dangerous signal-caller. However, I'm not sure how much assertiveness he'll have against a turnover-happy New England secondary in the divisional round.
Advantage: Patriots
Patriots Running Game vs. Texans Run Defense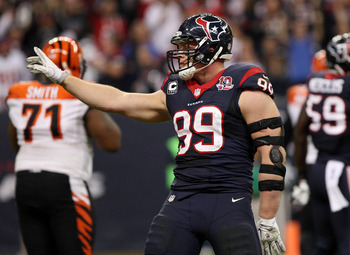 USA TODAY Sports
The Texans should be able to limit the Patriots on the ground in this divisional matchup with horses like J.J. Watt, Antonio Smith and Connor Barwin up front.
Although New England racked up 130 yards in the first meeting, it did so at a 3.9 yards-per-carry clip—not majorly impressive.
Advantage: Texans
Texans Running Game vs. Patriots Run Defense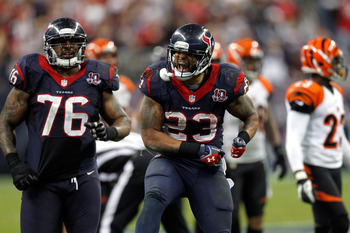 Bob Levey/Getty Images
Arian Foster has gained over 130 yards rushing in all three of his career playoff games—the first NFL player to accomplish the feat.
He was severely limited against the Patriots in the regular season, totaling just 46 yards on 15 carries.
New England does have the downhill linebackers to dice through Houston's zone-blocking scheme. But to keep the pressure off Schaub and control the clock, I envision Gary Kubiak will give his workhorse plenty of carries to eventually wear down the Pats defense.
Advantage: Texans
Patriots Offensive Line vs. Texans Defensive Line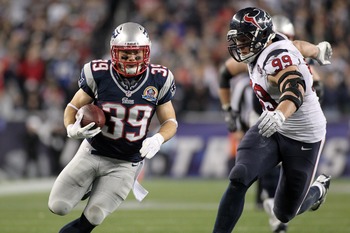 USA TODAY Sports
The Patriots allowed 26 sacks in 2012, the third-fewest in the NFL.
Meanwhile, the Texans had 44 quarterback takedowns, the fifth most in football.
Something's got to give, right?
Well, while Watt finished the year with an insane 20.5 sacks, there isn't another truly dominating or intimidating member on Houston's front seven.
Though Watt will have a few splash plays here and there, I see the always sound Patriots offensive line winning this matchup.
Advantage: Patriots
Texans Offensive Line vs. Patriots Defensive Line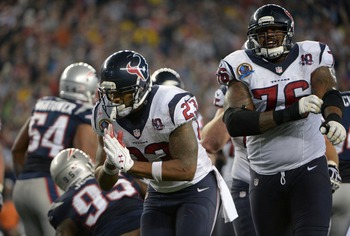 USA TODAY Sports
Houston's zone-blocking scheme can be devastating, especially with guys like Chris Myers and Duane Brown leading the way.
Although it wasn't as bull-dozing in 2012 as it was in 2011—much of that had to do with the departure of right tackle Eric Winston—it's still a tough scheme to defend.
New England does boast an underrated defensive front seven that should be able to make a few plays in the backfield.
This one is close, but Houston's offensive line should be able to impose its will on the Patriots.
Advantage: Texans
Keep Reading

Houston Texans: Like this team?