Florida Football: 6 Recruits Most Likely to Start as Freshmen
No. 1 CB Vernon Hargreaves (left) leads a talented group of 2013 Florida commits
Kim Klement-USA TODAY Sports
Recruiting is the lifeblood of college football.
Unlike the NFL, where players can be bought via free agency, how a coach does on the recruiting trail will make or break a program.
Since taking over for Urban Meyer, Will Muschamp has been one of the most successful recruiters in the country. That can be seen in Florida's quick turnaround from a 7-6 team in 2011 to an 11-2 program in 2012.
Muschamp isn't afraid to play freshmen, and with the kind of talent Florida has in the class of 2013, that shouldn't change. The Gators class is not only full of playmakers, but it fills a lot of needs heading into next season.
Let's take a look at the top six freshmen who can make an impact next season.
6. Alvin Bailey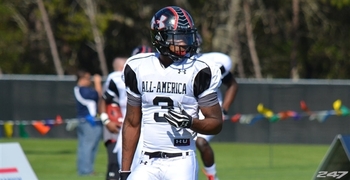 WR Alvin Bailey Photo Credit: 247 Sports
While Alvin Bailey doesn't possess elite size (5'10", 175 pounds), he is an elite playmaker and an incredible athlete.
Bailey played a lot of quarterback in high school out of necessity but projects as a wide receiver at the next level. The Gators are starving for playmakers at receiver and that is just what they will get in Bailey.
Bailey was impressive last week during the Under Armour All-American Game practices and could step in right away as a slot receiver or as a punt returner. The Gators had trouble finding a reliable punt returner this season so Bailey should get a look there.
Bailey is an electric player and definitely someone for Gator fans to keep an eye on.
Florida fans expect to see Alvin Bailey make some monster plays in his Gator career.

— Bleacher Report (@BR_CFB) January 5, 2013
5. Ahmad Fulwood

WR Ahmad Fulwood will have an opportunity to play right away.

With four receivers already in the class of 2013, it's pretty obvious where Will Muschamp thinks the Gators need the most help.
Ahmad Fulwood is a big target (6'4", 200 pounds) who possesses a great mix of size, speed, athleticism and strength. Fulwood isn't afraid to go over the middle, and at 6'4", he is a load to bring down with the ball in his hands.
With the Gators' glaring need for wide receivers, there will be an open competition in the offseason for playing time, and if Fulwood can pick up the playbook when he enrolls in the summer, he should have every opportunity to crack the starting lineup.
4. Kelvin Taylor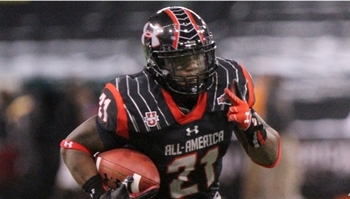 RB Kelvin Taylor Photo Credit: 247 Sports
Kelvin Taylor would be higher on this list if not for the play of Matt Jones late in the season.
Taylor, the son of Gator great Fred Taylor, is the No. 1-ranked running back according to 247 Sports Composite rankings.
Taylor is a north/south back who possesses elite vision and a high football IQ. By his father's own admission, Kelvin is a lot farther along as a running back than he was at this point in his career.
Taylor will enroll at Florida this week and get a head start in the weight room and in the playbook. With the Gators physical running offense, Taylor is sure to see a lot of playing time as a freshman and will push Matt Jones for the starting job this offseason.
3. Caleb Brantley

DT Caleb Brantley's recruitment has been up and down lately but he should end up making an impact early

Caleb Brantley was one of the Gators' first commitments in the class of 2013, but he has wavered in his commitment to the University of Florida.
Brantley is the No. 7-rated defensive tackle according to 247 Sports Composite rankings and fills a major need for the Gators next season.
At 6'3" 308 pounds, Brantley already possesses the size to play at the next level. He uses his hands to get separation from offensive linemen better than most high school prospects and has an elite initial burst off the line of scrimmage.
If the Gators decide to keep Dominique Easley at defensive end, then Brantley will compete with Damien Jacobs and JUCO transfer Darious Cummings for the starting job at defensive tackle.
2. Marcell Harris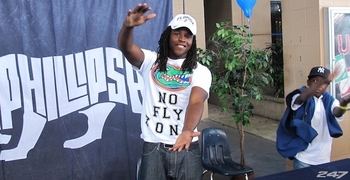 S Marcell Harris Photo Credit: 247 Sports
Kelvin Taylor isn't the only Gator legacy in the 2013 recruiting class. Marcell Harris is the son of former Gator safety Mike "Mud" Harris.
Marcell is the No. 8 safety according to 247 Sports Composite rankings and should be an early favorite to start at either safety spot as a freshman.
Harris is such a good tackler that you may think he fits in better at strong safety, but he possesses great man-cover skills and has top-end closing speed.
With the graduation of Josh Evans and the early departure of Matt Elam, Florida has a glaring hole at safety—one that Harris should be able to fill as a freshman.
1. Vernon Hargreaves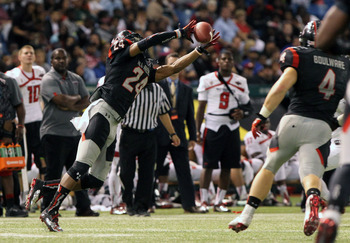 Vernon Hargreaves (24) is the top ranked cornerback in the country.
Kim Klement-USA TODAY Sports
Vernon Hargreaves is the No. 1 cornerback in the nation according the 247 Sports Composite rankings and Hargreaves showed why at the Under Armour All-American game. Hargreaves notched five tackles, two pass breakups and one interception in the game, earning him MVP honors.
Hargreaves interception earned high praise from ESPN's Jeff Barlis.
That was brilliant, absolutely perfect zone coverage. He covered two guys, baited the short route and collected his INT. Wow. #UAGame

— Jeff Barlis (@JeffBarlisESPN) January 5, 2013
Hargreaves possesses elite speed, feet, hips and cover ability to go along with a high football IQ. The Gators are loaded at safety with Marcus Roberson, Loucheiz Purifoy, Cody Riggs and Jaylen Watkins, but Hargreaves could end up being the best cornerback at Florida since Joe Haden.
Expect Hargreaves to make an impact at Florida sooner rather than later.
Keep Reading

Florida Gators Football: Like this team?