Seahawks vs. Redskins: Seattle's Biggest Winners and Losers from Wild Card Win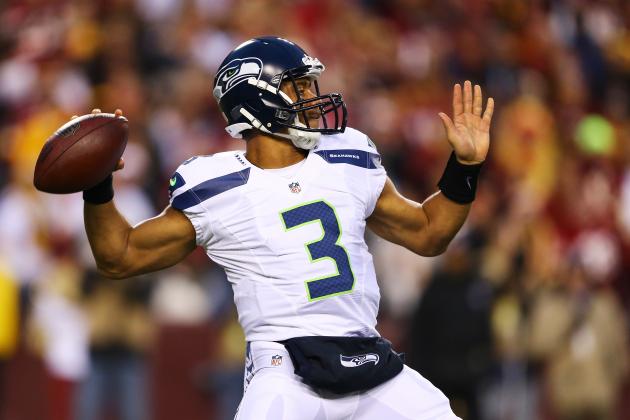 Al Bello/Getty Images

The red-hot Seattle Seahawks went on the road to face an even hotter team in the Washington Redskins as Wild Card Weekend continued.

The biggest storyline of the week was Russell Wilson versus Robert Griffin III. Which rookie would prevail?

That would be Wilson.

After a very slow start, the 'Hawks rallied for 24 straight points to beat the 'Skins 24-14 and move on to face the Atlanta Falcons next week.

It was a huge victory for a Seattle team that looked overmatched after the first quarter but fought their way back and ultimately triumphed.

Here are some of the key winners and losers from the big Seattle playoff victory.
Begin Slideshow

»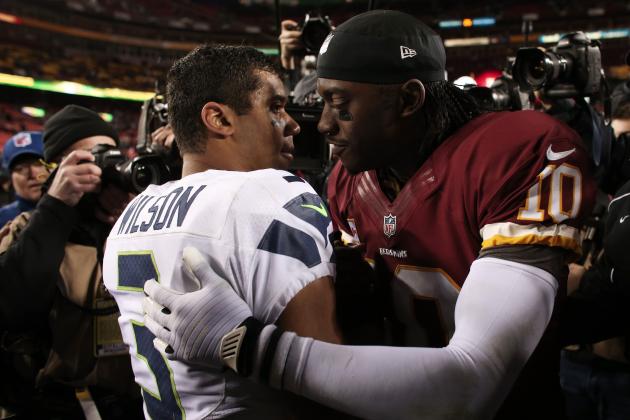 Win McNamee/Getty Images

What can you say about the amazing Russell Wilson?

Start with poise. Finish with clutch.

Down 14 points in the first quarter, Wilson did not panic, but instead led the Seahawks to an impressive playoff victory on the road.

Yes, he did get sacked five times, and he got himself into trouble with a few scrambles.

He fumbled once, but was bailed out by Beast Mode. Wilson also ran for an impressive 67 yards, threw a touchdown and did not throw any picks.

More importantly, he looked like a veteran quarterback, particularly in the fourth quarter.

His stat line wasn't overwhelmingly impressive, but he got the win. That is what counts, right?
Al Bello/Getty Images

The vaunted Seattle defense was not able to do much of anything in the first quarter, as Washington put together two impressive drives, which resulted in 14 points.

The pass rush was virtually non-existent, and running back Alfred Morris averaged 6.1 yards per carry on his way to 49 yards on the ground.

Robert Griffin III had plenty of time to throw and was able to complete two touchdown passes with relative ease.

In the first quarter, the Redskins made the Seattle defense look totally ineffective.

Thankfully, the defense regained their composure as the game progressed.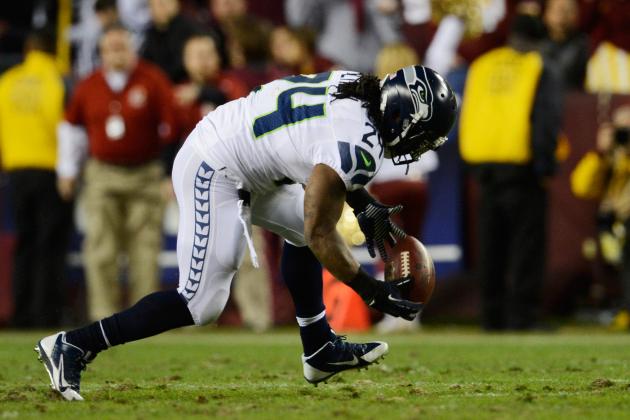 Patrick McDermott/Getty Images

Marshawn Lynch continues to show why Seattle has fed him the ball all year long.

20 carries. 132 yards. 6.6 yards per carry. Touchdown.

Yes, the fumble at the goal line was unfortunate, but overall Lynch was the catalyst of the offense, and Seattle battled back because Marshawn kept running hard throughout the entire game.

Give Lynch major credit for making a heads-up play when he picked up Wilson's second-quarter fumble and turned it into an 18-yard run.

Fast-forward to the fourth quarter and it was Beast Mode time.

27-yard bruising touchdown run. Ball game.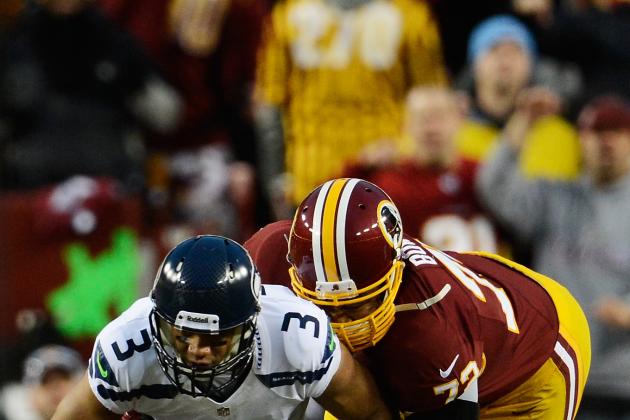 Patrick McDermott/Getty Images

Who was worse in the first quarter, the offense or the defense?

The defense gave up 14 points and the offense was unable to get anything going.

Zero points and nine yards of total offense. Not to mention that the offensive line gave up two sacks.

Unfortunately, the offense only had the ball for three minutes and 59 seconds.

You appreciate aggressive play-calling, but going for the home-run ball on the first play of the game was a bit risky.

Russell Wilson is gaining confidence as a thrower, but Seattle did not have a running play in their first drive.

Bad start.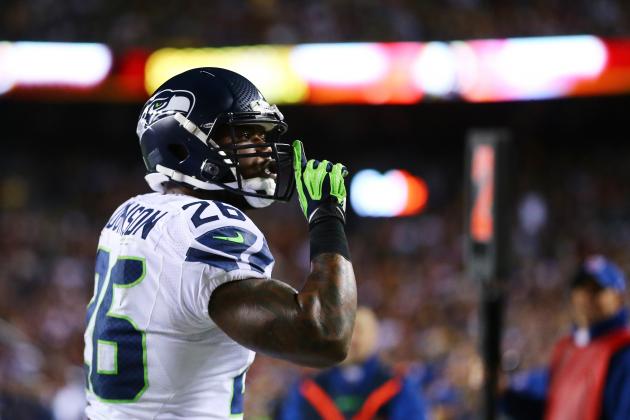 Al Bello/Getty Images

The fullback can often be an unsung hero, even with a productive running back like Marshawn Lynch piling up yards and touchdowns.

Robinson made two key catches on Seattle's second-quarter touchdown drive, including the touchdown itself from Russell Wilson.

Michael may not accumulate huge statistics throughout the season, but he has been a major asset for this Seattle offense.

Today, he had two catches for 23 yards and a touchdown. Not a bad day for a fullback.

Shhhhh.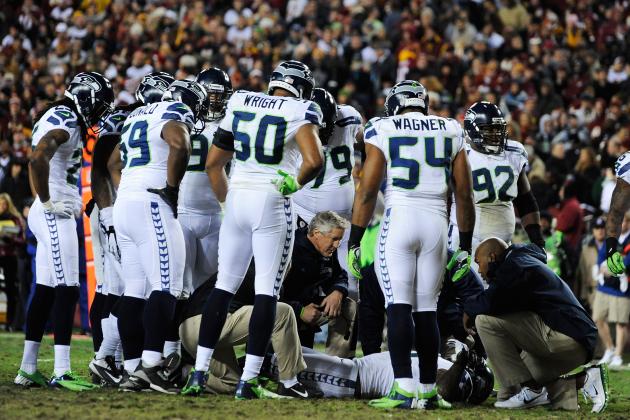 Patrick McDermott/Getty Images

No sacks.

Injured in the third quarter. Left the game. Did not return.

Not a good day for the Seattle pass-rusher, Chris Clemons.

Clemons did have a nice play where he batted the ball out of Robert Griffin III's hands, but that play was nullified by a penalty on Brandon Browner.

If Clemons does indeed have an ACL injury (via NBC Sports), that would be a big blow to the defense, even with Chris not producing a lot of sacks in the past few games.

Hopefully he will be alright.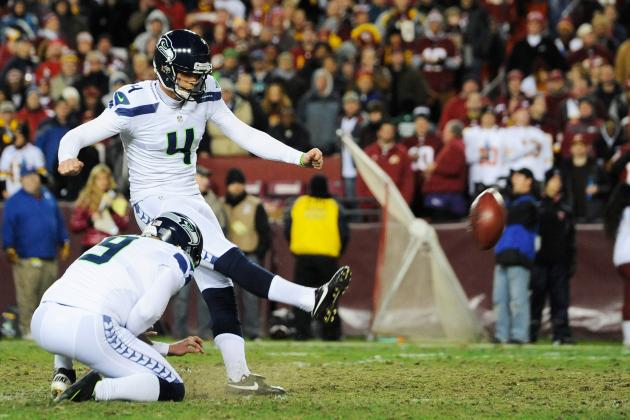 Patrick McDermott/Getty Images

The way that Joe Buck and Troy Aikman were talking in the second quarter, you would have thought that Steven Hauschka had broken his leg in four places and would need to be wheeled onto the field for a field-goal try.

We now know that Hauschka did indeed have a calf injury (via NFL.com), but he still hit two field goals for the Seahawks and kept them close in the first half.

Later in the fourth quarter, Steven nailed a 32-yard field goal to give Seattle a more comfortable 10-point lead, which was ultimately the final score of the game.

Hauschka's health may have been in doubt, but he came through with his three field-goal attempts.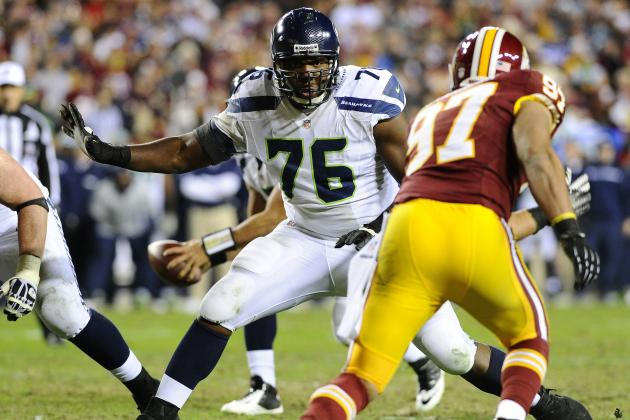 USA TODAY Sports

Stop me if you have heard this one before: The Seattle offensive line had some problems protecting Russell Wilson.

In their defense, I have to imagine that Russell Wilson is a hard quarterback to protect, simply because he is a very mobile signal-caller that is often outside the tackle box.

Still, the offensive line gave up five sacks, and there were plenty of other times when Wilson was being chased.

Will this eventually be Seattle's undoing, or is there enough offensive production that Russell can absorb several sacks per game and still put a lot of points on the board?

So far, the Seahawks are still rolling.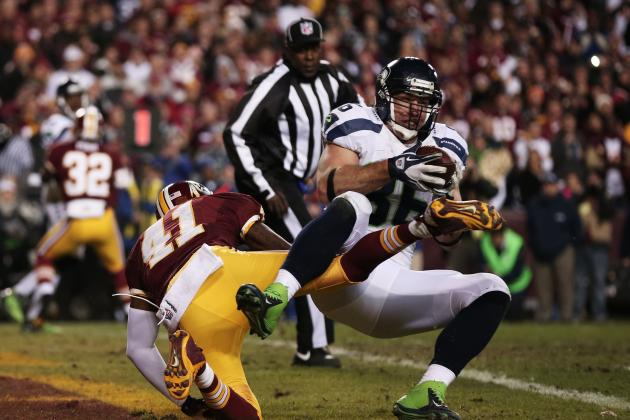 Win McNamee/Getty Images

Russell Wilson only completed 15 passes against the Redskins, but he made them count, particularly to his tight end, Zach Miller.

Miller only had four catches for 48 yards, but most were big-time plays.

In the first half, he made a catch that was well short of the first down, but his extra effort got him over the marker to move the chains.

Miller also had a clutch third-down catch to keep the touchdown drive alive in the fourth quarter.

Finally, his two-point conversion put Seattle up by seven points, which was an important margin for keeping the Redskins at bay late in the game.

Follow @tpheifer