There is not a lot of optimism surrounding the Ohio State basketball program after the beatdown Illinois treated the Buckeyes to Saturday.
The fanbase has become disillusioned, the players are frustrated and the coaching staff is desperately searching for the right buttons to push. That being said, nothing boosts the stock of a downtrodden Ohio State team more than a victory over the University of Michigan, and the Scarlet and Gray will have a chance to do just that Sunday, Jan. 13.
However, beating the Wolverines this season is much easier said than done, thanks in large part to the efforts of star point guard Trey Burke.
The sophomore floor general is averaging better than 18 points, seven assists and one steal per game (he leads the team in each of these statistics). What's more, he has cut down on the turnovers that plagued him during his freshman season.
Burke is also shooting better than 53 percent from the field and 40 percent from downtown and is widely considered a first-round prospect for the upcoming NBA draft.
As the best player on the No. 2-ranked team in the country, Burke is sure to make headlines wherever Michigan travels. However, it is especially notable when he comes to Columbus to take on the Buckeyes and not just because of the rivalry between the two schools.
Burke grew up in central Ohio, played high school basketball with Jared Sullinger and wanted to be a Buckeye for much of his childhood. However, Thad Matta, with Aaron Craft already in the fold and Shannon Scott coming to campus, elected not to recruit Burke.
Does Ohio State have a chance to upset Michigan Sunday?
It's easy to criticize that decision now with the benefit of 20/20 hindsight, but Burke wasn't a "can't-miss" prospect coming out of high school. Had Matta known at the time he would develop into arguably the best point guard in the country, I have a feeling Burke would have gotten a more serious look from the Ohio State brass.
Burke will be suiting up for the hated Maize and Blue, Sunday, when the Wolverines come to Columbus, and the Buckeyes are going to need a plan if they hope to contain him.
There is a blueprint in place for Ohio State though when it comes to stopping Burke. When the two rivals met in the Big Ten Tournament semifinals last season, Burke finished 1-of-11 from the field with eight turnovers. What's more, he missed all seven of his three-point attempts.
The struggles weren't simply because of a bad day at the office for the Wolverines' point guard. Craft harassed him from the opening tip to the point where he may as well have been an extra appendage stuck on Burke's hip.
Deshaun Thomas told CBSSPORTS.com after the game that Craft's performance wasn't by accident.
Aaron watches film on every point guard, but he's more focused on Trey. It motivates him.
How could it not? Craft may be a fan favorite among Buckeye Nation, but there are plenty among the faithful that wish Burke was the current point guard wearing Scarlet and Gray.
However, even with Craft stopping Burke (or even containing him), it will be much more difficult this season and will probably require a group effort.
Matta should ensure that his team forces Burke to work from the first possession of the game by providing constant pressure, even if it's just three-quarter court pressure on in-bounds passes. The Buckeyes would be smart to rotate Craft, Scott and Lenzelle Smith Jr. onto Burke at different points throughout the game to prevent him from establishing a rhythm against a certain guy and to keep their own legs fresh.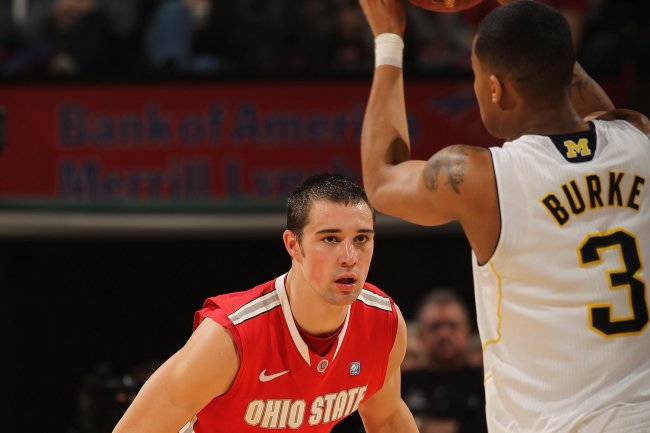 Jonathan Daniel/Getty Images
A rotation of formidable defenders like Craft, Scott and Smith harassing Burke across the entire court will not only wear him out over the course of the game but also force him to give the ball up early in the shot clock.
Getting the ball out of a playmaker's hands is never easy, but it is also an obvious way to prevent him from dominating the game.
It would also serve Ohio State well if it can make Burke expend more energy on defense than he is accustomed to by running a number of pick-and-rolls with his man and then attacking him off the dribble or with the pass, depending on if he switches.
Ultimately, though, the Buckeyes should just let Craft do his thing. You know Craft has had this game circled on his calendar since the day the schedule came out, and if anyone in the Big Ten can stop Burke, it's Craft.