College Football Recruiting 2013: 11 Recruits with Most NFL Relatable Skills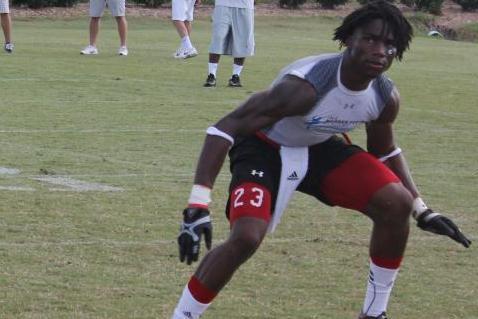 247Sports.com
The National Football League is where the best football players in the world play, the ultimate goal destination of many college and high school football players. Many high school players choose colleges that give them the best position to ascend to the NFL.
One of the most intriguing aspects of college football recruiting is the fact that these recruits are not only the future stars of college football, but potentially one day even become NFL stars.
This 2013 class has a couple players that I believe are definite NFL players and a few others that I think show NFL potential.
Here are 11 recruits with the NFL skills:
Begin Slideshow

»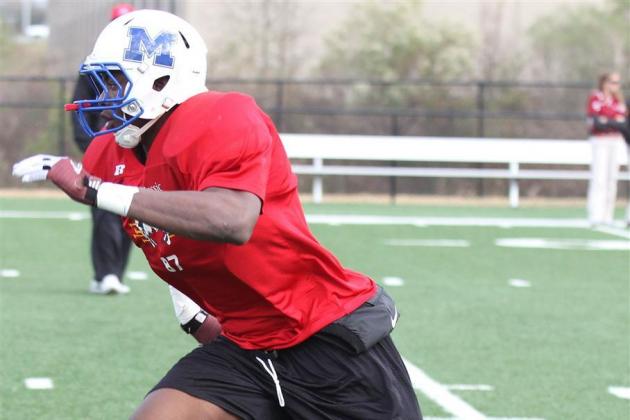 247Sports.com
I really want to urge you all to keep an eye on this guy. Jones is a 6'7, 260-pound DE from Mississippi headed to Mississippi State.
He has a great get-off, uses his length to maintain space from blockers and has good speed-to-power conversion ability as a rusher. Jones is a little raw, but the sky is the limit for this guy. I can really see him developing into a poor man's Jadaveon Clowney.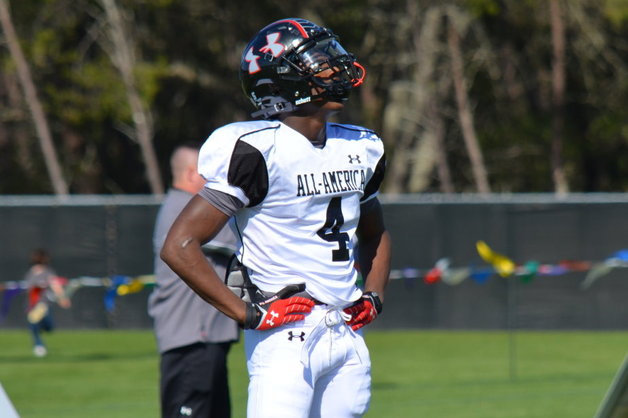 247Sports.com
Foster has the length (6'2) and explosiveness to be a very good receive at the next level and beyond. Refining his route running and developing more consistent hands will be crucial down the road.
Yet, he's so elusive and quick that the speedster should catch the eye of NFL scouts sooner than later. He may not be Julio Jones, but Foster has an NFL future.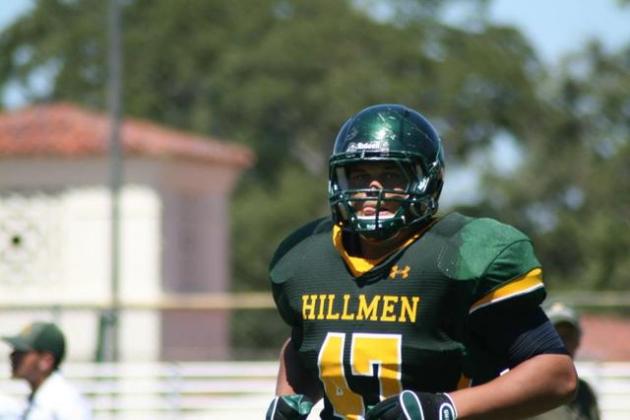 247Sports.com
Vanderdoes will get himself into an NFL training camp at the very least because he can play DT or DE in a 3-4 scheme. His upper-body strength and heavy hands lead me to believe that he can be a Jared Odrick-type of player at the very least.
Vanderdoes has solid off-the-snap quickness, but it's his ability to play big at the point of attack and fight off blockers that make him such a great prospect.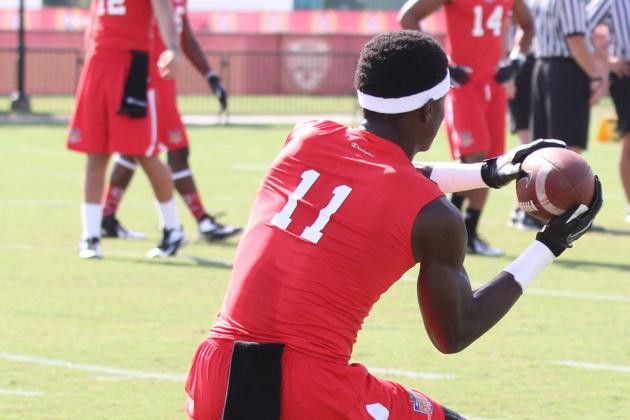 247Sports.com
The 6'3", 195-pound Treadwell has all the tools to be a No. 1 WR in college, showcasing great release quickness, deep speed and the separation to get in and out of his routes quickly.
Treadwell has the potential to be a "dude" for an offense and shows great after-the-catch skills. Giving Treadwell cushion is not recommended because he can take a quick smoke screen and shake a corner to get loose upfield to pay dirt.
247Sports.com
Thomas has NFL-type skills due to his versatility and ability to rush the passer. The 6'3, 210-pounder from Miami can play OLB for two downs and then move to DE in sub-packages and work as a pass rusher to get to the quarterback.
He needs to add more bulk, but Thomas' athleticism is among the best in the country, regardless of position. He shows the potential to play in space and could be an immediate impact guy.
It's getting harder and harder to play safety these days as the position is becoming more demanding as offenses evolve in terms of complexity and explosiveness. I think Cravens has what it takes to be a great one, though.
He's 6'1, weighs 20 -pounds and has tremendous athletic ability. He is also an incredibly instinctive player that can play well in the box or in the back end.
USC is getting a potential superstar in Cravens.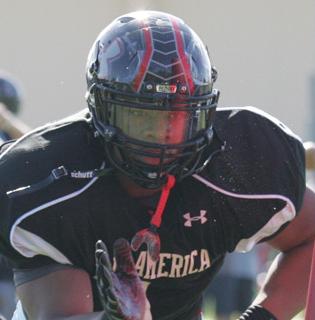 247Sports.com
It will be interesting to see what happens as Nkemdiche develops. I think he's eventually going to grow into a DT, as he looked so much thicker during the Under Armour game than he did the last time he received national attention.
He has great explosiveness at the snap and good strength at the point of attack. He reminds me a lot of Mario Edwards in the sense that both could be best suited to move to DT, yet they could both stay at DE.
Anyway you slice it, Nkemdiche has the ceiling, strength and athleticism to warrant NFL consideration at the least.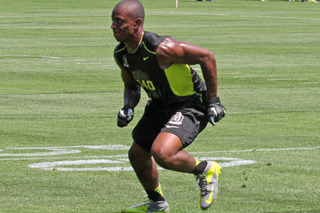 247Sports.com
Apple already has the size that the NFL looks for in corner backs at nearly 6'1. He weighs about 185 pounds and has great instincts, awareness, anticipation and natural athleticism.
The New Jersey native is headed to Ohio State and could be a factor for the Buckeyes' secondary as a true freshman. Apple can operate as a press corner, sit off his man or work as a zone defender with equal effectiveness.
I see NFL potential in him, as a CB or maybe eve a free safety.
Even if Smith doesn't live up to all his hype at Notre Dame, I can still see him being a solid nickel 'backer in South Bend, and eventually the NFL.
He is a very good athlete and is natural in coverage. Smith can lock on to pass catchers as a man defender and looks fluid buzzing into coverage in zone schemes.
The 6'3", 220-pounder also can rush the passer and just has too much upside to have been excluded from this list.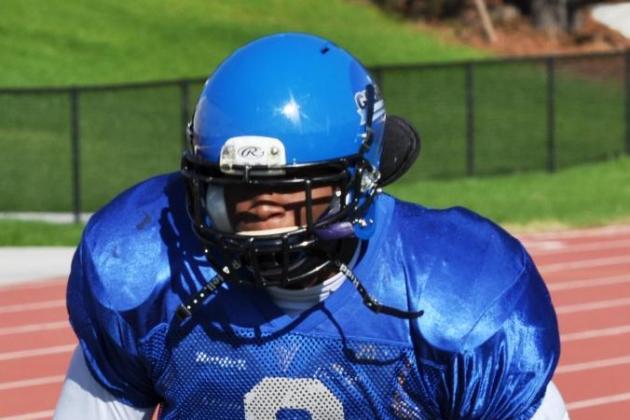 247Sports.com
The 6'2", 245-pound Foster has the physical tools and instincts to be an NFL ILB or MLB.
He also showed better fluidity and movement skills in space and coverage at the Under Armour game.
Foster has great strength, closing speed on ball carriers, range and ball location skills. Even if he is just a two-down 'backer in the NFL, which I don't think is the case, he still has the skills to be potentially effective on the field as he develops in college.
Hargreaves, frankly, is too smart of a player to not find his way into the NFL in a few years. In fact, if he were enrolling early to Florida, I'd project him to have a solid chance of starting as a true freshman.
At 5'11, 185, Hargreaves has a very precise understanding of how to play the CB position. He has an excellent feel for the game and also shows great awareness, instincts and savvy.
Oh, let's not also forget that he's a super athlete and has easy transition quickness. We may be looking at a high NFL draft pick one day in Hargreaves.
Edwin Weathersby is the College Football Recruiting Analyst for Bleacher Report. He has worked in scouting/player personnel departments for three professional football teams, including the New York Giants, Cleveland Browns and the Las Vegas Gladiators of the Arena League. He spent a year evaluating prep prospects and writing specific recruiting and scouting content articles for Student Sports Football (formerly ESPN Rise-HS). A syndicated scout and writer, he's also contributed to WeAreSC.com, GatorBait.net and Diamonds in the Rough Inc., a College Football and NFL Draft magazine.