Chicago Blackhawks: 5 Questions to Pose in the Post-Lockout Landscape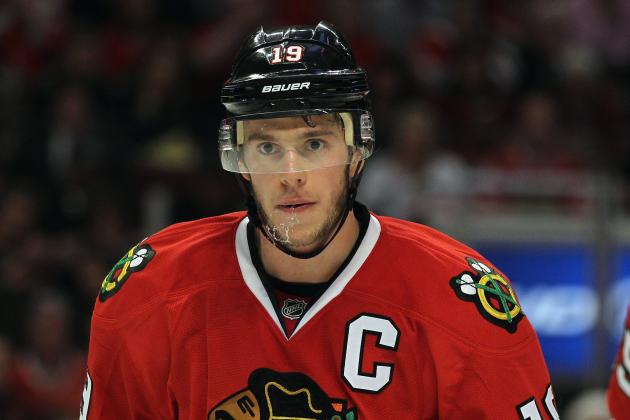 Jonathan Daniel/Getty Images
With an end to the NHL Lockout looming, there are several questions concerning Jonathan Toews and the Chicago Blackhawks?
The Chicago Blackhawks will be getting down to business as the NHL lockout comes to an end.
Remember the Blackhawks?
The team I've placed in the back of my mind as the first three-and-a-half months of the 2012-13 season have evaporated will now be preparing for an abbreviated campaign.
It will be easy to pick up our hand-wringing at Chicago's situation coming into the shortened season. Defense. Second line center. Goalie concerns. Nothing changed much over the course of the fall and winter. Those issues haven't gone away.
There are several questions I'd like to pose as we begin gearing up for whatever schedule the league mandates. Here are five post-lockout questions I'd like to see answered.
Begin Slideshow

»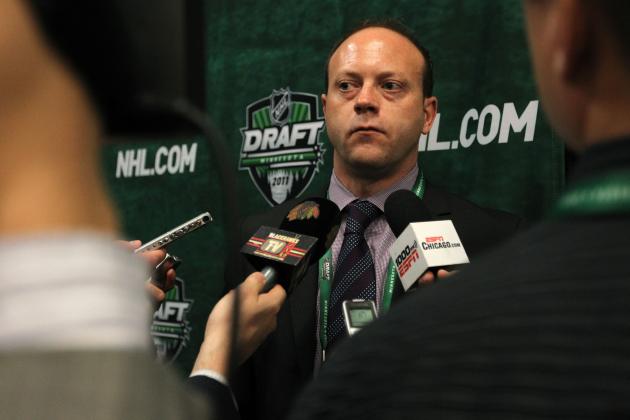 Bruce Bennett/Getty Images

The Blackhawks sit at a current payroll of around $64.5 million. That's is well under this year's cap of $70 million, but a hair over the $64.3 million that the cap will be set in year two of the agreed upon CBA.
Will GM Stan Bowman be able, let alone willing, to bring in reinforcements if he has a chance to substantially improve the team? In the face of many impending financial decisions next summer, what we see may be what we get.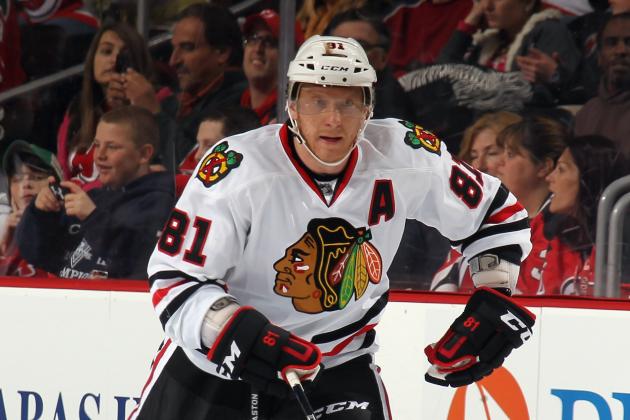 Bruce Bennett/Getty Images

If the season had started on time, there is a strong possibility that the 'Hawks would have gone to battle missing some key players.
Both Jonathan Toews and Marian Hossa are probably better off in terms of health, with the start of the season pushed way back providing them time to receover. It is a silver lining, especially if both players are truly 100 percent.
Steve Montador has also had extra time to recover from his concussion issues, though it remains to be seen where the defenseman figures into Chicago's plans after an up-and-down 2011-12.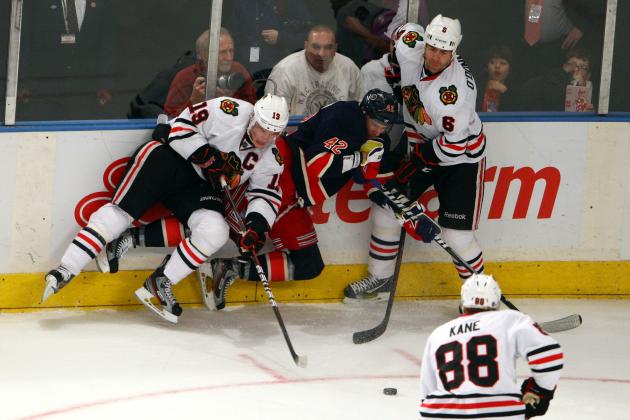 Chris Chambers/Getty Images

The Blackhawks will be facing an all-Western Conference schedule by most accounts. Every game takes on added importance.
This may make for some undesirable matchups for the 'Hawks, as Chicago went 12-3-3 collectively against the Eastern Conference last season. Not having those potential points means that the 'Hawks will have to be on their game every night.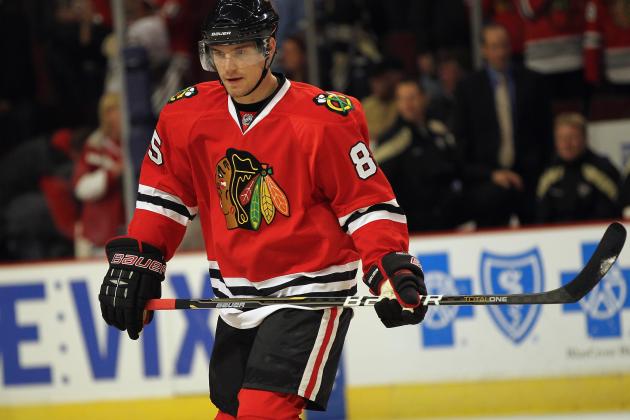 Jonathan Daniel/Getty Images

Pierre LeBrun reported in ESPN.com that each team will be able to buy out up to two players this summer in order to help facilitate the lowering of the salary cap. Who's it gonna be?
Rostislav Olesz seems a pretty good bet with his $3.25 million cap hit. From there, the upcoming season may reveal more potential courses of action.
If Corey Crawford were to suffer more regression from his 2010-11 effort, would Bowman rid himself of Crawford's $2.6 million cap number? Niklas Hjalmarsson and his $3.5 million? Steve Montador could be bought out, saving $2.75 million.
If Marian Hossa struggles to be the same player prior to Raffi Torres' vicious hit in the playoffs, might he be bought out? Will Hossa's $5.275 million cap hit need to be exorcised, even with a strong season?
Bowman will have some choices to make come June when teams can pare down payroll.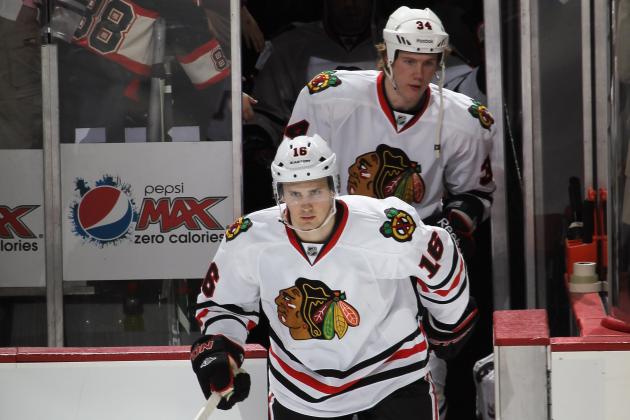 Bruce Bennett/Getty Images

I covered some of the prospects in the 'Hawks system now playing for the Rockford IceHogs and who could figure into the mix last week. I would imagine that several IceHogs will be called up to take part in any camp the league allows.
Marcus Kruger, Nick Leddy, Andrew Shaw and Brandon Bollig seem to have spots in Chicago. Ben Smith has been outstanding in Rockford and probably deserves it. Brandon Pirri leads a host of players who could make the club under the right conditions.
With hurried preparations and quite possibly a heavy schedule ahead, the I-90 pipeline could be more important than ever if nagging injuries take a toll on the 'Hawks. Guys like Jeremy Morin could play a key role as temporary call-ups if they don't make the team full-time.