NHL CBA Reached: Full Predictions for the 2013 Season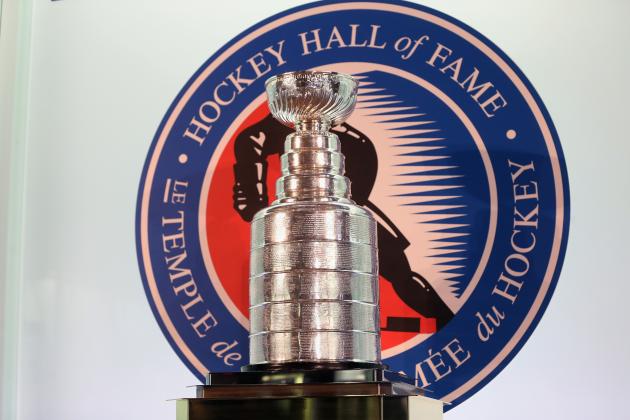 Bruce Bennett/Getty Images

Today, hockey fans learned that this spring, player's names will indeed be etched into the most famous trophy in sports: the Stanley Cup. We will see a NHL season in 2013, and we do not have to worry about the Cup reading "2013: Season Not Played".
The question is, whose names will we see engraved on the trophy? It's anybody's guess, with parity at an all-time high and a shortened season. Anything can happen. Don't count anyone out.
Also, the shortened schedule will provide many exciting divisional match ups, and some teams could gain advantages in weaker divisions. This year's playoff lineup may look a lot different than anyone would expect, but here's my stab at predicting it.
Begin Slideshow

»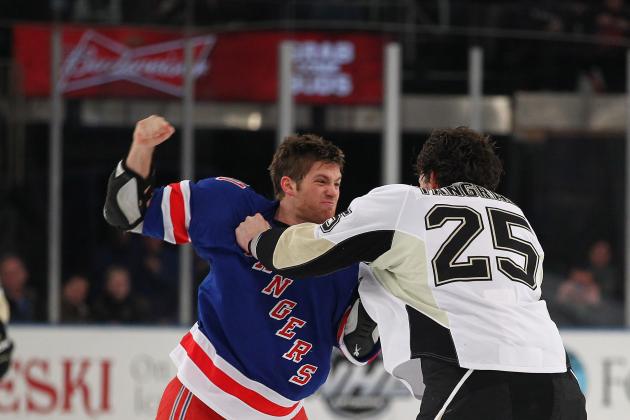 Al Bello/Getty Images

1. New York Rangers
2. Pittsburgh Penguins
3. Philadelphia Flyers
4. New Jersey Devils
5. New York Islanders
The Rangers are the favorite to win the Stanley Cup this year, as they nearly won the President's Trophy last year and added Rick Nash this offseason. Henrik Lundqvist returns between the pipes as arguably the league's best goalie, and young standouts like Ryan McDonagh and Chris Kreider will get more experience under their belts.
Pittsburgh has proven that it can win with or without Sidney Crosby, but has been one of the most disappointing playoff teams since its 2009 Stanley Cup. This offseason wasn't a good one, either, as the team sold away pieces like Steve Sullivan, Zbynek Michalek, and Jordan Staal in order to have money to spend on Zach Parise or Ryan Suter. That didn't work out. Nevertheless, the Penguins will still be a formidable team despite a less-than-stellar defense.
The Flyers' success rests on the shoulders of Ilya Bryzgalov. Philly has had goaltending problems for as long as anyone can remember, but if they figure it out, they could be very tough to beat. The Flyers are a very physical team who can score a lot, making them tough to beat as long as it isn't easy to score on them.
The Devils are the defending Eastern Conference champions, but losing Zach Parise in the offseason could be detrimental. Adam Henrique, Ilya Kovalchuk, and Travis Zajac are also big parts of the offense that could fill the void left by Parise's departure, but the team looks like it could take a slight step backwards.
There is an upside, Islander fans! The team is moving to Brooklyn in a few years, but they still need to spend a year or two in the cellar of one of the league's best divisions before they can be competitive. John Tavares, Matt Moulson, and Michael Grabner spearhead this offense that may be a little shorthanded due to the departure of P.A. Parenteau.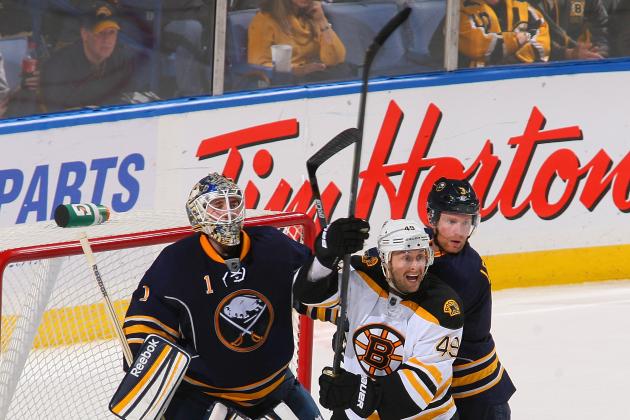 Rick Stewart/Getty Images

1. Boston Bruins
2. Buffalo Sabres
3. Toronto Maple Leafs
4. Ottawa Senators
5. Montreal Canadiens
The Bruins are returning many players from their 2011 Stanley Cup Championship team, but one big name won't be returning: Tim Thomas. All he did that year was win the Conn Smythe and Vezina Trophies. Nevertheless, Tuukka Rask should be solid in net, and the Bruins have one of the league's top defenses to help him out. They have a balanced scoring attack, too, and should win their third consecutive division title.
Buffalo was one of the biggest disappointments last year, but the Sabres will return with a vengeance in 2013. Those Sabres-Bruins games should be fun to watch. The Sabres have gotten bigger and stronger in order to stand up to the Big Bad Bruins, and possibly challenge them for the division.
Toronto has a solid top six, and they should be able to put the puck in the net a good amount of times. The problem, however, is the defense and goaltending. If the team trades for Roberto Luongo, they could be playoff bound, but they should still be somewhat on the outside looking in.
The Senators took the New York Rangers to Game Seven in the first round last year, and provided for one of the year's most exciting playoff games. On paper, however, there really isn't anything too impressive about this team. Erik Karlsson needs to learn how to play defense a little more, and Milan Michalek cannot be counted on to put the offense on his back as much as he did last year.
The Canadiens are on the way back up, but they are in a fairly tough division and will end up in last again. Some of the younger names need to step up again like they did in 2011 in order to have a shot at the playoffs again.
Joel Auerbach/Getty Images

1. Washington Capitals
2. Florida Panthers
3. Tampa Bay Lightning
4. Carolina Hurricanes
5. Winnipeg Jets
The Capitals were a little disappointing in 2012, but showed up in the playoffs, taking the Rangers to the brink in the second round. Washington should bounce back in 2013, and Alex Ovechkin should return to his old form under new head coach Adam Oates. If Braden Holtby plays like he did in the playoffs last year, the Caps will be one of the most well-rounded teams in the league.
Nobody seems to be giving the Panthers a lot of credit for nearly knocking the Eastern Conference Champion Devils out of the playoffs last year. People seem to think that they'll return to the cellar again. I say otherwise. The Panthers have basically the same team that won the Southeast last year, and some young names like Jonathan Huberdeau will have a chance to make a big impact this year.
It's tough to explain why Tampa was so inconsistent in 2012 after nearly making the Final in 2011, but one would have to believe that they will bounce back a little in 2013. Steven Stamkos is one of the league's best players, and Guy Boucher is one of the league's best coaches. The Bolts have a new goalie in Anders Lindback, which could solve some problems between the pipes that the team had last year. However, the Lightning is not very deep offensively or defensively behind Steven Stamkos, Vincent Lecavalier, Martin St. Louis, and Teddy Purcell. They'll battle with Florida, New Jersey, and Carolina for the last few playoff spots.
Carolina is expected to be higher due to the Jordan Staal trade and the Alexander Semin signing, but one of the questions that may arise is whether or not this team with a lot of important new faces will be able to gel together quick enough to reach its full potential.
Winnipeg returns a solid team to the ice for its second season back, but they need a few more years of growth and less travel in order to make a splash in the league. They'll finish in the cellar for now, but look out in the future.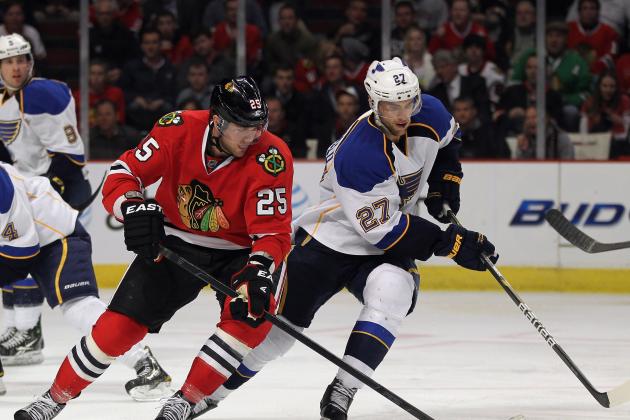 Jonathan Daniel/Getty Images

1. Chicago Blackhawks
2. St. Louis Blues
3. Detroit Red Wings
4. Nashville Predators
5. Columbus Blue Jackets
Chicago looked pretty bad in its first round series with Phoenix last year, but the offense was solid all year and the defense and goaltending couldn't have gotten much worse; bank on those to improve this year. Also, the shortened schedule and increased division play could help the Blackhawks, as they played very well against the rest of the Central last season.
St. Louis is in a tricky situation with the lockout. You can't expect Jaroslav Halak or Brian Elliott to be as good as they were last year, but the Blues could benefit from the shortened schedule since they can rest each goalie if the tightly-packed games get to be too much. That is, as long as both of them are consistent.
Without Nicklas Lidstrom for part of last season, the Red Wings didn't play very well. Now, Lidstrom, along with Brad Stuart and Jiri Hudler, is gone. Nevertheless, Mike Babcock is one of the smartest coaches in the league, and the roster is still very deep and balanced. Niklas Kronwall and Brendan Smith will have big roles as defensemen, and we could see them both improve in new shoes. Also, Damien Brunner has been playing great overseas, and he could be a huge boost if he decides to come play in Detroit this season.
Nashville lost some big names this offseason, but it shouldn't cause too huge of an impact. They lost some big names in the summer of 2007 as well and made the playoffs the following year. Then again, the competition in the Central was much less at that time. Pekka Rinne and Shea Weber remain intact, but the team has to score more and Weber has to prove that he can still be a star player without Ryan Suter by his side.
Nothing is a guarantee in this shortened season, but Columbus finishing last in the Central is as close as you can get. They are in a rebuilding stage, and after trading fan favorite Rick Nash, they seem to be more concerned about the future than the present.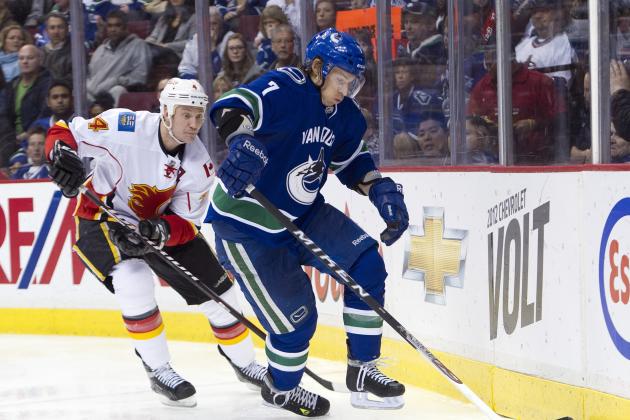 Rich Lam/Getty Images

1. Vancouver Canucks
2. Calgary Flames
3. Minnesota Wild
4. Edmonton Oilers
5. Colorado Avalanche
The shortened schedule with increased divisional games should put the Canucks in prime position to get the No. 1 seed in the West for the third year in a row. The division is fairly weak behind them, and they will have many opportunities to beat up on the other four teams.
This may come as a surprise, but when is there a better time to make bold predictions than a shortened season? Sure, they finished second in the division last year as well, but the Flames aren't getting any praise this year. They added Dennis Wideman and Jiri Hudler as well as young hopefuls like Roman Cervenka and Sven Baertschi. If these two youngsters can perform well, they will give a big boost to the Flames. Also, the schedule could help Calgary as well, as they finished with a very good record against the Northwest last season.
Minnesota made big waves in July, signing Zach Parise and Ryan Suter. Parise adds some much-needed star power to the offense, and Suter provides a little bit of experience to the defense. However, Suter may underperform without Shea Weber by his side, and the offense beyond the top six is fairly weak.
Certain Oilers have been tearing up the AHL during the lockout, especially defenseman Justin Schultz. This team has an unbelievable amount of potential, but it also has a lot of competition in the rest of the Western Conference. They'll improve, but next year will be the year where everything should start to come together.
Colorado really isn't that bad, but if Gabriel Landeskog has a sophomore slump, the Avs could be in a little bit of trouble. P.A. Parenteau could underperform, as he won't be playing next to guys like John Tavares, Michael Grabner, or Matt Moulson anymore, but he should help out the offense a little bit. Matt Duchene needs to bounce back for this team to have a shot at the playoffs.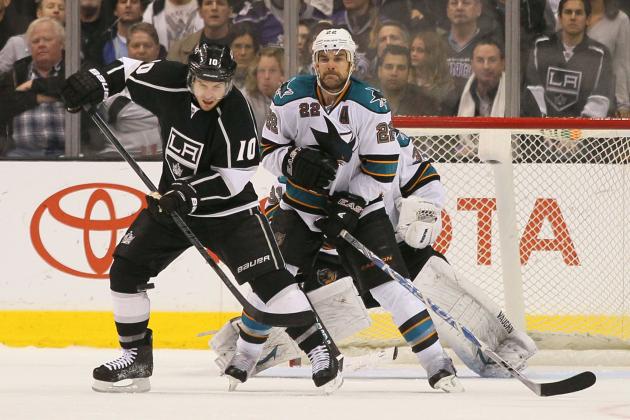 Victor Decolongon/Getty Images

1. San Jose Sharks
2. Los Angeles Kings
3. Phoenix Coyotes
4. Dallas Stars
5. Anaheim Ducks
San Jose was a big disappointment last year, but they should bounce back in 2013. The defense is very solid and made a big addition in Brad Stuart, and the top six is aging but still talented. The Sharks need to win now, though, as their championship window may be closing in the near future, and the team will play inspired this season.
The defending champs return to the ice after one of the most incredible playoff runs in sports history, but they return shorthanded. Anze Kopitar will miss the first few weeks after suffering an injury overseas, and the team may suffer a Stanley Cup hangover that would be too big to overcome in a shortened season. Also, they weren't impressive at all in the regular season, and even though they caught fire in the playoffs, it doesn't mean they'll be overly impressive in the regular season this year.
People are writing the Coyotes off already, but they won the division last year and still have a solid roster. They lost several key players like Ray Whitney, who was the team's leading scorer, but this is a younger team with players like Mikkel Boedker and Oliver Ekman-Larsson ready to step up and make an impact.
Dallas fell apart at the end of the regular season last year and is hungry to make the playoffs. The front office went crazy this summer, adding Ray Whitney and Jaromir Jagr. Jamie Benn and Loui Eriksson are two of the most underrated players in the league, and they could mesh with the newly added veterans very well.
Anaheim has a lot of potential, but there is too much competition in the division. They were very inconsistent last year, and while they're talented, they should play at about the same level as they did in 2012.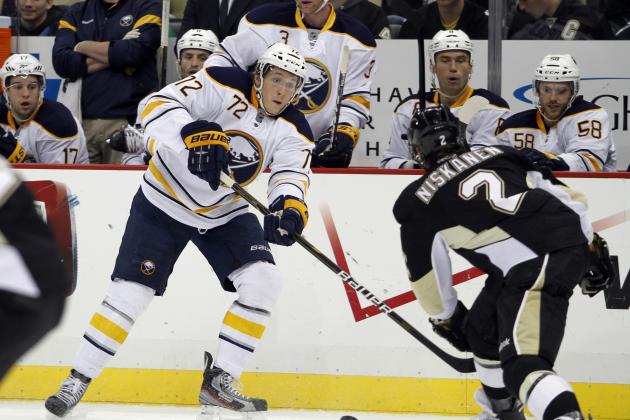 Justin K. Aller/Getty Images

1. New York Rangers
2. Washington Capitals
3. Boston Bruins
4. Pittsburgh Penguins
5. Buffalo Sabres
6. Philadelphia Flyers
7. New Jersey Devils
8. Florida Panthers
9. Tampa Bay Lightning
10. Carolina Hurricanes
11. Toronto Maple Leafs
12. Ottawa Senators
13. Winnipeg Jets
14. New York Islanders
15. Montreal Canadiens
Rangers over Panthers in 5
New York's balanced attack will be too much to handle for the young Panthers, who will have trouble scoring on Henrik Lundqvist
Capitals over Devils in 7
Braden Holtby comes up huge as Ovechkin & Co. are able to generate some offense. Adam Henrique and Travis Zajac but up some big numbers to push it to seven, but Washington gets the win at home in Game Seven.
Flyers over Bruins in 6
Philadelphia haunts Tuukka Rask again as Bryzgalov is less-than-stellar but still good enough to get his team to the second round.
Sabres over Penguins in 7
Pittsburgh's playoff troubles continue again. This is a very gritty series, but Buffalo is able to stifle the Penguin defense and Marc-Andre Fleury.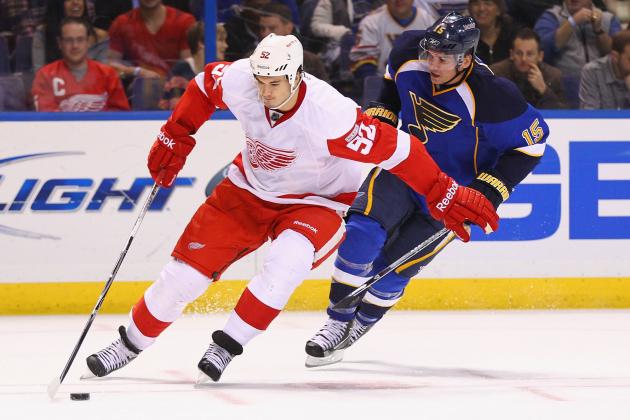 Dilip Vishwanat/Getty Images

1. Vancouver Canucks
2. Chicago Blackhawks
3. San Jose Sharks
4. St. Louis Blues
5. Detroit Red Wings
6. Los Angeles Kings
7. Phoenix Coyotes
8. Dallas Stars
9. Nashville Predators
10. Calgary Flames
11. Minnesota Wild
12. Anaheim Ducks
13. Edmonton Oilers
14. Colorado Avalanche
15. Columbus Blue Jackets
Canucks over Stars in 7
Dallas threatens the Canucks, but Vancouver pulls out Game Seven at home in overtime.
Blackhawks over Coyotes in 6
Chicago gets some revenge on the Coyotes for last year's series and pull this one out after Corey Crawford performs better than he did a year before.
Sharks over Kings in 6
Los Angeles is the big upset pick for a reason, but they don't perform like they did last spring and are relinquished by a valiant Sharks team.
Red Wings over Blues in 7
The more experienced team pulls out a big Game Seven win on the road as the Red Wings' playoff dominance against the Blues continues.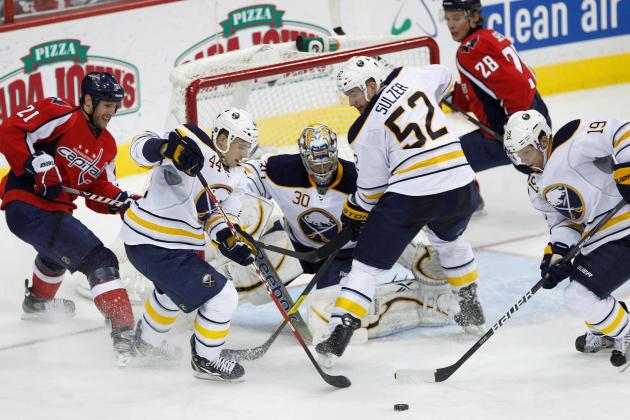 Rob Carr/Getty Images

Flyers over Rangers in 6
Philadelphia surprises the Rangers, as they put some goals past Henrik Lundqvist and the defense comes through to help out Ilya Bryzgalov.
Capitals over Sabres in 6
Braden Holtby continues to play well in the playoffs as his Capitals out duel the Sabres in a classic series.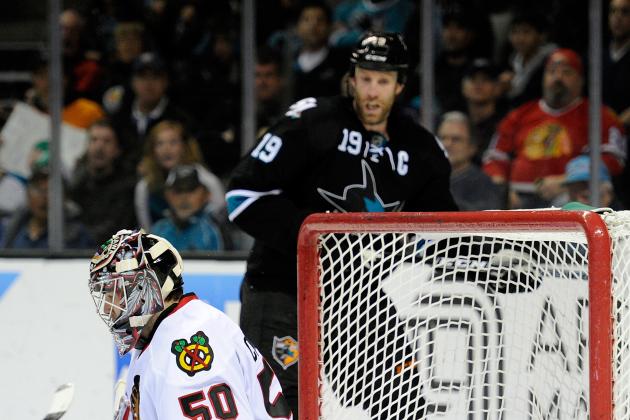 Thearon W. Henderson/Getty Images

Canucks over Red Wings in 5
Jimmy Howard falters in the playoffs again, as the high-powered Canucks offense gets by Detroit.
Sharks over Blackhawks in 6
San Jose creates the upset, as Antti Niemi knocks his old team out of the playoffs with a good performance behind the pipes as Corey Crawford struggles.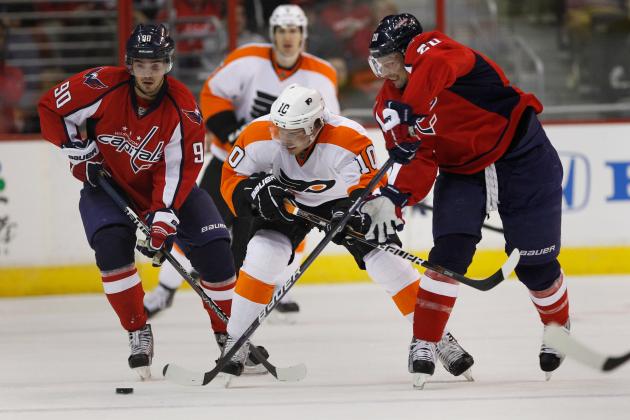 Rob Carr/Getty Images

This will be a hard-fought series and probably a high-scoring one. Capitals have home advantage and will need it, with two of the loudest fan bases in the league facing off for the Eastern Conference title. This time, Bryzgalov can't get past the offense he is facing, as the Capitals and Alexander Ovechkin advance to the Stanley Cup Final in six games.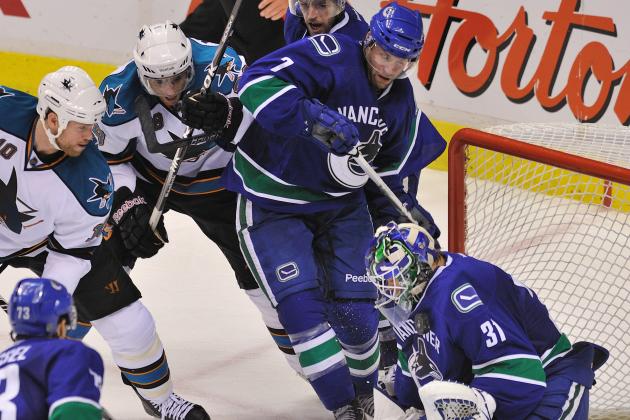 Nick Didlick/Getty Images

This rematch of the 2011 Western Conference Final features two teams who have a narrowing championship window. The Sharks look a little bit better this time, as the Canucks will have some trouble scoring goals. However, San Jose will have to deal with the same problem on the other end: a good defense and a surprising goalie in Cory Schneider. Vancouver wins this series again in seven games.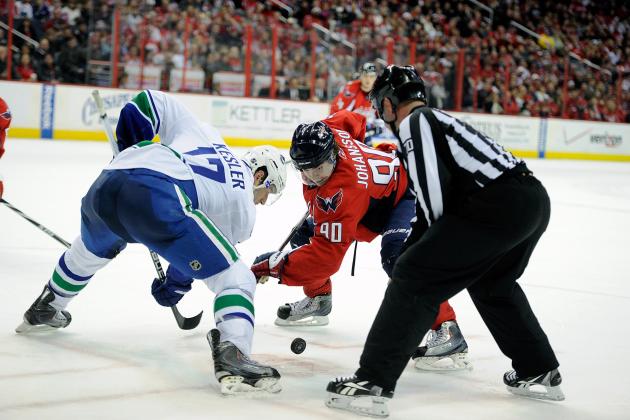 Greg Fiume/Getty Images

The Capitals return to the Final for the first time since 1998. Vancouver is back for the second time in three seasons, hoping to avoid what happened in Game Seven last year. Roberto Luongo could not make any big saves on the road then, but a different man is in net in Cory Schneider. Schneider doesn't crack under the pressure of the Verizon Center crowd while the Canucks figure out how to score on the young Braden Holtby, bringing the Stanley Cup to Canada for the first time since 1993.
The Vancouver Canucks win the 2013 Stanley Cup Final in six games.