Colts vs. Ravens: Indianapolis' Biggest Winners and Losers from Wild Card Game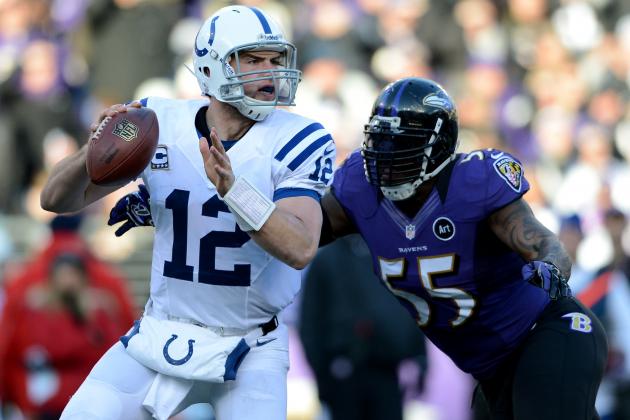 Patrick Smith/Getty Images

The Indianapolis Colts fell to the Baltimore Ravens by a score of 24-9 in Sunday's AFC Wild Card Playoff matchup.
While the Colts now have to clean out their lockers and prepare for 2013, they should do so with their heads held high.
Sure, NFL teams don't deal with "small" or "moral" victories, but this team is an exception.
This roster was completely gutted last summer. Under the direction of a new general manager, coaching staff and quarterback, expectations for the Colts were obsolete. Despite so much change in such a short time frame—and the eventual loss of Chuck Pagano for a majority of the season—the Colts completed a historic turnaround and landed in the playoffs.
Although their inspirational ride ended on Sunday, this young Colts team stayed with an experienced Ravens team until late in the fourth quarter. When you compare these teams side by side, that's definitely an accomplishment of its own.
Begin Slideshow

»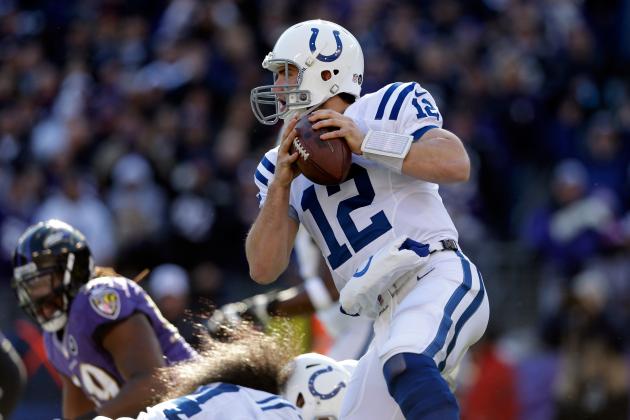 Rob Carr/Getty Images

Quarterbacks generally shoulder the blame for a loss, but Andrew Luck did everything in his power to keep the Colts in this game.
Simply put: His teammates failed him.
Baltimore's front seven completely overpowered Luck's offensive line, registering 10 quarterback hits and three sacks. Indy's wide receivers didn't do their quarterback any favors, either. The Colts dropped at least seven passes, a few of which came on crucial third and fourth downs.
Luck's team didn't win, but there's no doubt he emerges from this game—and this season—as a winner. He led a gutted roster that featured 28 players without any playoff experience to one of the biggest turnarounds in NFL history. Not to mention, he lost his head coach for a vast majority of the season.
And, while the final score might not reflect it, the Colts were in this game for three-and-a-half quarters. Considering this was Luck's first playoff game—one that came on the road against a perennial contender—Indianapolis has plenty to feel good about.
Patrick Smith/Getty Images

Andrew Luck showcased an uncanny ability to escape the pocket and make something out of nothing throughout his rookie season.
That doesn't mean he can thrive without a competent offensive line.
The Ravens absolutely dominated the battle up front, registered 10 quarterback hits—though I wouldn't be surprised if this number increases upon further review—and three sacks. Indy could not contain Paul Kruger regardless of where he lined up, nor could they stop Terrell Suggs or Dannell Ellerbee.
Shoring up this offensive line will be one of Ryan Grigson's foremost priorities this offseason.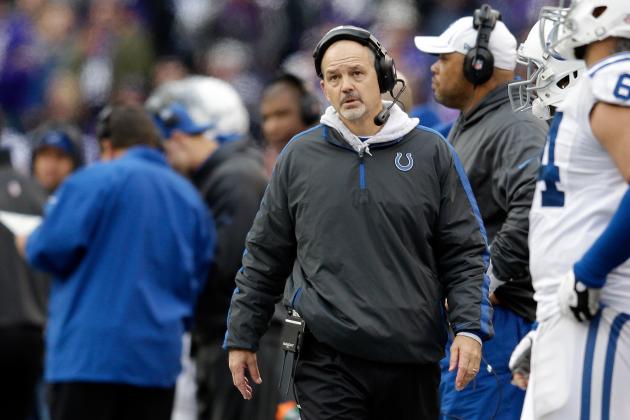 Rob Carr/Getty Images

In just his second game back on the sidelines, Chuck Pagano had to fare without offensive coordinator Bruce Arians, who is largely responsible for getting the Colts into the playoffs.
Despite this devastating loss, Pagano kept his outmatched team in this game until midway through the fourth quarter. Although the final score suggests this was a blowout, it's not indicative of how close this game really was.
Given everything this Colts team endured this season, it defied all odds to even reach the playoffs, let alone stick with a clearly superior team.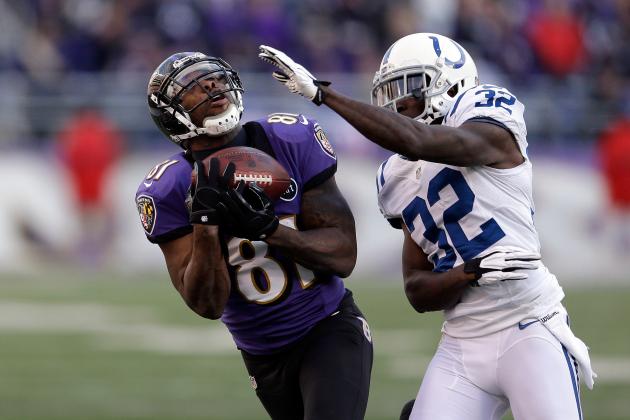 Rob Carr/Getty Images

No Colts cornerback struggled more than Cassius Vaughn this season, and the Ravens exploited this defensive liability to the nth degree.
In the second half alone, Anquan Boldin torched Vaughn four times and racked up 127 yards in the process.
That's just the tip of the iceberg, though.
Vaughn was also flagged for pass interference twice, yielded a 22-yard reception to Torrey Smith and failed to provide any run support.
This performance alone might be grounds for a pink slip.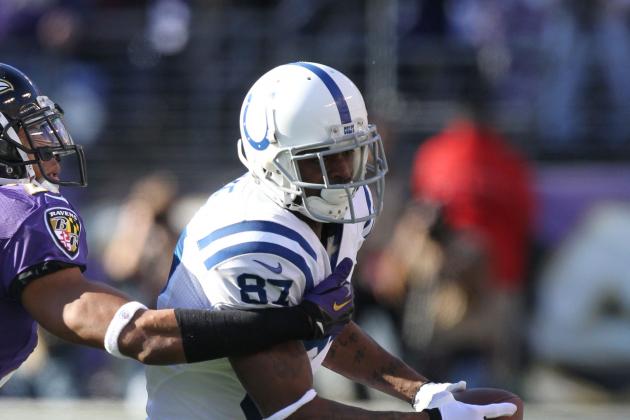 USA TODAY Sports

Reggie Wayne successfully carried the momentum from his second-best season as a pro into Sunday's game.
While most of Andrew Luck's targets struggled with drops and, well, just struggled in general, Wayne shined. He hauled in nine receptions—second most in his postseason career—for 114 yards—third highest total in his postseason career.
According to ESPN Stats & Info, Wayne now has the second-most receptions in NFL playoff history, trailing only Jerry Rice.
The Colts made a ton of brilliant personnel moves this offseason, and re-signing Reggie Wayne ranks among the best.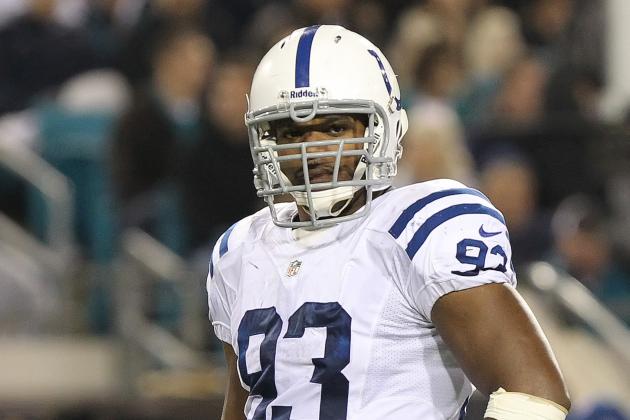 Kim Klement-USA TODAY Sports

The Colts didn't just lose the battle in the trenches on offense—their defensive front was also manhandled. Indy's pass rush was virtually nonexistent, landing only two quarterback hits and one sack on Joe Flacco.
One player we're used to seeing wreak havoc on opposing offenses was particularly quiet today: Dwight Freeney.
Not only did Freeney fail to generate a pass rush, he didn't do much of anything in run support, either. He finished the game without a single tackle and looked like a fraction of his former self.
Freeney's contract expires after this season, so this was likely the last game he'll ever play for the Colts.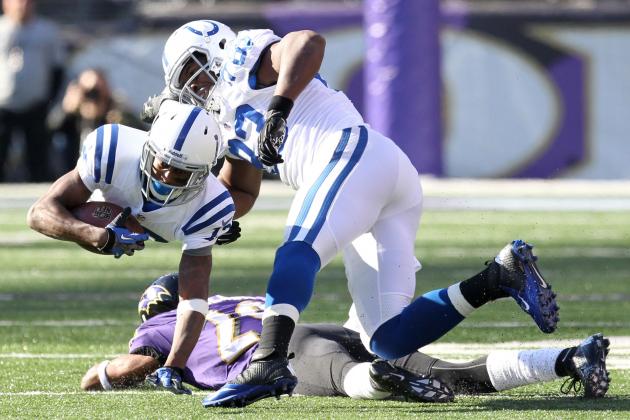 USA TODAY Sports

Third-round draft pick T.Y. Hilton has quietly enjoyed a sensational season, and he capped it off with another huge performance on Sunday.
Hilton reeled in eight receptions for 66 yards, including a clutch 25-yard catch that set up a field goal at the end of the first half. His three drops cannot be ignored, but they don't overshadow his otherwise stellar game.
The chemistry Hilton and Andrew Luck have developed is promising, and it'll only improve as they grow together.
It's only a matter of time before the rest of the country learns this undersized wideout's name.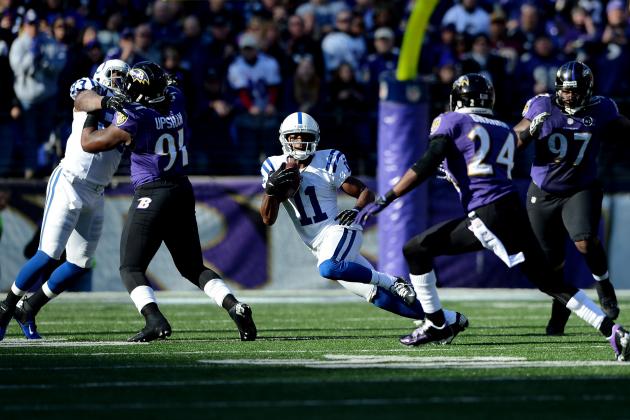 Patrick Smith/Getty Images

Had all of Andrew Luck's targets performed on par with Reggie Wayne and T.Y. Hilton, then the Colts could have absolutely escaped Baltimore with an upset win.
Unfortunately, players like Donnie Avery didn't deliver on the big stage.
Avery was targeted eight times but managed to catch only two for 12 yards. More importantly, he also dropped two key passes, including one that cost the Colts a first down as they tried to mount a comeback in the fourth quarter (though, in his defense, it was a controversial call).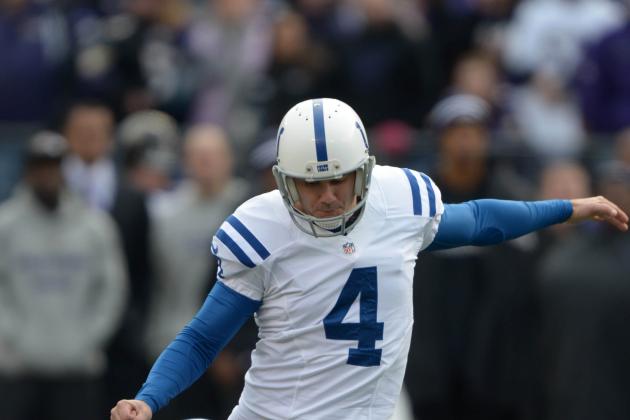 USA TODAY Sports

Adam Vinatieri accounted for 100 percent of Indy's points.
That makes him an automatic winner, doesn't it?
Even though Vinatieri missed a field goal in the fourth quarter that would've cut the deficit to five points, the Ravens scored in just five plays on the ensuing drive, anyway. Plus, he converted on his three other tries, including a 52-yard attempt at the end of the first half.
Not only is Vinatieri a winner from Sunday's game, he is now 22-24 on postseason field-goal attempts with the Colts.