Colts vs. Ravens: Twitter Reaction, Postgame Recap and Analysis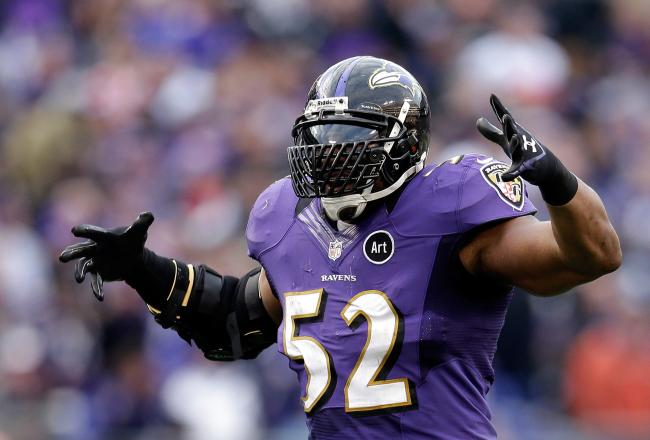 Rob Carr/Getty Images
For one team, an amazing and surprising season came to an end. For another, a legendary player went out in style in front of his home crowd.
In his last game playing in front of Baltimore fans, Ray Lewis led the Ravens to a 24-9 victory over the Indianapolis Colts in Sunday's wild-card clash. And Lewis did so in style, finishing with a game-high 13 tackles.
Things started out on a down note for the Colts, after it was reported (via Michael David Smith of Pro Football Talk) that offensive coordinator Bruce Arians was admitted to the hospital on Sunday morning and would not be in the stadium for the game.
Meanwhile, the Ravens had plenty of motivation. Before the game even began, NFL fans were treated to a truly memorable moment: the last time Lewis would ever emerge from the tunnel in front of Baltimore's fans. If you didn't get chills after this, well, check your pulse.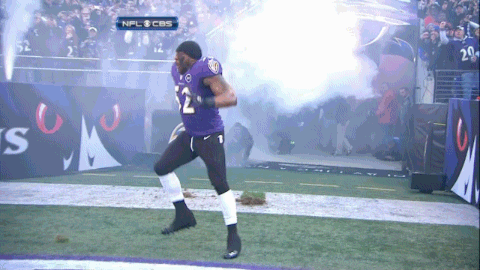 The first quarter wasn't that memorable, however, ending without any points being scored. The highlights came off of two turnovers, the first being a Ray Rice fumble after the Ravens had been driving.
It was a controversial call, since Jerrell Freeman didn't appear to have control of the ball on the play before it was taken from him by the Ravens' Marshal Yanda. But the officials ruled the Colts recovered the ball on the play and it could not be overturned by replay.
But Andrew Luck returned the favor on the next possession, ending a very promising 15-play, seven-minute drive. Luck coughed it up after being pressured by Paul Kruger, and the fumble was recovered by Pernell McPhee.
After the teams exchanged field goals, we finally saw our first touchdown of the day. Ray Rice set things up for the Ravens, tearing off a 46-yard middle screen and taking it to the 2-yard line.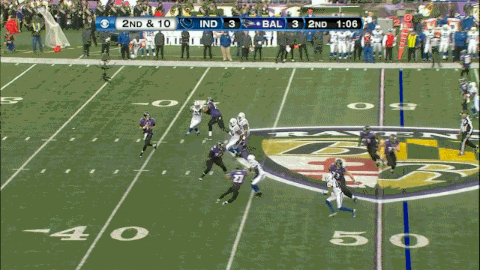 That set up a Vonta Leach touchdown plunge, giving the Ravens a 10-3 lead with 50 seconds left in the half.
But Andrew Luck wasn't done, leading the Colts down the field and setting up another Adam Vinatieri field goal. Baltimore went into the half leading 10-6, though the Ravens may have been kicking themselves for blowing the chance to intercept three Luck passes.
The Ravens would strike first in the second half, with Joe Flacco finding Dennis Pitta on a 20-yard touchdown pass. That play would be set up by a brilliant pitch and over-the-shoulder catch between Flacco and Anquan Boldin.
But Luck once again had an answer, driving the Colts 72 yards on 15 plays in 7:46 (the Colts certainly had no problem stringing long drives together). However, Indianapolis came up short in the red zone and had to settle for another field goal, narrowing the gap to 17-9.
The Colts would get a huge break on the next Ravens possession, when Rice would fumble for the second time after an 18-yard run. After fumbling once all season long, Rice lost two on Sunday.
But Rice was let off the hook, as Vinatieri did something NFL fans rarely see—he missed a kick in the postseason, pushing a 40-yard field-goal attempt wide right.
That would turn out to be a killer sequence for the Colts. After a 43-yard run by Bernard Pierce on a 3rd-and-1 play, Flacco would loft an 18-yard pass to the corner of the end zone for Boldin, who would make a fantastic, leaping grab for the touchdown, giving the Ravens a 24-9 lead.
While Luck and the Colts would drive down the field once more, the game would essentially end with a Cary Williams interception on 4th-and-1, thus ending a remarkable season for the Colts.
The Ravens will now face the Denver Broncos next weekend.
Players of the Game
Paul Kruger, DE, Baltimore Ravens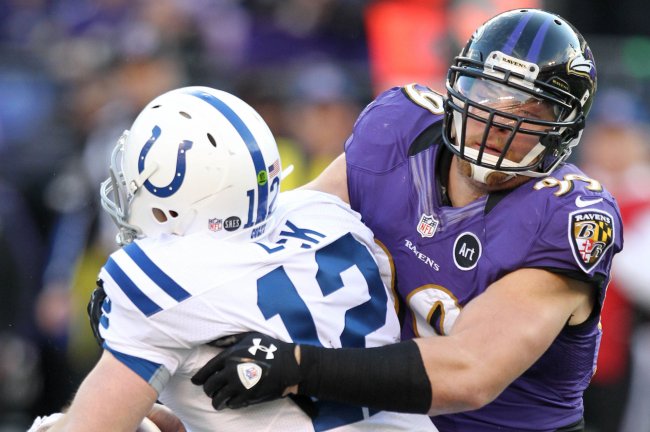 USA TODAY Sports
All Kruger did was finish with 2.5 sacks, one tackle for loss, a forced fumble, a pass deflected and five hits on Luck. He was a beast, all game long.
Anquan Boldin, WR, Baltimore Ravens
Rob Carr/Getty Images
All five of his receptions (for 145 yards and a touchdown) seemed to come at vital moments for the Ravens. He twice torched the Indianapolis secondary deep down the field, and his touchdown reception put the game away. Boldin was phenomenal on Sunday.
Reggie Wayne, WR, Indianapolis Colts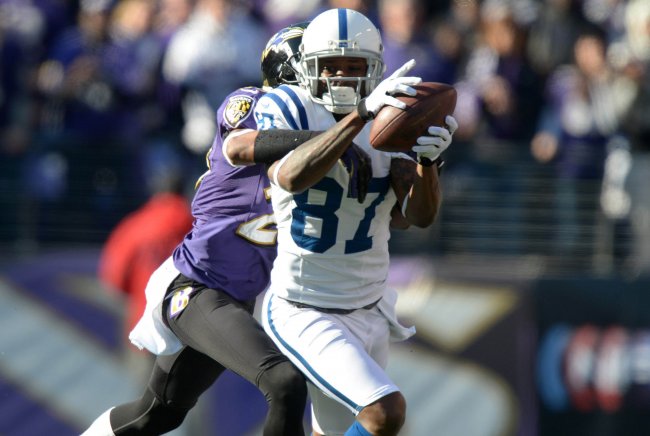 USA TODAY Sports
The Colts may not have reached the end zone, but it wasn't due to a lack of production from Wayne, who finished with 114 yards on nine receptions (18 targets). Once again he was Luck's most reliable target, on an afternoon when the rookie quarterback was often under siege.
Ray Lewis, LB, Baltimore Ravens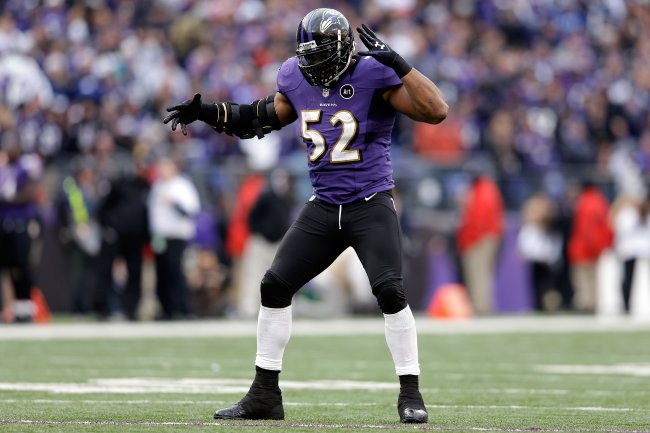 Rob Carr/Getty Images
How do you measure a man's heart? Lewis didn't just provide 13 tackles; he was once again the emotional leader and inspiring force for this Ravens team. Like him or hate him, you have to respect him.
Twitter Reaction
Yes, the opening dance by Lewis was particularly memorable. Still, SportsPickle had me rolling with this take on the legendary ritual by the star linebacker:
Last day to see Ray Lewis' pregame dance. Unless you see him at the supermarket or the mall or entering any room for the rest of his life.

— SportsPickle (@sportspickle) January 6, 2013
After seeing the following tweet, however, I doubt SportsPickle would say that to Ray-Ray's face (via Bleacher Report):
#Beast twitter.com/BleacherReport…

— Bleacher Report (@BleacherReport) January 6, 2013
As Phil Richards of the Indianapolis Star noted, the biggest issue for the Colts in the first half was sustaining drives:
Moving the ball isn't the problem. #Colts have 203 yards at halftime. Sustaining is the issue. 3-8 third down and sacks.

— Phil Richards (@PhilRichards6) January 6, 2013
One reason for that was that Baltimore was effectively blitzing Luck on every third-down attempt or obvious passing down. Give credit where credit is due—it was a solid game plan.
But it was a game plan that Rice nearly rendered a moot point. For whatever reason, the explosive runner suddenly grows slippery hands in the postseason, as the team's Twitter account pointed out:
Ray Rice has fumbled in the playoffs each of the past four years. That's his 2nd lost fumble today.

— Baltimore Ravens (@Ravens) January 6, 2013
Still, Rice and the Ravens were just too good on this afternoon for Indianapolis. Jason Cole of Yahoo! Sports summed up the state of the Colts perfectly after Sunday's game:
Nice season for #Colts. Back on right path. Just not good enough yet.

— Jason Cole (@JasonColeYahoo) January 6, 2013
Pete Prisco of CBS built upon Cole's point:
Colts have a bright, bright future with all those kids. Need to get better on the oline and in back end

— Pete Prisco (@PriscoCBS) January 6, 2013
And say what you will about Flacco—like many others, I still contend he isn't elite—but the dude wins football games. From ESPN:
With Ravens win, Joe Flacco becomes first QB to win a playoff game in each of his first 5 seasons.

— NFL on ESPN (@ESPNNFL) January 6, 2013
Flacco's head coach owns a similar distinction, according to Albert Breer of the NFL Network:
Last year, John Harbaugh became the first coach ever to win a playoff game in each of his first 4 years as a HC. Now, it's five.

— Albert Breer (@AlbertBreer) January 6, 2013
Finally, well, what could be cooler than this (via Jason La Canfora of CBS)?
Ray Lewis on the field as the deep guy with the offense in the victory formation to end the game

— Jason La Canfora (@JasonLaCanfora) January 6, 2013
Hey, he deserved to dance on the field one last time—he finished the game with 13 tackles, after all. The man knew how to say goodbye to the Baltimore fans in style.
This article is
What is the duplicate article?
Why is this article offensive?
Where is this article plagiarized from?
Why is this article poorly edited?