Highlighting the 8 Best Head Coach Candidates on NFL's Playoff Teams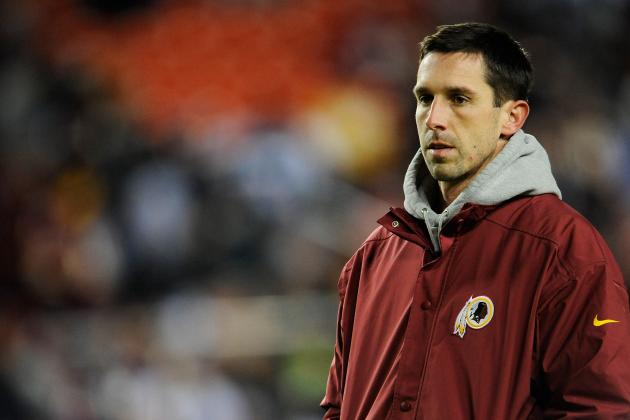 Patrick McDermott/Getty Images

Making the playoffs is good for everyone's job security, and it can also lead to promotions to higher positions on other teams. There are plenty of coaches on all 12 of this year's playoff teams that will be considered for promotion to head coach or coordinator.
The only problem making the playoffs is that many teams in search of a coach may not want to wait until the playoffs are over to hire a coach.
Here are the top candidates for promotion next year on each playoff team.
Begin Slideshow

»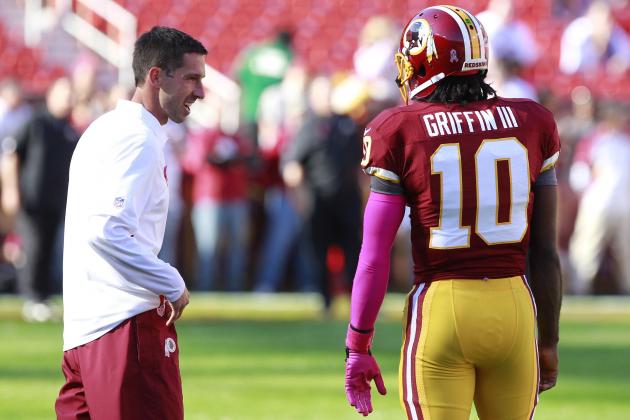 Geoff Burke-USA TODAY Sports

Robert Griffin III has had a terrific rookie season, but a lot of the credit for his success must fall to Kyle Shanahan for thinking outside the box to get the most out of him.
Shanahan went against all prior notions that a read-option offense could not work in the NFL. Rather than force Griffin to learn a strict pro-style system right away, Shanahan has used a perfect blend of play-action and option-reads to make RGIII as comfortable and effective as possible.
Kyle got his chance to be an NFL coordinator thanks to the success of his dad, but he has since had a difficult time climbing out of his father's shadow. Plus, he shows some immaturity by the way he talks to officials.
He may not be ready to become one just yet, but after this year's success, Kyle could be a possible head coaching candidate next year.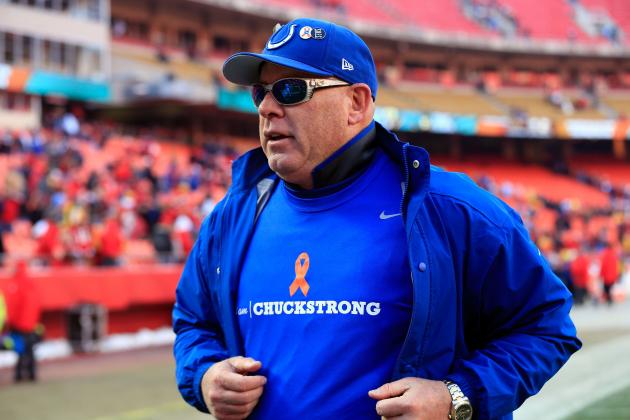 Jamie Squire/Getty Images

Arians did a nice job getting good production out of Andrew Luck with a substandard supporting cast, but his ability as a coordinator does not separate him as a viable head coaching candidate.
While Chuck Pagano was undergoing treatment for leukemia for almost the entirety of the regular season, Arians rallied the Colts to a string of come-from-behind victories. This Colts team was expected to be .500 at best, let alone be an 11-win team.
Just a year after getting let go by the Steelers, Arians has proved that he is more than a coordinator. He is a leader of men who can get the most out of a flawed roster, which is much more important than being a savvy play-caller when it comes to being a head coach.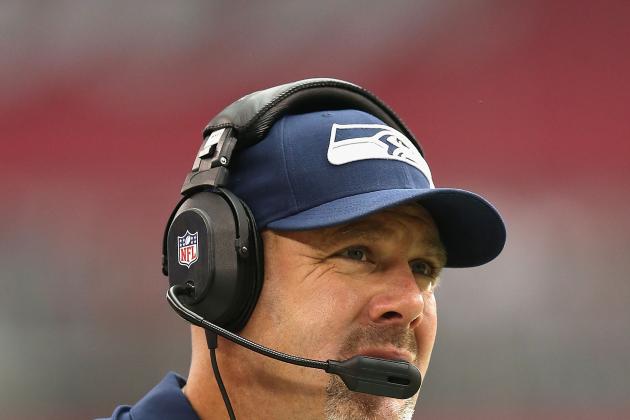 Christian Petersen/Getty Images

Bradley is becoming a hot name simply because of how well Seattle's defense has played this season. In the regular season the Seahawks led the league with the fewest points allowed (15.3 per game) and are fourth in the NFL in yards allowed per game (306.2).
A charismatic leader of a defense known for its aggressive attitude, Bradley is already starting to get some interviews.
#Eagles have been granted permission to interview Seattle DC Gus Bradley and Colts OC Bruce Arians for the head coaching vacancy.
— Eagles Insider (@EaglesInsider) January 4, 2013


Seattle's win over the Redskins will hinder Bradley's chances because teams would rather have their coach in place sooner than later (especially since Bradley is a relatively new name on the market), but if Seattle continues to play good defense next year, expect to hear Bradley's name thrown around much more often.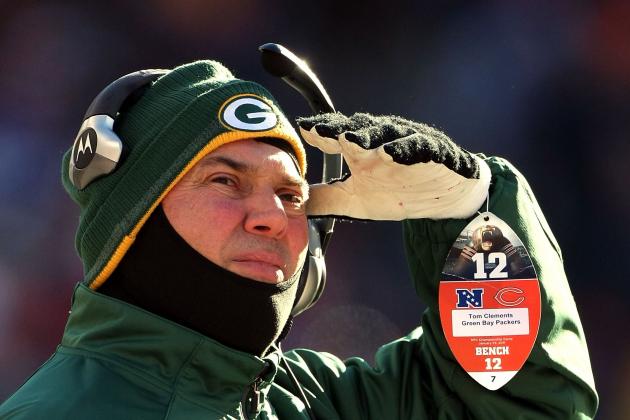 Doug Pensinger/Getty Images

Aaron Rogers continues to find ways to get coordinators head coaching jobs.
Last year, Joe Philbin was brought to Miami after serving as the Packers' offensive coordinator. His replacement, Tom Clements, is being looked at as a possible candidate as well.
Most recently, the Bears have showed interest in bringing in Clements for an interview (USA Today).
Clements does not call plays for the Packers (that job belongs to head coach Mike McCarthy), but he was the quarterbacks coach for Aaron Rodgers until he was promoted to coordinator this year. Whoever wants to hire Clements is clearly looking for a man to get the most out of their underachieving quarterback, and the Bears certainly fall under that category with Jay Cutler.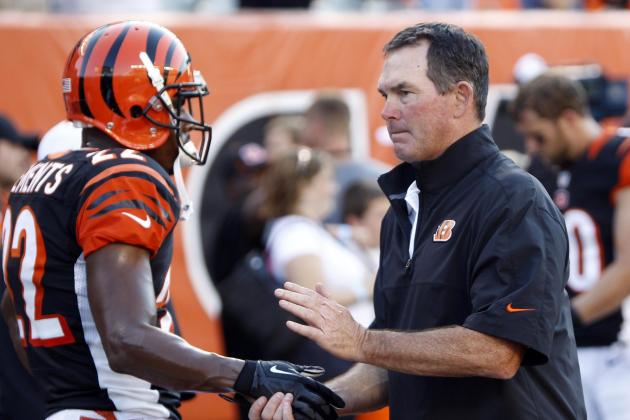 Frank Victores-USA TODAY Sports

The fact that Mike Zimmer cannot land himself an interview is one of the most puzzling stories in the NFL.
Zimmer has consistently good defenses every year, as his unit has finished seventh in total defense this year. His best trait is how he adjusts his scheme based on what his players do best. He has been able to hide an aging, slow secondary with creative blitz packages and coverage schemes.
Here is one reason a former player offers as to why Zimmer may not have gotten a serious look yet:
Mike Zimmer does not come off as a good person or even get close to it. D@TMeltonScouting @ap575
— Ryan Riddle (@Ryan_Riddle) January 5, 2013


Eventually, Zimmer will start to get looks as long as his defenses keep playing well.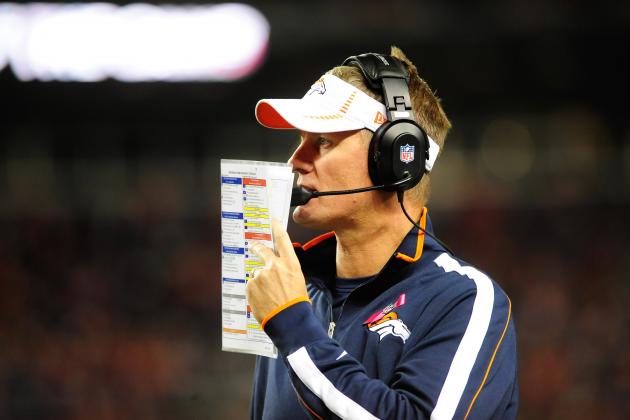 Byron Hetzler-USA TODAY Sports

If Mike McCoy gets a head coaching job after the season, it will be for the job he did last year as much as, if not more than, because of the success the Broncos have had this year under Peyton Manning.
Not only did McCoy show the ability to adapt his scheme to his players when he used what was a college offense with Tim Tebow, but he showed that he can adapt to a completely different scheme when Peyton Manning came to town.
It also helps when Peyton Manning, the best quarterback of this generation, gives you a glowing endorsement.
Whoever hires McCoy will not hire him simply because the Broncos have a great offense this year—anyone with half of a brain can figure that Peyton Manning is mostly responsible for the team's success. But the ability to adapt and allow your players to play in a scheme that fits to their strength is a desirable trait in head coaching candidates.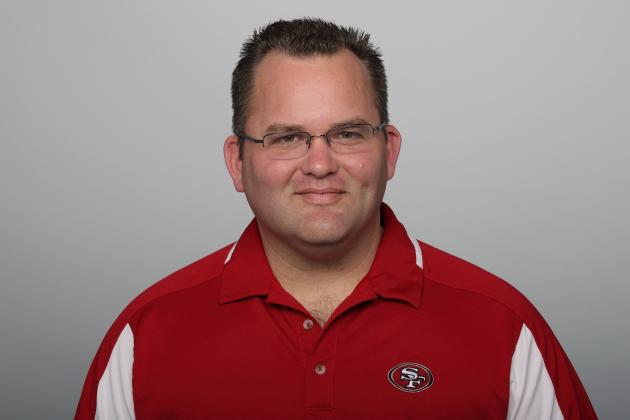 Handout/Getty Images

Since becoming the 49ers offensive coordinator in 2011, the 49ers have made Alex Smith a salvageable commodity and appear to have developed a long-term starter in Colin Kaepernick.
What the 49ers have done with their two quarterbacks is not even the most impressive part of their offense; they have the most creative and diverse running game in the NFL. Roman is a proven offensive wizard that can adapt his game to his personnel.
The only issue with Roman is that he has little experience in a leadership role, as almost all of his time in the NFL is as an assistant. Plus, it is difficult to determine how much of his success has to do with working under Jim Harbaugh.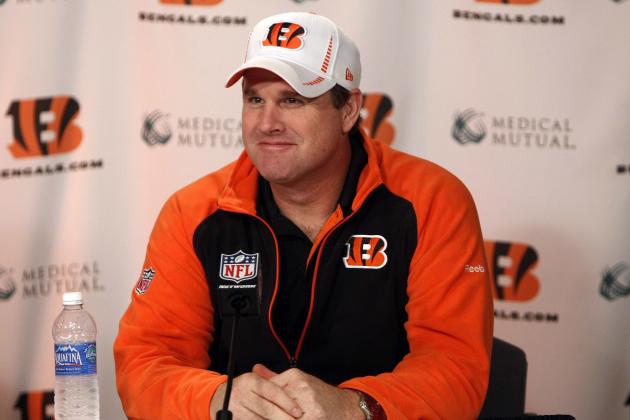 Frank Victores-USA TODAY Sports

When Jay Gruden was hired as the Bengals offensive coordinator back in 2011, he had an underwhelming resume with limited NFL experience working with his dad as an offensive assistant from 2002 to 2008. It was presumed that he got the job more because of his last name than his pedigree.
However, Gruden was able to churn out a decent offense for the Bengals, despite working with rookie second-round pick Andy Dalton in 2011.
Some short-sighted detractors will point to the Bengals' poor offensive performance against the Texans last week, but NFL teams seem willing to overlook that game. Gruden already has an interview set up with the Cardinals in the coming week (AP).
Like most teams looking for new head coaches, the Cardinals need a coordinator who can develop a new quarterback. Evidenced by Andy Dalton's surprising production over the past two seasons, Gruden could be the man for the job.