Ranking the Top Home-Ice Advantages in the NHL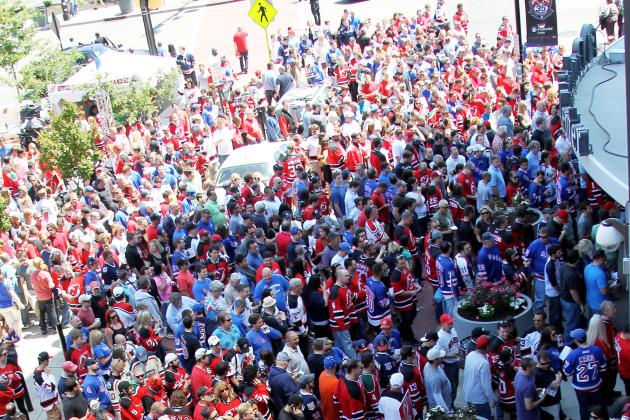 Bruce Bennett/Getty Images

NHL fans have been through a lot in the past several months, but we all woke up today with some great news.
There will be a season in 2013.
While some fans may be too angry to return, it will be interesting to see if arenas are packed once things start up again—or if there will be empty seats in the home stadiums of even the most prolific teams.
We do not yet know the exact length of the schedule, although we do know it will be either 48 or 50 games. This means that each individual game will be more important to success than in a longer 82-game season.
Teams will have to take advantage of the 24 or 25 games that they will have on home ice rather than the usual 41-game home slate.
Playing at home can be a big advantage for teams. Records have shown that teams usually play better when their own fans cheer them on than when others root against them.
Let's take a look at which teams have fed off their home crowd and stadium advantages the most over the past few seasons.
Please take into consideration that these rankings are based on records and home/road differentials, not crowd noise and fanbase passion. Some of the most passionate fanbases in the league are not in this article.
Begin Slideshow

»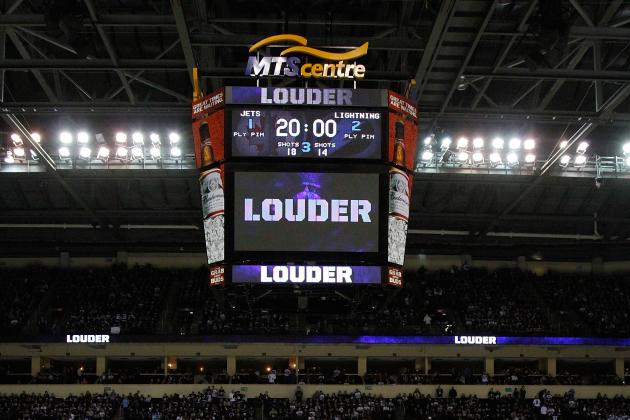 Marianne Helm/Getty Images

Winnipeg fans waited a painstaking 15 years for hockey to return. When it did, the city erupted.
The Jets missed the playoffs, but they still finished 23-13-5 at home.
Part of their advantage is playing in the Eastern Conference because almost every opponent has to travel far to play Winnipeg at home.
On the negative side, the Jets have to travel far to almost every road game they play.
It will be interesting to see if their home and road records even out once they move into the Western Conference.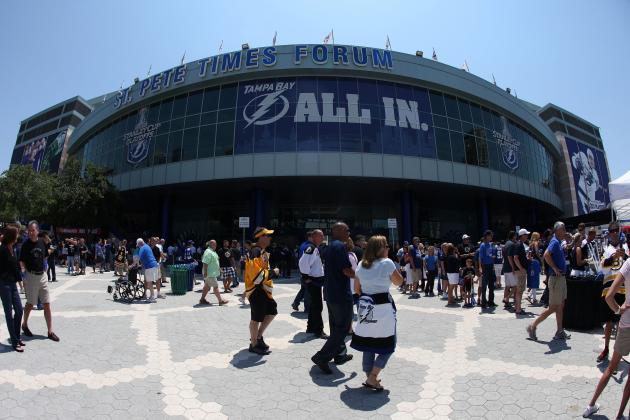 Eliot J. Schechter/Getty Images

Tampa, Florida does not seem like it would be a very intimidating hockey environment, but the stats show otherwise.
Let's compare the Lightning's records at home and away for several of the past few seasons.
2011-12
Home: 25-14-2; Away: 13-22-6
2010-11
Home: 25-11-5; Away: 21-14-6
2009-10
Home: 21-14-6; Away: 13-22-6
2007-08
Home: 20-18-3; Away: 11-24-6
2005-06
Home: 25-14-2; Away: 18-19-4
It's safe to say that Lightning fans have withstood the test of time and have cheered on their team to many home victories. Now, if only they could only get those away records up...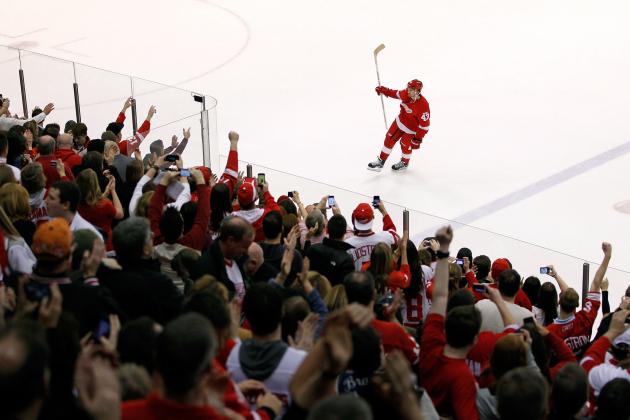 Gregory Shamus/Getty Images

Last year, the Red Wings broke the all-time record for consecutive home wins, winning 23 straight at Joe Louis Arena.
Despite economic troubles in Detroit, Red Wings fans are some of the most loyal in hockey, packing The Joe game in and game out.
Another factor that could give Detroit an advantage is that the boards are bouncier and more unpredictable than in other stadiums. The Red Wings have an advantage from this because they practice with the boards and get 41 games a year to use them.
Bruce Bennett/Getty Images

The Sharks haven't seen monumental differences between home and road records, but they have been better at home practically every season in recent years.
HP Pavilion, also known as the "Shark Tank," is arguably the loudest building in the NHL, as fans in northern California have made San Jose one of the league's better hockey cities.
Another advantage that the Sharks have is that the road locker rooms are not next to the bench. They are across the ice in one of the corners behind the net.
This means that if an opposing player is injured, he cannot be tended to on his own bench and must skate across the ice to reach the locker room. Also, once he returns, he has to wait for a whistle and deal with heckling rather than just jump back on the bench.
The Sharks went an incredible 32-5-4 at home in the 2008-09 season.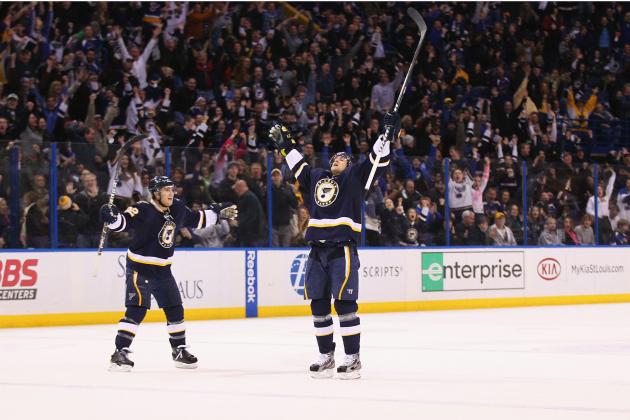 Dilip Vishwanat/Getty Images

The St. Louis Blues came out of nowhere in the 2011-12 season, winning the Central Division and earning the No. 2 seed in the Western Conference.
Despite having less-than-stellar records in previous years, the Blues have always been tough to beat at the Scottrade Center.
In 2009, the last time they made the playoffs before 2012, the Blues were 18-18-5 on the road but 23-13-5 on home ice. In 2011, they finished 10 points out of the playoffs but again finished 23-13-5 at home while only posting 15 wins on the road.
Last year, the Blues were almost impossible to beat in St. Louis, losing only six out of 41 home games in regulation and winning 30.
Len Redkoles/Getty Images

Capitals fans are some of the most passionate in the league—they show up and "Rock the Red" game in and game out. The Verizon Center can be one of the loudest stadiums in the league, and the team has responded.
Washington has had a significantly better home than road record every single year it has played at the Verizon Center.
The most notable season at home was 2009-10, when the Capitals finished with a home record of 30-5-6.
Bruce Bennett/Getty Images

The Scotiabank Saddledome has always been a tough place to win for teams wearing anything other than red, yellow and black.
Canadians are extremely passionate about hockey, and the Flames may be the team that benefits from the fans most of all.
Let's take a look at home/road differentials over some of the past seasons.
2011-12
Home: 23-12-6; Away: 14-17-10
2010-11
Home: 23-13-5; Away: 18-16-7
2008-09
Home: 27-10-4; Away: 19-20-2
2006-07
Home: 30-9-2; Away: 13-20-8
2005-06
Home: 30-7-4; Away: 16-18-7
No other team has been this much better consistently at home than away over the past several years.