Minnesota Vikings: Percy Harvin and 5 Offseason Storylines to Watch
Stephen Brashear/Getty Images

The Minnesota Vikings exceeded expectations in 2012. With a roster that was expected to finish at the bottom of the NFC North, the team was able to make a late push and earn a wild-card berth.
While the franchise's first playoff appearance since 2009 ended with a 24-10 loss to the Green Bay Packers, the team's success has laid a foundation for bigger and better things.
The rebuild job is far from done in Minnesota, and this offseason will be just as important as last year's if the team wants to take the next step and compete for the Super Bowl.
Here are some storylines to keep an eye on as the Vikings head into the offseason.
Begin Slideshow

»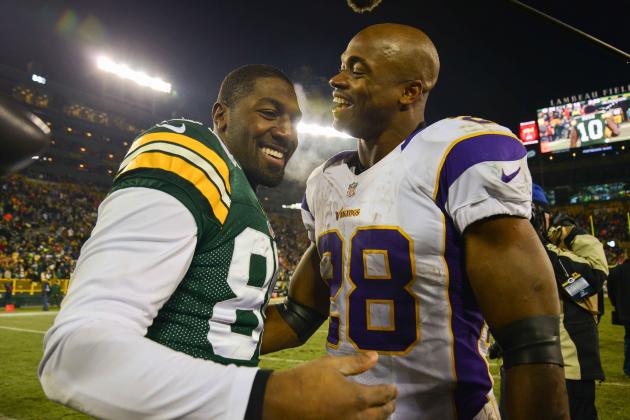 USA TODAY Sports
Greg Jennings could be joining Adrian Peterson via free agency if the Vikings decide to pursue.
Last offseason, the Vikings decided that throwing a bunch of money around in free agency was not going to be productive. However, they may want to reverse their thinking for 2013.
Teams should aggressively pursue key pieces in free agency when they're ready to contend. After a 10-6 record in 2012, the Vikings should expect to compete for another playoff berth next season.
One of the likeliest possibilities is for the Vikings to go after a wide receiver.
The free-agent receiver crop is expected to be loaded. Mike Wallace, Dwayne Bowe and Greg Jennings are all Pro Bowl-caliber players who can have the impact the Vikings wanted when they signed Jerome Simpson a year ago.
If the Vikings have the opportunity to add a key piece, they need to take it.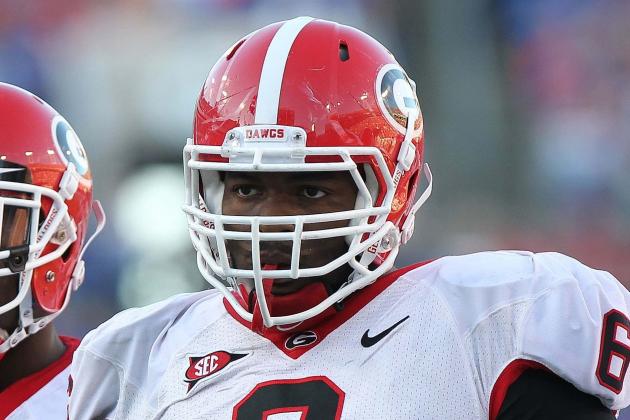 Kim Klement-USA TODAY Sports
Jonathan Jenkins could be a Viking target in the 2013 NFL draft.
A big part of the Vikings' 2012 success was a solid draft. Last April, the Vikings added several key pieces to the roster, such as Matt Kalil (fourth overall), Harrison Smith (29th overall) and Blair Walsh (sixth round).
The Vikings will need to do that again if they want to continue to build on what they have going. Their draft strategy will depend a lot on what happens in free agency, but there are several routes they could take with their first-round pick.
The first option is to draft a defensive tackle to help take pressure off of Kevin Williams. By adding someone like Georgia's Jonathan Jenkins or Ohio State's Johnathan Hankins, the Vikings can create a destructive duo in the middle of their defensive line.
The Vikings can also decide to add a cornerback, as Antoine Winfield will turn 36 in June and there is little depth behind him and Chris Cook. Either Mississippi State's Jonathan Banks or Alabama's DeMarcus Milner fit the bill here.
The final option is to improve the receiving corps if they choose not to do it in free agency. Tennessee's Justin Hunter, Cal's Keenan Allen and USC's Robert Woods are all capable of adding some electricity to the Vikings passing game.
Whatever the Vikings decide to do, another solid draft will help the Vikings take the next step.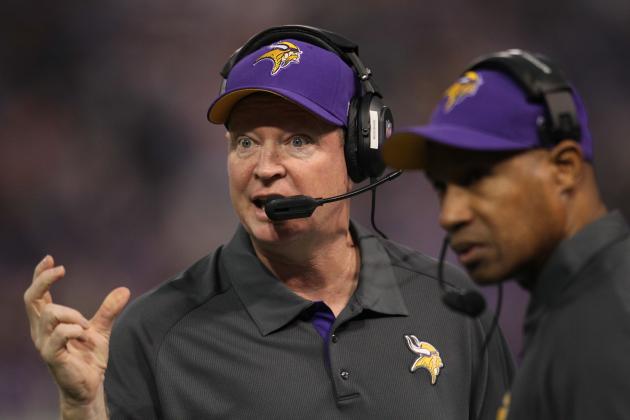 Brace Hemmelgarn-USA TODAY Sports
Bill Musgraves' days could be numbered as the offensive coordinator.
With the exception of Adrian Peterson, the Viking offense struggled in 2012. That's usually not a good sign for the offensive coordinator.
Bill Musgrave and his 31st-ranked passing defense could get the ax within the next couple of weeks. That raises the question of who could wind up replacing him. The name that's on the table now is former Cleveland Browns head coach Pat Shurmur.
According to CBS Sportsline's Jason La Canfora, Shurmur will be in high demand across the league, and the Vikings are expected to make a run at adding him to the coaching staff.
With Shurmur able to mold Sam Bradford and Brandon Weeden into decent quarterbacks, he might be able to have the same effect on Christian Ponder.
There is a chance that the Vikings decide to keep Musgrave, but it will take a creative effort in order to save his job.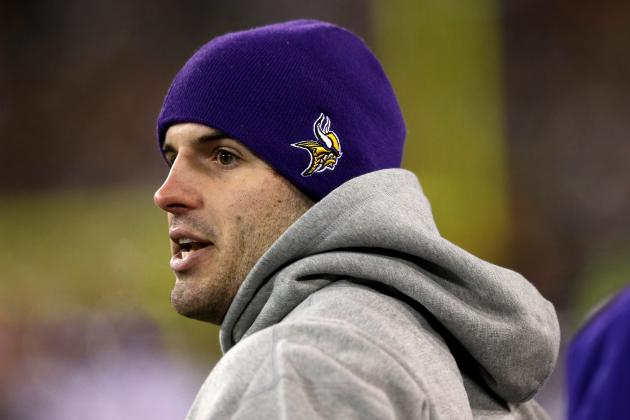 Jonathan Daniel/Getty Images
Adding a veteran backup could bring out the best in the inconsistent Christian Ponder.
If there was one thing learned from Saturday night's loss to the Packers, it's that the Vikings must have a veteran backup quarterback so they don't have to re-live the Joe Webb disaster.
It's one thing to bring in a backup quarterback, but is there a possibility that the Vikings could bring in somebody that can push Christian Ponder?
A name that could be on the Vikings radar is San Francisco 49ers quarterback Alex Smith.
After being replaced in the starting lineup by the more dynamic Colin Kaepernick, Smith could be the perfect answer for the Vikings' West Coast offensive scheme.
Adding Smith would also give Ponder competition that he didn't have with Webb being the backup quarterback.
General manager Rick Spielman has said that he uses a three-year window to evaluate quarterbacks. However, with Ponder throwing for less than 150 yards in six games this season, it is wise to add a solid backup plan.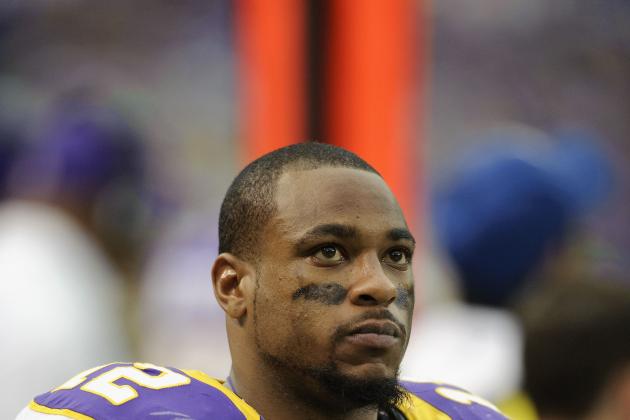 Hannah Foslien/Getty Images
There is a possibility that Percy Harvin has played his last game as a Minnesota Viking.
Aside from Adrian Peterson, Percy Harvin had some steam in the NFL most valuable player conversation.
In the team's first nine games, Harvin racked up 677 yards on 62 receptions with five total touchdowns All of this while being the team's lone receiving threat and having Christian Ponder as a quarterback.
However, Harvin's future with the Vikings seems murky.
After a Week 9 ankle injury, Harvin's offseason issues with the coaching staff resurfaced.
According to ESPN 1500's Tom Pelissero, Harvin had a heated exchange with head coach Leslie Frazier in December. This altercation led to him being placed on injured reserve despite the possibility he could return before the end of the season.
Are the Vikings sick of Harvin's antics? Or will the Vikings hope that a new contract can help mend the relationship between coach and player?