2013 NHL Season: 10 Biggest Questions Surrounding End of the Lockout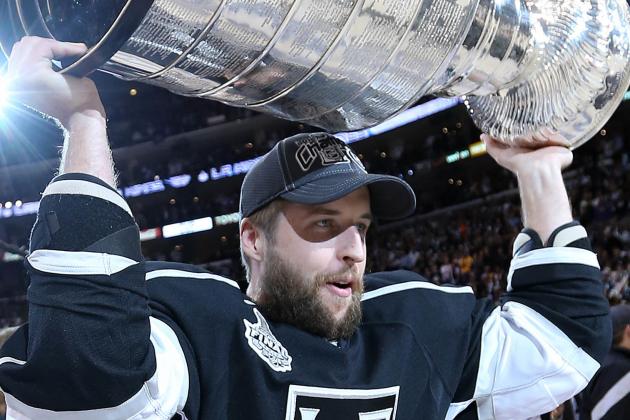 Bruce Bennett/Getty Images
NHL general managers must get back to the business of preparing their hockey teams for the 2012-13 season.
NHL fans no longer have to worry about Gary Bettman and Donald Fehr staring at each other across a negotiating table.
A tentative deal was struck in the wee hours Jan. 6, and barring any complications, NHL teams will start playing hockey again within two weeks (via TSN.ca).
The serious business of the NHL lockout will give way to the serious business of earning a spot in the playoffs and winning a championship.
That means important decisions and moves are going to have to be made by the 30 NHL general managers to get their teams prepared for the shortened season.
Here's a look at 10 of the biggest questions heading into the new hockey season.
Begin Slideshow

»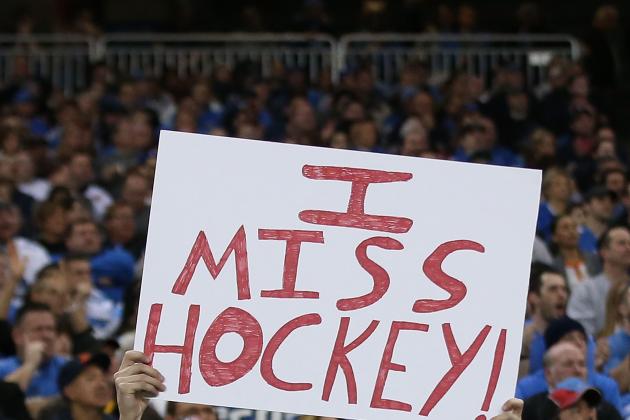 Leon Halip/Getty Images

Perhaps the biggest question of all is how hockey fans will react.
Fans were incredibly angry during the lockout, and that anger may not just disappear because the NHL and the NHLPA have finally reached an agreement on a new CBA.
Will fan attendance remain high, or will they spend their money on other sports and activities?
Will television ratings grow, or will they flatten out?
How will fans react when they go to the arena?
Many fans will be glad that the lockout is over, and they can root for their teams. However, just as many feel taken for granted and abused by the "billionaires and millionaires" who control the game.
General managers will soon be burning up the phone lines as they pursue trades.
They will be looking to improve their teams for the current season, but they will also have to keep an eye toward the 2013-14 season when the cap will go down to $64.3 million.
This will take a lot of planning and will make a complicated business even more intricate.
Teams may want to acquire talent for this year, but if it will cause problems for future seasons, they may not make those deals.
It seems quite likely that top restricted free agents like Jamie Benn of the Dallas Stars, P.K. Subban of the Montreal Canadiens and Ryan O'Reilly of the Colorado Avalanche will remain with their current teams.
However, there are no guarantees.
The Philadelphia Flyers made a big push to sign Shea Weber prior to the lockout, and the Nashville Predators surprisingly matched the Flyers' offer sheet.
Will the teams sign their restricted free agents quickly to prevent any other team from going after them?
The Flyers still have problems on the blue line and could be very interested in Subban.
Prior to the beginning of the lockout in mid-September, one of the biggest stories was the status of Roberto Luongo.
The Vancouver Canucks want to turn their No. 1 goaltending duties over to Cory Schneider and that means that Luongo is available to be traded (via Sportsnet.ca).
The Toronto Maple Leafs and the Florida Panthers appear to be the leading candidates to complete a trade with the Canucks, but no deal has been finalized yet.
The trade seems likely to happen, but it may not take place until a week or two of the regular season has been played.
Ryan Nugent-Hopkins was one of the star players for Canada in the recently completed World Junior Championships.
He is already a veteran of one NHL season with the Edmonton Oilers.
NHL teams are likely going to give juniors like Dougie Hamilton (Boston Bruins), Jonathan Huberdeau (Florida Panthers), Mark Scheiefle (Winnipeg Jets) and Ryan Strome (New York Islanders) the chance to jump from the junior level to their NHL teams this year.
Strome says he thinks he can make such a move.
"From junior, it's such a high step to the NHL, but if there is a stepping stone, it is the world juniors," said Strome, who plays for the Ontario Hockey League's Niagara IceDogs (via sports.ca.msn.com).
While the lockout was ongoing, the city of Glendale, Ariz., approved a $320 million lease with Coyotes proposed owner Greg Jamison in November (via CBSSports.com).
The franchise has been in bankruptcy, and with a lease agreement, Jamison must complete his purchase of the team from the NHL.
He must show the Glendale City Council this is done by Jan. 31, or there will be another vote on the lease and there is no guarantee he would get a second vote of approval.
During the 2010 Winter Olympics in Vancouver, international ice hockey had moved to the center of sports stage.
However, after Canada's dramatic win over the U.S. in the gold medal game, the NHL offered no guarantee that the NHL players would continue to participate.
The 2010 Olympics were in an NHL city, but the 2014 Olympics will be in Russia and the league seemed to hesitate.
It now appears that the NHL will continue to allow its players to participate in the Olympics and other international tournaments (via insidethegames.biz).
One of the issues that has been lingering behind the scenes is potential expansion in the NHL (via Yahoo.com).
If the Phoenix Coyotes stay in the desert, Quebec City and a second team for Toronto (or southern Ontario) seem like legitimate expansion possibilities.
Seattle has also been mentioned as a potential expansion city.
Expansion fees could generate $600 million to $1 billion for the league and would created dozens of jobs for players.
An expansion announcement could come shortly.
The lockout closed NHL locker rooms and facilities to players, but it did not mean that players could not engage in competitive hockey.
Many NHL players competed in the KHL and other international leagues in Sweden, Finland, Germany and Switzerland.
Now that the lockout is tentatively over, these players have to return and get back to their teams.
Most will probably be able to return in a day or two.
However, some may face logistical nightmares that could impact their availability when the NHL season begins.
While big-name free agents signed contracts with new teams during the summer, there are still a number of free agents who are available.
Many of the players are role players who will sign at bargain-basement prices. However, they can still be important when it comes to filling out a roster.
General managers will have to act quickly to bring in veterans who may be able to help a team make a playoff push.
Players like Jason Arnott, Brian Rolston, Byron Bitz and Tomas Holmstrom are available.