The Definitive 2012-13 Fantasy Basketball Trade Value Rankings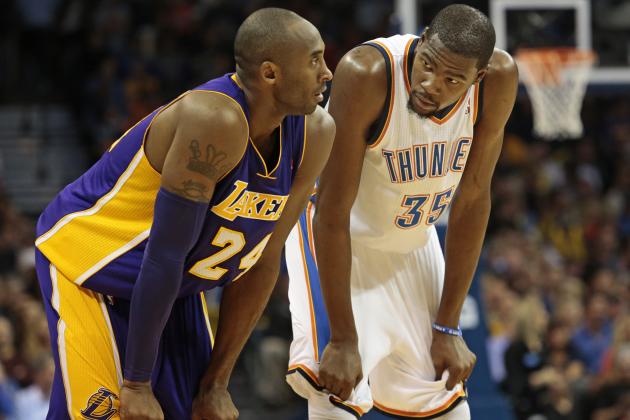 Brett Deering/Getty Images

Ranking NBA players from a fantasy perspective is decidedly different from rating them strictly on the basis of talent. While many of the league's stars—LeBron James, Kevin Durant—are head-and-shoulders above their peers regardless of the criteria used, a number of lesser-known players have become far more valuable in a world where fantasy points are more valuable than the points that they actually score on the court.
The following is the definitive ranking of the top-40 players in the world of fantasy basketball: Don't hesitate to refer to this whenever someone wants to acquire one of the top performers on your roster. Trading a player ranked higher on the list for someone who is ranked lower is strongly discouraged. That said, if you're in a rotisserie league and you need to trade a scorer for someone who will boost your rebounding rank, then feel free to do whatever you feel that you need to do to improve your team.
(Note: Statistics are accurate as of Jan. 5)
Begin Slideshow

»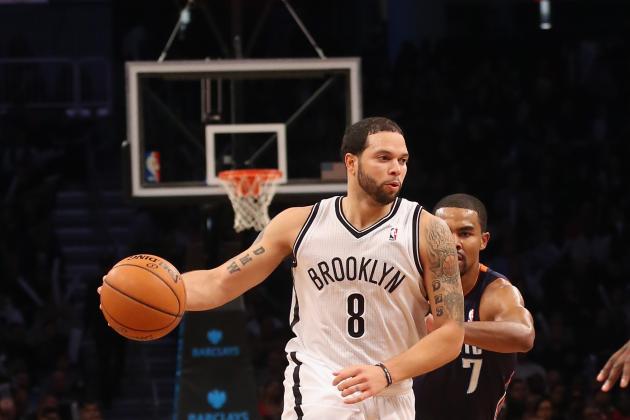 Bruce Bennett/Getty Images

40) Marcin Gortat, Phoenix Suns
39) Nikola Vucevic, Orlando Magic
It's safe to say that very few people had Marcin Gortat or Nikola Vucevic in a top-40 list of any sort at the beginning of the year.
It's funny how much of a difference a few weeks makes. Gortat is a solid center (a position of considerable weakness in the fantasy world) who has been one of the most consistent players in the league this season.
Vucevic was a minor character in the four-team Dwight Howard trade this past August, but the second-year center has been a double-double machine this year for the Orlando Magic. He'll be a bit less productive once Glen Davis returns, but he has proven that he's a starting caliber big man.
38) Deron Williams, Brooklyn Nets
Deron Williams' disappointing season has earned more than its fair share of headlines (he does play in New York, after all). That said, he is still one of the league's best point guards, and the smart money says that he turns it around down the homestretch.
It's hard to believe that he'll be a 40-percent shooter by the time all is said and done, and now that Joe Johnson is starting to pick it up, expect Williams' assist totals to rise as well.
37) Josh Smith, Atlanta Hawks
36) Chris Bosh, Miami Heat
Both Josh Smith and Chris Bosh are having All-Star quality seasons this year. Smith is excelling as the alpha dog for a Joe Johnson-less Atlanta Hawks team, while Bosh is turning in a quality effort as "the other guy" for the Miami Heat.
Both score about 17 points per game, and the two pull down about eight rebounds each per night. Smith is better than Bosh when it comes to tallying assists and blocks, but Smith's abysmal free-throw shooting (53.7 percent) puts him just behind the Miami power forward. Bosh, meanwhile, is in the midst of a career-best season in terms of field-goal percentage (54.9 percent).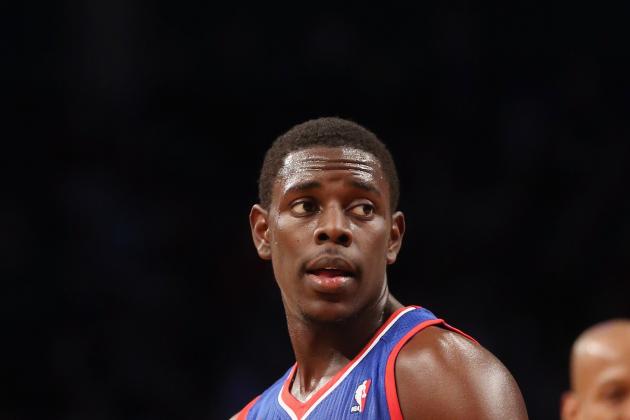 Bruce Bennett/Getty Images

35) Anthony Davis, New Orleans Hornets
34) Omer Asik, Houston Rockets
33) J.J. Hickson, Portland Trail Blazers
J.J. Hickson, Omer Asik and Anthony Davis: Three bigs who are decent scorers who also aren't afraid to mix it up a bit in the paint for a few rebounds.
Hickson gets the nod over the other two purely for his scoring ability. The Portland forward is shooting a career-best 54.7 percent from the field, and is averaging double figures in rebounds for the first time in six NBA seasons.
Asik will always be known for the three-year, $25.1 million contract that he signed this offseason, but if he continues to put up 10.6 PPG and 11.4 RPG, then that deal will look like a bargain soon enough. His free-throw percentage leaves much to be desired (55.6 percent), but the Houston Rockets rarely look to him on offense, so his troubles at the foul line aren't entirely disconcerting.
Davis has the tools to be one of the best power forwards in the NBA. Even as a rookie, he's shown that he can be a reliable fantasy frontcourt option...as long as he can stay out of the trainer's room. If those of you in keeper leagues can swing a deal for Davis, you likely won't regret it.
32) Paul Pierce, Boston Celtics
His team may be struggling, but forward Paul Pierce remains one of the best wing players in the league. Even at 35 years old, Pierce finds a way to score nearly 20 points per game and pull down five rebounds, despite being less athletic than those assigned to check him on a nightly basis. Pierce is a solid forward option in all fantasy formats, and should continue to thrive regardless of what happens with the rest of his Celtics teammates this season.
31) Jrue Holiday, Philadelphia 76ers
Only one player in the NBA averages 18 points and 8.5 assists per night: Philadelphia 76ers' point guard Jrue Holiday.
He may not have the court vision of Rajon Rondo or the flash of a Russell Westbrook, but the Sixers' do-it-all playmaker is one of the league's up-and-coming young talents. The 22-year-old Holiday has to cut down on the turnovers (he leads the league with 3.8 per game), but his assist-to-turnover ratio is still a sparkling 2.3-to-1 despite the miscues.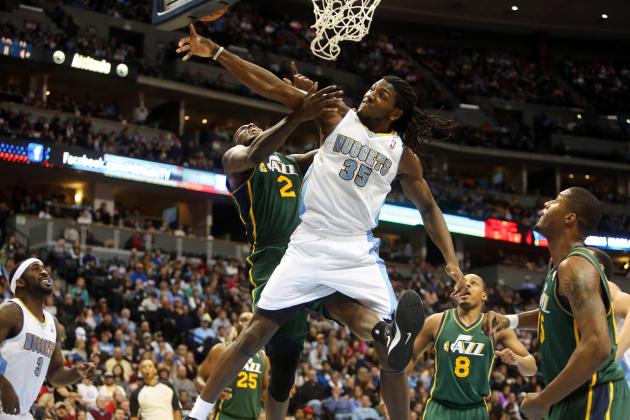 USA TODAY Sports

30) Kenneth Faried, Denver Nuggets
The "Manimal" isn't flashy, nor is he the subject of any national advertising campaign, but he's extremely valuable to both the Denver Nuggets as well as those who have him on their fantasy basketball rosters.
Kenneth Faried's high field-goal percentage counteracts his low foul shooting, but his tenacity on the boards (10.0 RPG) makes him one of the league's most underrated stars. He already has 15 double-doubles this season, and will easily finish with about 30 or so by the time April rolls around.
29) Greg Monroe, Detroit Pistons
28) Serge Ibaka, Oklahoma City Thunder
27) LaMarcus Aldridge, Portland Trail Blazers
The 27-to-29 range consists of three frontcourt players who are all fantastic forward/center options for a variety of reasons. LaMarcus Aldridge is the best scorer of the bunch, Greg Monroe is the best rebounder and Serge Ibaka blocks more shots than nearly anyone in the league (2.9 per game). Since each excels at a certain area, ranking the trio is really based on personal preference. But you can't go wrong with any of them, and each player should be active every week.
26) Ryan Anderson, New Orleans Hornets
New Orleans Hornets forward Ryan Anderson is the prototypical stretch 4 and, quite possibly the best value pick in all of fantasy basketball.
His averages of 17.8 points and 7.0 rebounds are decent enough, but Anderson also happens to lead the league in three-pointers this season (106), and he shoots nearly 89 percent from the charity stripe as well. He's a great bargaining chip for those in rotisserie formats who have the freedom to deal a three-point specialist, but don't underestimate his value: Anderson can bring back a king's ransom in a trade.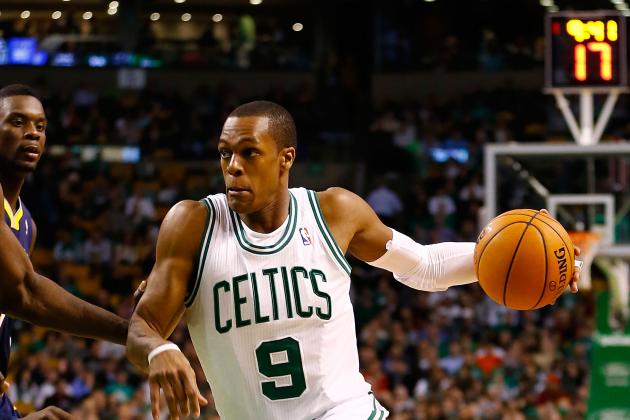 Jared Wickerham/Getty Images

25) Paul George, Indiana Pacers
Slowly but surely, Paul George is maturing into one of the Association's best young talents.
There will be growing pains: George has had two separate stints this season where he's scored less than 10 points in back-to-back games. But the 6'8" George rebounds the ball exceptionally well for a wing (7.3 RPG), and when you combine that with his skill from beyond the arc (he averages two 3s per game), the third-year forward just might be the best player that no one is talking about.
24) Tyson Chandler, New York Knicks
No player is more accurate from the floor than Tyson Chandler, who has converted nearly 70 percent of his field-goal attempts on the year. That translates into nearly 13 points per game, and along with his ability to work the glass (10.3 rebounds per game), Chandler's value as a fantasy center is through the roof. Twenty and 10 games from him are rare, but he's such a solid rebounder that it doesn't much matter.
23) Dwyane Wade, Miami Heat
Lost in the midst of James' fabulous campaign is Dwyane Wade's solid 2012-13 season. Wade's scoring is down slightly, but he's still good for nearly five rebounds and five assists per night. Throw in the fact that he's shooting better from the field than he ever has before (51.0 percent), and you have one of the better guards in all of fantasy basketball.
22) Tony Parker, San Antonio Spurs
21) Rajon Rondo, Boston Celtics
Rondo's blatant stat-padding is (apparently) over, but he still is the league leader in assists (by far), and collects double-doubles (16) and triple-doubles (two) as if they were trading cards. Rondo is a plug-and-play guard who should never be removed from the lineup.
Coming in just up the track from Rondo is San Antonio point guard Tony Parker. Parker leads the Spurs in both points and assists, and he shoots better than the majority of the league's perimeter players (51.1 percent). The 30-year-old guard doesn't have too many double-doubles on the season, but few players in the NBA are more reliable than Parker on a nightly basis.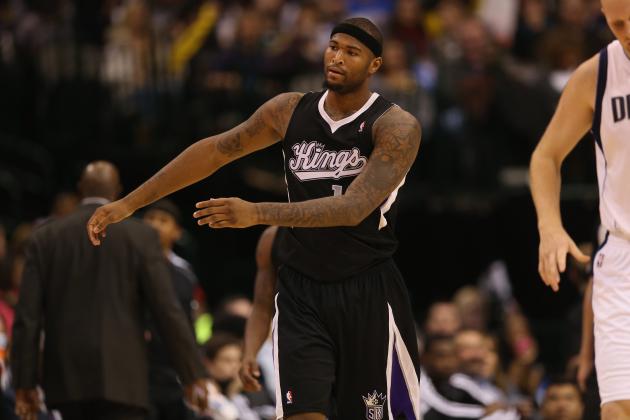 Ronald Martinez/Getty Images

20) Al Horford, Atlanta Hawks
19) Joakim Noah, Chicago Bulls
18) Anderson Varejao, Cleveland Cavaliers
17) Zach Randolph, Memphis Grizzlies
16) DeMarcus Cousins, Sacramento Kings
There are a bunch of big men in the 16-20 range who you could more or less pick out of a hat. They're all productive in their own way, but if you were to trade any one of them for any other (from a fantasy perspective), there wouldn't be much difference (except if you need a forward as opposed to a center, and vice versa).
DeMarcus Cousins is the best of the bunch, but his attitude makes him the ultimate wild card. He could go for 25 and 20 one night, and he could be suspended for violating team rules the next. However, his upside is greater than that of his peers, so we'll optimistically rank him at No. 16.
Zach Randolph is Cousins with a few more miles on the odometer, a little less production and a lot less attitude (although Z-Bo has had his fair share of incidents over his career). Randolph has gotten a double-double in just about every game this year for the Memphis Grizzlies—a huge bonus if your league gives extra points for that sort of thing.
A mid-round value pick in most leagues, Anderson Varejao has blossomed into a fantastic center this season. 14.1 PPG and 14.4 RPG is amazing no matter how you slice it, but the threat of Varejao being moved to a contender (and, theoretically, a team that doesn't need him to score) is always looming.
Rare is the night where Joakim Noah will put up 30-plus points, but he'll work the glass harder than anyone else on the floor. He also passes very well for a big man (4.4 assists per game), and his turnovers (3.0 per game) should decrease once Derrick Rose is back on the floor.
With Joe Johnson now in Brooklyn, Al Horford is getting an increased number of touches this year. As a result, he's averaging a career-best 15.8 points per game, and he's pulling down nearly 10 boards per game to boot. The Atlanta Hawks employ something of a "scoring by committee approach", but Horford always finds a way to make his mark each night.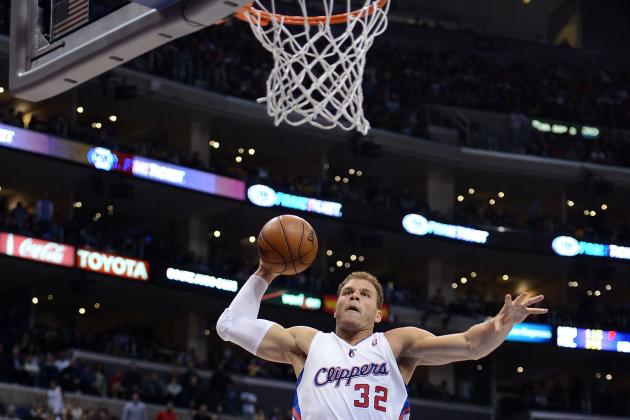 Harry How/Getty Images

15) Carmelo Anthony, New York Knicks
Players who can fill it up are always valuable fantasy commodities, so Carmelo Anthony should always find himself among the top-20 players in any format.
Anthony rebounds fairly well, and is one of the better three-point shooters in the Association, but if you're in desperate need of assists, then 'Melo is not your guy (2.2 assists per game in 2012-13). Then again, when you're the second-leading scorer in the league, how much does it truly matter?
14) Blake Griffin, Los Angeles Clippers
13) Al Jefferson, Utah Jazz
Both players' scoring numbers are down this season, but Al Jefferson gets the edge over Blake Griffin due to his better rebounding numbers (9.8 RPG for Jefferson vs. 8.5 for Griffin) and his solid work at the charity stripe (Jefferson is shooting a career-best 85.9 percent from the line this year).
Even so, there's nothing wrong with Griffin: You can build a fantasy team with him as the centerpiece and be just fine. The same obviously goes for Jefferson, and if the Utah center is traded this year, he may find himself in a situation where he can put up 20/11 on a more consistent basis.
12) Stephen Curry, Golden State Warriors
11) Kyrie Irving, Cleveland Cavaliers
Stephen Curry and Kyrie Irving are two of the best young point guards in the NBA who, when not plagued by injuries, are thoroughly enjoyable to watch.
Curry is unfairly characterized by many as strictly a long-range marksman. On the contrary, the fourth-year playmaker is developing nicely as a point guard, and is more proactive in attacking the basket than he's ever been before. More free-throw attempts for Curry means more smiles for his fantasy owners: The Golden State guard is a career 90-percent shooter from the foul line.
Irving, quite simply, is the future of the NBA. He will be an Eastern Conference All-Star staple from here on out, and his scoring prowess (thanks in large part to his ability to knock down the 23-footer) is almost good enough to lift a terrible Cleveland Cavaliers team from the doldrums. Turnovers are an issue for Irving, but in a year when he's averaging 23.4/5.6/4, it's easy to overlook most of his mistakes.
Harry How/Getty Images

10) Dwight Howard, Los Angeles Lakers
9) Tim Duncan, San Antonio Spurs
Prior to the season, the thought that Tim Duncan would have a more productive campaign than Dwight Howard was borderline ridiculous. But that's exactly what has happened so far this year: A 36-year-old forward is outplaying a 27-year-old center who many believe is the best big man in the league. A healthy Howard (in a healthy Los Angeles Lakers' offense) would be the best frontcourt player in fantasy, but even now, he's still a force to be reckoned with.
Howard's struggles from the free-throw line keep him just a notch below Duncan: His 17.4 PPG, 12.0 RPG and 2.6 BPG are impressive, but it's hard to ignore that 51.1 percentage from the charity stripe. Meanwhile, Duncan is playing his best basketball in years on both ends of the floor (17.7 PPG, 9.6 RPG, 2.5 BPG).
8) Kevin Love, Minnesota Timberwolves
Kevin Love is the best stretch 4 on the planet, and his uncanny ability to dominate the glass makes him one of the most coveted players in fantasy basketball. Love would have finished a few slots higher on this list, but his shooting percentages across the board have taken a huge hit this season. And since many leagues penalize for missed shots, it's hard to make a case for Love as a top-5 player given the fact that he's shooting 35.2 percent from the field in 2012-13.
Of course, this is a tentative ranking based on Love's health. If his broken right hand keeps him sidelined for a lengthy period of time, then the former UCLA star's value in single-season leagues takes a huge hit.
7) Russell Westbrook, Oklahoma City Thunder
6) James Harden, Houston Rockets
The former Oklahoma City Thunder teammates are now both top-10 fantasy performers. James Harden is an exceptional scorer whose ability to rack up boards and assists makes him extraordinarily valuable. He may not enjoy the same name recognition of others ranked below him, but Harden is a solid No. 1 option in all formats.
Not much can be said about Russell Westbrook that isn't already known: He's the most athletic point guard in the Association, and has the ability to go off for 40 points every single night. Westbrook isn't immune from having a poor-shooting, turnover-filled performance that will frustrate even his most staunch supporters, but his positives far outweigh his negatives from a fantasy standpoint.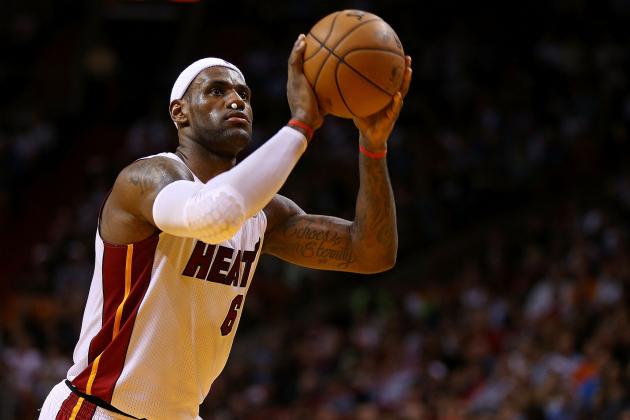 Mike Ehrmann/Getty Images

5) David Lee, Golden State Warriors
There's very little not to like about David Lee. He averages a double-double (19.9 PPG, 10.9 RPG), he shoots at a pretty decent clip (53.3 percent from the floor), and he even throws in a few assists for good measure (3.7 APG).
He doesn't do much more than that, but what else do you need from a big man who has put up more than a dozen 20/10 games this year?
4) Chris Paul, Los Angeles Clippers
3) Kobe Bryant, Los Angeles Lakers
The Los Angeles Clippers may be the current kings of Hollywood, but Kobe Bryant is still the best player who calls Staples Center home.
Sixteen-year veterans don't usually lead the league in scoring. The Black Mamba cares little about typical conventions (Bryant leads the league with 30.5 PPG), and is a legitimate MVP candidate even though his team would be sitting at home if the playoffs started today.
This season, Chris Paul has firmly established his standing as the best point guard in the NBA. While he isn't a prolific scorer, he leads the league in steals (2.6 SPG) and is good for at least nine-to-10 dimes per night.
2) Kevin Durant, Oklahoma City Thunder
Durant is the best scorer in the NBA: That statement is not up for discussion. Even more importantly (from a rotisserie perspective, anyway), his residency in the VIP section of the 50/40/90 Club (51.7 FG%, 41.9 3PT%, 90.3 FT%) means that he isn't killing fantasy owners with tons of missed shots.
At some point in the near future, Durant will be No. 1 on this list. Until then, he remains in the shadow of The King.
1) LeBron James, Miami Heat
Much like The Highlander, there can be only one.
Are there players who score more than James? Sure. Are there those who grab more rebounds? Absolutely. But James' ability to fill the box score is unparalleled in the Association. No other player in the league is a legitimate threat to post a triple-double every single time that he steps out onto the floor.
The best player on the planet is also the best player in the world of fantasy basketball. And if you are fortunate enough to have him on your team, don't even entertain the thought of trading him, regardless of how attractive the offer may be.