When Alabama and Notre Dame battle for the BCS National Championship, it will not only be a matchup of the two best teams in the country, but it will also be a display of some of the most talented players in the sport.
While college football fans will live in the moment of the title game, NFL fans will look toward the future of a few star players and the chance to eventually play on Sundays.
Each of these teams is filled with prospects, but these are the top players to watch during the game. Every one of them could be selected in the first round of the 2013 NFL draft.
Chance Warmack, OG, Alabama
While running backs get all the glory, it is the big men up front who do the dirty work to make sure the rushing attack is successful.
Chance Warmack is the best guard prospect in the country and should be selected in the top half of the first round. He is incredibly strong and can be a huge difference-maker on any professional offensive line.
In the title game, he will have a tough task against Louis Nix and Stephon Tuitt on the defensive line and even Manti Te'o at linebacker. If he can do his job against these players, Alabama should have a big game offensively.
Manti Te'o, MLB, Notre Dame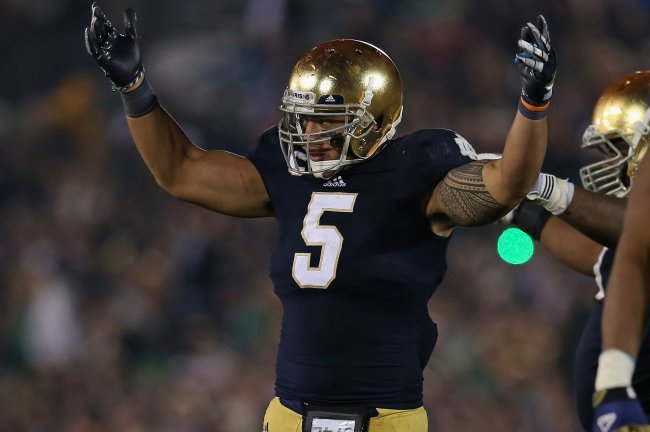 Jonathan Daniel/Getty Images
Over the last few years, there has not been as complete of a middle linebacker as Manti Te'o.
He has the range to cover the field from sideline to sideline, he can get into the backfield on a blitz and he is excellent on pass coverage, as evidenced by his seven interceptions this season.
The senior has been a leader of the No. 1 team in the country and was almost rewarded for his great season with a Heisman Trophy.
Te'o has been an excellent college football player, and he will soon be one of the top players at his position in the NFL.
Barrett Jones, C, Alabama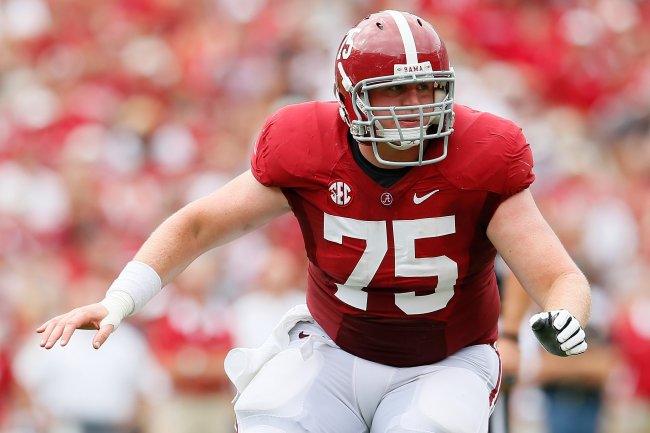 Kevin C. Cox/Getty Images
Few offensive linemen have the versatility of Barrett Jones. The senior moved from tackle to center this season, a tough switch both physically and mentally.
Amazingly, Jones has proven he can excel at either spot. He won the Outland Trophy in 2011 as the nation's top lineman when he was a tackle. He then won the Rimington Trophy in 2012 as the nation's top center.
While interior linemen are often not valued as much in the draft, Jones could sneak into the first round as someone who can help any team, regardless of need.
Tyler Eifert, TE, Notre Dame
It is not too often that a tight end leads an elite team in catches and receiving yards, but that is exactly the case for Notre Dame.
Tyler Eifert is one of the top prospects at his position due to his size and ability to catch passes consistently. He has been solid down the stretch for the Irish, totaling over 60 yards in each of the last four games, and is very important for creating balance on offense.
In addition, he stands at 6'6" and is a valuable target around the end zone against smaller defenders.
Eifert has an opportunity to shoot up draft boards on Monday with a big game in the spotlight.
Dee Milliner, CB, Alabama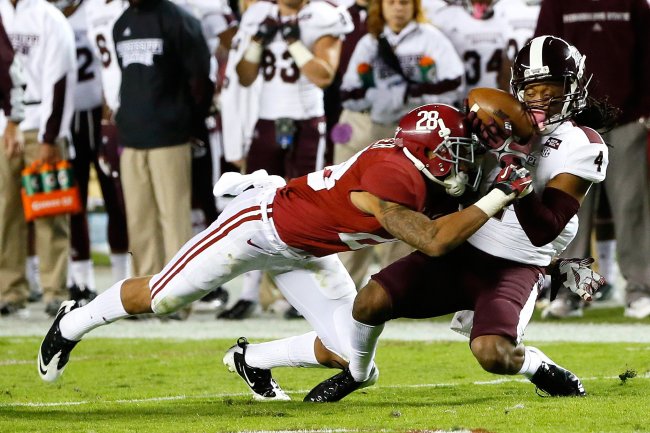 Kevin C. Cox/Getty Images
The SEC has been home to quite a few talented cornerbacks over the past few years, and Dee Milliner fits into that category.
This season, Milliner did not build up great statistics, but he was named a first-team All-American due to his ability to shut down opposing receivers and force quarterbacks to simply look in other directions.
More than anything else, NFL teams are going to fall in love with Milliner's size. He is very big for his position and can stay with the taller receivers in the NFL that usually dominate.
He is everything you look for in a cornerback and should be taken early in next year's draft.