Michigan Football: 6 Recruits Most Likely to Start as Freshmen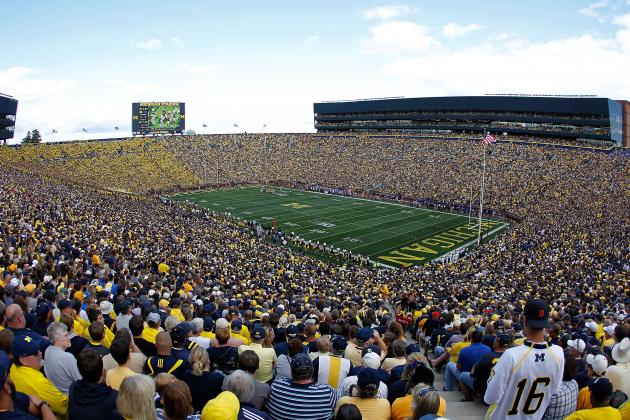 Gregory Shamus/Getty Images

Over the years, winning a starting role as a Michigan freshman has been no easy task.
Since Tate Forcier opened the season at quarterback in 2009, only eight true freshmen took the plunge. Devin Funchess, who started at tight end occasionally this season, was the only offensive player.
Craig Roh also started for the Wolverines in 2009, while Carvin Johnson, Ray Vinopal and Courtney Avery received an early look in 2010.
Blake Countess and Desmond Morgan were the freshman starters in 2011 before James Ross III joined Funchess as the only starters in 2012.
Looking ahead to 2013, graduation took a toll on the offensive line, while a few positions on defense could allow an incoming recruit to get a shot.
Let's check out the few freshman who might earn a starting slot this fall.
Begin Slideshow

»
Jack Miller, who was Elliott Mealer's backup at center this season, is heir apparent to the starting job in 2013.
But Miller expected to win the starting job this year, too, before Mealer moved from left guard to center.
That could leave an opening for incoming freshman Pat Kugler, the nation's No.1 offensive guard, who plans on shifting to center at Michigan.
The change should be no problem for the 6'4", 270-pound Kugler, whose dad is the offensive line coach for the Pittsburgh Steelers.
A participant in the recent Under Armour All-America Game, Kugler is scheduled for shoulder surgery in the next few weeks, but should be ready for fall camp. "I have a posterior labrum tear," Kugler told scout.com. "So I have to get that in the middle of January, but that's only a four month rehab."
Odds: 15/1
Although returnees Jerrod Wilson and Marvin Robinson might have something to say about it, Dymonte Thomas could win the starting safety spot alongside Thomas Gordon.
Thomas, who played linebacker in high school, could play either free or strong safety.
From Marlington HS in Alliance, Ohio, the 5-star recruit will be available for spring practice since he's an early enrollee. Thomas, who also wrestled and played baseball in high school, was a participant in the U.S. Army All-American Bowl in San Antonio over the weekend.
"It went pretty well," Thomas told scout.com. "I had a lot of fun, there is a lot of competition out here—a lot of good guys out here. It's good going against the best, and seeing how good I am, and seeing what I need to work on when I get to college."
Thomas, the nation's No. 4-rated safety, was also offered by UCLA, Ohio State, Michigan State and Notre Dame.
Odds: 8/1
Logan Tuley-Tillman, another early enrollee, has his eyes set on the vacant right guard, left guard or especially the left tackle position if Taylor Lewan decides to leave early.
He made quite an impression at the recent Under Armour All-America Game when he lined up against Robert Nkemdiche, the nation's No. 1-ranked defensive end.
"I kicked twice and he tried to come inside and I stepped up and pancaked him in the pocket," Tuley-Tillman told scout.com. "Well, outside of the pocket."
There's no question Tuley-Tillman mentioned this to soon-to-be roommate Kyle Bosch, as the duo headed up to Ann Arbor to begin the winter semester.
Since both will be around for spring practice, they might be competing for the same offensive line position.
Odds: Tuley-Tillman 10/1, Bosch 12/1
With Will Campbell graduating, the only experienced players on the interior defensive line are Quinton Washington, Jibreel Black and Ondre Pipkins.
Black, however, might move back to strong-side end leaving room for Pipkins, Willie Henry or incoming freshman Maurice Hurst Jr.
Hurst, whose dad played for the New England Patriots, recently participated in the Semper Fidelis All-American Bowl.
Extremely quick for a 6'2", 300-pounder, Hurst can play either the 3-tec defensive tackle or the nose. A 4-star recruit, Hurst was also offered by Ohio State, Michigan State and Nebraska.
Odds: 9/2
With Fitz Toussaint's season-ending leg injury and the absence of Thomas Rawls at the Outback Bowl, Michigan could have an opening at running back.
Redshirt freshman Drake Johnson and returnee Justice Hayes will each get a long look at spring practice, as will incoming freshman Deveon Smith.
Johnson (6'0", 210 lbs), a two-sport star at Ann Arbor Pioneer, offers a nice combination of size and speed. As a high school senior, he gained 2,805 yards and was an All-American in the 110-yard high hurdles.
Smith (5'11", 210 lbs), who prepped at Warren Ohio's Holland High, is another power runner with good credentials. "Tough, strong back who rarely goes down on first contact and has fantastic balance," says scout.com's Allen Trieu. "Easily runs through arm tackles and has a good stiff arm which he uses to shrug off defenders."
Smith, who was also offered by Ohio State, rushed for 1800 yards as a prep senior and 6,686 yards during his career.
Of course, there's still room in the 2013 recruiting class for Richmond (Va.) Hermitage running back Derrick Green, rated the No. 2 back in the nation. Green, who gained 49 yards for the victorious East team in Saturday's U.S. Army All-American Bowl, expects to decide this month between Michigan, Miami (Fla.), Auburn, Ole Miss, Oregon and Tennessee.
Odds: 7/2