Kentucky Basketball: Stock Up, Stock Down for Every Player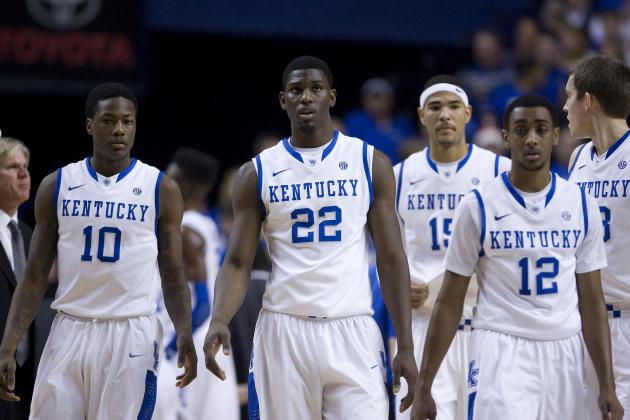 USA TODAY Sports Images

Kentucky basketball will enter SEC play on Jan. 10. Expectations have changed for many of the Wildcats, and each player will be facing unique challenges in the second half of the regular season.
It has taken longer for John Calipari to piece together a quality team this season, but the team is starting to take form.
Players are learning their roles, and some are making moves in the NBA draft. Calipari continues to evolve his offense and defense to maximize his team's efficiency.
Here, we'll look at each player and see how he has performed up to this point.
Statistics via ESPN.com.
Begin Slideshow

»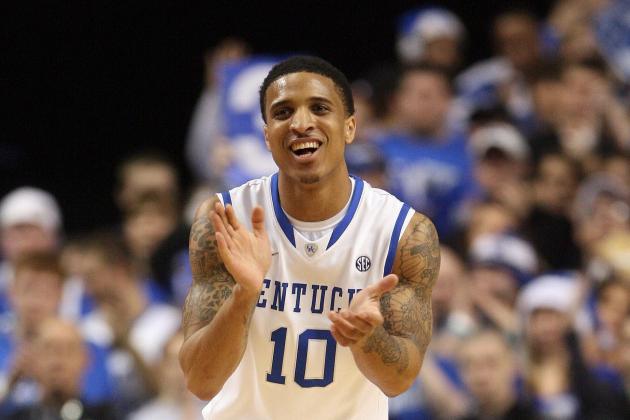 Mark Zerof-USA TODAY Sports

Twany Beckham played nine minutes against Eastern Michigan on Jan. 2.
On the year, Beckham has played 17 minutes.
It has been a down year for him, all things considered. There have been seven games this season where Beckham has not played a single minute.
With Kentucky's early-season struggles at point guard now in the past, it seems like Beckham's window of opportunity has closed.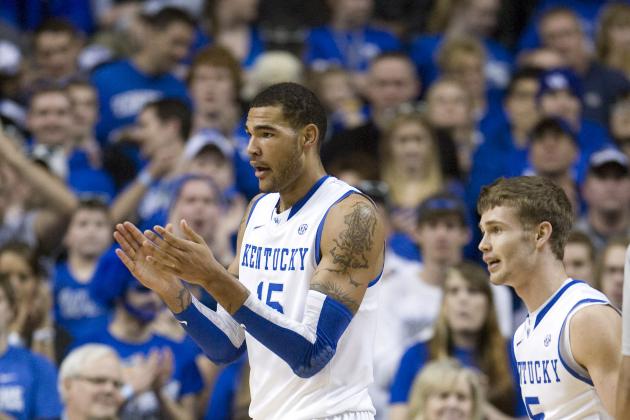 Mark Zerof-USA TODAY Sports

This one is clear.
Willie Cauely-Stein is a starter. He's started over Alex Poythress (against Louisville) and has, at times, outperformed Nerlens Noel.
Unfortunately for Kentucky fans, this means WCS may head to the NBA after this year.
Before the season began, Cauley-Stein was a project player. He was expected to stay in Lexington for at least two years.
Now, he's a projected late first-round pick by ESPN.
He might be lottery bound.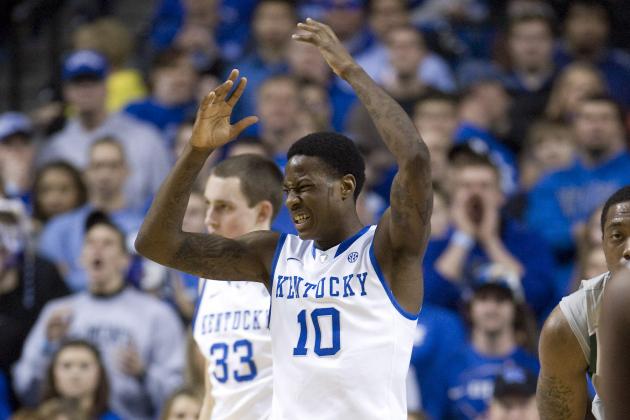 Mark Zerof-USA TODAY Sports

It's difficult to gauge just how well Archie Goodwin has performed this season.
He's a scorer.
He'll be drafted—likely in the 2013 NBA draft—based on his pure scoring ability.
But he's had a wild start to his freshman season in Lexington. He's had his impressive games (28 points vs. Morehead State) and his poor performances (three points vs. Notre Dame).
All in all, however, Goodwin has been the leading scorer for the Wildcats.
He's a future lottery pick.
Mark Zerof-USA TODAY Sports

After the first eight games of the season, Ryan Harrow came to life.
In the past five games, Harrow is averaging a smooth 15 points, 4.6 assists, 3.2 rebounds, 2.4 steals and just over one turnover per game.
He's lighting up opponents and the box score, something Kentucky fans are both happy and relieved to see.
If it wasn't for his four-game hiatus, Harrow's stock would be considerably higher. If he keeps his current pace through SEC play, he'll likely be a first-round pick in the 2013 NBA draft.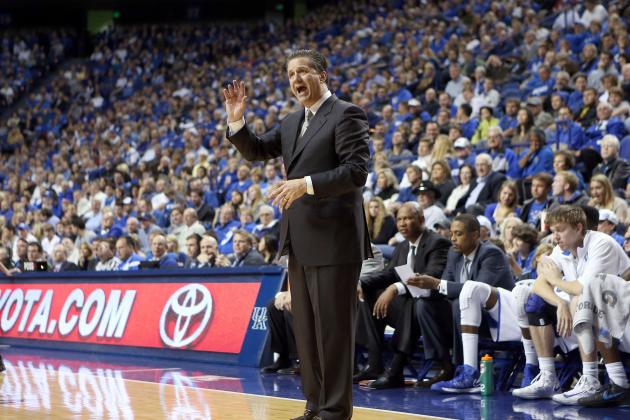 Andy Lyons/Getty Images

It's been a tough year for John Calipari's bench.
All four of these players have seen less than 40 minutes apiece. None will be serious contributors in SEC play, either.
Jon Hood, the only real contributor of the quartet, hasn't played in the past three games.
Tod Lanter, Brian Long and Sam Malone may see minutes at the end of blowouts, but that's about it—and that's no different from last year.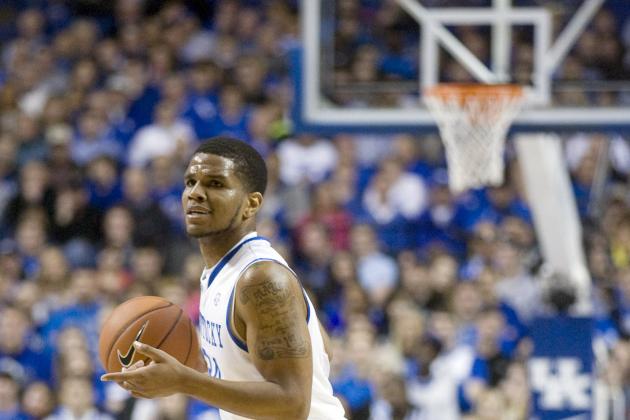 Mark Zerof-USA TODAY Sports

It has been a down shooting year for Julius Mays.
He was brought in from Wright State to be a shooter and to bring experience.
He hasn't shot well, but his experience has been stabilizing in a hectic Kentucky offense.
But with Ryan Harrow back in the fold, Mays' minutes will dwindle if his shooting does not pick up. He's shooting 30.8 percent from three-point range and just 34.6 percent from the field.
Time is running out for Mays. If he puts together a strong season in SEC play, his stock will rise.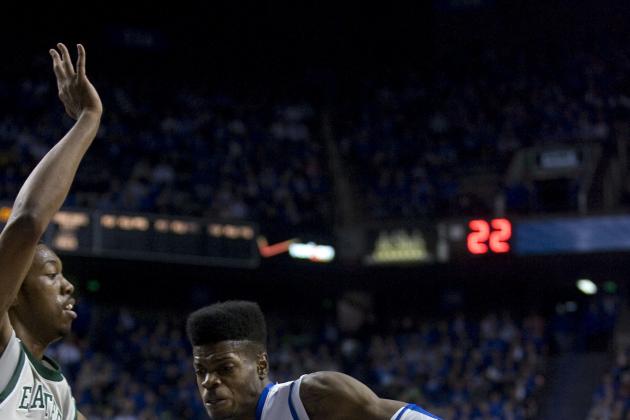 Mark Zerof-USA TODAY Sports

Nerlens Noel has a limited offensive game.
But he's still considered a top-three draft pick.
That alone should show you just how much of an impact Noel has on the other side of the ball.
He's active, and his numbers reflect that. He averages 3.5 blocks and 2.6 steals per game, both of which lead the team.
Some would say Noel hasn't lived up to monstrous expectations. Others will say that he's actually being underrated.
He was a projected top pick. He still is.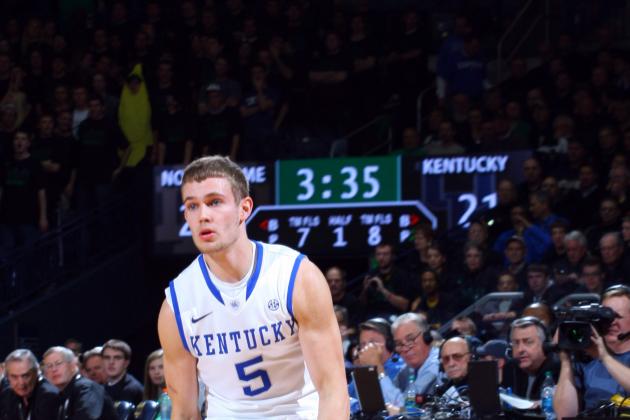 Brian Spurlock-USA TODAY Sports

Jarrod Polson has been a pleasant surprise this year.
He filled in brilliantly for Ryan Harrow at the beginning of the year, playing at least 12 minutes in each of Kentucky's first six games.
But lately, he hasn't seen the court. Harrow, Julius Mays and Archie Goodwin have made for a stable enough backcourt.
Polson is limited on offense and defense. His only role in the Dribble Drive Motion is to bring the ball up the court and limit turnovers, which he has done well.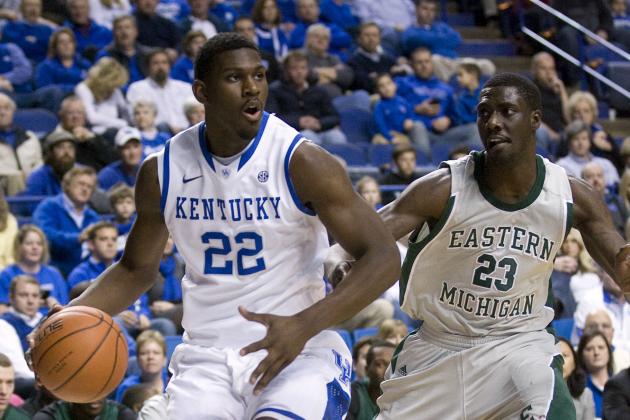 Mark Zerof-USA TODAY Sports

It has been a quiet year for Alex Poythress.
Like his teammate Archie Goodwin, Poythress has had jaw-dropping performances and plays. He's also had his fair share of games where he simply did not show up.
Poythress reeled off four straight 20-plus point games in November, but has failed to reach that mark since.
Fortunately for him, most of his struggles can be attributed to being an inexperienced freshman.
His stock should rise, if he improves in SEC play.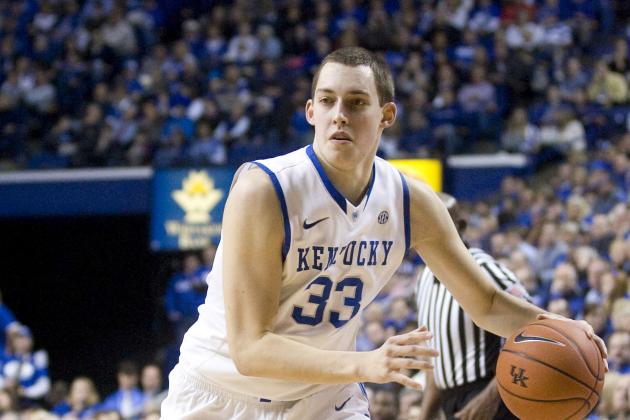 Mark Zerof-USA TODAY Sports

If it weren't for a few quality recent performances, the verdict for Kyle Wiltjer would be "stock down."
Wiltjer was expected to step up and lead. He was expected to be a starter, a scorer and an overall better player compared to last year.
While his statistics may be increased from last year, he has not met the high expectations that were set for him at the start of the year.
He's still a sixth man. He's still struggling on defense and on the glass.
Changes can be made in SEC play, and Wiltjer has been shooting much better of late.