Trades That Could Take Miami Heat to the Next Level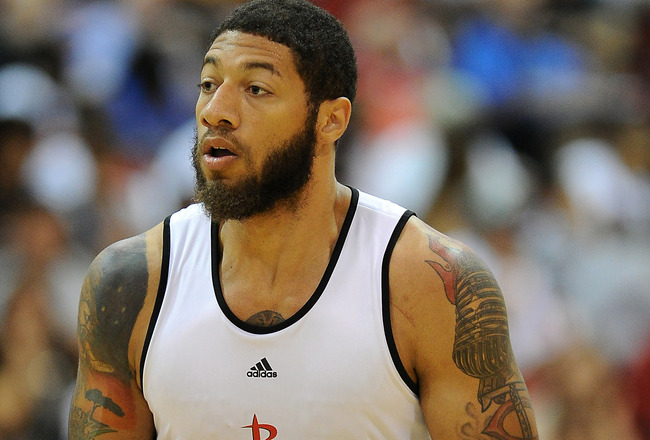 Jayne Kamin-Oncea-USA TODAY Sports
The Miami Heat don't have much to offer in the trade market, aside from maybe Chris Bosh and Mario Chalmers.
But that shouldn't stop them from being proactive and creative on the trade block.
The Heat need to look for two things before the Feb. 21 trade deadline. First, they need to add defensive intensity in the paint, and secondly, they need more production on the glass.
There aren't many trades that could bring that kind of increased production, but there are certainly a few.
All trades mentioned in this article are based purely on speculation.
The Trade of Love: Kevin Love and Greg Stiemsma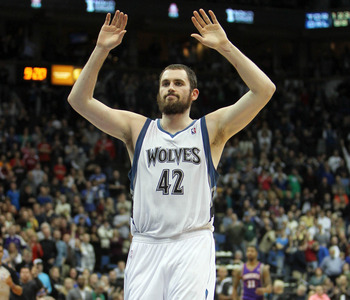 Brace Hemmelgarn-USA TODAY Sports
Miami Heat trade PF Chris Bosh, SF Mike Miller and their 2013 first-round draft pick to the Minnesota Timberwolves for PF Kevin Love, SG Brandon Roy and C Greg Stiemsma
The possibilities of this trade actually happening took quite a hit when Kevin Love re-fractured his right hand, according to ESPN.com.
The purpose of including Brandon Roy in this trade is to make the trade a little more attractive, financially speaking, for the Timberwolves. It would ensure that the Timberwolves won't have to absorb Roy's $10 million-plus if he never plays another minute in the NBA, which would be smart considering his nagging knee injuries.
Acquiring Love and Stiemsma would seriously help the Heat in the paint, and it would put an end to their rebounding woes.
While Stiemsma is just a huge defensive body, Love is the kind of player who could truly take over the paint on the glass and still have a deep impact on the offensive side of the ball.
ESPN Insider's Chad Ford said that all Love wants to do is win, and he could certainly do that in Miami. Ford also said that Love may bolt from Minnesota when he can finally opt out of his contract.
Even though that's not until the end of the 2015-16 season, it would be wise for the Timberwolves to acquire some talent for him instead of letting his angst for the franchise continue to build.
Stockpiling draft picks from the Heat might not seem that valuable, because the picks wouldn't be all that high. But it's a way to acquire talent to build around for the future.
For the Heat, this trade would catapult them to the level of being nearly unstoppable because Love would bring them much more defensive intensity and more rebounding, which is what they seriously lack right now.
Breaking Up the Jazz's Frontcourt: Paul Millsap
USA TODAY Sports
Miami Heat trade PG Mario Chalmers, SF Mike Miller, PF Rashard Lewis and 2013 first-round pick to Utah Jazz for PF Paul Millsap and PG Earl Watson
The Utah Jazz failed to sign Paul Millsap to an extension this past offseason, and that likely means the he will look to sign elsewhere this offseason.
With that being said, the smart move for the Jazz to make would be to trade him and acquire talent in return instead of letting him just leave.
The Heat can afford to get rid of Miller and Chalmers, and while the Jazz are stacked at the point guard position with Mo Williams, Randy Foye and Alec Burks, it would allow them to get rid of the offensively inept Earl Watson.
This would be an absolutely amazing trade for the Heat, as it would give them increased defensive focus in the paint and on the glass.
The Jazz need to realize that there's a high likelihood that Millsap won't be wearing a Jazz jersey this upcoming season, and if that's the case, a trade must be made before the deadline.
The Oddball Trade: Royce White and Scott Machado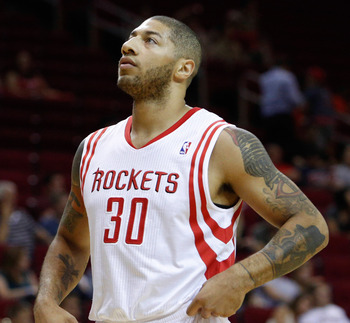 Thomas Campbell-USA TODAY Sports
Miami Heat trade PG Mario Chalmers to Houston Rockets for PG Scott Machado and SF Royce White
This one might be a bit shocking, but just bear with me for a minute.
The problem with the way the Houston Rockets have been handling the Royce White situation is that they don't have any veteran players to help them convince White to get on the court.
With the Miami Heat, White would have that.
LeBron James and Dwyane Wade would help the young professional mature and would help him transition into the rigor and challenges of the NBA.
I know that this one doesn't make sense because it could backfire on the Heat, but it certainly has the possibility of taking the Heat to a very dangerous level. That is, assuming that White is the elite-caliber player that scouts hyped him up to be.
With White in the lineup, the Heat could go with Norris Cole at the point, Dwyane Wade at shooting guard, Royce White at small forward, LeBron James at power forward and Chris Bosh at center.
It would be a lineup that would ultimately add some defensive tenacity to the paint, and it would also give the Heat some versatility in their rotations.
Let's be honest. The Heat can certainly live without Mario Chalmers; his inability to amp up his play this year has hurt his trade value, and his $4 million contract isn't necessarily helping the Heat out.
Scott Machado's "true point guard" style of play would fit better with the Heat than Chalmers' "shoot-first mentality," mainly because facilitating to LeBron and Wade is better than having Chalmers take long-range jumpers.
This is the kind of trade that is more likely to happen after the season once the Rockets figure out what's happening with White. But it would certainly make things more interesting in South Beach.
Keep Reading

Miami Heat: Like this team?