Panthers 2013 Mock Draft: The Smartest Pick Carolina Can Make at Every Spot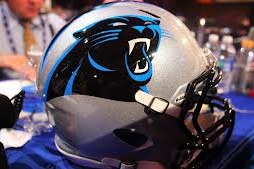 The period between December and April is a special time for college players, NFL teams and football fans everywhere. It is a time when many draft-eligible players showcase their talents in front of the nation during bowl games, along with the plethora of pro scouts who may be in attendance. It also creates a buzz about which high-profile players all the way down to Mr. Irrelevant will be drafted and how they can help move their new team forward.
The Carolina Panthers will be looking to make a significant impact in their 2013 draft, trying to find players who can help them win when the season opens and become regular fixtures on the field over the coming years. It is still up in the air who they will go with as their first choice with the 14th overall pick, but the general consensus tends to think they will address their defensive line.
Carolina only has five picks (not counting any compensatory picks) as they traded away their third-round selection to San Francisco and their seventh-rounder to Oakland. Needless to say, they will need to make savvy moves given the limited selections they have at their disposal. Of course, the new general manager of the Panthers may find it in his best interest to trade a player or two to add a few more picks if such a deal can be made.
This slideshow will cover the smartest (if not logical) picks the Panthers can make when they are on the clock this April.
Begin Slideshow

»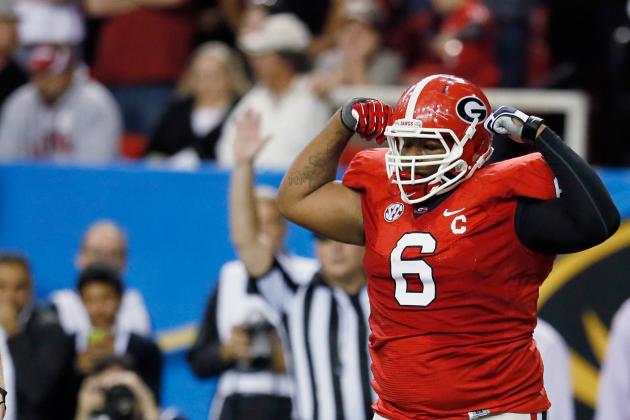 Kevin C. Cox/Getty Images

The Panthers will have to decide which they covet more when they are on the clock with the 14th selection: A defensive tackle or an offensive tackle to protect Cam Newton for the next several years. Either choice would be a good one, but Carolina has neglected to get that big presence in the interior for a couple of years now.
Ron Rivera and the new general manager will look to make their defense one of the best in the NFL when they draft Johnathan Jenkins. He provides a big body at 6'4" and 363 pounds along with decent speed (his pre-combine 40-yard dash time is 5.16 seconds). Automatically, the Panthers become dangerous inside, off the edge and in the middle with their talented linebackers.
Jenkins could still see his stock go up, but at the moment is projected as a mid-first-rounder which is ideal for Carolina. The Panthers have a history of drafting Georgia defensive players, and adding Jenkins to a defense anchored by Georgia alums like Charles Johnson and Thomas Davis make this defense suddenly look imposing.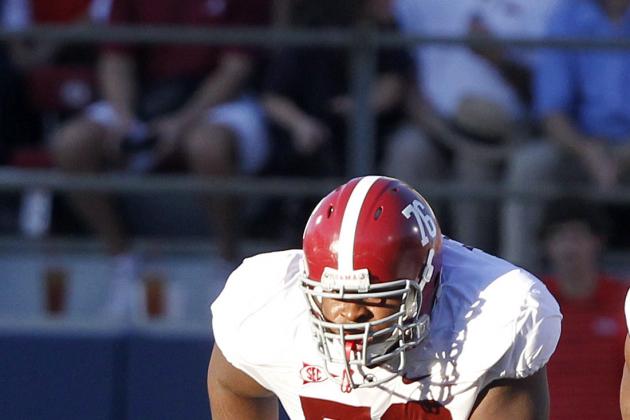 Butch Dill/Getty Images

After taking a defensive tackle in the first round, the Panthers will look to protect their quarterback and will turn their sights to a crop of offensive tackles on the board. Ideally, it would be nice if Virginia's Oday Aboushi was still there, but with him projected as a low first-round to a high second-round selection, chances are he will be off the board.
That will not concern Carolina much as they will stay within the SEC and draft Alabama's D.J Fluker. The kid has good size at 6'6" and 335 pounds which should allow him to keep defenders at bay. It helps that he has been a part of a winning Crimson Tide offense during his collegiate career, and that will bode well for him as he transitions to the pros.
Carolina cannot afford to blow this selection, as they will not have another pick until the fourth round. It is very easy to assume they could look at addressing their secondary with this selection, but for the time being, they will concentrate on shoring up their offensive line.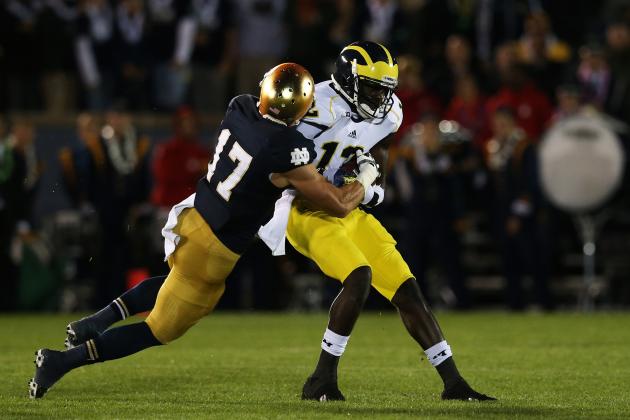 Jonathan Daniel/Getty Images

During an earlier mock draft, it was predicted that the Panthers would take free safety Zeke Motta as their third pick. That strategy doesn't change as Carolina will need to add some competition to the secondary and make current FS Haruki Nakamura work hard to maintain his spot.
Regardless, the position could be an open competition during training camp and nothing like having a young man who played for a national championship biting at the bit to carve his name in the starting defense.
The earlier breakdown described Motta's intangibles as having good speed and awareness. That hasn't changed, and with a chance to shine on national television January 7th, he can certainly improve his draft stock or at least give the Panthers something to consider if he is still around in the fourth.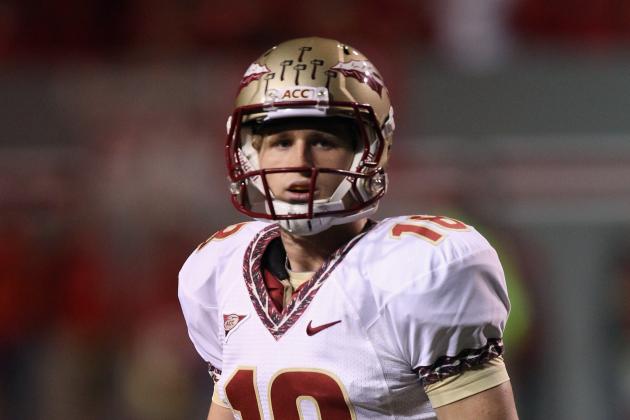 Streeter Lecka/Getty Images

With the failure of the Justin Medlock experiment and Graham Gano's future with the team uncertain, Carolina will take a gamble and use the fifth round selection to draft Florida State kicker Dustin Hopkins.
Hopkins was 25-of-30 in field goal attempts during his senior season at FSU and has the ability to kick from long distance. He is 9-of-15 in his career from 50 yards or more. He has the strength and accuracy to be the kind of kicker the Panthers have been missing since the departure of John Kasay, and it shouldn't surprise anyone to see them have another kicker battle in camp this summer.
Carolina needs young blood at the position with someone who can be reliable and enjoy a long career as the place kicker. Hopkins could be just the guy to fill the job.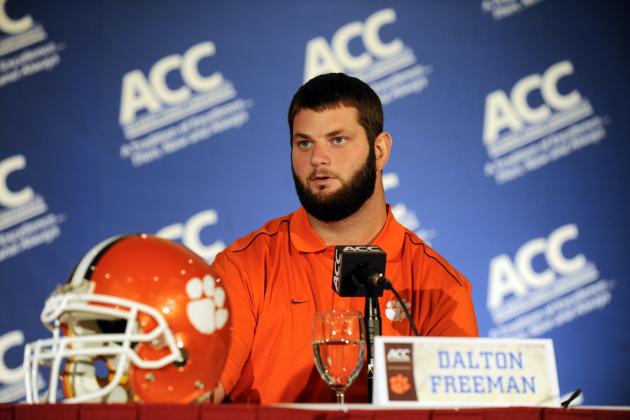 Sam Sharpe-USA TODAY Sports

Carolina wraps up their draft by stopping where they started—their offensive line. This time they will look to find a suitable backup for Ryan Kalil and replace Lee Ziemba who was released earlier last year. They will look at Dalton Freeman from Clemson.
This can be seen as a smart pick as Freeman could help bolster a line that was riddled with injuries in 2012. Additionally, Freeman will have experience snapping for a mobile quarterback, as he was teammates with Tajh Boyd and shouldn't have too much of a problem making the transition.
The 2013 draft will be about adding depth and finding young talent who can step up because the last two seasons have proven the Panthers are very prone to injury. That opens the door for untested rookies to step up in the spotlight.