NBA's Biggest Season Surprises Thus Far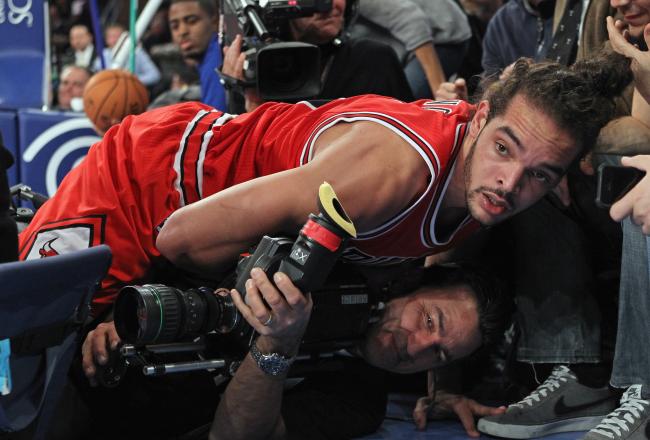 Bruce Bennett/Getty Images
What has caught you by surprise during this NBA season? In a league where an underdog can defeat the favorite at any time, nothing should shock us.
This season, legendary stories are on the verge of creation.
For a few teams and players, the storylines are building with each shot and every rebound. For others, infamy awaits.
Among the surprises are a few players who have stepped up their games, with one very disappointing player. A couple of teams have also grabbed our attention by playing well. In the process, there is a renewed interest in the NBA title picture that once began with just three teams in sight.
The Tale of Two Young Players:
Larry Sanders 7.8 PPG, 8.2 RPG, 3.03 BLK.
Can a player from the Milwaukee Bucks win the NBA's Defensive Player of the Year Award? Larry Sanders has the chance to become the first Buck to win the award since Sidney Moncrief did so twice. Moncrief was the first to win the award back in the 1982-83 campaign.
He is currently leading the NBA in blocks, for a Bucks team that is in the thick of the NBA Central race.
Sanders has been rewarded for improving his defensive intelligence, earning the praise of his head coach, Scott Skiles. Sanders is well on his way in grabbing the attention of the rest of the NBA.
DeMarcus Cousins 17.1 PPG, 10.3 RPG, three suspensions.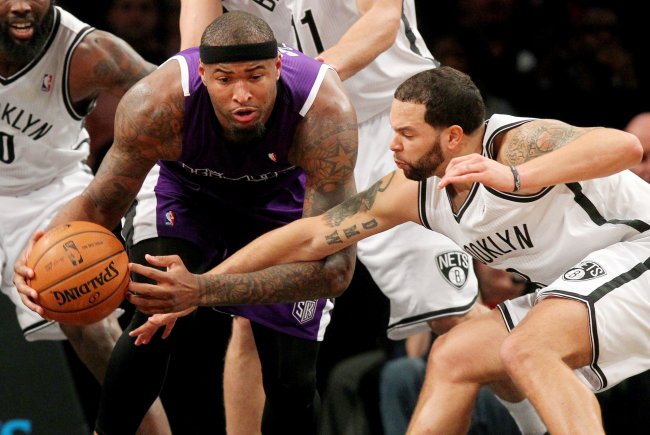 USA TODAY Sports
DeMarcus Cousins of the Sacramento Kings can be the best center in the NBA. If he realizes his potential and matures, the sky is the limit. What is surprising is that given the ability he has, Cousins allows his immaturity to stifle his growth.
Cousins has three suspensions already, and the season has not reached its halfway point.
The first suspension came after he approached San Antonio Spurs former player, current analyst Sean Elliot about comments Elliot made. The second suspension happened after Cousins struck O.J. Mayo of the Dallas Mavericks in the groin. The last one came when Cousins and Kings Coach Keith Smart had a run-in.
Let it go big fella and take over the league the way that your talents suggests!
How much talent does Cousins have? Here are his scoring, rebounding and assist averages from the last five games: 22.0 PPG, 14.2 RPG, and 5.0 APG.
The Surprising Teams:
New York Knicks 23-10, second in the Eastern Conference.
Kim Klement-USA TODAY Sports
Before the NBA season began, the New York Knicks had the oldest team in the league. It is obvious that the "Old Guys" can play. They have played their way into the conversation of the NBA title contenders.
Led by MVP candidate Carmelo Anthony the Knicks are sixth in the Association in scoring with 102.1 PPG. Their three-point shooting is in the top-5 and their defense is not that bad.
The Knicks hold teams to 96.8 PPG, which is 12th overall.
Most of the praise has gone to Melo but the elders on the team cannot be overlooked. Jason Kidd, Rasheed Wallace, Kurt Thomas and Marcus Camby have lent their veteran leadership to a team that was in need of a few steady hands.
Give the "Old Guys" some credit.
Los Angeles Clippers 27-8, first in the Western Conference.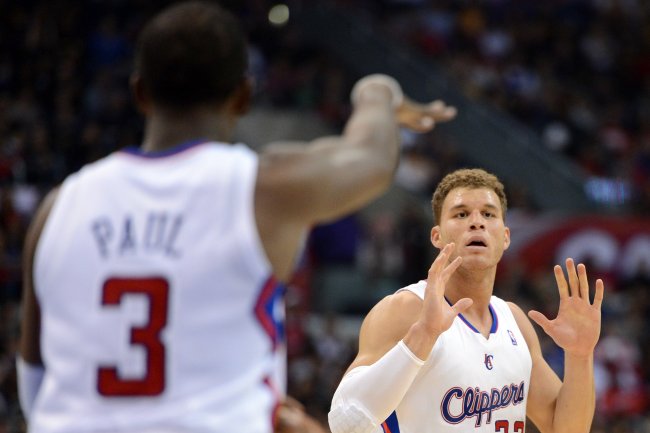 Harry How/Getty Images
Who knew that Vinny Del Negro would find himself coaching a legitimate championship team?
Even better, who would have guessed that team would be the Los Angeles Clippers?
The Clippers, affectionately known as "Lob City," are the most must-see team in the Association. They can run, pass well, shoot the lights out and defend. They are also extremely deep.
What makes their year so remarkable is that two of their better players, Chauncey Billups and Grant Hill, have yet to play a game. When those two players officially join the fold, the "Lob City" express just might become unstoppable.
The other surprising teams are the Golden State Warriors, Houston Rockets, Atlanta Hawks and Chicago Bulls.
Potential First-Time NBA All-Stars:
Paul George 16.6 PPG, 7.3 RPG, 3.7 APG.
When the Indiana Pacers forward Danny Granger went down with a knee injury, somebody else needed to step up. Small forward Paul George answered the call.
Along with experiencing the best season in his career, George is keeping the Pacers in contention for the Central Division title. He is also getting some NBA All-Star buzz in the process.
Reporter Mike Wells of USA Today mentions in a recent article how George is may be on the verge of an All-Star berth. Pacers Coach Frank Vogel also weighed his opinion about his budding star.
He's definitely worthy of consideration. When you have a team that is fourth in the East, you usually get one or two All Stars who go. Our guys, we don't have 25-points-a-game guys on our team, but David (West) and Paul are certainly playing at All-Star levels right now.
George's time has come!
Joakim Noah 12.8 PPG, 10.4 RPG, 2.0 BLK, 4.4 APG.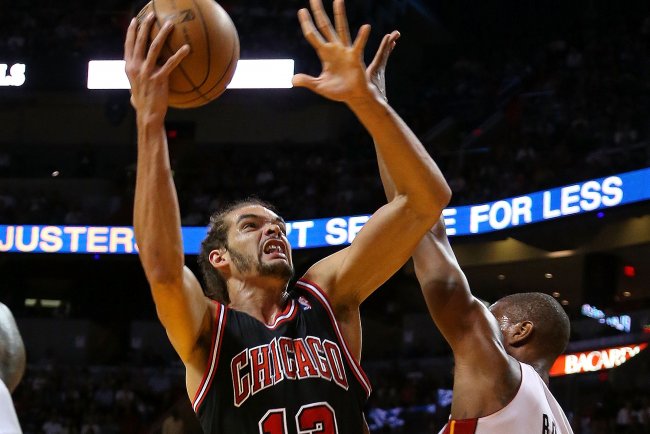 Mike Ehrmann/Getty Images
Another potential first-time All-Star is Chicago Bulls Joakim Noah.
Noah leads the Bulls in rebounding, steals and blocked shots. He is the Bulls anchor on defense, where the team is third in points allowed. Noah has also had a couple of eye-opening performances this year.
This includes a 30-point, 23-rebound game in Detroit. It also includes a triple-double against the Boston Celtics. Triple-doubles are not easy feats for an NBA center but Noah is not an ordinary center.
With Derrick Rose injured, the Bulls have oftentimes run their offense through Noah, one of the NBA's best passing frontcourt players. They run a high-post offense at times, featuring Noah as the facilitator. Noah is given the option to pass the basketball to a teammate cutting to the basket, or shoot his funky-looking jumper. The latter of the two options is vastly improved.
Noah took some time to reflect with NBC Chicago's Bryan Crawford, on the Outside Shot blog, about the All-Star buzz he is generating.
I think for me, I try not to think about it. If it happens it would be an unbelievable honor, but I think my mindset right now is just trying to help the team and if it happens, it would be great. But I try not to think about individual accolades. I think it affects the dynamic of the team.
Noah is fast-becoming one of the NBA's top frontcourt players. With the team playing well (18-13 record), he is getting some well-deserved attention.
James Harden 26.3 PPG, 5.3 APG, 4.3 RPG, 1.8 STL.
When James Harden turned own a contract extension offer from the Oklahoma City Thunder, there was a contingent of people who called him out. After a trade to the Houston Rockets, it was the belief that Harden was chasing the money over a chance at winning an NBA ring. The backlash did not go unnoticed:
I heard a lot of those things. I heard that I was greedy; that I didn't care about winning; heard the questioning of my loyalty. And I'm thinking: 'Of course I want to win. I've been winning my entire life.

Everybody has their own opinion about me [as a role player and focus of a team]. I can do both: I'm versatile. Growing up in college, in high school, I was the focal point. I was the leader. I was the go-to guy. I was the third overall pick. I took a back seat and did whatever it took for the team to win. Some nights I scored, some nights I passed. Whatever was needed to win.

Now, I'm back to my old ways: Needing to be the leader, needing to score. In any situation, I'm going to be good.
Instead of being the third banana on a championship contender, Harden wanted to become the alpha dog on another team. Harden wants to lead his own team to the Association's promise land.
So far, he is putting up All-NBA level numbers, and he should be a lock for his first All-Star appearance.
The Ageless Wonders: Kobe Bryant and Tim Duncan.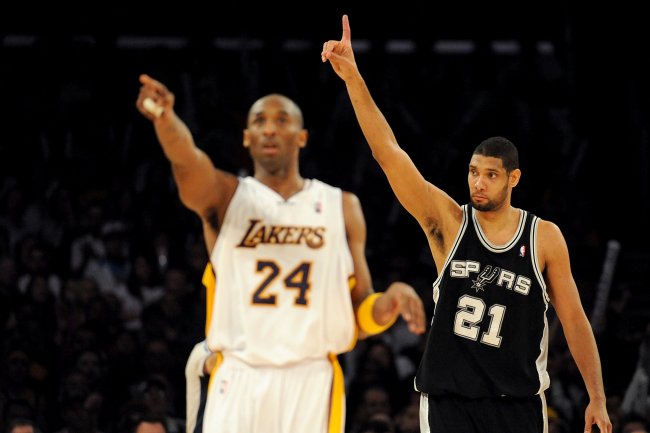 Harry How/Getty Images
The more some things change; some things remain the same. When you look at the league leaders, you see the familiar names of Kobe Bryant and Tim Duncan.
Kobe is leading the NBA in scoring, averaging 30.5 PPG.
Duncan is putting 17.8 PPG, 9.7 RPG and 2.5 BLK.
Both players are first ballot Hall of Famers, so to see that they can put up these types of statistics is not surprising. The surprise is their respective ages. Kobe is 34 and Duncan is 36. They are allegedly too old to be doing what they are doing. The fact that they are is short of amazing.
Then again, the NBA is where the amazing happens.
All statistics are taken from ESPN.com and current as of 1-6-2013.
Follow me on Twitter @ernestshepard
This article is
What is the duplicate article?
Why is this article offensive?
Where is this article plagiarized from?
Why is this article poorly edited?

Chicago Bulls: Like this team?